When you're in Vegas, there is no excuse for not sampling a little bit of the nightlife. There's something for everyone, and for me the new bar 1923 Bourbon and Burlesque, was just what I was after.
I didn't fancy anything overly rowdy or jam-packed (I've well and truly grown out of my nightclubbing years) but I do love music, cocktails, atmosphere and dancing – so I starting looking around to see if there was a bar that would satisfy all these cravings. That's when I stumbled across 1923 Bourbon and Burlesque.
It's a basement bar found hidden away in The Mandalay Bay Hotel and Casino and it's designed beautifully to resemble the secret Speak Easy bars that opened during prohibition in the USA back in the day. The stage for the dancers even emerges from a rotating wall, hidden behind liquor bottles and barrels of whiskey.
It really feels like you're stepping back in time, and it's perfectly executed.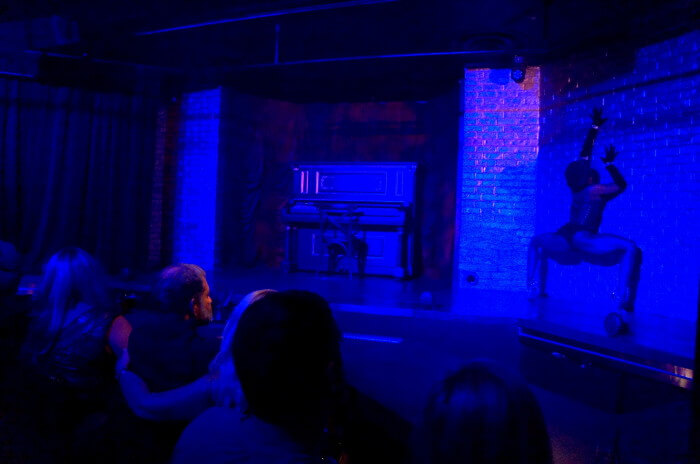 The dancers perform every 20 – 30 minutes, and between performances the bar blasts out modern music to enjoy whilst you wait. The actual music the dancers perform to varies, some danced to modern music, some to old-school jazz, or remixed Motown. The reason it worked was because you never know what was coming next – but I must admit, I enjoyed the vintage-style dances with the old-school music much more.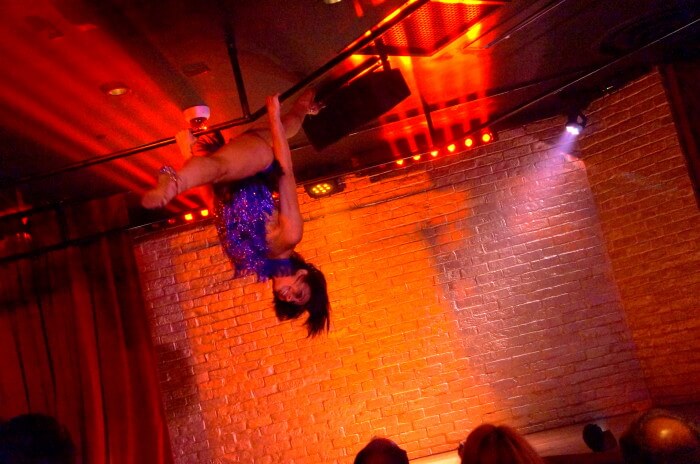 Sometimes the dancers would perform individual dances (each lady had their own specific style) and sometimes they would perform as a group – the group performances were the more typically-burlesque, but they were all incredible and captivated. The women are fantastically talented and you'll be sat there in awe!
Tip: The dancers do occasionally come out into the audience, and dance on the bar, so if you're not keen on being too close to the action (and the thought of audience participation fills you with dread) sit on one of the upper tiers as far from the stage as possible. We were sat pretty close to the action – and I loved it – but I can see how some people might shy away from it!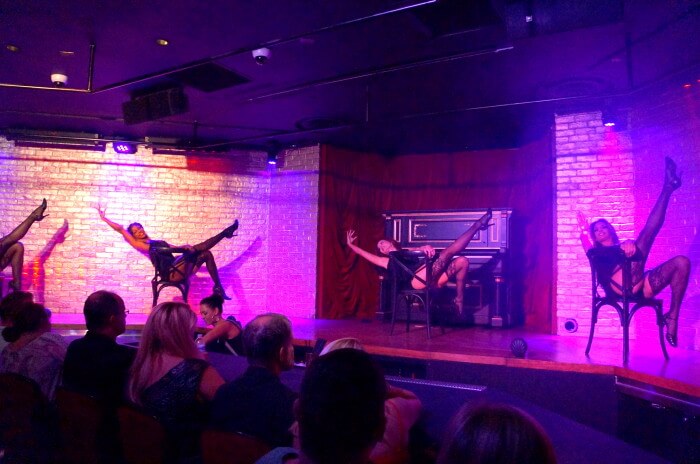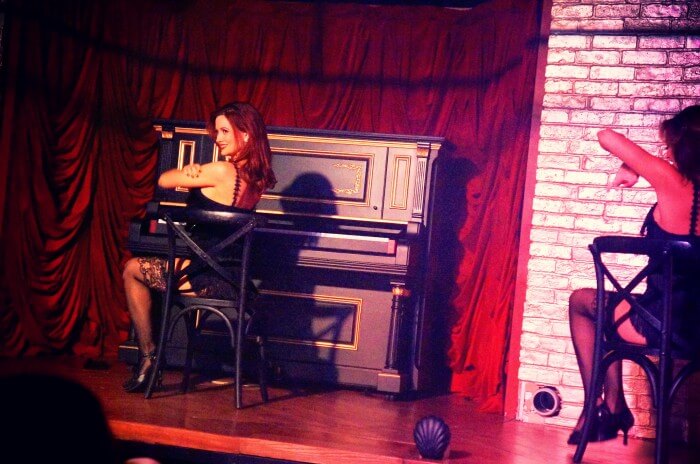 Is it sexy? Of course it is! The shows ambassador is an ex-playboy bunny!
All the dancers are absolutely beautiful and the show is equally tasteful and naughty – perfect for both burlesque beginners, or burlesque lovers.
Whilst the ladies don't get naked (this isn't a strip club remember, and the aim of burlesque is to be sexy, without revealing it all) the show won't disappoint anyone who goes to watch it. The atmosphere is incredible and it's clear everyone is having a great time. I was actually pleasantly surprised to see an equal number of men and women in the bar too – it seems most people there were either couples, or groups of women.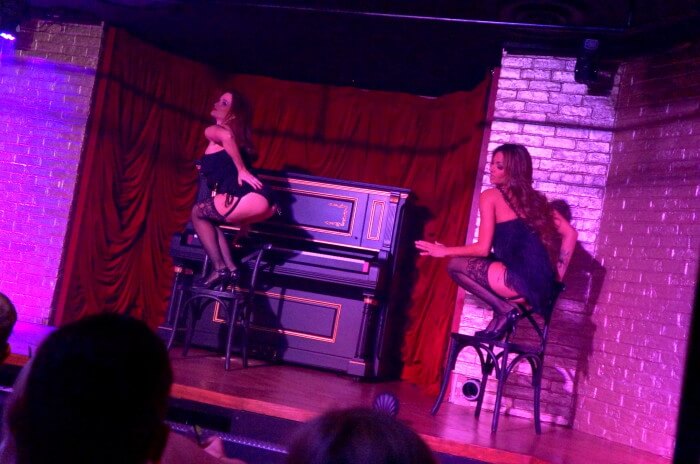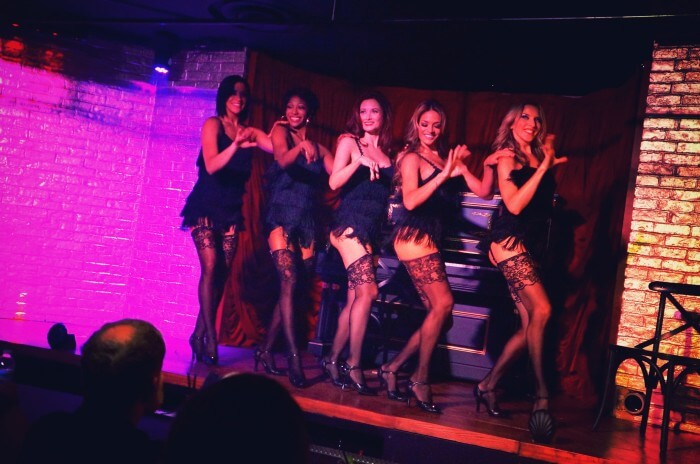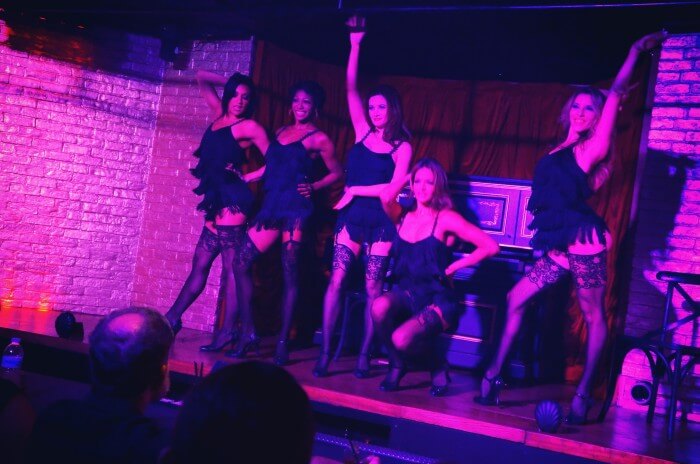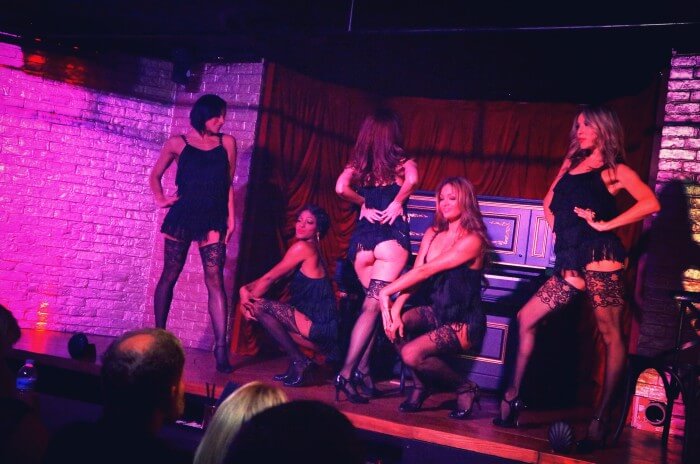 A quick note about the cocktails too – which were delicious! But you didn't come here to read about cocktails, so let's not pretend otherwise…!
Would I go again? Absolutely!
Here's all the crucial info if you fancy popping in yourself: 
Hours of Operation Wednesday – Saturday 7pm to 3am
Phone: (702)912-4001
More information:vip@1923lv.com
Management:avi@1923LV.com
Which bit of Las Vegas nightlife is your favourite? Have you been to 1923 Bourbon and Burlesque?