---
Are you looking for some tips for Dubai sightseeing? If so – this ultimate guide to sightseeing in Dubai has everything you need to know!
---
There are so many amazing options when it comes to Dubai sightseeing! Sightseeing in Dubai is jam-packed with activities, things to do and places to see.
With rolling dunes, stunning architecture, and some of the most unique experiences around, it's unsurprising that Dubai is one of the most popular tourist destinations in the world for sightseeing.
However, if you're not quite sure where to start when it comes to Dubai sightseeing, you might be wanting some external help on what tours and day trips to consider. 
In our ultimate guide to Dubai sightseeing, this is exactly what we'll help you with! 
I've been visiting Dubai for more than 10 years (I have family in the city – and think of it as my second home!) so I like to think I know the best places, and the best things to do in Dubai.
Though some of these suggestions won't suit everyone, there are plenty of Dubai sightseeing tours and things to do in the city.
So, whether you're looking for an adrenaline rush out on the dunes or just want to cover the city's major landmarks, these tours and day trips should give you all that you're looking for and more! 
Get ready for some amazing Dubai sightseeing suggestions!
---
Morning desert safari
Many of Dubai's best sightseeing tours take place in the early morning. As you may already know, Dubai is famous for its amazing sand dunes, so you'll absolutely want to put this at the top of your list of things to do if you're heading to the city.
This tour of the Dubai desert takes visitors out on a 4×4 Land Cruiser for a rip-roaring dune-bashing experience! If you wish to, you can even slide down the sand dunes on a sandboard; we can bet you've never tried that particular sport before!
As the desert is only 45 minutes from Dubai, this is a great Dubai sightseeing trip for those that don't want to travel too far from the center.
Click here to book tickets onto this tour.
---
Sunrise camel trek
Next on my list of Dubai sightseeing activities, it's a camel trek! Another tour worth getting up for is this sunrise camel trek.
As pickup and drop off is arranged with centrally located Dubai hotels, you won't have to worry about transport to and from the desert – phew!
The actual camel ride part of this tour lasts around 45 minutes, but one of the best aspects of this tour is the sunrise view photo stop that gives you the most stunning shots.
However, that's not all you get on this tour! As well as a welcome drink, you also get a delicious breakfast included too. What could be better?
Click here to book tickets onto this tour.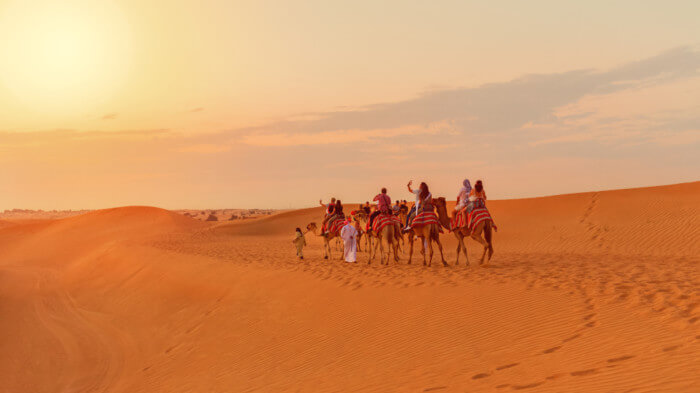 ---
Jetskiing
I did this myself last year, and it was hands-down one of the best things I've ever done in Dubai, one of my favourite choices for Dubai sightseeing. It was so much fun!!
Not only will you get the adrenaline rush that comes with riding a jet ski, but you'll also get to awe at the Burj Khalifa and some of Dubai's finest skyscrapers from the water.
Read more about flying: Everything you need to know about the Emirate Business Class Lounge in Dubai
Though this tour isn't particularly long, it's one of the most exhilarating experiences that you can have in Dubai, so I really recommend it. I loved every second of it.
Oh, and if you wanted some pictures of your outing on the water, then don't worry – instructors take pictures during your ride, so you can savor the memory forever! It's the perfect option for Dubai sightseeing!
Click here to book tickets for jetskiing!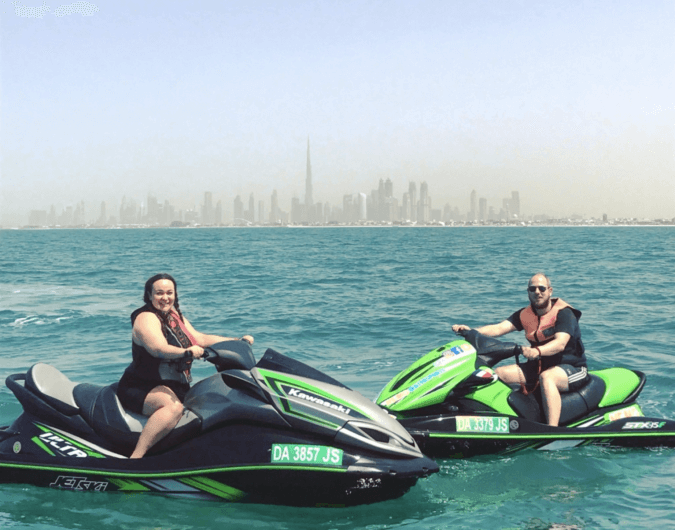 ---
Arabian Dune Safari with a BBQ
If you want to experience the Arabian dunes but fancy an amazing meal afterwards, then this is the tour that you should choose whilst in Dubai.
Not only will you get to check out the best of the desert landscape, but you'll be treated to a wonderful meal at the Bedouin campsite afterwards.
It's a Dubai sightseeing tour that's more than worth the cost, so we highly recommend checking it out!
Click here to book tickets onto this tour.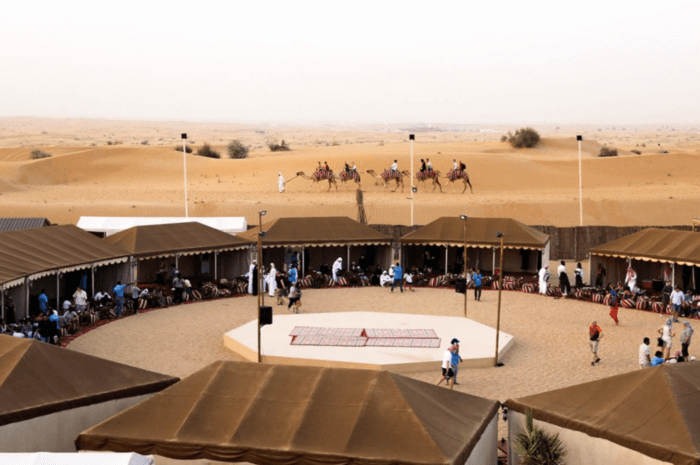 ---
Burj Kalifa
This is the world's tallest building, and it's absolutely unmissable in the Dubai skyline, so obviously something to add to your Dubai sightseeing itinerary.
You'll be stunned by it's majestic height and design – and you absolutely have to visit during your time sightseeing in Dubai.
One of the best ways to experience the Burj Kalifa, is by visiting the viewing or observation deck. It's a classic option for sightseeing in Dubai, and you'll be able to soak in all the Dubai skyline from up there too!
I recommend visiting at sunset to maximize the beauty and the photo opportunities. Such an amazing option for sightseeing in Dubai.
Click here to book the best ticket combo up to the viewing deck.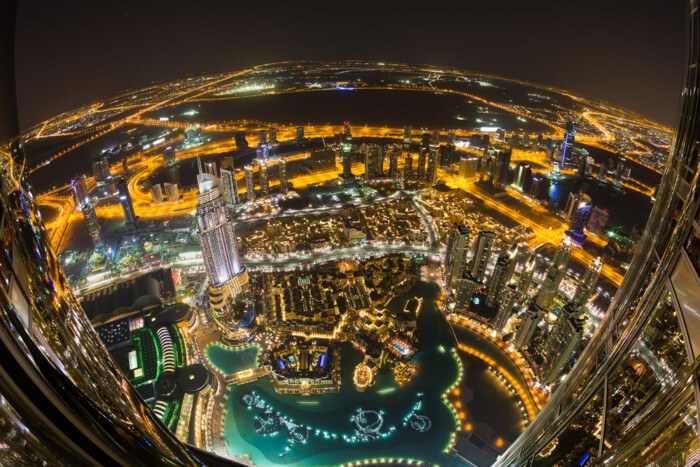 ---
Dubai Marina
If you love strolling around the city and just soaking in the atmosphere – then a walk around Dubai Marina, is going to tick all your Dubai sightseeing boxes.
The Dubai Marina is one of the most scenic places in the city, and it's a gorgeous place to eat out in the evening, enjoying all the lovely views and people watching as other's stroll past.
This is one of my favorite neighborhoods in the city, and I love spending time there!
Click here for a cool yacht tour of the Marina!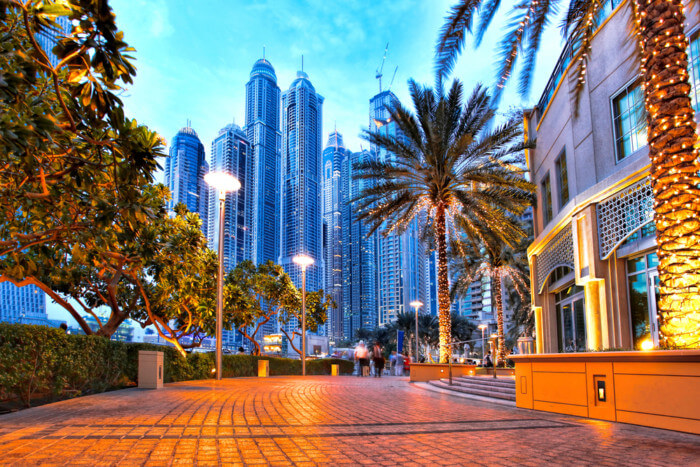 ---
The Burj Al Arab
I couldn't write a post about Dubai sightseeing without including the Burj Al Arab! It's the most iconic building for sightseeing in Dubai.
The Burj Al Arab is one of the world's only 7* hotels – and it's literally a hub of luxury and fantasy in Dubai!
A great way to enjoy the Burj al Arab is from the coastline nearby, but the hotel isn't exclusive to only guests. You can also book yourself in for a spa treatment (yes!) or an afternoon tea!
Read more about Dubai: Is Dubai a country?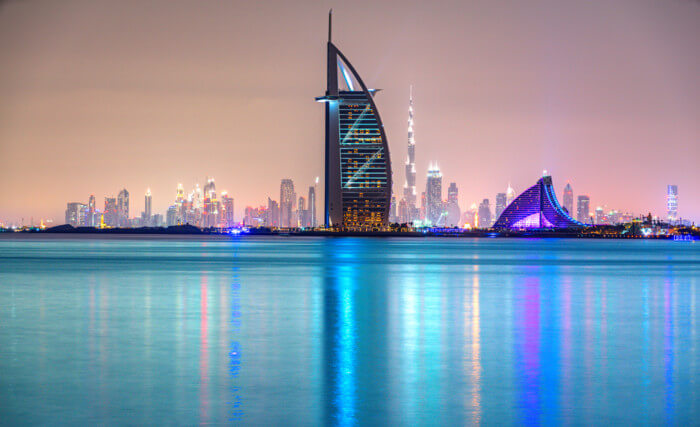 ---
Snorkeling trip to Fujairah
Snorkeling is always a memorable experience, but Fujairah is one of the finest areas to explore if you enjoy vivid marine life.
This tour takes place in the Gulf of Oman and includes all the equipment that you'll need to make the most out of your experience (and take part safely of course!).
You'll travel by luxury double-decker boat to a snorkeling environment before plunging into the stunning waters to observe all those marvelous sea creatures in their natural environment.
Talk about a Dubai sightseeing tour to remember…
Click here to book tickets onto this tour.
---
LEGOLAND Dubai
If you want to cover all the LEGOLANDs across the world, then we highly recommend booking a ticket to LEGOLAND Dubai! It's such a fun option for Dubai sightseeing with kids.
With over 40 LEGO themed rides, shows, and attractions, the whole family will have a fantastic day out being "part of the team"! What's more, there are 6 themed lands and over 15,000 LEGO models to check out (yep, you read that right!).
As the queues can get intense, we highly recommend booking your ticket in advance to skip the worst of the lines to enter the park.
Click here to book LEGOLAND Dubai tickets.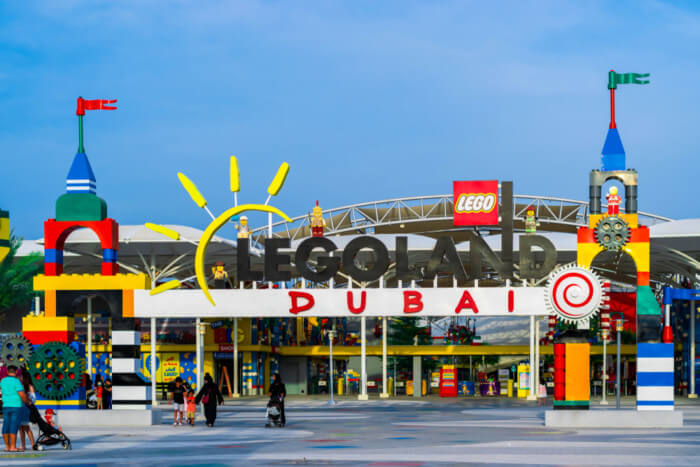 ---
Abu Dhabi City Tour with Yacht Ride
When sightseeing in Dubai… Don't be afraid to venture out of the city! If you fancy a taste of the high life, then you may be interested in this day trip to Abu Dhabi featuring a yacht ride! As Abu Dhabi is the capital city of the U.A.E, it's well worth a visit.
However, it's not only worth visiting due to its capital city status – it also has some amazing landmark attractions too! On my favourite tour, you'll cover Yas Island, Ferrari World, Manarat Al Saadiyat, and much more.
However, what makes this tour so special is the amazing 1-hour yacht ride. Giving visitors the chance to soak in the sun, it's a wonderful way through which to appreciate the city!
Click here to book tickets onto this tour.
---
Have a beach day (duh!)
Next up on my list of Dubai sightseeing activities – it's a beach day! One of the best and most obvious things to do when sightseeing in Dubai… is to visit a beach! If you lucky enough to be stopping at a beach hotel, then the beach will likely be right outside your front door.
But if you're not stopping in one of the city-centre hotels instead… Don't worry! You can often by day-passes to the beach from the various beach-side hotels, for as little as £30-£50 per person.
---
Madinat Jumeirah
The Madinat Jumeirah is a hotel / market / mall – but it is set up to look and feel like a traditional Arabic souk. It's really beautiful and feels authentic and wonderful to walk around. A perfect Dubai sightseeing activity – and one you won't want to miss!
There are also amazing views too of the Burj Al Arab, and there are plenty of restaurants, cafes, and shops to enjoy too.
---
Sharjah City Tour
Another excellent day trip that takes place from Dubai is this Sharjah City Tourv. On this tour you'll be able to see landmarks such as the King Faisal Mosque, the Heritage Museum, and check out some of the most amazing carpets and handicrafts at Al Markazi Souk.
As this tour comes with an English Guide, you won't have to worry about anything being lost in translation either. As entrance fee to the Sharjah Fort and Sharjah Museum is also included, we like to think that this tour is an excellent deal for those looking to see as much as possible on a day trip! This Dubai sightseeing with a bit of a twist, and off the beaten tourist path.
Click here to book tickets onto this Sharjah tour.
---
La Mer Beach
This probably isn't something one most tourist's Dubai sightseeing itineraries – but it's one of my favourite things to do in Dubai – as there's a bit of something for everyone.
La Mer is basically a beautifully landscaped beach area, with dining options, cafes, shops, street art and lots of fun activities for kids and families. If you're visiting with kids, it'd be a lovely day out away from your hotel! A great option for things to do in Dubai and Dubai sightseeing.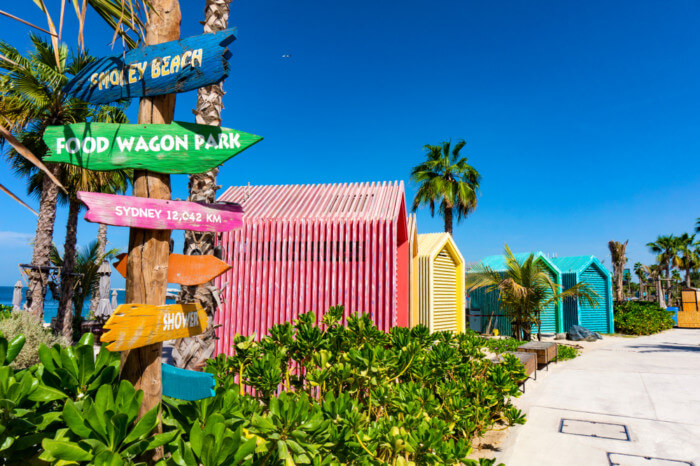 ---
Spend the day at a water park
Dubai sightseeing wouldn't be the same without waterparks. This city has so many waterparks I can't even count them! This is one of the best things to do in Dubai.
The good news is, if you're stopping in one of the big touristy hotels (Jumeriah Beach or Atlantis) you'll get free access to their waterparks for free. There's loads to choose from – check out this list of waterparks in Dubai.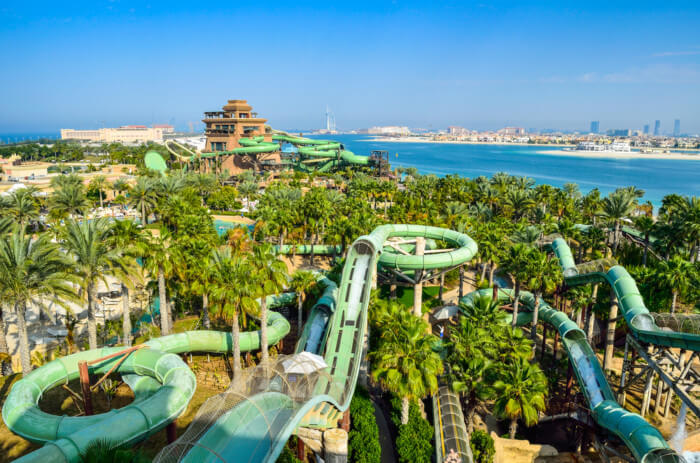 ---
The Dubai Fountains
The Dubai Fountains are located by the Dubai Mall (located further down on this list of Dubai sightseeing). The Dubai Fountains are like the Bellagio Fountains in Las Vegas (for reference!) but much bigger!
They're free to watch (yay!) and they show every night (on 30 minute intervals I think!). Just head to the Dubai Mall, and follow signs for the fountains!
An amazing way of watching them, and one of my Dubai sightseeing must-dos is to take a boat ride on the lake whilst the fountains are performing.
Click here to book the fountain boat ride.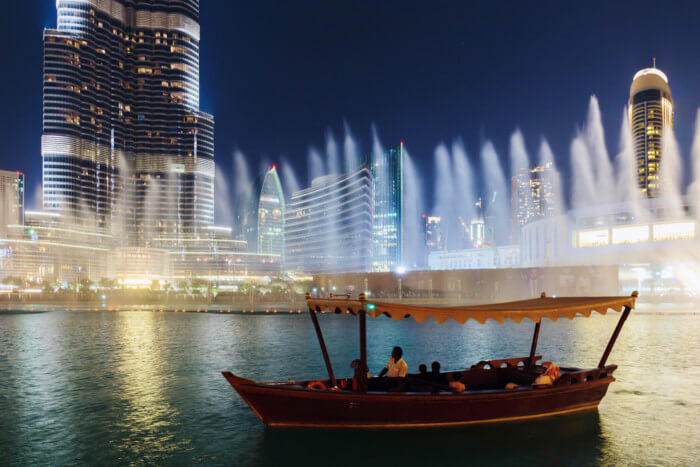 ---
Sunrise Balloon Flight
Next on my list of things to do in Dubai when Dubai sightseeing, it's a balloon flight! There's nothing better than a hot air balloon ride, right? Floating above a city you'll be able to see some truly amazing sights. From the Arabian Desert to wandering camels, there's plenty to love in Dubai from on high! However, it's not just amazing views that this tour offers.
You'll also get an amazing gourmet breakfast of hand-cut smoked salmon, caviar, bread, and fresh fruits to start your day off right. Oh, and don't worry about getting to that hot air balloon either, as you'll be picked up directly from your hotel – score!
Click here to book the amazing balloon flight tickets.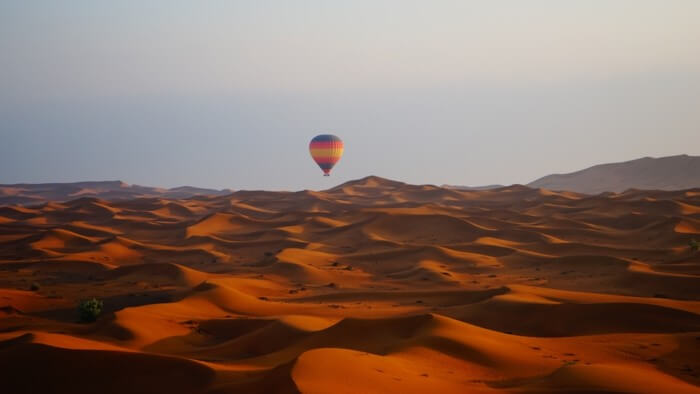 ---
Private Yacht Tour
If you're looking to take things slow on your trip to Dubai, then why not consider heading out on a private yacht tour? Not only is this tour luxurious, but it offers guests the opportunity to see some of the best monuments and landmarks in Dubai.
As you cruise along the Gulf Coast, you'll see the Burj Al Arab hotel, the upscale developments of Palm Jumeirah and much, much more. As this isn't exactly something that you'd do every day, you'll certainly feel like a VIP on this tour. This is such a romantic and perfect option for Dubai sightseeing.
Click here to book tickets onto your private yacht tour.
---
Grand Mosque and Louvre Museum Tour
Though we've briefly mentioned Abu Dhabi already in our guide to Dubai tours and day trips, this specific tour to the Grand Mosque and the Louvre is well worth mentioning. After you're picked up, you'll drive to the Grand Mosque and enter through the courtyard to see the exterior surface of the mosque.
The Greek and Macedonian tiling here is really something to behold, so we highly recommend bringing your camera along! Whilst this isn't technically 'Dubai sightseeing' as you're in Adu Dhabi – it's a must-do!
Click here to book tickets onto this tour.
---
The Dubai Mall
The Dubai Mall is one of the biggest malls in the city.. and it's amazing. There's so much to do there, from ice-skating and eating, to Kidzania and Aquariums. Yes, you can shop there – but you can do so much more Dubai sightseeing there too!
Click here to book tickets to Dubai Mall's famous indoor aquarium.
---
The Golden City Tour
If you're looking for a great all-in-one Dubai sightseeing tour, then this Golden City Tour is perfect. Including sights such as the Burj Al Arab and other central attractions, it's a great way to quickly tick those landmarks off your list. This tour is approximately 4 hours long and takes place in an air-conditioned bus or private vehicle.
In case you were wondering, you will be accompanied by a knowledgeable guide, so you really will be getting a full, well-rounded tour experience. One of the best parts of this tour is a visit to the spice souk. After a journey in a famous water taxi, you'll get to check out one of the most amazing spots in the city.
Click here to book tickets onto this tour.
---
Old and Modern Dubai City Tour with a visit to the Blue Mosque
If you're looking to explore both the old and new parts of Dubai in one tour, then this tour is perfect. Covering some of the city's finest attractions such as Atlantic, Souk Madinat Jumeirah, the Blue Mosque, and many more, you're sure to get your money's worth! It's a great choice for Dubai sightseeing.
The first stop on this tour is the Palm Jumeirah for a photo session, so you'll want to make sure you've got a decent camera or smartphone to hand. You'll then check out the Souk, Blue Mosque and finally, the sights of Old Dubai. All admission and taxi fees are included, so this tour really is a steal!
Click here to book tickets onto this tour.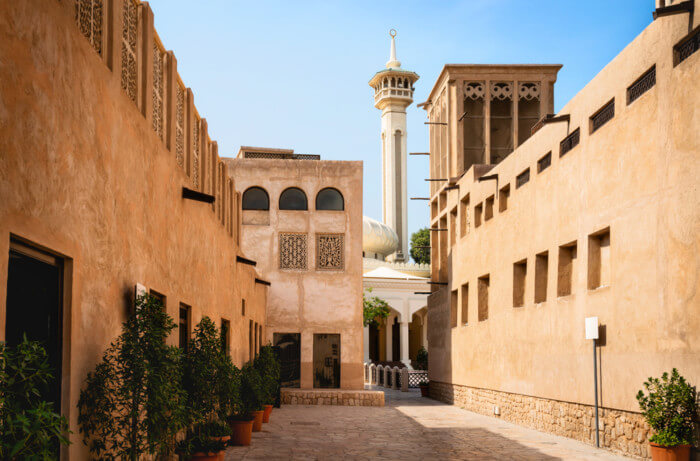 ---
Al Fahidi Walking Tour
Next on my list of Dubai sightseeing activities, it's a walking tour! Another great walking tour that we recommend for Dubai sightseers is the Al Fahidi Walking Tour. If you're looking to explore the historic area of Dubai but don't want to rush through it, then this is the tour for you.
One of the standout parts of this tour is the colorful fabrics and textile souks, and though you might pay a passing visit to the historic alleyways of Al Fahidi on other tours, if you really want to experience its beauty then we recommend dedicating a decent amount of time to it.
Click here to book tickets onto this tour.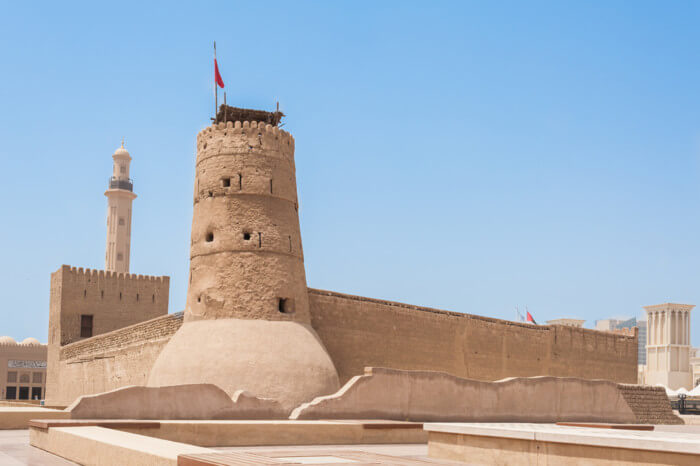 ---
Dubai's Gold Souk
If you want a taste of old Dubai during your time sightseeing in Dubai – then heading to the Gold Souk is a great way to experience some traditional market culture in the city.
Maybe you'll want to splash out on something beautiful for keeps, or maybe you just want to window shop! It's fun either way! It's a lot of fun, so it's a great option for Dubai sightseeing.
---
Dubai sightseeing Bus Tour
A Dubai sightseeing bus tour is so much fun, and a great way to explore the city! Dubai sightseeing bus tours are one of the best ways to see a city as they cover a large distance in a short amount of time.
Exploring Dubai's old town and its fantastic centuries-old architecture, it leaves no stone unturned. As this bus tour aims to show as much of the city as possible, it isn't an experience for the faint-hearted. However, it does give you plenty of time to stop for photo opportunities outside of famous monuments, so don't worry about that!
Click here to book tickets for the open top bus tours.
---
The Pointe
A relatively new addition to the Dubai sightseeing list of things to do, is the Pointe – but it's worth checking out if you're located on the Palm.
The Pointe is a shopping destination, and entertainment destination, located at the end of The Palm – overlooking the Atlantis Hotel. You'll be treated to lots of shopping options, and also some fountains (a little bit like the Dubai Mall Fountains – but not quite as good!). Definitely worth a visit!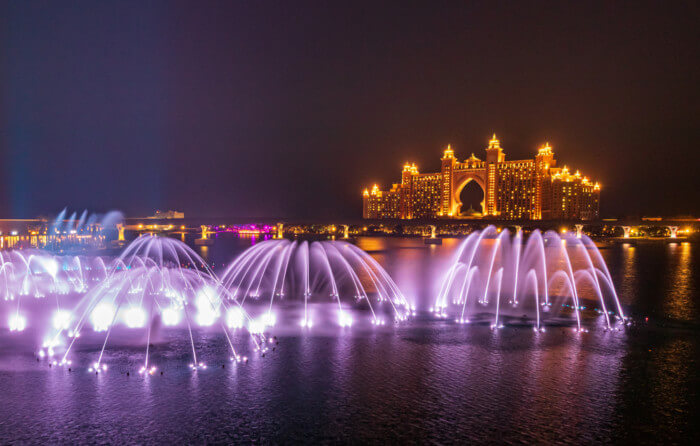 ---
Top Golf
This is a brand new addition to the list of Dubai sightseeing activities. Top Golf is a big driving range for golf lovers (and beginners!) and it has a cracking view over the city to enjoy too. There is food and drinks available, and it's just a great day out!
Don't worry is you're not very good at Golf… Half the fun is giving it a go and realising you suck!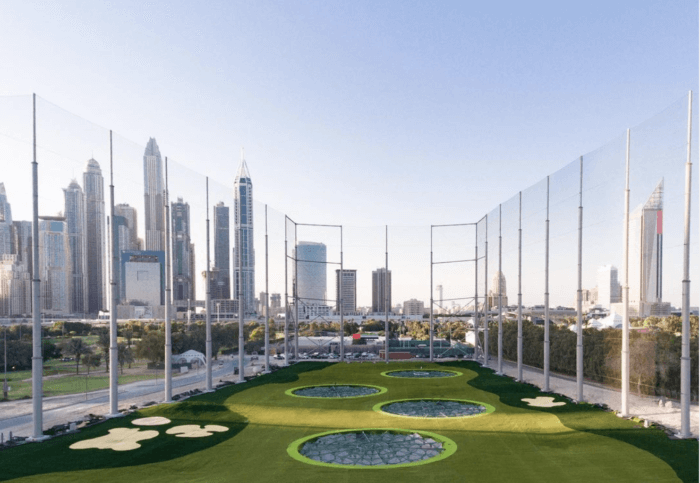 ---
Skydiving in Dubai
If you're a bit of an adrenaline junkie… Then this is the Dubai sightseeing activity for you! There's not really any better way to see the city than from the air, and if you choose to Skydive Dubai over the palm, there's so much to see and so many gorgeous views to enjoy on your way down.
It's expensive… But if this is your kind of thing, then I don't think you'd find a better place to do it!
---
Time Out Market
This is a 'coming soon' addition to this list of Dubai sightseeing… but once it opens it's going to be amazing, so I wanted to include it! Time Out Markets have been popping up all around the world in major cities – and they are a hub of all the amazing local food talent – perfect for foodies and anyone who loves a good meal.
The views will be amazing too – as Time Out Market Dubai is going to be situated right opposite the Dubai Fountains and the Burj Kalifa. Talk about Dubai sightseeing!
---
We hope that this guide to Dubai sightseeing has been helpful in planning your trip!
Whether you want to spend most of your time checking out Old Dubai or prefer to check out the city's more modern marvels, you're sure to have an amazing time regardless of what you choose to do when Dubai sightseeing.
If we were to give you some parting advice, we'd suggest booking all your tours in advance. Though you can probably book onto a tour on the day, we really don't recommend chancing it.
As Dubai is such a popular tourist destination, entry tickets, guided tours, and special experiences tend to sell out far in advance. So, if you want to make the most of your trip and avoid any embarrassment, book ahead!