---
So, what makes Beacon, New York, so special?
If you're planning a trip to Beacon NY, and want the low-down on what to do, where to go, and where to stay in this stunning city, read ahead.
Beacon, New York, is an amazing location for a weekend getaway from NYC, and it's a popular getaway for people all over the state.
Beacon NY is also a really popular commuter town for Manhattan too. People live here because it's less expensive than NYC, and can provide that scenic, quieter life – still with quick access to the city if and when you need it.
You'll find a lot of people in Beacon, New York, might work in NYC for a few days of the week, or commute in daily.
From it's cute galleries and shops along Main Street, to the edgier industrial buildings – Beacon NY is a really great place to explore, and it's easy to see why people love it here (both to live and to visit).
It has a cute vibe, with a strong community feel. Beacon, New York, is known for creativity, art and culture – so it's a great place to be.
---
Where is Beacon NY, and how do I get there?
---
Located in Duchess County, New York, Beacon is a lovely city that was named to commemorate the historic beacon fires that used to blaze forth from the summit of the Fishkill Mountains.
Located only 60 miles north of New York City, Beacon is a mere geographical stone's throw from the Big Apple, and Beacon NY  is certainly worth a visit!
It's located right on the Hudson River too – so you can guarantee yourself some scenic views and lovely outlooks.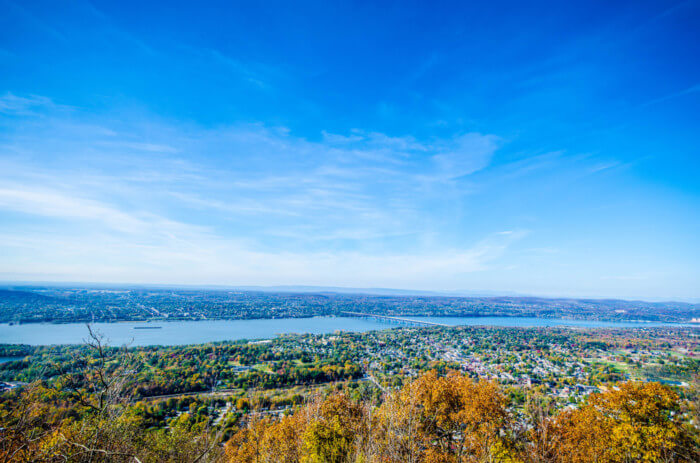 In terms of getting to Beacon NY, your main three options are;
Fly in to Beacon, New York: The closest airport is the 'New York Stewart International Airport' and it's just across the river from Beacon NY – about a 20 minute drive from the city center. If you're coming in from out of state, this would be a great option.
Drive in to Beacon, New York: If you're arriving from New York State, you may just want to drive into Beacon NY. It's accessible for cars – the roads aren't difficult – so no worries there.
To drive from Manhattan, you'd be looking at a journey time of about 1 hour 30 minutes. Maybe longer if you decide to stop along the way, or if the traffic is bad. Here's a map of their downtown parking – if you need it!
Train travel to Beacon, New York: The Beacon station is a commuter rail stop on the Metro-North Railroad's Hudson Line, serving Beacon, New York.
Trains leave for New York City every hour during off peak hours, and about every 15–25 minutes during rush hour. It takes about 2 hours.
Once you decided how you're getting to Beacon, New York – it's time to figure out what to do and how to spend your time in Beacon NY!
---
Things to do in Beacon, New York
---
Next in my guide – it's things to do in Beacon NY!
Whether you fancy taking on Beacon's mighty hiking trails or are visiting the area as a history buff, there's plenty to do here for visitors of all ages.
Though you may not want to drag the kids on an 8-hour hike, little minds are sure to be fascinated by Beacon's cultural offerings. 
As Beacon NY has such a rich history, it would be rude not to start off by discussing some of the area's finest historical attractions in a list of things to do in Beacon NY.
Read more about New York State: 17 Beautiful and Scenic Towns in Upstate New York
---
Madam Brett Homestead in Beacon, New York
First on my list of things to do in Beacon NY, it's the Madam Brett Homestead. This is the oldest building in Duchess County having been built in the early 18th century, Madam Brett Homestead is located on 50 Van Nydeck Avenue.
Earning itself a place on the National Register of Historic Places, it's one that you'll be able to tick off your list if you plan on making your way through them all (good luck)!
It's a great choice of things to do in Beacon, New York.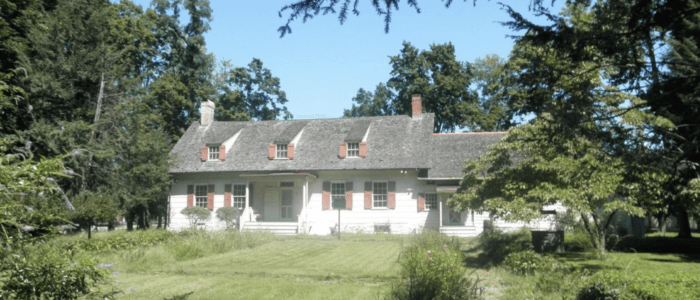 ---
Borgadus-DeWindt House
Next on my list of things to do in Beacon NY is Borgadus-DeWindt House. Located on Tompkins Avenue, Bogardus-Dewindt House typifies the style of property built in Duchess County between 1750 and 1830.
Another property that's landed itself on the National Register of Historic Places, it's a wonderful way to assess old-timey architecture whilst discovering more about Beacon's residents.
Another lovely place to visit in Beacon, New York. 
---
Dennings Point Ruins
Another great idea for things to do in Beacon New York, it's Dennings Point Ruins.
Sticking out into the Hudson River, the abandoned Dennings Point Ruins are all that is left of a once prosperous company that used to produce a million bricks a week which was quite the feat by historical standards.
Though this land is now owned by the State Parks system, it's now home to the Center for Environmental Innovation and Education, it's now used to educate the public on the environment.
It's a lovely choice for activities in Beacon, New York. Working to preserve the historical ruins and educate visitors, it seems like a win-win and a place definitely worthy of a visit.
This is a great option for things to do in Beacon NY.
---
Long Dock Park in Beacon, New York
Next on my list of things to do in Beacon, New York, it's the Long Dock Park.
The Long Dock park is located right off the town centre and it's a gorgeous place to walk around and enjoy the views, the sunshine and the local scenery.
It heads right onto the river, and there's all kinds of activities you can enjoy here (fishing, kayaking, dog-walking, biking, etc). It's one of the most scenic and prettiest parts of Beacon NY, so don't miss it.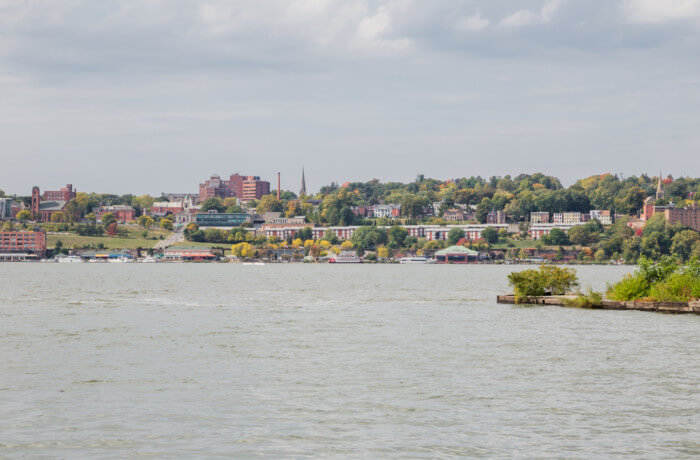 ---
Dia: Beacon: contemporary art museum
This next suggestion on my list of things to do in Beacon NY is actually one of Beacon's most popular attractions, Dia:Beacon contemporary art collection is a must-visit for culture fans.
With several commissions, long term installations and Land Art, it's a free place to visit that houses a fantastic collection of art.
Hosting a number of special exhibitions and public programs throughout the year, it's a must-do if you're visiting the area.
People come from all around to visit this place, so this is definitely one of the best things to do in Beacon NY.
If you're arty and like exploring local art, then you'll love this spot in Beacon, New York.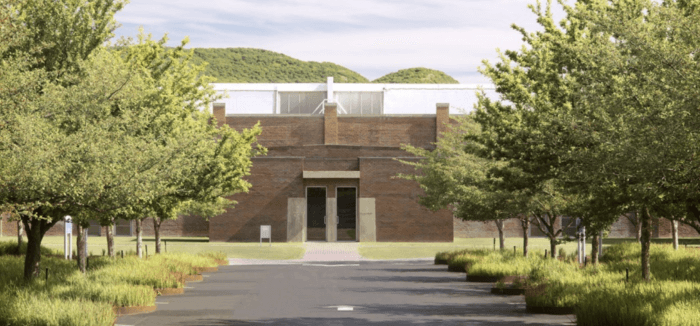 ---
Howland Cultural Centre in Beacon, New York
The Howland Cultural center is the next item on my list of things to do in Beacon NY. Also known as the Howland Library, it's located on Beacon's main street.
Designed in 1872, this library used to house a 2,200-volume collection.
Though no longer functioning as a library for the public, this old building has become a central part of Beacon's culture.
Presenting art exhibitions and other cultural activities, it's another place that's made it onto the National Register of Historic Place.
---
Reformed Church of Beacon
The oldest church in Beacon and a fantastic place to visit if you love old churches, the Reformed Church of Beacon is a congregation of the Reformed Church in America.
Overlooking the Hudson River, it's a wonderful place in Beacon to reset the mind, with its cemetery proving both a historic and calming area to clear one's head.
---
Beacon Farmer's Market
If you visiting from the city for the day, I really recommend timing your visit so that you can visit the Beacon Farmer's Market.
I don't know about you, but living in NYC makes me really the local markets and local produce. So finding a big farmers market like this is amazing – and so much fun to look around.
To check timings, I really recommend just looking at their website (linked above) as it's the best way to make sure they're on when you're there – as timings change season to season.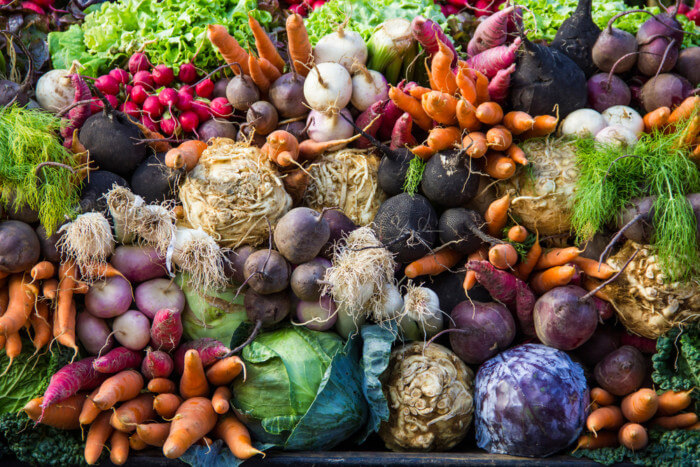 ---
The River Pool in Beacon, New York
The River Pool at Beacon NY is a great things to do in Beacon NY for families and children – and it's perfect for those hot summer days.
The River Pool opens each summer in the Pete & Toshi Seeger Riverfront Park and it's open from July until late August.It's great fun!
---
Bannerman's Castle
My next idea for things to do in Beacon NY, is Bannerman's Castle. This stunning nature reserve is set on a private island on the Hudson, and it's dedicated to the preservation of Bannerman Castle.
You'll have to book a tour in order to visit – but it's really worth it as it's such a unique place and when else do you get to visit a private island with a castle on?!
This is a great idea for Beacon, New York, activities. Who doesn't love a castle?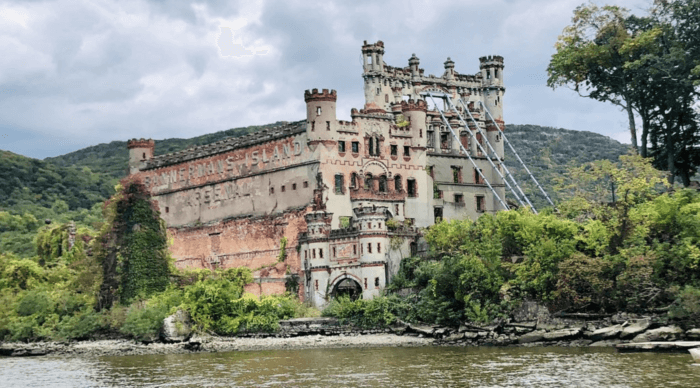 ---
Beacon NY Flea Market
Another suggestions on my list of things to do in Beacon NY – it's Beacon Flea Market!
If you love shopping from hidden treasures and just browsing local sellers, this is going to be right up your street.
---
Mount Beacon Trail
And last on my list of things to do in Beacon, NY – it's the Mount Beacon trail.
If you're looking to hike the Hudson Valley, there are plenty of hiking trails in Mount Beacon Park that will satisfy even the fussiest hiker.
For spectacular views, why not attempt the steep climb to the summit of Mount Beacon? If you climb the trail to the top of the Incline Railway, you'll get a great view of Beacon.
---
---
Where to stay in Beacon NY?
---
Accommodation is often the biggest hold-up when planning a trip, and what would an ultimate guide be without a few tips on places to stay?
The Swann Inn of Beacon, New York
At the foot of Mount Beacon lies The Swann Inn of Beacon.
A stunning Gothic revival Victorian house, it used to serve as a boarding house back in the day. However, over time, it has evolved to become a tasteful inn.
Lovingly restored in recent years, the inn stands to this day as the perfect location for Beacon travelers to rest their weary heads. This is a great place to stay in Beacon, New York.
Malouf's Mountain Sunset Campground
If you like to feel at one with nature when you're travelling, or simply want to roll out your sleeping bag and hit the hay at the end of a long hike, you should consider booking into a camping ground.
Hugely popular amongst travelers, Malouf's Mountain Sunset Campground has premium tarped camping platforms which come with a full range of supplies.
With options to make your experience authentic or as luxurious as you wish, it's certainly worth looking into if you're planning to hit the trails on your trip. Another great place to stop in Beacon, New York. 
Mt Beacon Bed & Breakfast
If you wish to make the most of Beacon's intrinsic, cultural feel, why not stay at Mt. Beacon Bed and Breakfast?
Built in 1911, it's a masterfully designed house with a central staircase that will take your breath away.
With spacious rooms and less than 1.5 miles from the ever-popular Dia: Beacon, it's a fab place to look at.
---
Where to eat in Beacon NY
---
There are loads of amazing places to eat in Beacon NY. Actually the city has some delicious options, from wine bars, to traditional American cuisine, and rustic family-style restaurants.
Whatever you're in the mood for, you're bound to find something in Beacon, NY to tickle your fancy.
Tito Santana Taqueria: https://tacosantana.com/
Known for their amazing Mexican food, this place assures fresh food for all. With amazing home-made guacamole to quesadillas oozing tasty cheese, this is a fantastic place that's sure to suit the whole family.
Kitchen Sink: https://www.kitchensinkny.com/
With family-friendly dishes and a mix of global cuisines, this restaurant is known for putting its own spin on classics.
Touting their commitment to using fresh ingredients, they tend to cook seasonally, so take a look at the menu before you visit if you're hoping for some soup during the summer months!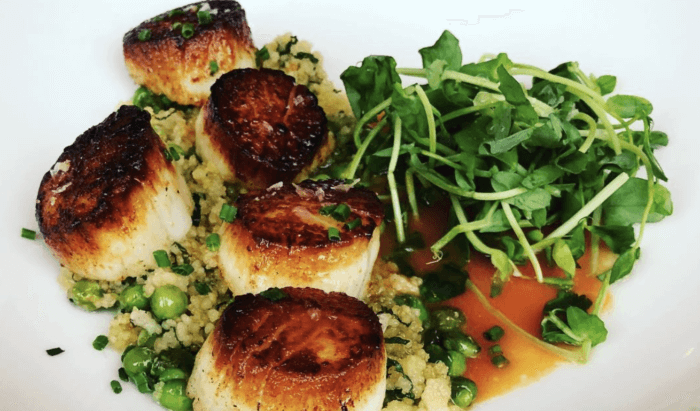 The Pandorica: https://www.thepandoricarestaurant.com/
This restaurant is a themed restaurant… themed after Doctor Who! Everyone loves a themed restaurant, and this place is so well known amongst locals!
If you want to eat somewhere super unique and fun, this is the place for you.
Chill Wine Bar: https://www.chillwinebarbeacon.com/
A lush wine bar that offers tapas and live music every Saturday night, this is a great place to come to live as the locals do.
Known for their stellar dessert menu, you're sure to find something that you love on this menu.
Beacon Bread Company: https://beaconbread.com/
If you're a carb fiend, you're sure to find something you love at Beacon Bread Company.
With amazing grilled cheeses and other sandwiches, this is a great stop for lunch to break up your day of cultural exploration.

---
How long should I stay in Beacon, New York?
---
Beacon New York is not a massive city, so you'll likely be well-placed staying here for a few days. It's certainly not a place that you need a couple of weeks to see.
However, with a lot nearby, you may wish to use Beacon NY as your central base and look at the nearby cities to get a true taste of New York's outlying cities.
You can probably see the best of Beacon in 48 hours, but if you like to take your time and schmooze around a café or two, I'd recommend a few days to play it safe.
Again, this is one of those things that's personal. You likely know the speed at which you like to take your holidays, so play it by ear we say!
---
A little taste of history of Beacon NY…
---
If you're wondering why this was major enough to prompt naming the city after this action, these beacons were used to alert the Continental Army to British troop movements.
Noted as a city that's a crucial piece of American history, it's no wonder that Beacon is so highly regarded.
If the fires have piqued your historical interest, this little city held a variety of important roles during the Revolutionary War, being central to the manufacturing of war supplies and serving as a fort and signaling point.
However, its quaint little history doesn't begin and end with the Revolutionary War.
In fact, during the 1800s it became known as the "Hat Making Capital of the US", with nearly 50 hat factories operating at one time back in the day. That's a lot of hats, if we may say so ourselves.
The Matteawan Manufacturing Company was the first in the area to totally devote itself to hat production, with 500 works under its belt.
---
We hope that this guide to Beacon, NY has been useful!
---
If you've got some of your own tips and tricks to discovering the best of this charming city, why not pop them in the comments below?
With so much historical charm and culture, it's a place that should be on your list of places to visit as soon as possible!