Are you planning a trip to Saratoga Springs, and you're searching for all the information you need to make your trip a success? Here you'll find information about the city, where to stay, what to do and even info on where to eat!
---
Saratoga Springs has long held a reputation for being a calm, relaxing, and down right beautiful get away for New Yorkers looking to unwind. In this ultimate guide to Saratoga springs we'll walk you through how to unwind, what to do, and what's worth seeing so that by the time you set off you'll know everything there is to know about Saratoga Springs.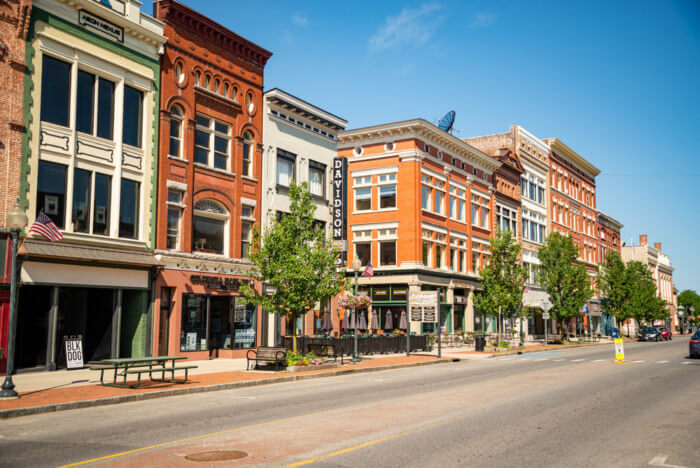 ---
A little history about Saratoga Springs
---
First up in our ultimate guide to Saratoga Springs, wed like to give you a little background info. Situated just north of the Hudson Valley, in the foothills of the Adirondacks (a mountain range) the area was first settled by Native Americans who believed that the effervescent spring water had healing properties.
Once Europeans had settled there, word began to spread of these healing waters and soon spas, luxury hotels, and processing facilities to tap the water for bathing and drinking had sprung up! At its height Saratoga Springs was the pinnacle of tourist destinations, becoming not only spa central, but also a place for fashionable New Yorkers to see and be seen. 
Soon there was a race track, jazz speakeasies and casinos, and the transformation of the are was complete: it was a full blown D E S T I N A T I O N to gamble, play, hear great music, and then soak off all the sin in a spa. Honestly, what could be better?
Whilst it gives a little less Gatsby Glitz than its golden age hey day – Saratoga Springs is still a summer party destination. At its height through the summer is full with revellers in their party finery, living up to expectations, but in the off seasons, it's a stunning place of natural beauty, with a slow, serene pace of life. Saratoga Springs is both a place to unwind, and to let loose.
---
When should I go to Saratoga Springs? 
---
As we mentioned, Saratoga Springs is a pretty amazing destination for all-year round, and it's for that reason it has stayed a super popular vacation destination (especially for those who live in NYC and want to get out of the city). If you want a rough guide of what Saratoga Springs is like season on season though, take a read below.
It's worth bearing in mind also, that not all events and festivals (etc) will run year round. Some will only be available at specific times of the year. If you're concerned about a particular event, it's worth checking their official state website.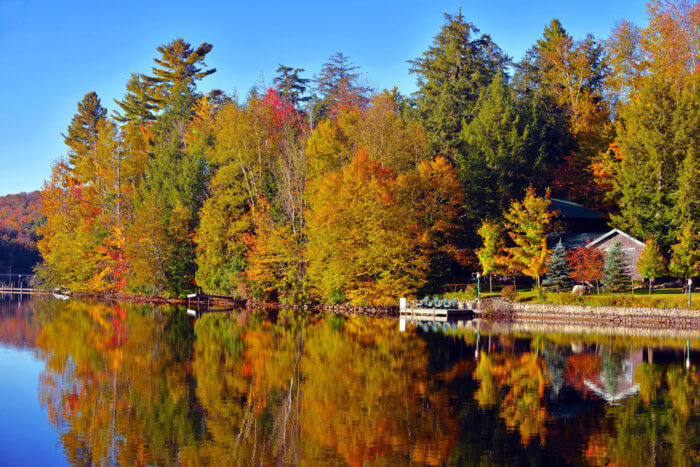 Spring: the weather is crisp and clear, and the season hasn't quite ramped up to get started, so the air is full of anticipation. If you like excitement, but don't want to get bogged down in crowds then this is the time to go.
Summer: this is Saratoga Springs at its height. The track is open, the clubs are full, the spas are jam packed, but boy are the parties good! Head in the summer for a riot of the senses, and a sense that Saratoga springs is where life is really being lived.
Autumn: the air is beginning to crisp again, and the leaves are turning as golden as Saratoga Springs' reputation. The hoarded have headed for home, and you're free to enjoy the serenity of the Springs' three Hs: Health, History and Horses.
Winter: Saratoga is a veritable winter WONDERLAND when it's blanketed in Snow. You can head to a spa, dine in style, and the park even becomes a hotspot for winter sports when the weather is icy.
Basically: Saratoga Springs is a year round destination, and you can go whenever the heck you want! 
---
How long should I stay in Saratoga Springs?
---
At the shortest, probably a couple of days to take in all the parks have to offer, try out a few spa treatments, see the horses, and learn a little history. 
At the longest… all summer long? It's up to you, but this place is a favourite vacation destination for a reason! 
---
What can I do in Saratoga Springs?
---
There's literally nothing you can't do at Saratoga Springs – unless you're planning on breaking the law, please don't do that. As this is the Ultimate Guide to Saratoga Springs were going to break down our top selections for what to do in Saratoga Springs, NY. 
Visit a spa
Our recommendation is definitely Roosevelt Baths and Spa. An institution at Saratoga Springs since 1935, and well worth it for a dip in the healing waters. This place is kinda historic, it opened way back in 1935 as a bathhouse (and is part of the Saratoga Spa complex) which includes the Gideon Putnam Resort.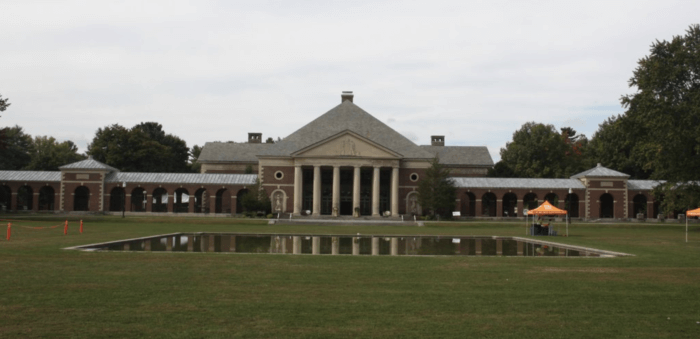 Go on a spring tasting tour
There's loads of options for a tour whether you prefer to Do it Yourself or head out on a guided tasting tour. Saratoga Springs Visitor Centre offers a tour called "history, legends, lore, and more" that's 90 minutes long and gives you a taste of all the spring waters! A bit weird, but in a cool way. 
Visit the race course
If you're in Saratoga Springs in the summer you have to visit, and this wouldn't be the ultimate guide to Saratoga Springs if we didn't mention it! If it's hot, out on your fanciest togs and get yourself to the course to place a bet on whichever noble steed takes your fancy. You might not win, but it sure is a grand day out!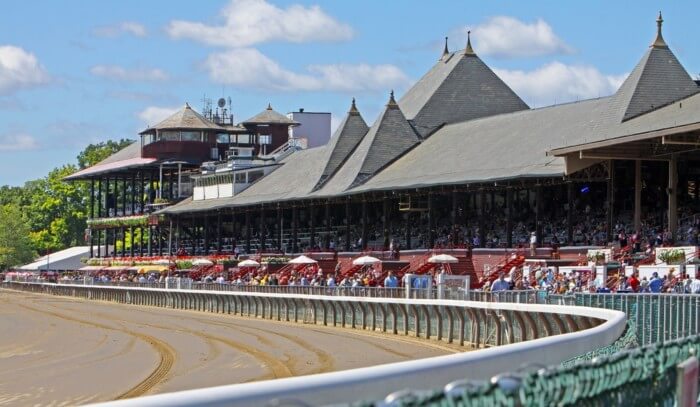 Hit up some folk music at Café Lenna
Cafe Lenna is one of the oldest and most well known Folk Music bars in America, this is where Bob Dylan played his first non-new York gig! Grab a drink and settle in for an open mic to spot the next folk star before they hit the high time. 
Soak up some History at the Horse Racing Museum
In the summer we'd definitely recommend you hit the race course, but as that's not available all year round we've included the horse racing museum in our top five as you can visit whatever the season. 
Visit the national park
If you love the outdoors, there's no excuse not to visit the Saratoga National Park. As with all national parks, this place is beautiful and full of wonderful scenery and places to admire. Let your thoughts get lost in nature and relax in the great outdoors!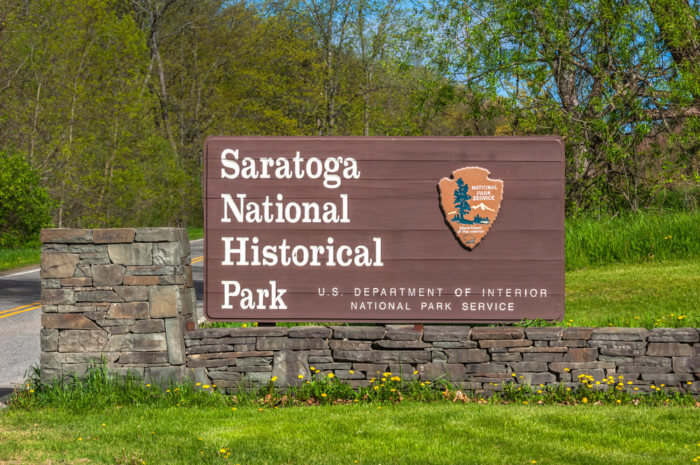 Adirondack Winery
Who doesn't love a winery? This area of the USA has some of the best wine in the country, and the wineries in Saratoga Springs are full of amazing local tastes to try. You'll find a really wide selection of locally hand crafted, award winning, fruit infused and varietal wines, seriously – if you're a wine lover (or even a bit curious about it) you'll really enjoy this.

Children's Museum of Saratoga
The Children's Museum is a really lovely thing to do in Saratoga Springs on a rainy day, or in autumn / winter. It's a lovely museum full of learning opportunities in a really immersive and interactive setting. If you've got toddlers or young children, they will love it here – there are so many hands-on things for them to get involved in and try.
Visit Canfield Casino
A treasured landmark, and a gambling institution dating from 1870! It's situated in the gorgeous congress park, and whilst it's no longer a casino, it is an events space with ballrooms and dining rooms, and the town of Saratoga Springs still holds functions there from time to time.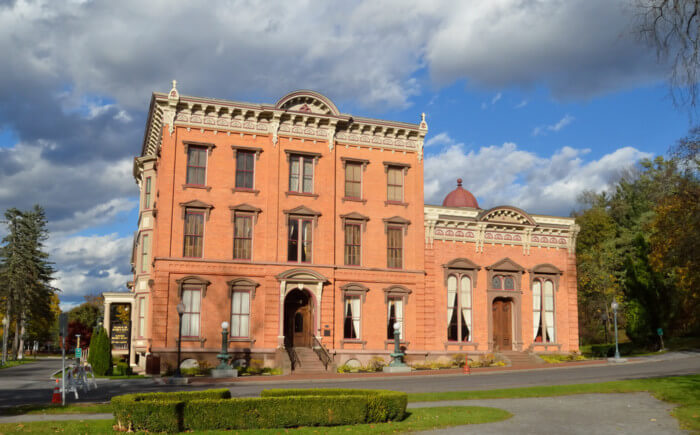 Adirondack Cruise and Charter Company
This is something for the romantics, who want to spend a day seeing the lake in style, and feeling true relaxation. The Adirondack Cruise & Charter Company will take you on a cruise around the nearby lake, on a stunning  50 foot classic 1900's Fantail Launch, or a 22 foot Sweetwater Pontoon Boat.
One-off and seasonal events
There are loads of seasonal events being held in Saratoga Springs, so it's worth checking these out on their local events page. You never know what event you might stumble across, such as the apple blossom viewing parties, or boutique brewery tours! There is loads of stuff to find out about!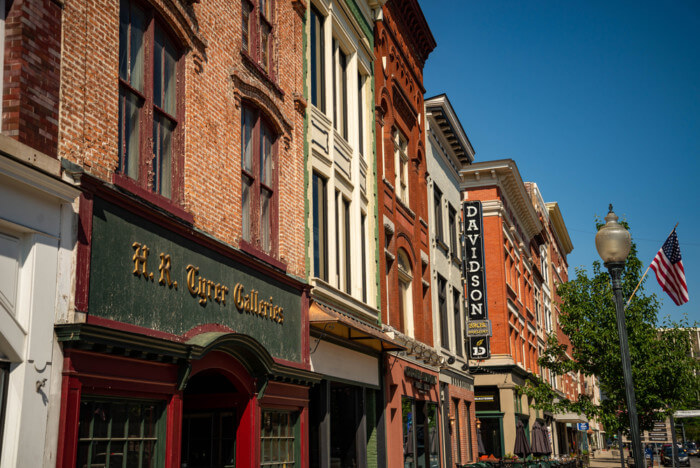 ---
Where should you stay in Saratoga Springs?
---
There are lots of great accommodation options in Saratoga Springs, so if you book in advance, you should have your pick of the best! Whether you're looking for a casino-hotel, or a quaint bed and breakfast, we're pretty sure you'll be able to find the perfect Saratoga Springs accommodation for you!
Here are a few of my favourite options:
Saratoga Casino Hotel 
This popular hotel in Saratoga Springs is one of the favourites, especially for people looking to indulge in a bit of gambling whilst they're there. It's a lovely hotel, only 1.4 km from the National Museum of Racing and Hall of Fame.As the name suggests, the Saratoga Casino Hotel has a casino on-0site – which makes nightlife super easy and convenient! Oh, and try out Morton's restaurant, which we think you'll love!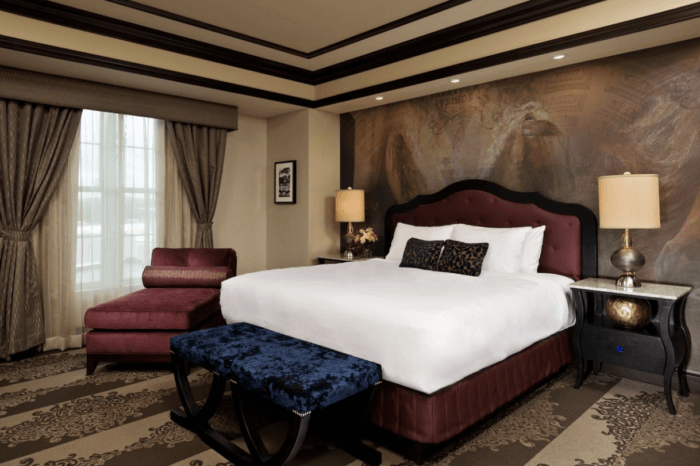 Embassy Suites Saratoga Springs
Another one of the biggest hotels in Saratoga Springs, this is a great choice for travellers who want amenities and comfort. There is an indoor pool to enjoy (a big plus point!) as well as a lovely restaurant, and free WiFi access is available in rooms too. It's solid choice is you don't want to be taking any risks on comfort and value!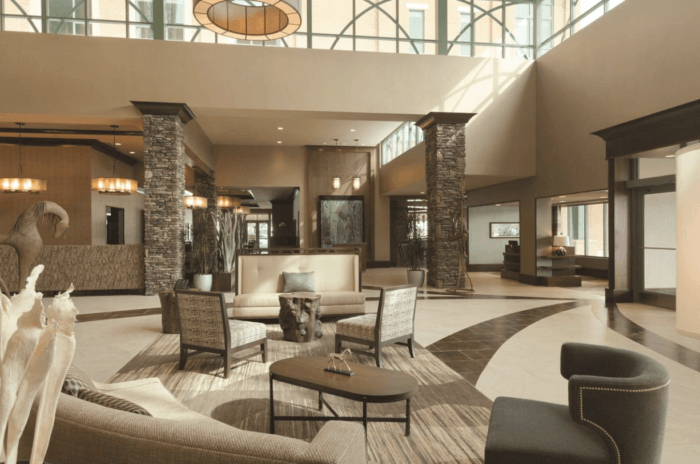 Pavilion Grand Hotel 
I love the design of this hotel, it feels a little more 'boutique' than the others on this list – which is more my personal style. As with the others on this list, there's also an on-site restaurant here to enjoy too! One of the highlights of Pavilion Hotel is the cute spa they have – which is always nice to come back to after a day sightseeing. It's also super central too, as Saratoga Springs' main street, is just 160m away.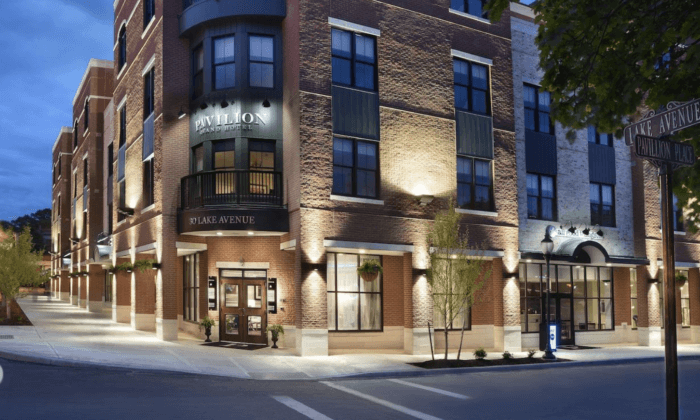 Adelphi Hotel
If you're after a hotel in Saratoga Springs that has great views, amazing reviews and a bit of history – then this place may be a great choice for you. Adelphi Hotel offers a beautiful terrace with gorgeous views of Saratoga Springs, as well as a restaurant, a touch of luxury everywhere you look, and super friendly staff.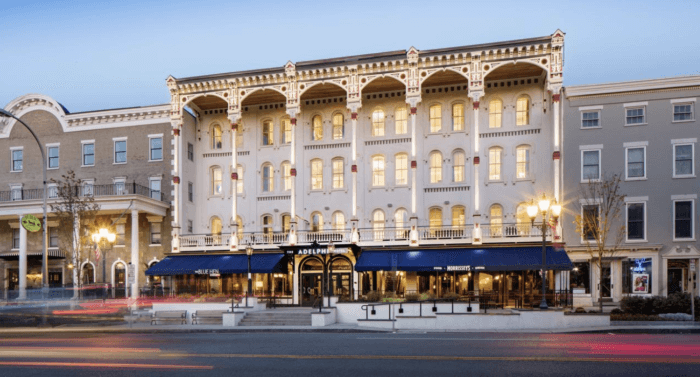 Saratoga Arms
My last suggestions for hotels in Saratoga Springs, is the Saratoga Arms. A smaller hotel (compared to some on this list) but it's got lots of lovely history and features a spacious front veranda, to give you those 'vacation vibes'. There is free WiFi access and a free hot breakfast each morning for guests to enjoy. What more could you ask for!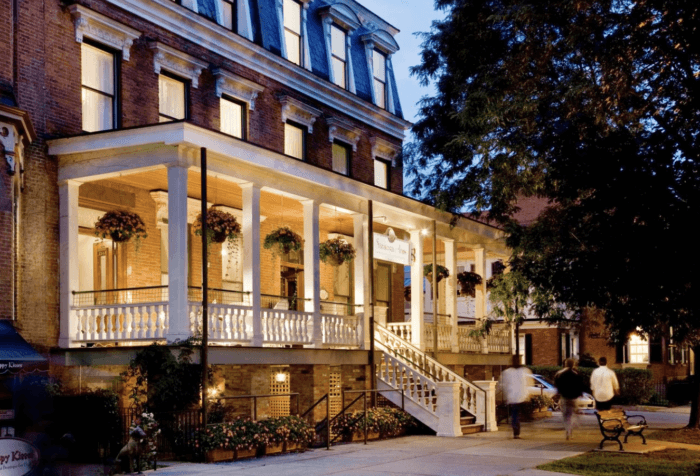 ---
Where to eat in Saratoga Springs
Here's a quick go-to list of some of the best restaurants, cafes and bars in Saratoga Springs – you can just click through to their website from here and explore their menu and food options!
Blue Hen restaurant (sophisticated dining)
Prime at Saratoga National (steakhouse)
Harvey's of Saratoga (pub and bar with food options)
Chez Pierre (French food)
Wishing Well Restaurant (mixed cuisine, romantic setting)
Nostalgia Ale house and wine bar (bar with food options)
Morrissey's Lounge (upscale pub food)
Ravenous Crepes (french pancakes and a cafe)

---
We hope this ultimate guide to Saratoga Springs comes in handy! Let us know what you get up to when you go!
---