Are you looking for the best diners in NYC? Well, you've come to the right place!
If you're looking for the best diners in NYC, I've put together all my favorite recommendations here.
I always try and visit at least a couple of diners when I visit NYC, because I find them easy, but also charming and authentically New York. So obviously, over the years, I've visited my fair share!
From classic New York diners, to more stylish and modern diners in NYC – I've tried to include something for everyone on my list of recommendations.
Diners are so unique to New York City, but finding the very best from all the others can be a little tricky. Why? Because there are so many of them to choose from! 
But that's where I come in! And hopefully, it's where I can help.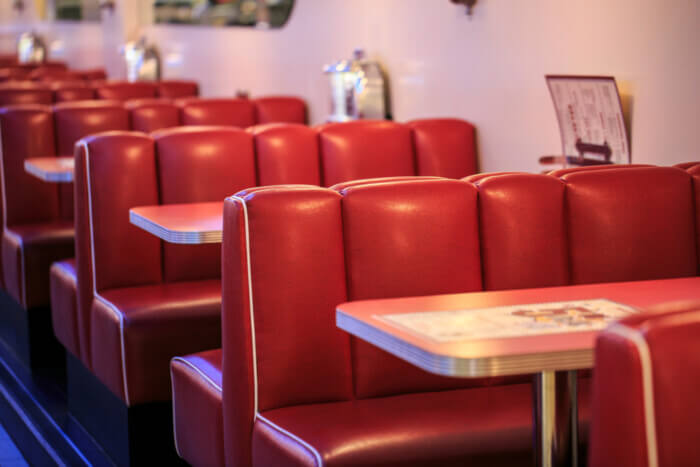 ---
What makes an NYC diner unique?
In New York City, where everything is all about being the biggest, or the swankiest, or the trendiest – diners are low-key.
There's something so charming about them. The classic menu items. The old-school decor. The staff who've worked there for decades.
Finding the perfect New York diner for you, is a matter of taste and preference – but I think you're going to absolutely love the suggestions on my list of the best diners in NYC.
So, let's get into it!
---
Ellen's Stardust Diner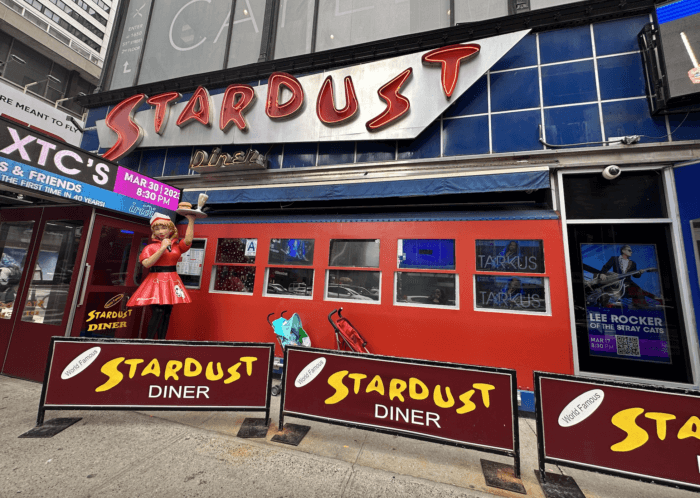 I thought I'd start this list, by mentioning one of the most famous diners in NYC.
What makes Ellen's Stardust Diner so loved by tourists and visitors? Well, you'll spend your meal being serenaded by the wait staff, who all all wannabe Broadway performers. It's truly something special!
As expected, it's American diner-style fare, the classic diner dishes, and delicious milkshakes (of course) in an authentic setting.
This is one of the more touristy options on the list, which is why I've put it up top – chances are, if you're stopping in midtown, this will be within a 10-minute walk.
Be serenaded by your waiter or a visiting entertainer and join in too (if you want)! You may have to queue but it's a reasonably speedy process.
---
Soho Diner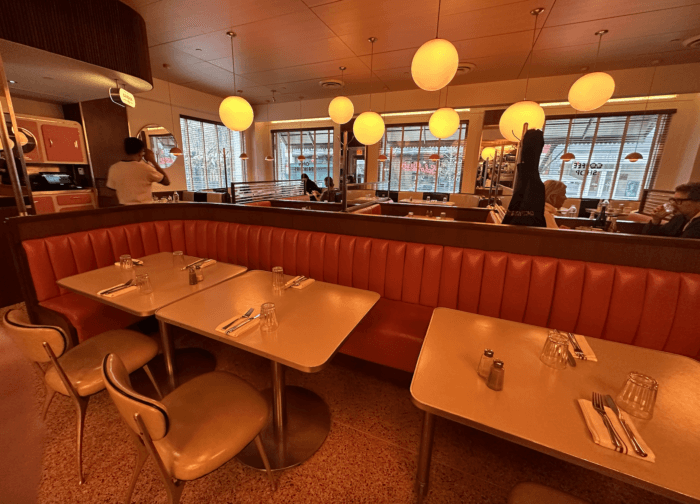 Next on my list of the best diners in NYC, it's Soho Diner. This place is pure retro dining magic.
The decor here is a throwback to 1950s America, with pink hues and gorgeous colored booths, and perfect furniture choices too.
The menu is what you'd expect too. Thoughtfully put together dishes with a vintage and retro flair to them.
Personally, I love the apple pie here, but my husband is a huge fan of their ice cream sundae. So the verdict is out!
This is definitely one of the best, and it treads the line perfectly between themed and kitcsh, and stylish too.
---
Katz's Deli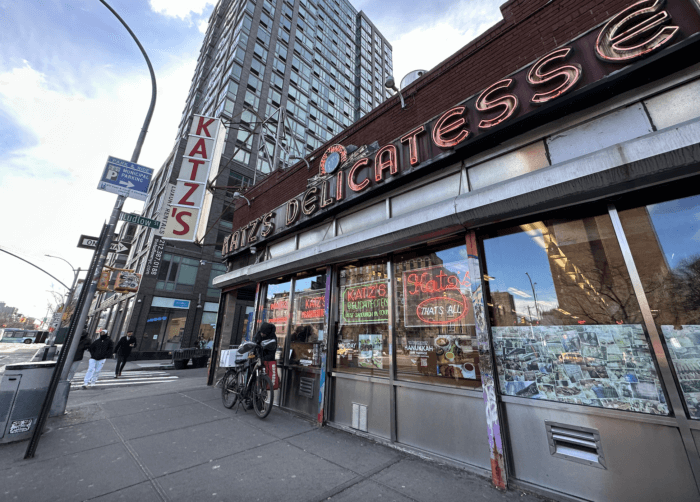 Next on my list, it's Katz's Deli. This is another incredibly well-known New York diner, and it's one you definitely don't want to miss. 
This place is another super touristy location in the city, but it still holds onto it's authenticity and charm despite this. 
Tip: Because it's so well known, be sure to get there early in the day to avoid queues. Also, if you just want the 'experience' and not the big sandwiches, you can usually order from the hot-dog section to avoid queues completely.
And, the food they serve up here is next level. If you love traditional NYC deli sandwiches, then you will adore it here. They serve up some of the best sandwiches I have ever eaten!
The classic sandwiches like Reuben and Pastrami are my favorites, but one time when I took my Mom, she ordered the turkey sandwich – which was also incredible!
Read more about NYC: 22 famous NYC filming locations!
---
Thai Diner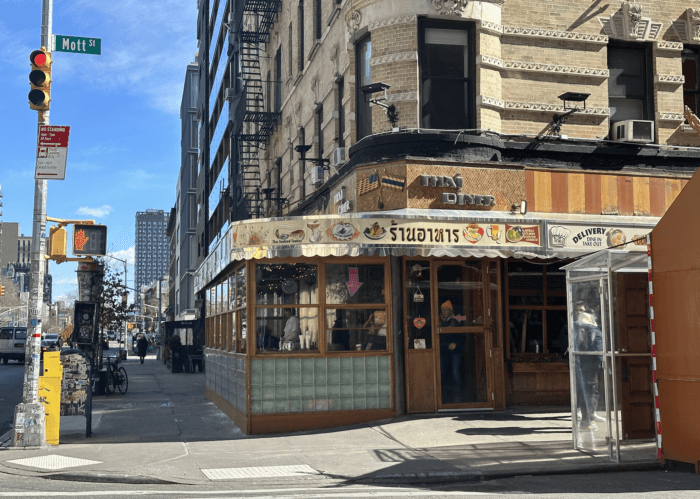 If you're looking for one of the most unique New York diners, then Thai Diner might be for you.
This looks like a traditional diner, it sounds like a traditional diner, but it's actually a Thai restaurant inside.
It's so adorable and one of those restaurants in the city that is totally unique and whimsically beautiful.
I love the idea that you can sit in an old-school diner restaurant, eating delicious Thai food (some of the best in the city by the way!). It's weird and wonderful.
Tip: This is such a great option if you want the New York diner experience, but you're not necessarily into the diner-style food.
---
Washington Square Diner
Next on my list of the best diners in NYC, it's Washington Square Diner. This place is a pretty traditional New York Diner – so if that's the vibe you're after, you'll love it here.
The menu is huge (it's super traditional for diners to have large menus) and the decor and furnishings are very old-school New York diner, and feel really authentic.
The food is also great here. Whilst it won't win any prizes for originality, it does exactly what it says on the tin!
---
Remedy Diner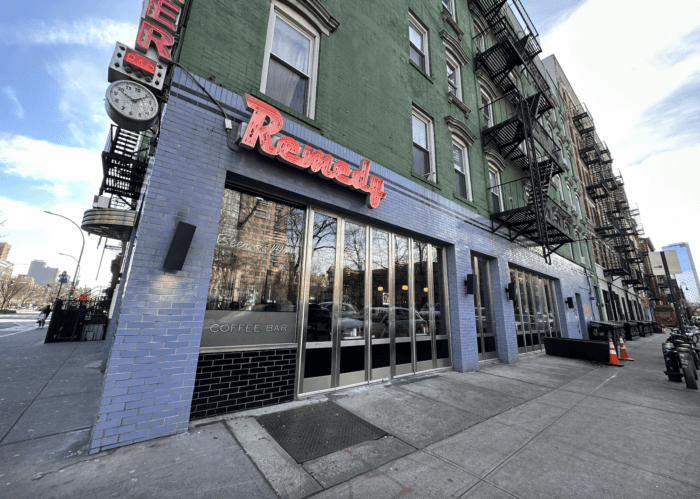 Remedy Diner is my next pick. This is a perfect choice if you're in the Lower East Side, but don't fancy the long wait for Katz Deli (which is located a few blocks down).
This is an ideal New York diner to grab an all-day breakfast, and we think you'll love it.
It's a little quirky and cute, but it's mainly going after those traditional New York diner vibes.
What makes this place worth visiting? The new twist here is in the additional pasta and Mediterranean recipes offered by owners Peter and Anastasious Giannopoulos, alongside the southern fried chicken and steaks you'd expect.
Read more NYC food recommendations: 50 amazing places to grab breakfast in NYC
---
Tom's Restaurant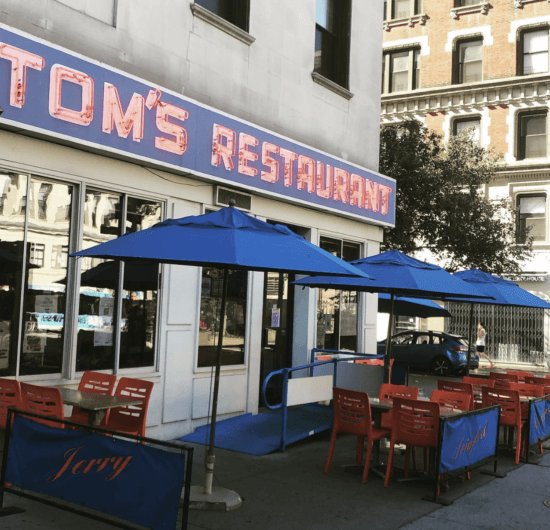 Next up on our list, it's Tom's Restaurant. You might recognize this diner in NYC – as it's pretty well known from the sitcom universe!
Suzanne Vega wrote a song about this well-known Greek-American diner in Brooklyn's Morningside Heights, and TV's Seinfeld used 782 Washington Avenue as the façade for Monk's Diner.
So if you're asking yourself, 'what is the diner featured in Seinfeld?' this is the answer!
You'll be able to sample a variety of homemade soups and specials, or join the ever-present Columbia students for gravy fries (MY FAVORITE!!) washed down by a milkshake. Sounds ideal, right?
Tip: Grab a table outside for some epic people-watching.
---
Belaire Diner
Next up on my list of the best diners in NYC, it's the iconic Belaire Diner. Located in Queens (so a little bit further out of the central touristy district) this diner is totally worth the journey.
You'll find a wide variety of classic dishes in large portions, with vegan and vegetarian options too. SO everyone is welcome here!
This place is also super child-friendly, so if you're visiting NYC with your little ones, this is a great spot for a casual lunch or dinner!
Read more NYC food recommendations: 20 of the best cheap lunches in NYC
---
Empire Diner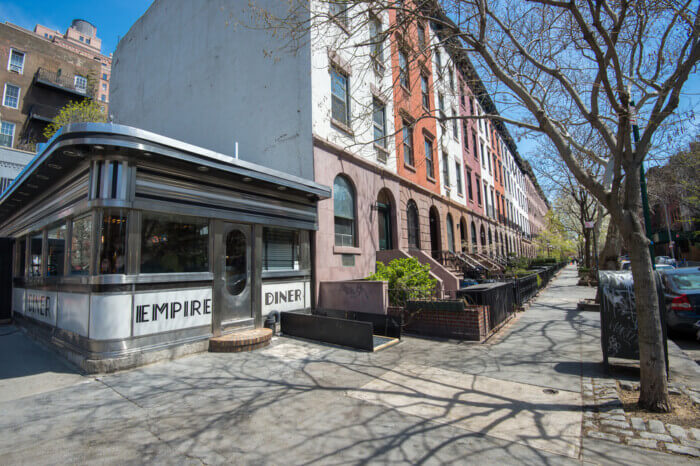 Next on my list of New York diners, it's the Empire Diner – perhaps one of the most recognizable diners in the city.
Found on 210 10th Ave and serving up traditional diner food in a traditional setting, this place is exactly what you'll be imagining when picturing an NYC diner – in fact, the place looks just like it's come right out of a movie film set.
The gorgeous art deco style is my favorite part of this amazing New York diner, and I know you're going to love it.
Dining here isn't just lunch or dinner, it's an entire experience. Just remember to bring your camera, because you're going to want it, trust me!
---
Lexington Candy Store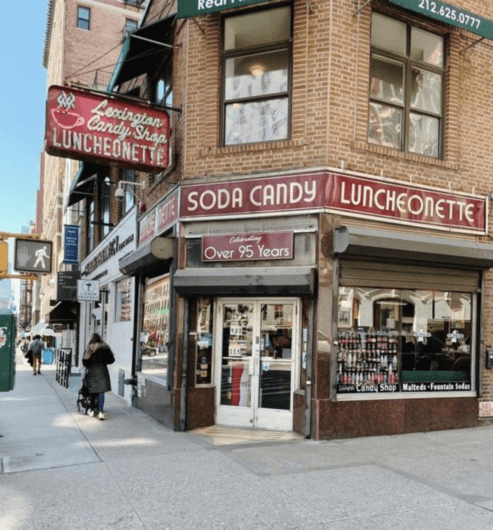 The Lexington Candy Store is next on our list of the best diners in NYC.
For me this is for sure one of the best for decor and style, it could easily be passed off as a movie set.
Despite its name, this is a well-patronized worker's diner at 1226 Lexington Ave, New York.
They have locally made bread, handmade baked good, and so much more. It won't disappoint, that's for sure.
Open since 1925, its retro look matches its menu, and has earned it appearances in adverts and in the 1975 film Three Days of the Condor. Order the meatball sub – you will never look back! YUM.
Tip: This is another really busy and popular diner. I recommend heading there earlier in the day, before tourists and tour-groups arrive!
---
Brooklyn Diner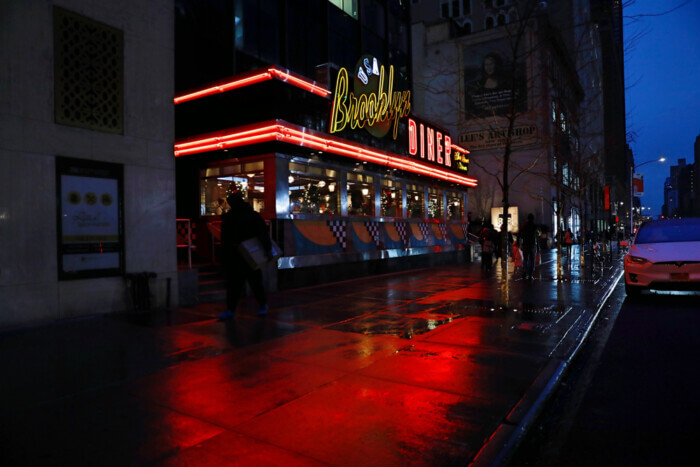 Next up on our epic list of the best diners in NYC, it's Brooklyn Diner.
Located at 212 W 57th St, close to Carnegie Hall and situated in the Midtown hotel area, it's a great choice if you're searching for a New York diner for pre or post-theater food.
Go for their amazing Jewish, Irish, Italian cooking and more, but save room for the impressive desserts, freshly baked onsite.
Granted, this is definitely more expensive than other choices on this list – but still fun and absolutely worth visiting.
Tip: This is a great option if you're seeing a Broadway show in the evening. Both locations are very central, and walkable distance to a lot of Broadway theaters.
---
3 Guys Restaurant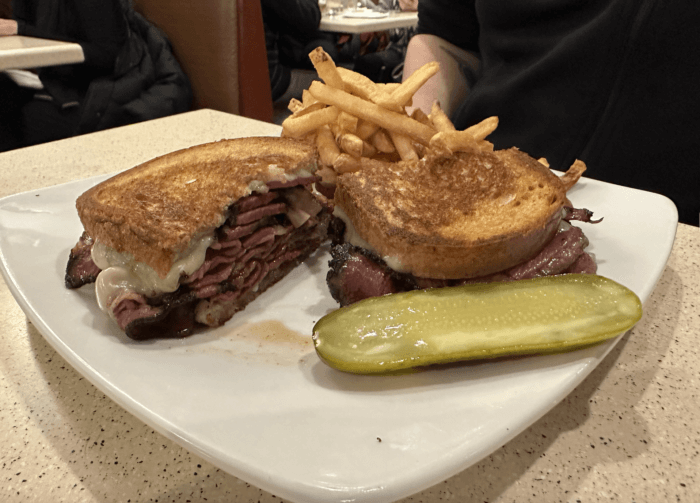 Our next suggestion for the best diners in NYC, is the 3 Guys Restaurant on the Upper East Side.
This is a great choice if you're in the Upper East Side neighborhood, and it's certainly one of the most affordable places to eat around there too.
The food here is classic NYC diner food, so you'll find pastrami sandwiches, different soups, and pasta and sandwiches, etc.
When we last visited here is was jamp-packed with locals – so it's clearly a really popular choice for those who live nearby. Which is always a good sign too!
Read more NYC food inspiration: What is the best pizza in New York City
---
Edwards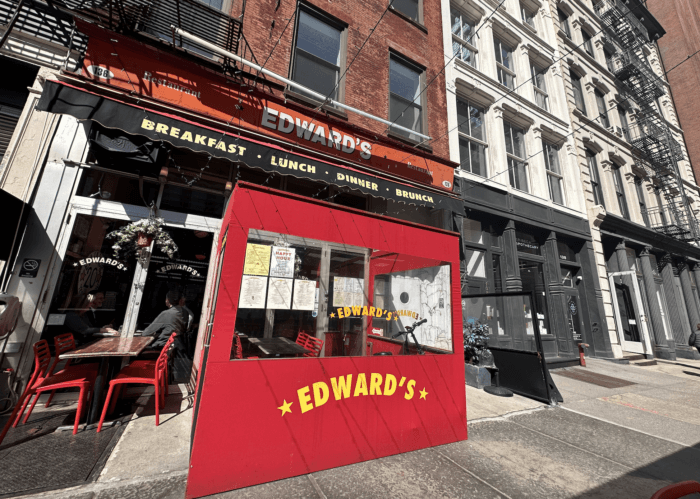 Edward's is next up on our list of the best diners in NYC. This place is a cross between restaurant and diner, but the decor gives us real 'diner vibes' which is why we included it in our list.
Take a look at the photo below, to see the cute interior decor and why this place makes us feel those 'cozy diner vibes' we've been talking about.
It's a great choice if you're looking for New York diners, and we think you'll love it.
Read more about NYC food: The best brunch in NYC – 15 places to try!
---
Eisenberg's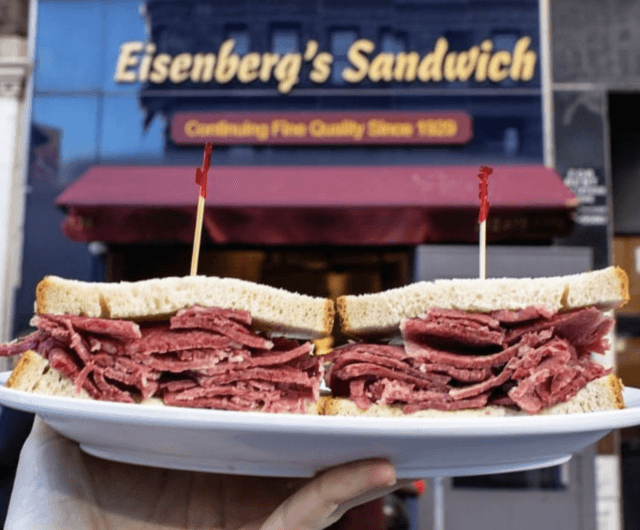 Next on our list of the best diners in NYC, it's Eisenberg's. Now, this place is a classic New York diner choice, and has been open for many years!
Located on 174 Fifth Avenue, and open since 1929 (!), this diner is one of city's most iconic and charming diners and has a super fun vibe.
Importantly, they also serve up some seriously delicious food too.
Sit down and watch the world go by whilst munching on their toasted cheese sandwiches! Yum! You can't ask for more than that.
---
Neptune Diner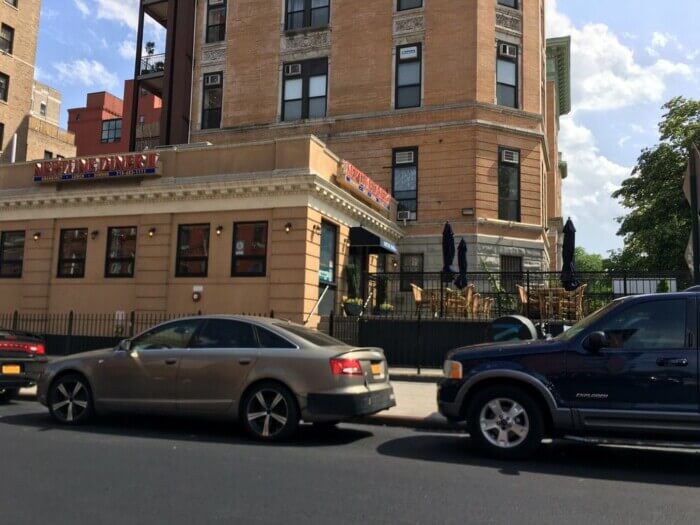 Neptune Diner in Brooklyn is another wonderful option if you're looking for New York diners.
As we just mentioned, this place is actually loved in Brooklyn, but don't worry, it's relatively easy to reach from Manhattan too.
This place serves up your normal diner food – but for something special, try the Greek items on the menu!
Read more NYC ideas: 60 free and cheap things to do in NYC
---
Kellogg's Diner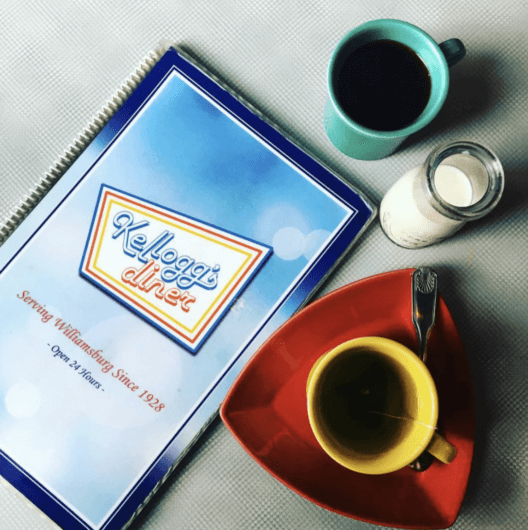 This classic diner in Williamsburg has been serving up classic American diner fare since 1927. That's a lot of history, and plenty of year perfecting their recipes!
Kellogg's Diner is a classic diner located in the trendy Williamsburg neighborhood of Brooklyn, it's super easy to get to – so don't rule it quite yet!
The diner's retro decor and friendly staff transport customers back to a simpler time, and the menu is packed with classic American diner fare like burgers, sandwiches, and breakfast dishes. So much deliciousness!
In addition to its classic offerings, Kellogg's Diner also offers vegetarian and gluten-free options, which is great news for those who don't eat meat.
---
Tick Tock Diner NY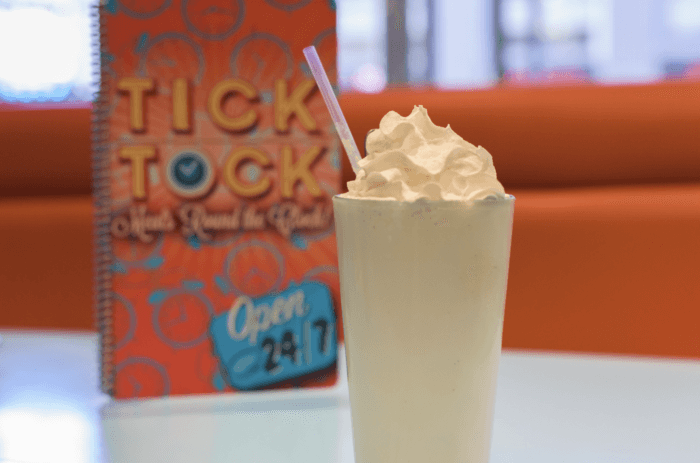 Tick Tock Diner NY is next on my list of the best diners in NYC. This place is a MIdtown icon, with loads of history and some seriously cute, retro decor too.
As expected, this place serves up all the classic diner meals. So you'll find stuff like waffle fries, grilled cheese, pancakes, and so much more.
This place is located near Madison Square garden, so it's a fantastic stop-off for some pregame food!
---
Bonus diner ideas!
Listen, there are so many diners in NYC, so I eventually need to end my list.
However, the end isn't quite here… Because we've put 4 extra bonus suggestions for New York diners here!
So, if you still haven't found what you're looking for, maybe these final 4 quick-fire suggestions will tick your boxes:
---
We hope this list of the best diners in NYC has given you plenty of ideas and tips for where to visit!
Which of these New York City diners will you be visiting first? Do you think we missed any of the others off our list? Let us know if so!
Read more NYC food recommendations: Where to find the best bagels in NYC