When I visited Venice, I had heard so many horror stories about how over-priced it was there. But is Venice expensive? Or can Venice be done on a budget? I'll delve into my own experience below so you can learn what the prices in Venice are REALLY like, and if you need to be worried about blowing your budget.
---
Hotels and accommodation prices in Venice
---
Hotels and accommodation is probably the most expensive part of visiting Venice, but as with any small city when choices are limited, prices do tend to go up. Because of this, you'll likely end up paying more than £100 a night in peak-season, even in lower quality properties. There are a few ways to save yourself some money on accommodation though…
Tip 1: Is Venice Expensive? It will certainly be more expensive if you visit in high season. Go to Venice at a less busy time of year, such as January, September, October or November and you'll find the hotel prices are much lower. Avoid February if you want to save money because February is when they hold the Venice Carnival (and the city is packed full during this time, so prices skyrocket).
Tip 2: Stop on Murano Island instead of Venice island. I stayed at a 5* hotel there for about half the price I would've paid on Venice island. Yes, it took a little longer to get around, but we took their complimentary speed boat and used the public water buses and it was fine.
Tip 3: Stop in an AirBnB instead of a hotel. You'll likely find somewhere more central, for much less money.
Tip 4: Stop a little further out of the city centre. I've marked on a map below the areas where you'll probably find cheaper hotels. Everywhere outside of the red shaded area is likely to be priced cheaper.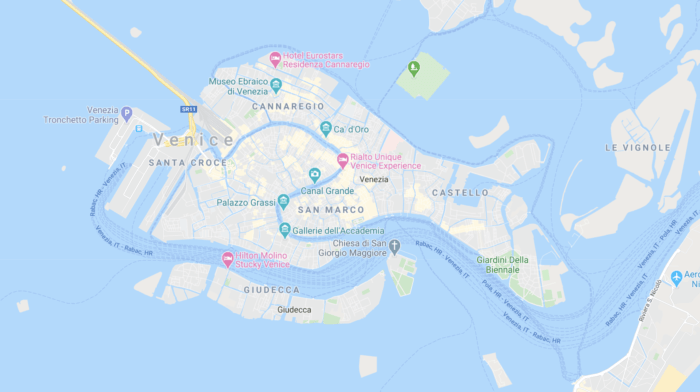 ---
Food and drink prices in Venice
---
Next up when you're wondering "Is Venice Expensive?" is probably how much food and drink is. In all honesty, I didn't find the prices in Venice any different from the prices in any other European city. The prices were no different from Paris, London, Madrid, Rome, etc.
As in all cities, you'll have tourist areas where prices in restaurants are inflated due to demand and foot traffic. If you head away from these areas (sometimes even by a few hundred feet) you'll find much cheaper options and much more affordable places to eat.
So, for example, instead of eating somewhere with a water-side view of Rialto Bridge, walk a little along the water and find somewhere with less of a view. You'll likely find the price has decreased too! 
As an example for prices to expect on average:
A pizza: 10-20 euros
A cup of coffee: 3-6 euros
A plate of fries: 3-6 euros
A seafood platter main course: 20-30 euros
A bowl of pasta: 15-25 euros
2 scoops of ice-cream: 3-5 euros
A glass of wine: 5-10 euros
Of course the exact price will depend on which restaurant you're in, and where the restaurant is on the island, but these prices are roughly what we paid for this kind of thing.
---
Tours and sightseeing prices in Venice
---
There's a lot you can do in Venice without spending a penny. The city is actually an amazing place just to walk around and enjoy, without paying extra for viewing decks / museums/ etc. If you don't want to spend additional money on tours and attractions, you could easily spend a few days in Venice just by doing things for free / or very little money.
However, here are some of the common tours on offer in Venice, and what they cost. These tours are via Get Your Guide, who offer really good prices on tours, and are a reliable tour company with great reviews. I've had great experiences with them (on some of these exact tours) so I highly recommend them. I also recommend booking tours ahead of time (especially during peak season) to ensure you get your place guaranteed.
Boat Trip: Glimpse of Murano, Torcello & Burano Islands – Approx £18 per person
Doge's Palace Priority Admission Ticket – Approx £25 per person
Traditional Shared Gondola Experience – Approx £30 per person
Private Gondola ride – Approx £100 per boat (up to 6 people per boat)
Leonardo Da Vinci Museum Entrance Ticket – Approx £6 per person
Hop-on Hop-off City Sightseeing Boat Tour – Approx £20 per person
Skip the Line: St. Mark's Basilica Guided Tour – Approx £28 per person
Private Tour with a Local Guide – Approx £35 per person
Panoramic boat cruise & sunset spritz – Approx £20 per person
---
Money saving tips and tricks in Venice
---
I'm hoping by now you've realised that Venice isn't as expensive as people would have you believe. Yes, the tourist traps can be expensive (the same with any big city) but if you avoid those super busy tourist areas, you should be easily able to find affordable food and accommodation.
Nevertheless, here are some extra money saving tips and tricks to help you stick to your budget in Venice:
Tip 1: Take a plastic bottle and refill it at the public water fountains. That way you won't need to keep buying drinks throughout the day (this could save you about 10-15 euros a day). Is Venice expensive? Not if you don't spend money on unnecessary items!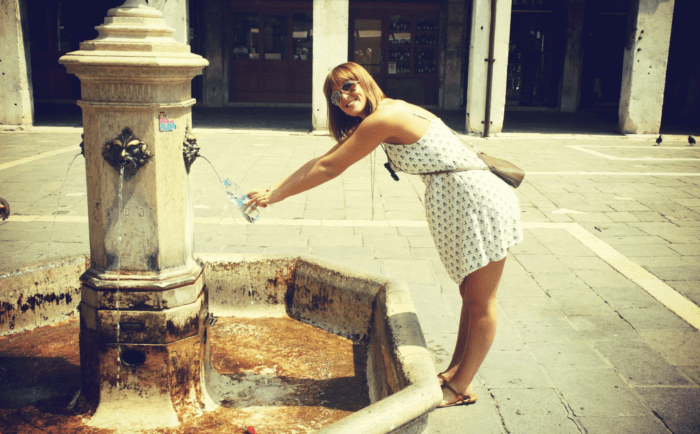 Tip 2: Find small food stalls and 'bargain' cafes, instead of eating at restaurants. For example, if a quick slice of pizza is all you need for lunch, you could buy it buy the slice and only pay 2/3 euros (instead of paying 15 euros for a whole pizza somewhere else).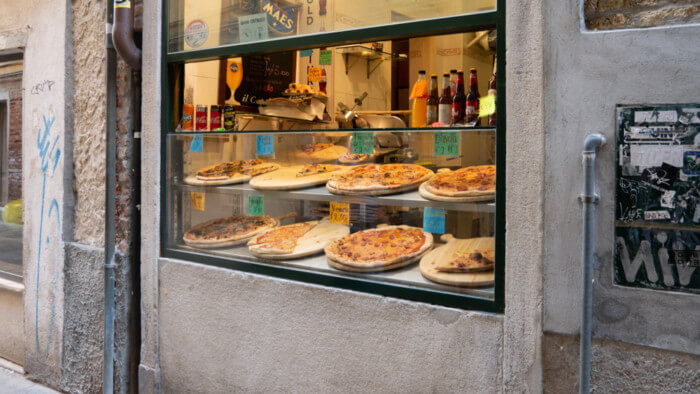 Tip 3: Walk everywhere! You don't need to spend money on private boats or water taxis in Venice, most places are within walking distance. If you get your steps in, you'll also save money. Is Venice expensive? Not if you walk everywhere!
Tip 4: Go window shopping! You don't need to spend money to look in Venice's beautiful shops. Their glass stores and their mask stores are famous in Venice, and you can go in and look around these shops without spending anything. We had lots of fun trying masks on! Is Venice expensive? Not if you only window shop!
---
So, is Venice Expensive?
---
I hope this blog post has answered your question "Is Venice expensive?"
In short, it's no more expensive than other big cities, so don't be worried!
If you're smart and savvy during your trip to Venice you shouldn't need to worry too much about blowing your budget. To avoid paying lots, avoid big tourist areas and you should be fine!
You might also want to read this other blog post about Venice.
---