---
Are you looking for the information on where to stay in Boston?
---
So you've gone looking for where to stay in Boston…
Each neighbourhood has a different vibe, so there's usually something for everyone, but making that decision can be pretty tricky if you're not sure what you want from your city break.
If you haven't been to Boston yet, you might not be sure which neighbourhoods are best suited to you – but hopefully this blog post will make things a little clearer for you!
From Back Bay and its Old Boston reputation, to the South End and its thriving culinary scene – there's something for everyone in Boston.
---
South End
---
First on my list of where to stay in Boston, South End. If you're an arty type, South End is about the best place to stay in Boston. This is where the cool people hang out, and it's known for being a quirky and cool neighbourhood.
It's got a thriving eating and drinking scene and in terms of culture, it's become a go-to, not only due to the Boston Cultural Centre and the Boston Ballet, but also because more recently the area south of Washington street (SoWa) has become home to loads of new galleries. The highlight of our time here, though, was Wally's Jazz bar on Mass. Ave. 
Tour Recommendation for South End: South is known for it's restaurants and cafes, so we wanted to recommend the South End  Wine Tasting tour. It's a bit quirky and different, and you get to try a few cool bars along the way!
Where to Stay: The Revolution Hotel. It's got a cool vibe, it's really well located, and has a 5* trip advisor rating, so don't just take our word for it.
Read more about Boston: Top 25 things to do in Boston at night
---
Beacon Hill
---
Beacon Hill is iconic in Boston. If you thought "I want to live the highlife" when searching for where to stay in Boston, then you've found it in Beacon Hill. Beacon Hill synonymous with wealth and prestige, and the scenery of its redbrick houses and cobbled streets makes you feel almost as though you're in Europe.
Despite being highly exclusive, though, it's super welcoming. It's also where you'll find Boston Common, which is a gorgeous park with swan boats, and different flower configurations all around. 
Tour recommendation in Beacon Hill: The 2 hour walking tour of Boston's history and highlights will take you right through the heart of Beacon Hill, and your guide will tell you loads of interesting information about the area too. This tour has amazing review for a reason!
Where to stay: The Liberty Hotel. It used to be a prison, so it comes with buckets of history. The restaurants come with high recommendations from locals and visitors alike, and they host regular events like Yappy Hours for dog lovers.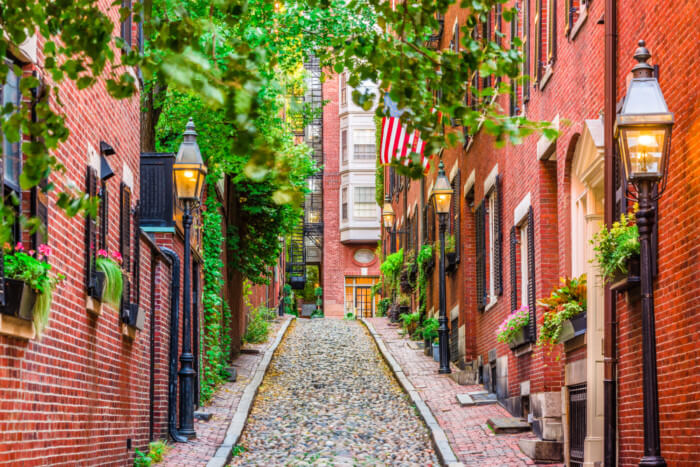 ---
Back Bay
---
When thinking about where to stay in Boston you really can't go wrong with Back Bay. It's beautiful, central, well connected, and home to some of Boston's best attractions.
Home to the Boston Library (which is beautiful) you could check out some stunning architecture and people watch, or if you're into beer we definitely would recommend heading to Bukowski Tavern.
If you want to live your dream Boston life (highly caffeinated and surrounded by books) there's also Trident Booksellers and Cafe. The coffee is incredible, and the environment to die for. 
Tour recommendation in Back Bay: The Boston Old Trolley hop-on hop-off tour will take you right through Back Bay, so it's a great day activity to add to your list. In general, this is a REALLY fun (and affordable) way to see the city too.
Where to Stay: Gryphon House. It kinda looks like someone's house, it's hella beautiful, and has gorgeous harbour views. What more could you want?
Read more about Massachusetts: The best water parks in Massachusetts!
---
North End
---
Next on my list of where to stay in Boston, North End. One word: History. North End is all about the history. Boston is pretty well known as being a very historic city, and this area is chock full of info about the American revolution (if that's you're thing).
It's also Boston's Little Italy, so it has an amazing character that draws both on Italian Culture, and New England history, to create something really unique. Think tiny Italian restaurants serving fresh seafood, or cosy little cafes making kick ass coffee.
It's definitely one of the most picturesque areas to just go for a stroll and soak in the vibe. 
Tour recommendation in North End: Another recommendation in North End is the amazing North End Pizza Tour. I mean, if the fact you get to try loads of pizza doesn't convince you this tour is worth doing, I don't know what will!
Where to stay: Boston Marriott Long Wharf. If it's your first time in Boston this place could be ideal. It's right on the water, it's close to the sights, and it's got a gorgeous waterfront bar (Tia's) in the warmer months!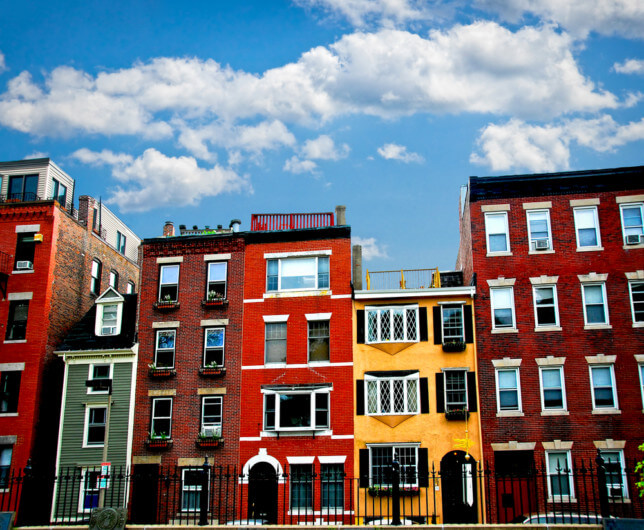 ---
Fenway
---
Fenway is my next choice for where to stay in Boston. Fenway park is one of the few original baseball stadiums that's still knocking around (Wrigley Field in Chicago is another), but baseball is not all this area has to offer. However, saying that, it's a great place to stop if you plan on catching a game.
Everyone in Boston has a story of a big night out in Fenway, and loads of new restaurants have started picking up there. If you're hungry head to the Time Out Market, which is an incredible plethora of chefs, turning out stellar recipes on the reg. 
Tour recommendation in Fenway: Of course we have to recommend the Fenway Park stadium tour! Seeing the stadium is really cool, and getting to go behind the scenes is even cooler.
Where to stay: The Verb. Trendy, unique, and definitely cool enough to stick up on your instagram. Live music is a regular occurrence in the lobby and at the pool so you can't be disappointed.
Read more about East Coast travel: 41 fun things to do in Portland, Maine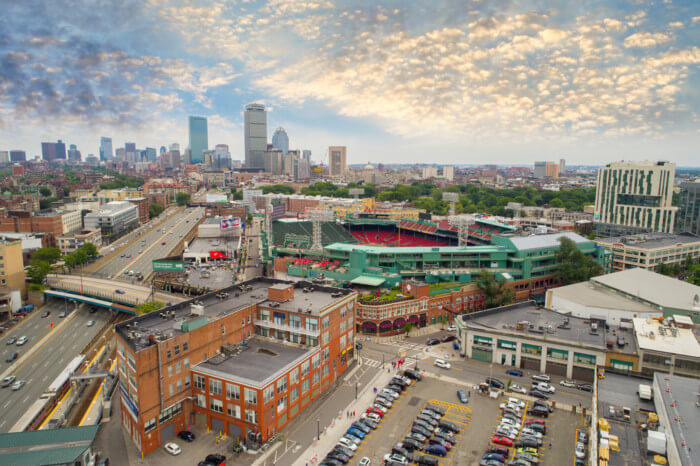 ---
Downtown Boston
---
Another great place to add to my list of where to stay in Boston is Downtown. What list of where to stay would be complete without mentioning this space right in the centre of The Hub?
This is as central as it gets. China Town is right there for amazing eats, and Faneuil Hall and Quincy Market are some of the city's most visited sights. Get a BanhMi at New Saigon Sandwich, and the walk up to Boston Common to eat in the park. You won't be disappointed! Watch out for the squirrels, though!
Tour recommendation in Downtown: The historic Pub crawl through Boston's freedom trail is an absolute must-do if you love pubs, history or beer. You'Local Bostonian tour guide and beer expert
Where to Stay: Boston Park Plaza. It's kind of pricey, and sort of in between downtown and Back Bay, but it is beautiful. A very classic 1927 hotel, with gorgeous rooms and killer views of the common.
---
Seaport District
---
And finally on my list of where to stay in Boston, the Seaport District! Seaport District is a South Boston district, which (as the name suggests) runs alongside the waterfront of the city.
If you like your hotel room to look over water (personally, I LOVE a hotel room with a water view) then the Seaport District is an area you'll love being based in.
You'll find lovely hotels along the seafront, as well as a variety of bars, restaurants and cafes too. So there's plenty for you to do in the evening within walking distance of your accommodation.
Tour recommendation in the Seaport District: The 90 minute sightseeing Boston cruise is actually a lovely way to soak in the city skyline. It's really affordable, and gives you some great photo opportunities too.
Where to stay: The Westin Boston Waterfront. The Westin is a classic hotel chain to stay in and has good standards of service and decor across the majority of their properties. For me this is a really safe choice, you'll get a great view (make sure to pick a waterfront room) and a solid 4 star service.
Read more about Boston: 30 fun things to do alone in Boston
---
I hope this list of where to stay in Boston is useful! If you have any more questions, just let me know in the comments below and I'll try to answer them for you!
Read more about Boston: Top 15 restaurants open on Christmas Day in Boston