Yesterday we went up the Gondola again (yay!) for an afternoon of ZipTrekking through the Queenstown forest! We were really lucky to have been given some complimentary tickets, so it was a great chance to enjoy one of Queenstown's lesser known activities.
The ZipTrek tour is found at the top of the Gondola in Queenstown (where you'll find some incredible views, an amazing restaurant and also the luge) and it's a quick 2 minute walk from the Gondola to the left of the building. So easy to get to, and it was an awesome way to spend the afternoon – especially as a group of 4. We were in a tour group of about 8/9 (I can't remember) who were all lovely. There was a variety of ages in our group, and everyone had a good bit of banter and chat along the way which was lovely – some of the older people in the group were actually the first to try spinning upside down! So kudos to them!
The tour starts with dressing up – in harnesses. Surprisingly – the harnesses were actually really comfy to wear and easy to get on. But don't worry about this too much – the two tour guides who take you round will take care of getting you strapped in. Once you've got it on, you barely remember it's there. So don't worry about uncomfortable wedgies or anything…!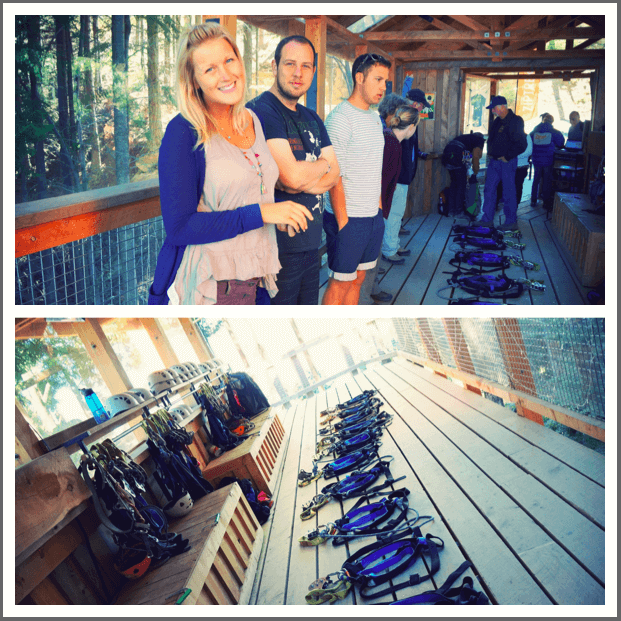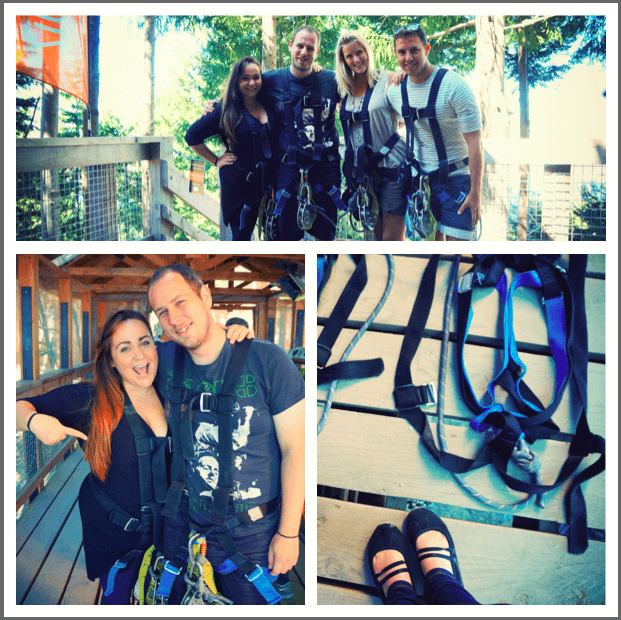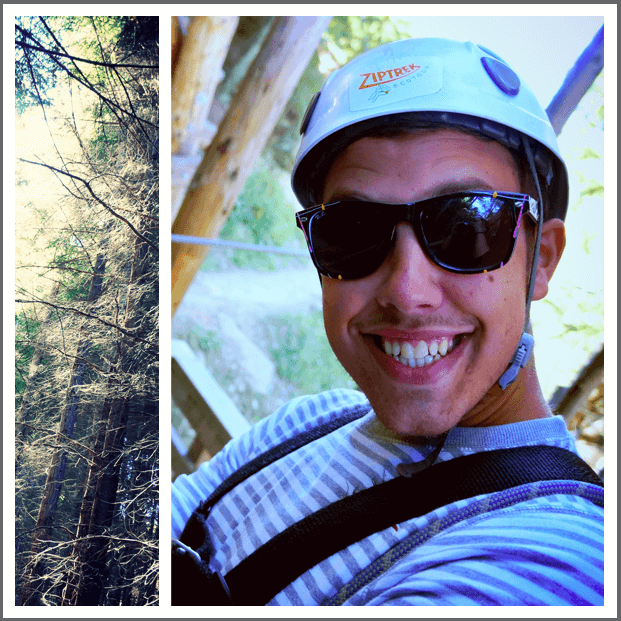 It's a short walk along the amazing tree-houses to the first zip-line, and they definitely ease you in. Once you've done the later ones – the first one seems relatively tame in comparison  We were the first ones off this Zip-Line and it was great. I'm no adrenaline junkie – and was pretty nervous about the whole thing – but actually it was great. You feel really safe when you're attached, and the tour guides who take you round will put you at ease and encourage you if you're a bit slow off the edge. Which I was a few times!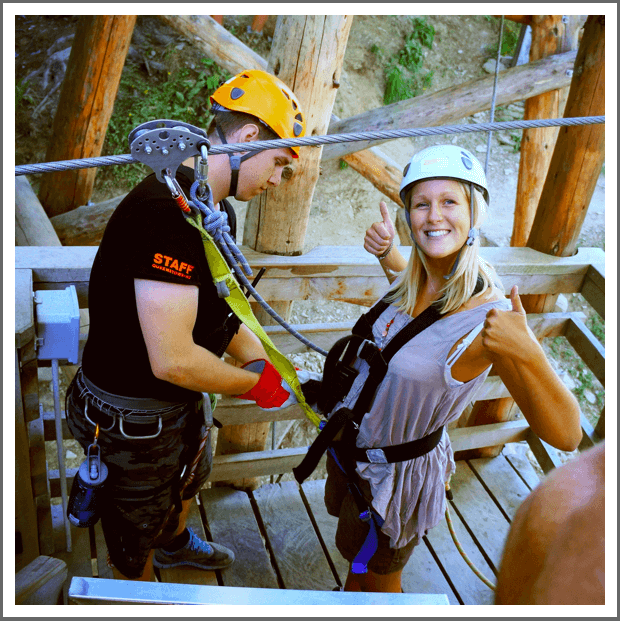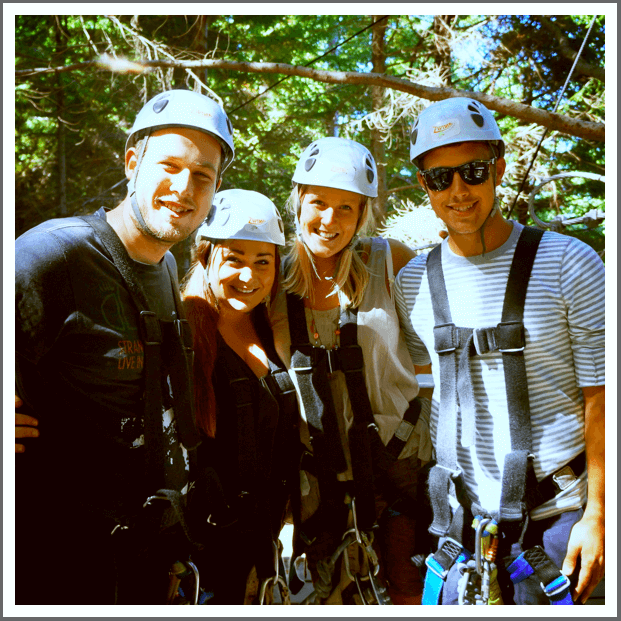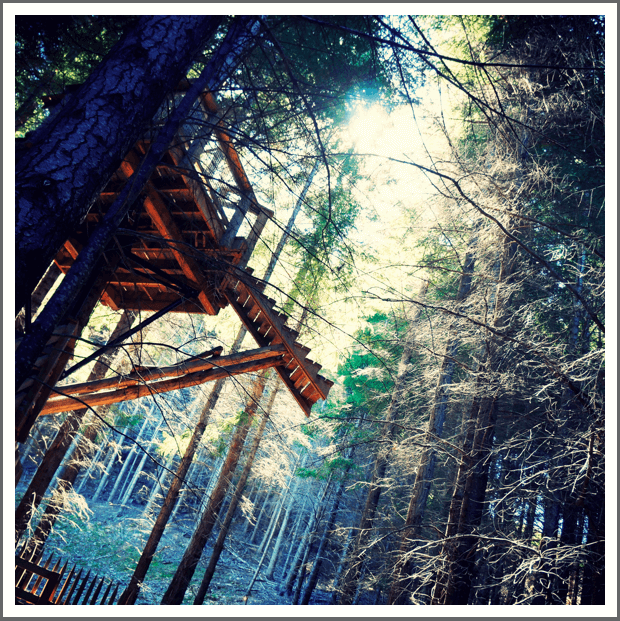 Just in general, the tour is fantastic for sightseeing a bit of the nature surrounding Queenstown – and catching some gorgeous views. The tree-houses are so scenic, and reminded me of being a kid again. I mean – how much would the ten year old you have loved this treehouse?! Some of the views along the way were just magical, as you can see above. There's about a 20 minute walk towards the end of the tour, downhill through the forest – and you can take the time to enjoy the views during that time – incase you missed them whilst zooming through the trees earlier.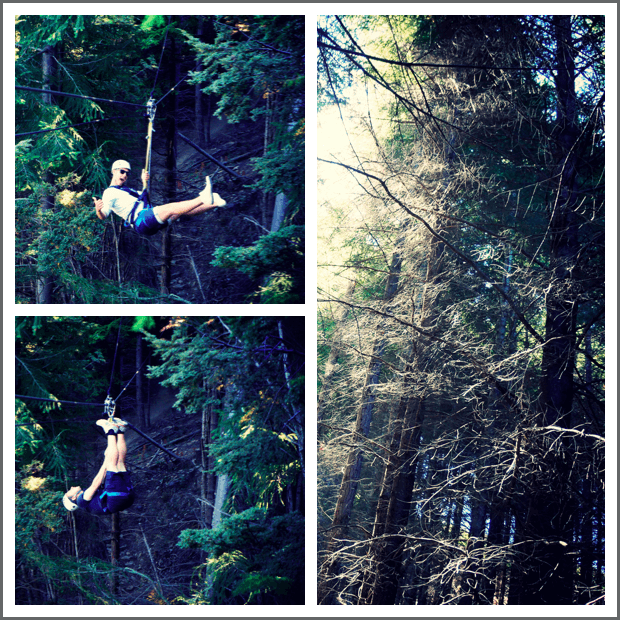 After your first try on the zip-wire, the tour guides (ours were TJ and Rich) will teach you some tricks along the way. If you're brave enough, you can swivel upside down along the way (props to Paddy for doing it!) and at one point you can also do a leap of faith – type thing off one of the platforms. Definitely a bit scary – but really cool. This was Paddy's favourite part of the tour – which doesn't surprise me as he loves jumping out of planes and stuff.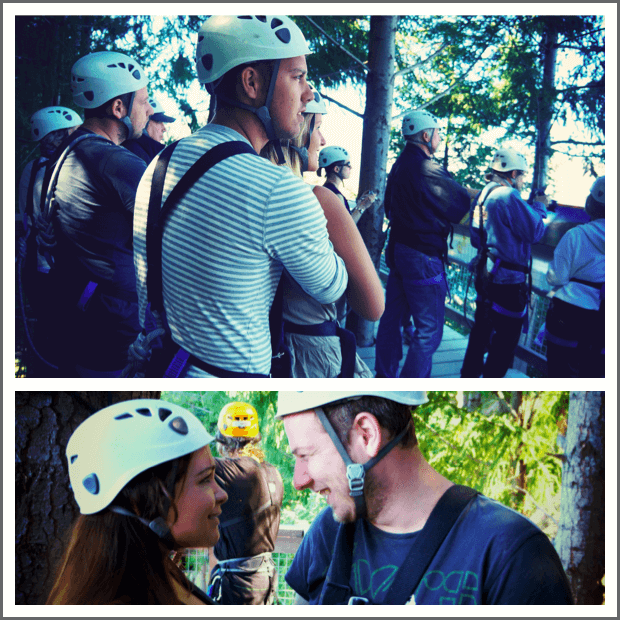 If you're a bit of a fraidy-cat (like me) the nerves do wear off as you go along – and you become more confident. I don't look nervous at all above – which I think was our 4th zip-line. I enjoyed the 4th and 5th zip-line's the most as they were a little longer, which meant you had more time to enjoy the views along the way.
Another thing I'd recommend (if you're a traveller experiencing this solo, which a few people in our group were) is to swap cameras with someone. That way you can each take photos of each other on the zip-lines.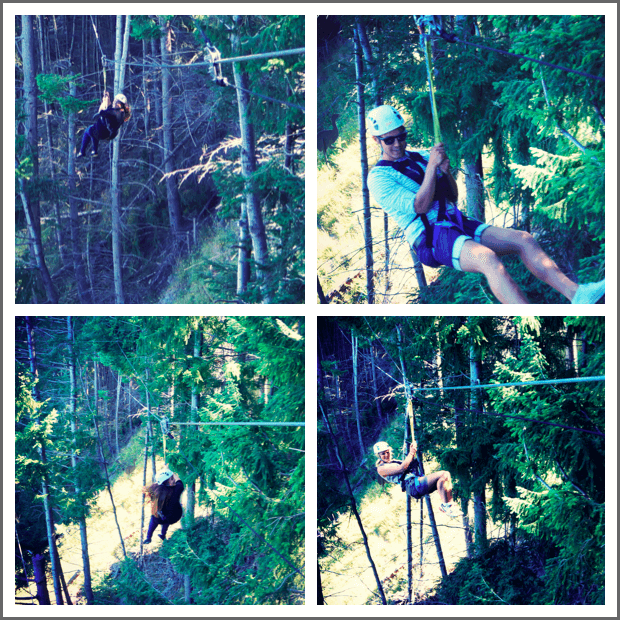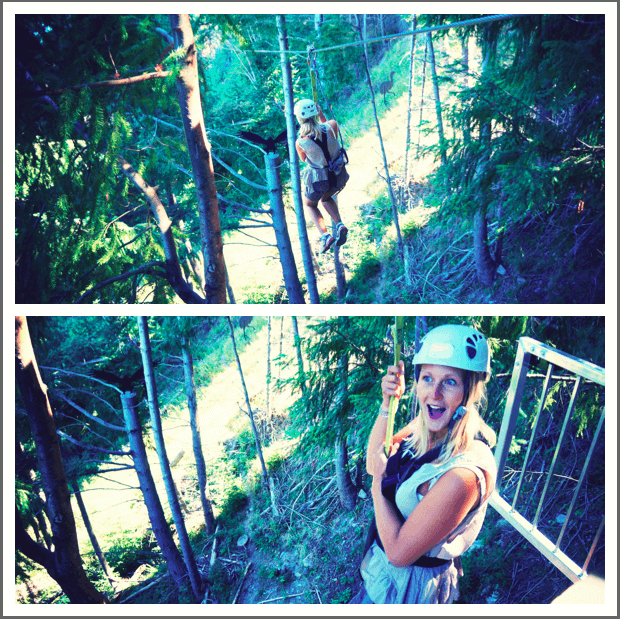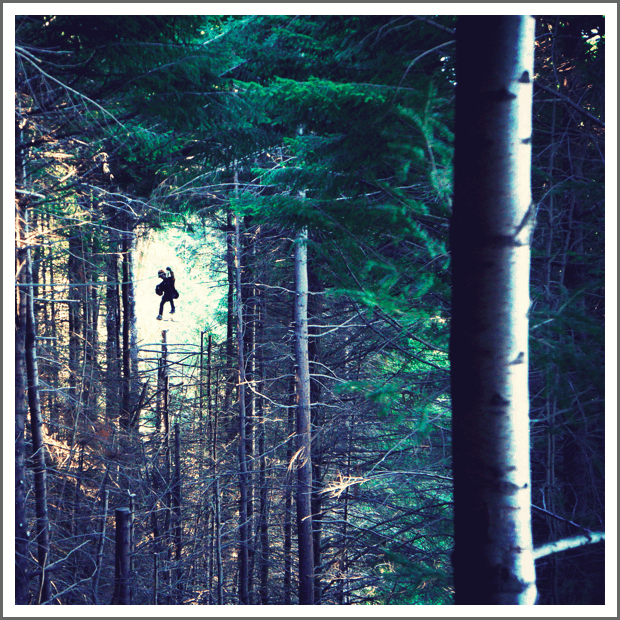 This was one of my favourite views of the entire tour. It was great watching people zooming through the gap in the trees – and how photogenic is the view? This was one of the longer zip-lines, and one of the most enjoyable too. You had some great views of the lake as you went across – a paraglider even floated past as I was on it- which was bizarre!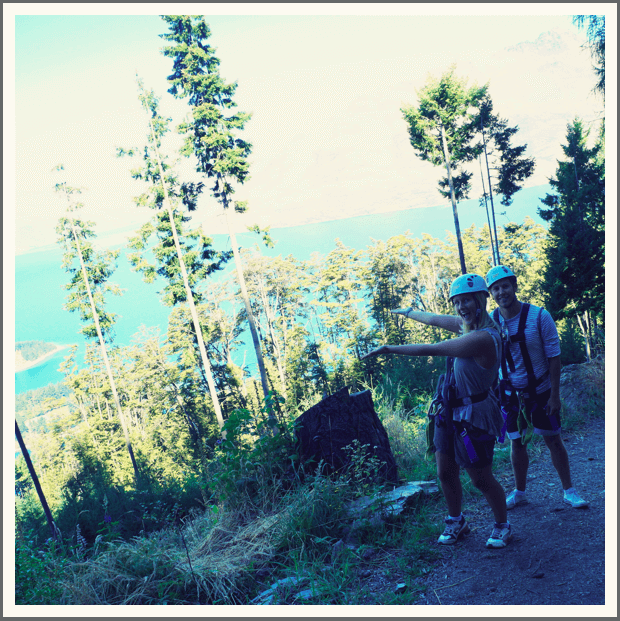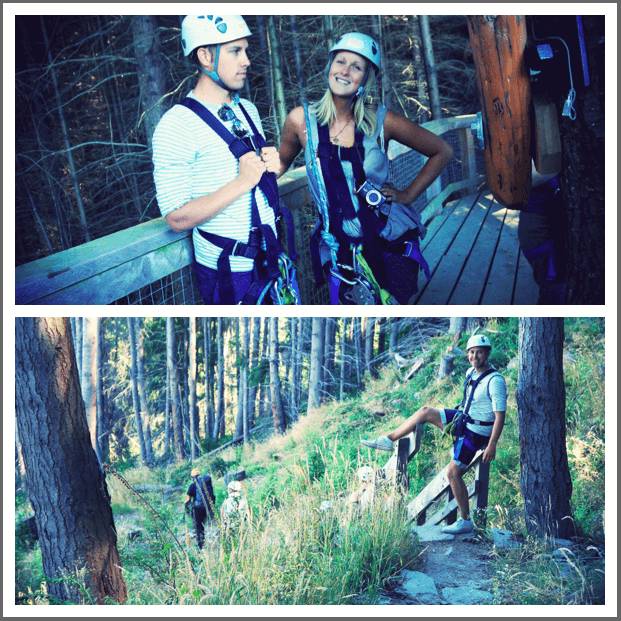 The last treehouse of the tour is above, which is one of the steeper zip-lines and takes you down the last leg of the mountain! And of course – special mention to TJ and Rich who were our tour guides for the afternoon, who were awesome! And Jada who we met when the tour finished! 🙂
If you'd like to book yourself a place on one of ZipTrek's tours you can do so here, on their website. We'd all recommend it as a fun afternoon in Queenstown – and they run all year round which is great too. So you can either do the tour during ski season – or during summertime. As I mentioned before – it's something that is relatively hidden – but super easy to get to and a great thing to combine with the Skyline restaurant and Gondola beforehand.
Did you enjoy this post or find it helpful? If so I'd love if you could spare a second to vote for me in The Cosmopolitan Blog Awards 2014. Just click here to get to the voting site. Thanks a million!