When we visited the Grand Palace in Bangkok, the number one thing we were looking for was detailed information on the official rules, regulations and dress-codes…. The kind of things you need to know before getting there! If you're reading this, you're probably sat in your hotel or hostel researching just what exactly you should be wearing tomorrow – and hopefully I can help out!
The Palace is quite far across town from our hotel, so we didn't want to turn up wearing the wrong thing, and then be turned away on the door, and frustratingly, I couldn't find anything official online, but read enough on forums and blog posts to have a general understanding of what is and what isn't OK before turning up.
Hopefully this blog post can help out anyone in the same shoes as us. I've included the official sign posting from the Palace, which can hopefully be of help too!
If you're looking for a tour to the grand palace, I recommend this one: click here. It makes the experience super easy, and makes navigation easier too. You'll also learn loads as they have an English tour guide.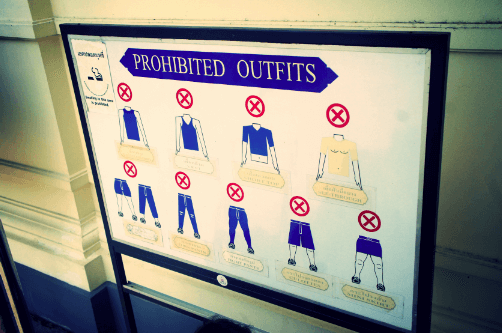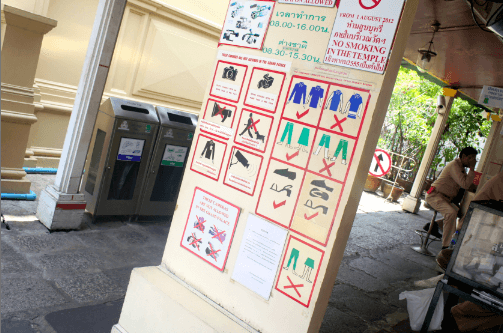 The general gist of things are:
NO VEST TOPS or TANK TOPS (FOR MALE or FEMALES)
NO SHORT SLEEVES THAT SHOW SHOULDERS
NO MIDRIFF ON SHOW
NO BACKLESS CLOTHING
NO LOW-CUT CLOTHING ON FEMALES
NO PANTS OR SKIRTS THAT SHOW ANKLES (basically no mini skirts, shorts, 3/4 length pants, etc)
NO FLIP-FLOPS
NO BARE CHESTS (obviously this mainly applies to men)
Your ideal outfit would be some nice light cotton trousers or a maxi dress/ skirt (if you're a girl) and a light t-shirt. As a girl you'll need a proper cardigan to cover your shoulders – a wrap around shawl won't cut it.
There is a changing room too – so you can always pack your palace-outfit in your bag and get changed there – which is a decent idea if you plan on doing something before or after during the day. Because trust me – long sleeves and trousers can feel pretty heated in the Bangkok temperature and once you leave the palace grounds you'll probably want to get changed into something a bit lighter!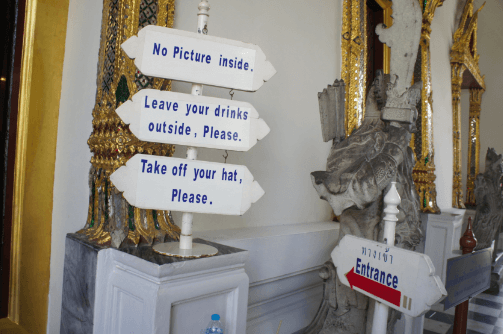 In certain parts of the temples and palace there will be further rules enforced too, such as no shoes, etc. For this reason, don't wear your most expensive, designer pair of shoes…. because believe it or not, sometimes shoes get stolen outside temples. Also, in a lot of the rooms, you won't be able to take water in – so it's best to have a bag you can store yours in whilst you enter. Water is something you'll need by the way (whilst we're on that subject!) as there is no air-conditioning in the palace grounds, and it can get really hot.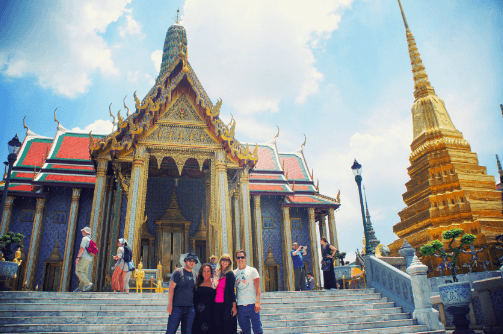 Hope this helps!
If you're booking your trip soon, I'd recommend the following tours in Bangkok too!
Damnoen Saduak Floating Market & Maeklong Train Market Tour: Click here. 
Bangkok: 2-Hour Dinner Cruise on the Chao Phraya Princess: Click here.
Muaythai Lumpinee Boxing Stadium – VIP Entrance Ticket: Click here.
Bangkok: 2-Hour Songkran Water Fight on Private Tuk Tuk: Click here.