Are you looking for the official dress code for the Grand Palace in Bangkok?
There are lots of dress codes and regulations for visiting the Grand Palace in Bangkok, so keep reading to find out what you can (and can't) wear inside the temple and palace grounds.
Why is it important to read the regulations? Because this place in the city is extremely important, religious and spiritual, you won't be allowed to enter unless you have followed the rules. When we visited the Grand Palace in Bangkok, the number one thing we were looking for was detailed information on the official rules, regulations and dress-codes….
The kind of things you need to know before getting there! If you're reading this, you're probably sat in your hotel or hostel researching just what exactly you should be wearing tomorrow – and hopefully I can help out!

---
What is it like to visit the Grand Palace in Bangkok?
The Grand Palace in Bangkok was quite far across town from our hotel, so we didn't want to turn up wearing the wrong thing, and then be turned away on the door.
Frustratingly, I couldn't find anything official online, but read enough on forums and blog posts to have a general understanding of what is and what isn't OK before turning up. But it would've been so helpful to find a blog post with the official dress code and regulations for the Grand Palace in Bangkok beforehand.
It seemed as though everyone was following the rules respectfully, so make sure to do the same and prepare ahead in advance. It just makes for a much more relaxing day trip.
Hopefully this blog post can help out anyone in the same shoes as us. I've included the official sign posting from the Palace, which can hopefully be of help too!
---
Top tip!
If you're looking for a tour to the grand palace, I recommend the one below. It makes the experience super easy, and makes navigation easier too. You'll also learn loads as they have an English tour guide. Your tour guide can also advise whether your outfit is suitable too.
---
Instructional images from the palace and temples…
These images are taken directly from the palace and temple, and give you a really good idea of what is and isn't appropriate to wear.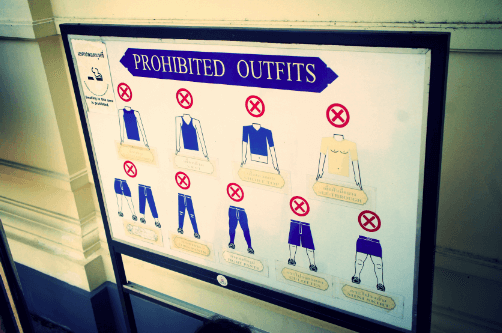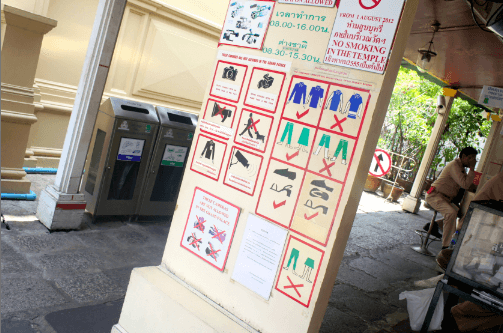 ---
The general gist of the rules at the Grand Palace Bangkok
---
NO VEST TOPS or TANK TOPS (FOR MALE or FEMALES)
NO SHORT SLEEVES THAT SHOW SHOULDERS
NO MIDRIFF ON SHOW
NO BACKLESS CLOTHING
NO LOW-CUT CLOTHING ON FEMALES
NO PANTS OR SKIRTS THAT SHOW ANKLES (basically no mini skirts, shorts, 3/4 length pants, etc)
NO FLIP-FLOPS
NO BARE CHESTS (obviously this mainly applies to men)
---
Things to also remember…
---
The Grand Palace in Bangkok is hot, as Bangkok is a very hot city, and a lot of the premises aren't air-conditioned. Because of this, pay attention to the materials you're wearing too.
You'll want to choose light, airy and cotton materials, basically material that will dry easily, and keep you cool.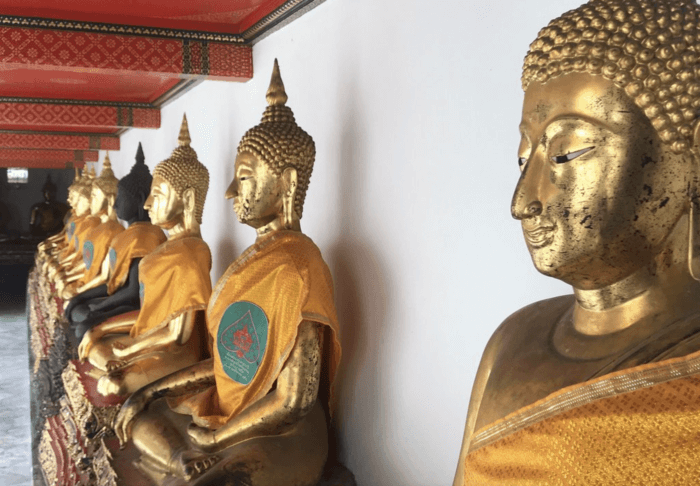 ---
What would the ideal outfit be for the Grand Palace in Bangkok?
---
Planning your outfit ahead of time for the Grand Palace is a good idea.
Your ideal outfit would be some nice light cotton trousers or a maxi dress/ skirt, and a light cotton t-shirt that reaches over shoulders (even down to your elbows). As a girl you'll need a proper cardigan to cover your shoulders – a wrap around shawl won't cut it.
If you can ensure you follow the guidelines below, you should have a successful outfit for the Grand Palace:
Ensure that your legs and ankles are covered (with either long trousers or a long skirt)
Ensure that your shoulders and chest is covered
Make sure none of your clothes are see-through (like mesh)
Make sure none of your clothes have large rips in
There is a changing room too – so you can always pack your palace-outfit in your bag and get changed there – which is a decent idea if you plan on doing something before or after during the day. Because trust me – long sleeves and trousers can feel pretty heated in the Bangkok temperature and once you leave the palace grounds you'll probably want to get changed into something a bit lighter!
---
Tip 1!
I'd also recommend wearing shoes that are easy to slip on and off. Some of the areas of the palace won't allow you to enter with shoes on, so you'll have to leave them outside the room / building.
Having a pair of shoes that are easily taking on and off will make this so much quicker for you. Also for this reason, don't wear your most expensive, designer pair of shoes…. because believe it or not, sometimes shoes get stolen outside temples.
---
Tip 2!
If you're unsure and want to visit with 100% confidence – book a tour guide or book a walking tour.
Your tour guide will be your in-the-know guide through the temple and palace, and will make sure that you're following all the rules and making sure you're wearing the right items.
---
Tip 3!
In a lot of the rooms, you won't be able to take water in – so it's best to have a bag you can store yours in whilst you enter.
Water is something you'll need by the way (whilst we're on that subject!) as there is no air-conditioning in the palace grounds, and it can get really hot. There are water fountains around the palace, so it's really easy to fill up an empty bottle.
---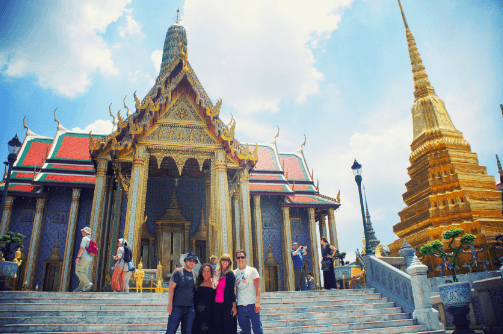 ---
I hope this list of Restrictions, Rules and Dress Codes at The Grand Palace, Bangkok has been helpful! If you have any questions let me know in the comments and I'll try to help!
---