Living in London, it's so easy and convenient getting to Paris in just one day, it's tempting not to do it on a monthly basis!
For a mini weekend getaway it's the perfect destination. It's so awesome being able to leave work at 6pm in Soho – catch the evening Eurostar train to Paris from St Pancras, and then wake up on Saturday morning in a Parisian hotel, ready to explore a different city.
I know lots of people will say that a day isn't enough time to explore Paris properly (and they're right) but you can see all the main tourist spots in one day easily, as I proved in November when my sister and I jam-packed our 24 hours with just about as much as you possibly could.
We each had a Paris Pass, which not only gives you free metro transport, but also gives you free transport on the open top buses (my guilty travel-love) and free, or heavily discounted, entrance into loads of the cities museums and art galleries. You also get a helpful little guidebook too – which comes in useful if you've never been to the city before.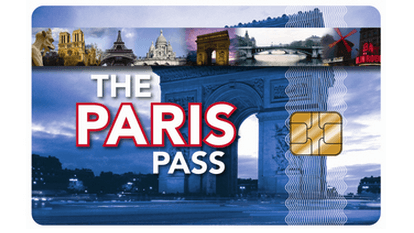 I would absolutely recommend the Paris Passes (they do versions of them in all major cities) and I'm already looking into buying them for our trip to NYC too over Xmas. It's a smart way to sightsee, and saves a load of money. Which of course, can be later saved for cocktails and beer. 
Here's what we got up to!
Soaking in the Notre Dame Cathedral… 
We used the big tour bus as our guide (free with the Paris CityPass), jumped on at the stop nearest our hotel, and then just followed the entire route around Paris (which takes about 2 hours, 30 minutes if you don't get off).
Of course, because we wanted to do more exploring – we did get off occasionally, which added more time to the route overall. We got off at all the places we wanted to explore in more detail, or take more selfies (usually the latter, let's be honest).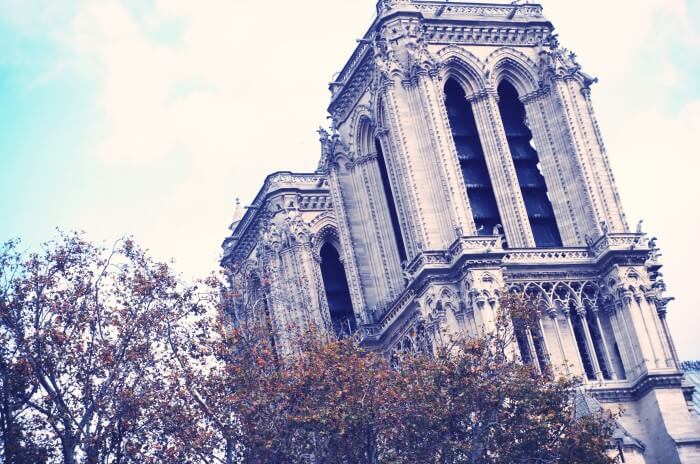 The Eiffel Tower
There are SO MANY Eiffel Tower photo opportunities on the bus tour you'll be spoilt for choice. Here are a few of my favourite shots! There are bus stops every 5/10 minutes or so too – so if you drive past somewhere that looks particularly gorgeous and photo worth – just hop off on the next stop and walk back. Easy!
Love the wide-angle lens on this photo below…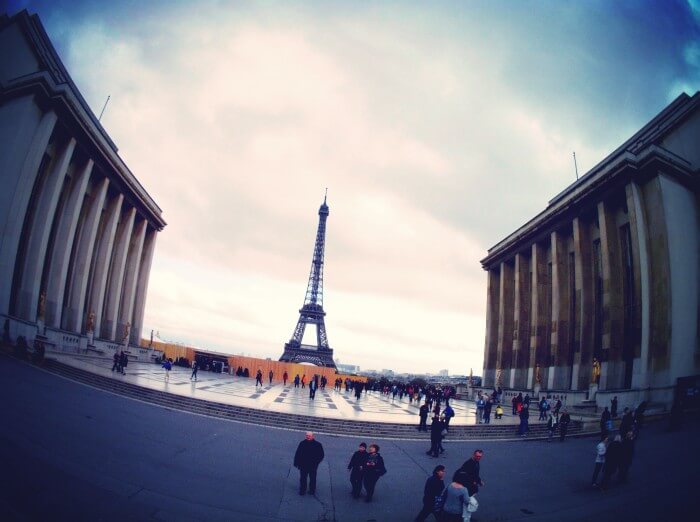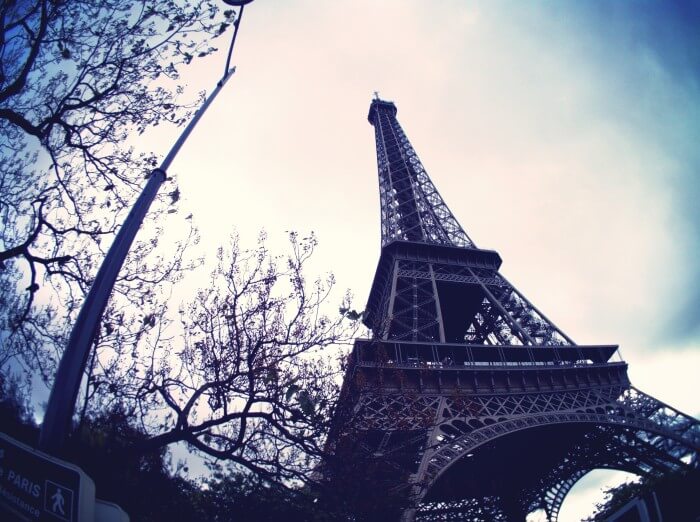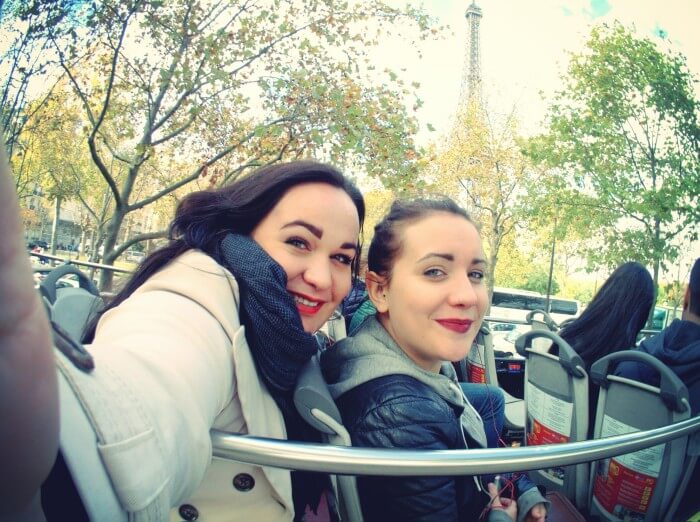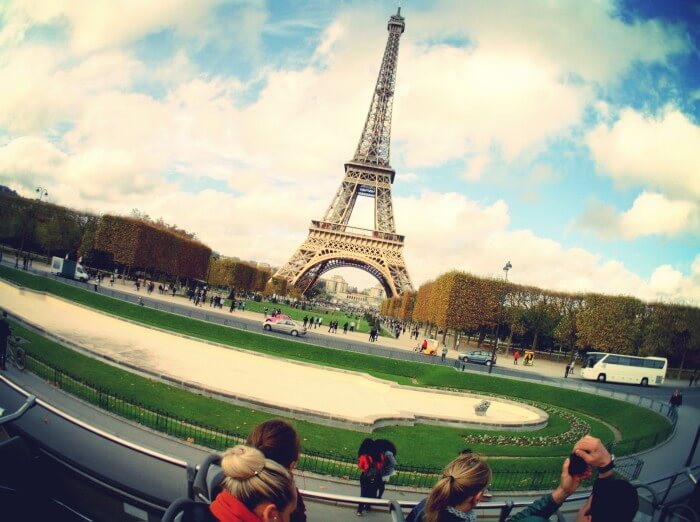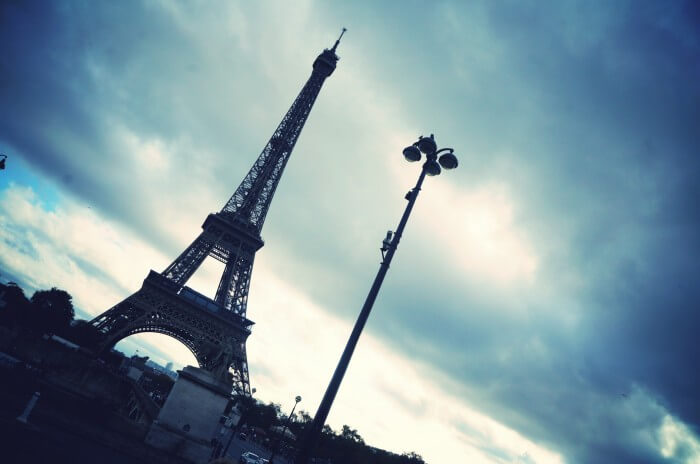 Shopping streets and shopping districts 
Like the Parisian version of Oxford Street, the bus tour takes you right through the heart of Paris' shopping district. I didn't have any left over from payday – so I gave this stop a miss.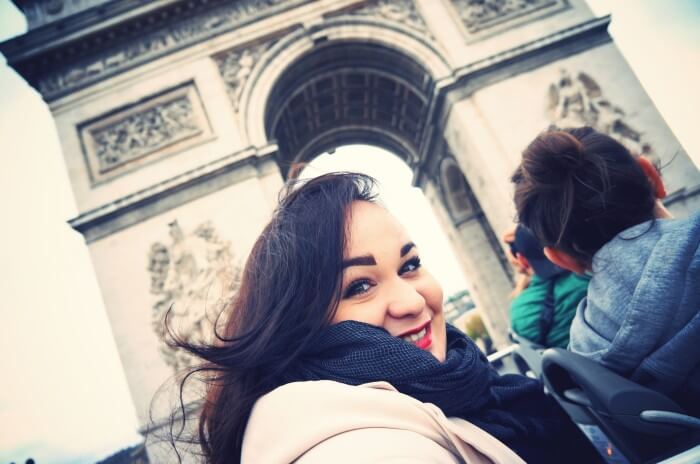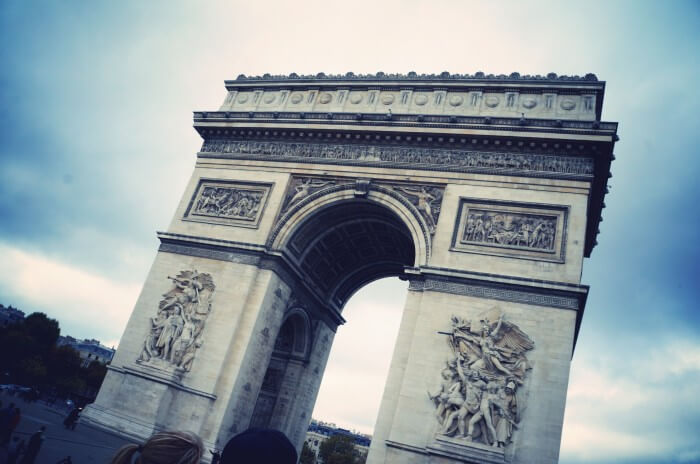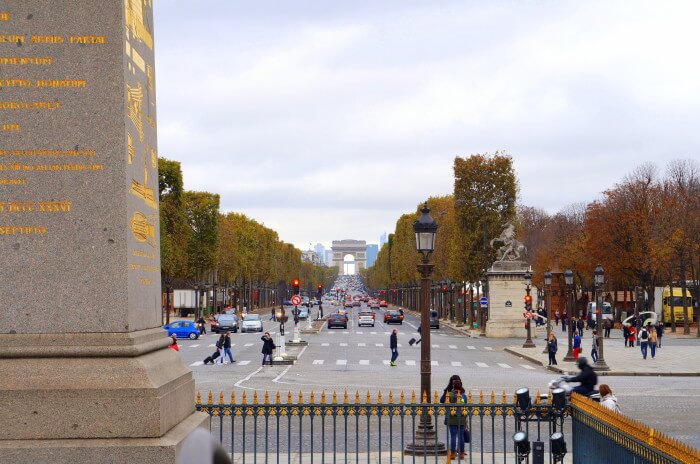 The Louvre Museum 
Home to one of the world's most famous paintings (The Mona Lisa, incase you were left guessing) The Louvre Museum is one of the cultural hotspots in Paris. Paris Pass gives you free admission to the museum – so make sure you leave enough time to explore it! I'd recommend setting aside an hour if you're not totally into the art (and just want to see the Mona Lisa) and 3-4 hours if you want a proper look around.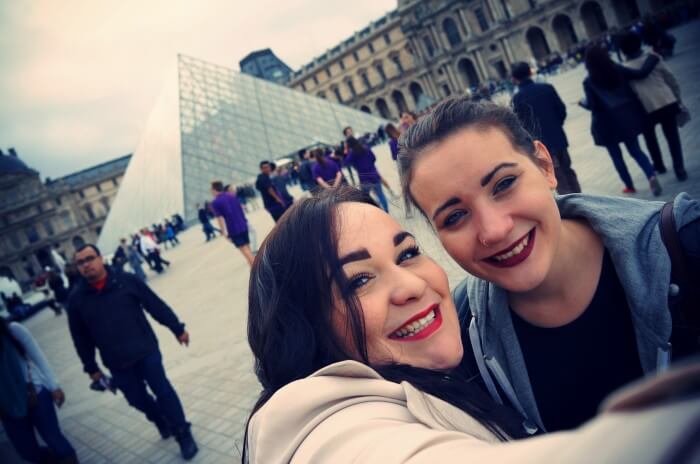 Paris, like London, has some beautiful bridges in the city centre, and sometimes a gorgeous way to spend an hour or two is just to wander down the embankment and across some of the many bridges. You'll get gorgeous views wherever you are – so take your pick!