Las Vegas has always been a topic that is known to turn heads and raise a few eyebrows. The city piques the interest of tourists, especially the ones who are on the lookout for a great gambling experience. Las Vegas is the city that is doused in glitz, glam, fun and frolic in equal proportions.
And if you are lucky enough to plan a trip to the dazzling cityscape, it is important that you have a list of 'things to do' ready at your fingertips. The article that we have pieced together attempts to curate all the things that you can do in Las Vegas to have a fulfilling vacation. Feel free to come up with your own ideas and keep adding to the list to make your holidays more subjective and personal.
Go hotel hopping
There are so many amazing hotels in Las Vegas, and one of the absolute must-see things in the city, are the hotels themselves. Each hotel is unique, themed and an absolute treasure-trove of things to see and do. You can spend hours just walking around and exploring the different shops and attractions within the hotels, so make sure you leave yourself plenty of time!
Some of my favourite hotels to spend time in are:
The Bellagio
The Cosmopolitan
New York New York
The Venetian
The Wynn
Caesars Palace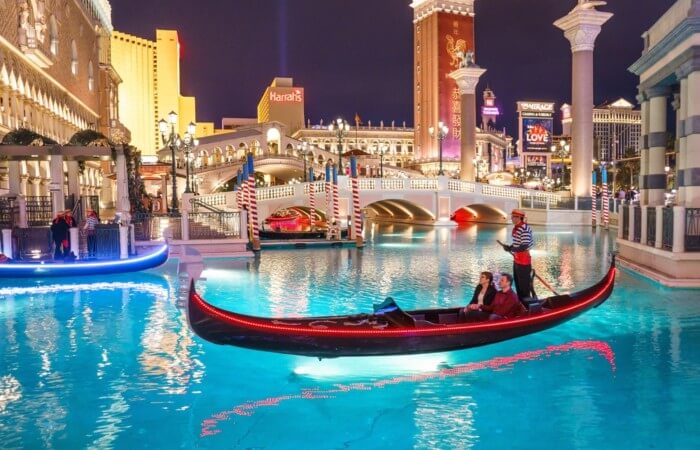 Go Shopping
Vegas is known for many things (this city has sooo much to see and do) and one of the main ways to spend time here, is to enjoy some retail therapy. There a kind of shopping for everyone in Las Vegas, from the big glitzy malls (here's a list of my favourite shopping malls in Las Vegas) to the more tourist style stores in the hotels, to luxurious and designer boutiques.
There are also lots of discount and outlet malls in Las Vegas – if you're seeking out a bargain!
Visit the Casinos
Las Vegas and Casinos are synonymous and go hand-in-hand. You cannot separate the one from the other. Therefore, we might as well suggest you to head over to at least one of the many casinos that Las Vegas has adorning its cityscape. It's great fun, and even if you're no expert in gambling, you'll soon pick it up and learn as you go!
High Roller Ferris Wheel
There is no way you can afford to miss out on this major attraction of the sin city. The High Roller Ferris Wheel is about 550 feet high, and you get a complete and panoramic view of this city. Once atop the Ferris Wheel, you understand how the city has been dunked into madness, noise and dazzling lights.
Now, the wheel is not something that the faint-hearted need to be afraid of. One complete rotation takes about 30 minutes, and each cabin has a capacity to hold a minimum of thirty people. Hop on to the Ferris Wheel at night to witness the sin city of America in its full glory. This is a sight to behold and something that you must not miss out on.
Read more about Las Vegas: Everything you need to know about Planet 13, Las Vegas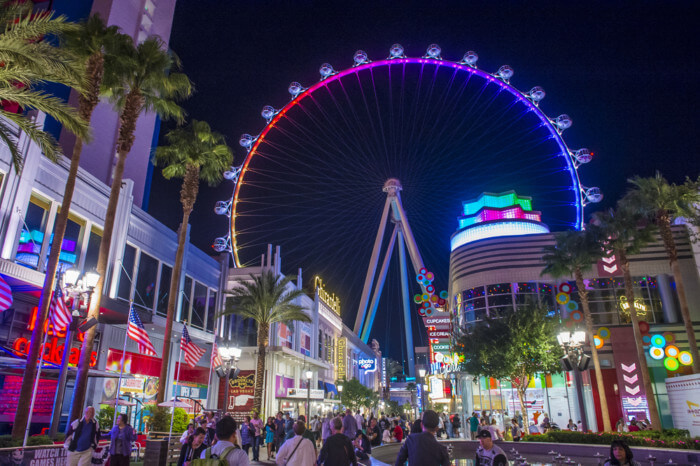 Stratosphere observation deck
The very next destination that every tourist must make it a point to visit is the Stratosphere. Now, this is a place that people who love to feel the adrenaline rushing through their veins must visit. There are multiple reasons for you to include the Stratosphere in your itinerary.
There are quite a few thrill rides that you can hop onto once you are here, and the view of the city from here is something that can leave you breathless. SkyJump, Insanity and Big Shot are some of the rides that you must try out if you want some excitement added to your itinerary.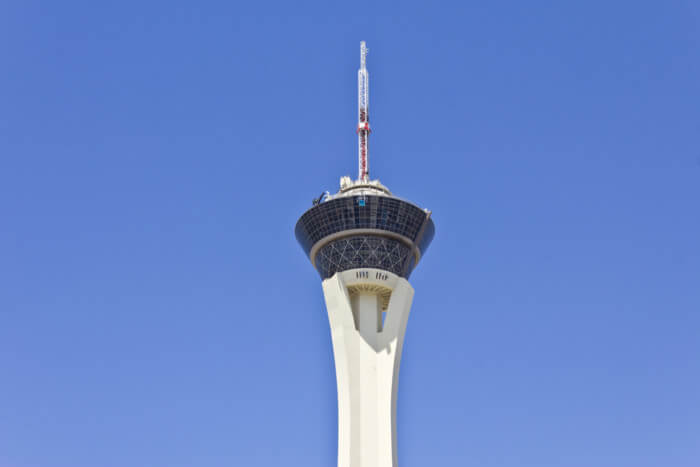 The Mob Museum
Perhaps there is no reason not to visit a museum of the place that you are travelling to. You get to understand the history of the place much better and learn of everything that makes the place what it is. The Mob Museum in Las Vegas, which was previously known as the National Museum of Organised Crime and Law Enforcement, is like a time capsule that will throw you back to a time when the city used to be a hub for criminals of all sorts.
The museum makes use of cutting-edge technology to present what the history of the city is in terms of crimes and criminals. And though, the ride is not going to be a pleasant one, you are sure to come back with a lot of understanding and knowledge about the place you have travelled to.
The Neon Museum
The Neon Museum is like stepping back in time to the 'old vegas'. It's basically a graveyard for all the old vintage neon signs, and its really something special to behold. You can read my review and see my photos of the Neon Museum by clicking here.
If you're into seeing authentic sides to this city, then this quirky museum is a fantastic place to start. It's also a pretty amazing place for capturing some cool photos too!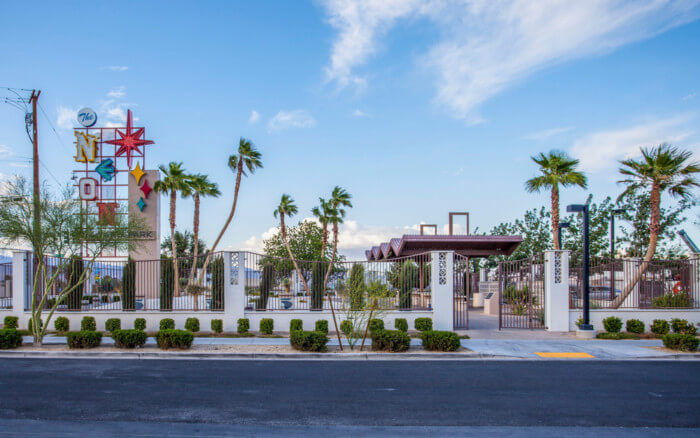 The Bellagio Fountains
I couldn't write a list about things to do in Las Vegas, without mentioning the Bellagio Fountains. I mean, these iconic fountains are just absolutely incredible and one of the most famous sights to see in the city. The fountains are located right outside the Bellagio Hotel, in the heart of the Las Vegas strip and there are lots of restaurants with views of the Bellagio fountains, and great spots for watching the Bellagio fountains too.
Stop for one song, or stop for many – it's free to watch them so you can come and go as you please. I love watching them in the evening when the sun goes down, but also in the daytime when the crowds are smaller. If you're stopping at the Cosmopolitan Hotel, the Bellagio Hotel or the Paris Hotel, you can actually book a hotel room with a view of the fountains too – so you'll be able to watch them all day (and night) long from the comfort of your bed!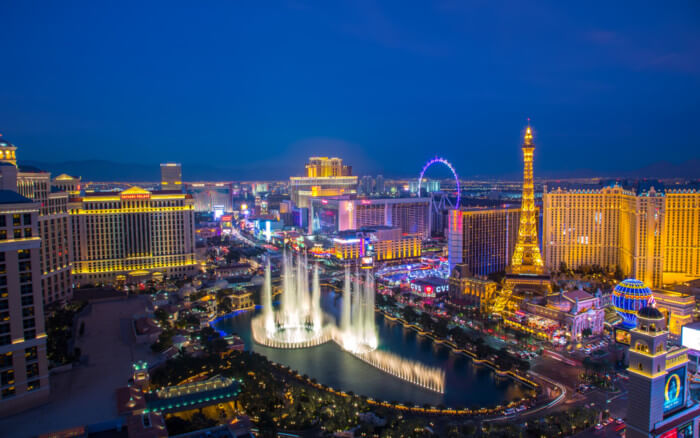 In a Nutshell
Las Vegas is a unique combination of fun and adventure that is sure to leave you mesmerised once you make your way through the alleys and broad lanes of the city.
There is so much to explore, learn and try out that you do not have anything else to worry about, but the moment you are in. Therefore, make your itinerary just the right way and explore the nooks and crannies of Vegas in all their glory.