It's summer, it's hot, where is the best place to be? In a waterpark of course! Here are the top waterparks in New York!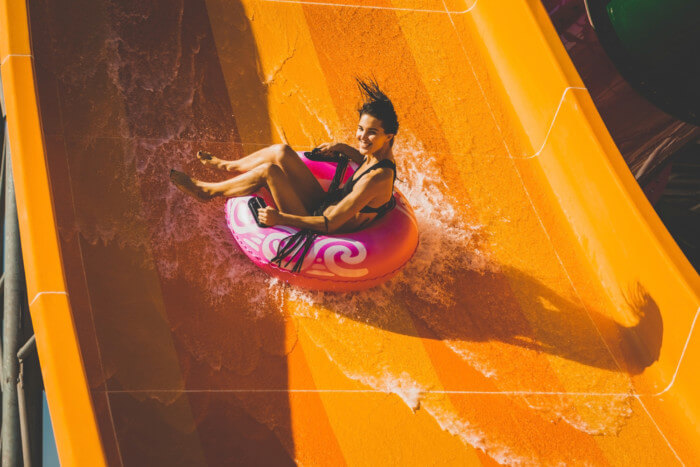 Waterparks are some of the most popular summer activities for families due to the amazing adrenaline rush that comes with them! If you're looking for the best waterparks in New York, hopefully this list is what you're after.
With twisting, turning, splashing, and sliding, they're fantastic places for families to have fun together. Nostalgic for adults and explorative for kids, it's no wonder they're so popular!
Though it may come as a surprise, New York is home to some of the country's oldest amusement parks and waterparks. Whether you're looking to book a trip or simply want to explore what's close to home as a NY native, look no further, for we've rounded up the best waterparks in New York to get your fix of fun.
Kartride Indoor Waterpark
Website: https://www.thekartrite.com/
New York's largest indoor waterpark, Kartrite is an extremely popular choice for both visitors and locals. With all the fun that comes with an outdoor park (think lazy rivers and waterslides), you'll never have to worry about the fun being rained off here.
Due to the advantage of not being weather-dependent, it's inarguably one of the best waterparks in New York. Giving you year-round flexibility and the option to stay on-site for multiple days of fun, visiting is a no-brainer!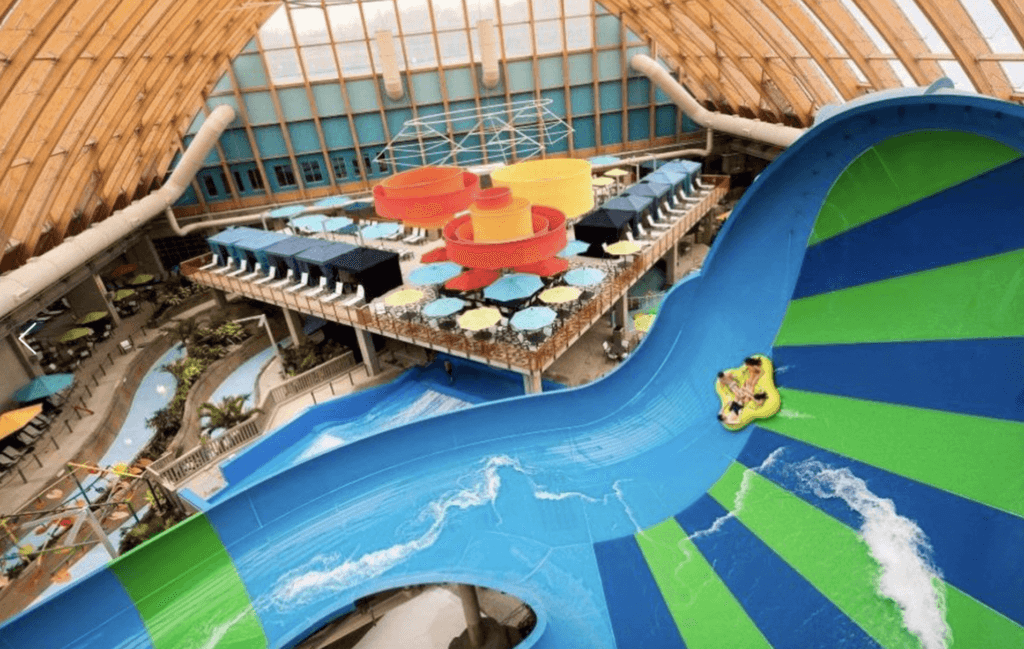 Splish Splash Waterpark in New York
Website: https://www.splishsplash.com/
Splish Splash on Long Island has long been touted as one of the best waterparks in New York on account of its great rides and out-there slides. Here you'll find plenty of thrill rides for adrenaline junkies, such as the "Cliff Diver", which sends riders down eight stories in only three seconds! If that's not enough, you can take on "Dr. Von Dark's Tunnel of Terror", which will spin you around in the dark until you're a little more than dizzy!
However, there's plenty for little ones too! They can explore the "Octopus Pool" or ride the "Mammoth River" on inflatable rafts. As well as this, there are several family pools that let little kids dip their toes in the water and cool off! Cabana rentals are also available here should families wish to cool off from the summer heat and chill out.
Enchanted Forest Water Safari
Website: https://www.watersafari.com/
With something for everyone, the Enchanted Forest Water Safari in the Adirondacks is a popular choice for all ages.
With amusement rides on offer such as a Ferris wheel, Sky Ride, and a round-up, it's not just a simple water park. However, we'd argue that the water rides are the main event here! With various water slides, pools and even a petting zoo, this is certainly one of the best water parks in New York. If you're bringing little ones, make sure to head by the park's petting zoo to catch some adorable animals too!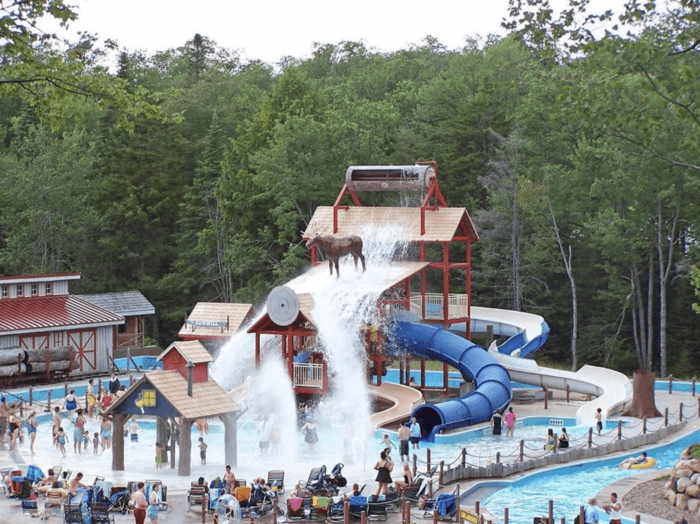 Six Flags Great Escape Indoor Waterpark
Website: https://www.sixflagsgreatescapelodge.com/
Located just outside of Lake George, Six Flags Great Escape Lodge & Indoor Water Park is huge. Featuring a massive 135 rides and attractions, you certainly won't be struggling to find things to do. If you love an adrenaline rush, the "Dare Devil Dive" offers brave riders a hybrid bungee-jumping/skydiving experience that isn't for the faint-hearted. If that's not enough for you, give "The Sasquatch" a try. Lifting riders 192-feet into the air, it inches you up before dropping you back down quickly!
If you're travelling with kids or simply don't love intense rides, don't worry! Being one of the best waterparks in New York due to its range of rides, you can relax on the lazy river or enjoy some of the park's more relaxed options. With kiddie pools and baby swings galore, you certainly won't struggle with little ones here!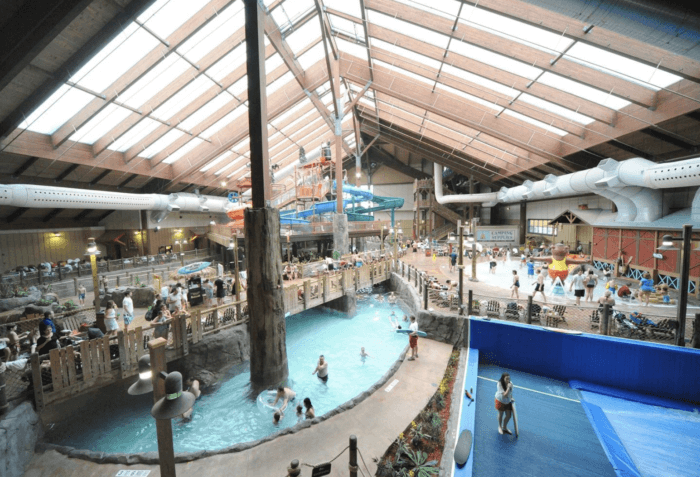 Rocking Horse Ranch's Big Splash
Website: https://www.rockinghorseranch.com/
Big Splash is an indoor water park that's exclusively accessible for guests of the Rocking Horse Ranch (an all-inclusive resort). Kids love the water slides, dumping buckets and obstacle courses here, and it's well-known for its outdoor horseback riding too!
If your kids love horses and you love resort culture, then this exclusive water park is likely the best waterpark in New York to select for your next trip. With one-night stays starting from $99 per adult and $79 per child, it may just be a bargain if you're looking for an all-inclusive waterpark experience.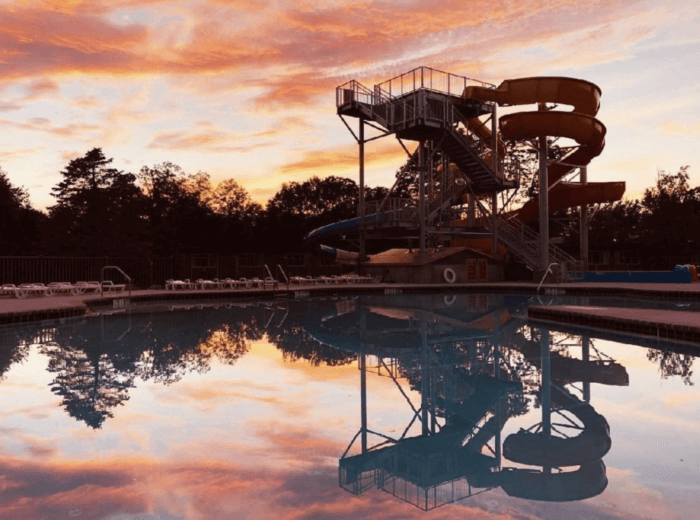 Cascades Waterpark in New York
The first indoor water park to appear in the Finger Lakes region of New York, Cascades Waterpark is one of the best kid-friendly waterparks in New York. With a white-water wave pool, water slides and a low-depth kiddie zone that features an interactive play structure, it's a fantastic place to visit on a family day out.
For the adults out there, you'll likely want to check out the indoor/outdoor hot tubs and year-round indoor/outdoor swimming pool for a blissful trip away from the city. One of the more reasonably priced waterparks on our list ($35 for those over 42" and $32 for under 42"), it won't break the bank.
Darien Lake Waterpark
Website: https://www.sixflagsdarienlakelodging.com/
If you think that the falls at Niagara are the only water-based fun to be had in the area, you'd be sorely mistaken! The huge Darien Lake offers water slides, an enormous rapid ride and the cone-shaped Tornado ride that never fails to thrill visitors.
However, water rides aren't the only thing available at this park. With high-thrill coasters (such as Tantrum, which drops you from almost 100 feet in the air!), this waterpark has something for everyone! If you've got little ones, take them into the splash pools or on the classic carousel for some kid-friendly fun.
Adventureland Long Island
Website: https://adventureland.us/
At Adventureland, you won't find masses of thrill rides, but you will find a bunch of amazing options for the family! Voted one of the best waterparks in New York for families, most rides are suitable for small children.
As you walk around, you'll see prize games, arcades and street vendors that gives the area a great carnival feel! With great crowd-control and quick lines, it's a great park to visit when you're short on time.
Hudson Valley's Playland
Hudson Valley's Playland is the oldest waterpark on our list and has been in operation since 1928! With gorgeous art-deco buildings and cool antique attractions, this is one of the best waterparks in New York for those that love the vintage aesthetic.
Playland's "Dragon Coaster" is one of only 100 remaining wooden coasters in the country, and its Derby Racer has only one other like it in existence! So, if you're looking for a waterpark with a distance, then this is absolutely the one to visit!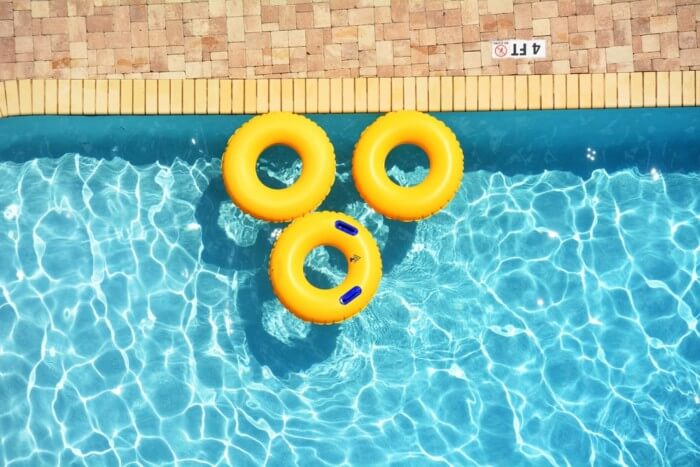 I hope that this guide to the best waterparks in New York has been helpful!
It's sometimes surprising just how many amusement areas are located in and around the Big Apple, so take the plunge and dive in – literally!