It's not often I feel immediately compelled to do something, but when I watched the first episode of 'Flying to the Ends of the Earth' on Channel 4 earlier this week – I knew the shows presenter Arthur Williams was someone I wanted to talk to.
If you haven't seen it yet, go and watch it after reading this interview! It's the best bit of TV I've watched in ages. 
From the very start of the programme I immediately liked the guy, he was friendly, funny and down-to-earth and seemed genuinely passionate about the programme and the adventures he was going on. I also gained a huge amount of respect for Arthur too as the programme went on – because Arthur did everything whilst in a wheelchair.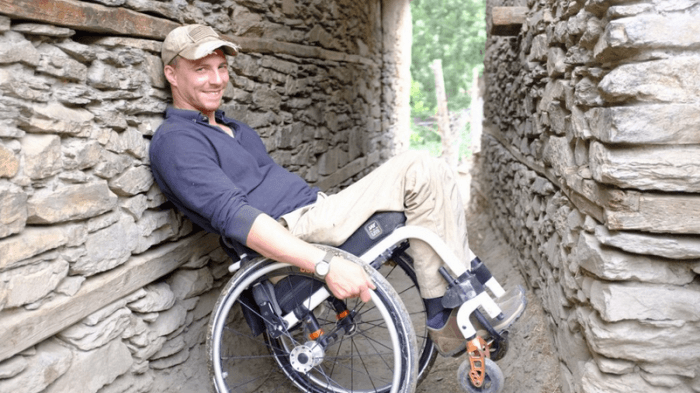 If you haven't seen the show, Arthur's 'mission' is to explore the far flung corners of the Earth – the places you can only get to via a plane (and he's a pilot too, as well as an adventurer!). This means some of the flight paths the crew face through the TV show are the most dangerous and unpredictable in the world, some of which Arthur pilots himself.
So I wanted to chat to this guy! I mean, who wouldn't?
So Arthur, give us some history about yourself! When did you learn to fly?
I learnt to fly when I was 21. I was in the marines for 5 years (I joined after school at 17) then served with 42 commando and specialised in communications and signals. Joined 6 assault squadron onboard HMS Albion and went to Sierra Leone. Then I had a car accident in which I broke my back, meaning I can't feel or use my legs.
So I've always been in this predicament whilst flying. After the accident I needed to find another line of work, so I learnt to fly and bloody loved it! Wouldn't change it for the world! This is just another chapter. I want to continue doing this and building on it.

It's why your documentary interested me so much when I first switched on the TV! I thought to myself, maybe if I watch these crazy flight paths, the next one I fly won't seem so bad!
Well the strips you see in the series are the most extreme In the world. They don't get any more dangerous than that!
And yet you seemed more excited than scared! It was pretty impressive! What goes through your mind when you're on the plane? Or even beforehand?
I think before hand and during flight I have a feeling of being excited and just contently happy.
I think flying just runs through my blood. The first memories I have as a child are about aeroplanes. It's a very weird love affair. But I find that all my pilot friends feel the same way, you don't fly aeroplanes and have an attitude that's 'yeah they're OK but it earns the pennies'. Everyone I know or have met who flies lives for it.
Was travelling always high on your agenda, even before the documentary? Was it something you did often? Or did you throw yourself in at the deep-end?
I've always had the wonderlust. Me and my brothers were brought up in the country next to a farm and from day one would go exploring the fields around the village. Joining the marines meant I got to travel all over the world and I just loved that. Canada, America, all over Europe, Africa,  the Med, Iceland… 

Which was your favourite destination from filming the documentary? 
I really do love Nepal. But to name a specific location it'll be Haggerstone Island in the Torres Straights. Between Australia and Papua New Guinea. It's out of this world paradise. It's this little island that is owned by a modern day 'Swiss Family Robinson' who have raised their three kids on it.
Just them on the island? 
Yeah just themselves. They've been there since the 70's and have built their own inflict rupture to support themselves and their guests from resources they have on the island. You can go swimming and within 5 minutes harpoon a massive cray fish and BBQ it on the beach. They don't work, they just provide for themselves, but by God do they live a luxury lifestyle.
I'm going nearby for my honeymoon next year – maybe I should give them a call and drop in?
They accommodate guests who pay like £3000 a night! Check the price! But you have to try it! You'll never feel so off the radar anywhere in the world, it's amazing.
That's what I love, that off-radar feeling.
Yeah me too. We live a far too congested life.
So where was the hardest place you visited?
The Dolpa region of the Himalayas, definitely not built for a man in a wheelchair and I needed a bit of help from the crew here and there which I found hard.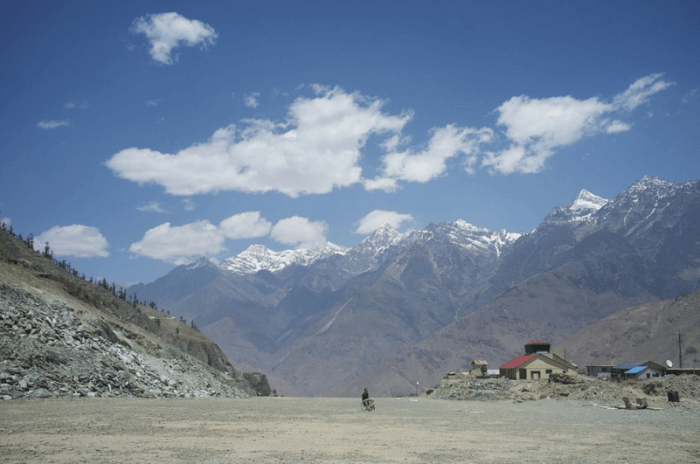 I saw that clip in last weeks show, I thought you handled it really well.
Thank you, it is tough because I don't like asking for help, but as you can imagine the mountains are demanding on your arms, it certainly helped being quite fit!
Did you do any specialist training for off-road stuff and tricky landscapes before leaving? Or did you just wing it?
Nah I just managed it. Before we left as a crew though we had a remote trauma training day which involved dealing with car accidents first aid and hostile situations.
What were you most worried about before setting off? And also what were you most excited about? (I can guess it was flying – but still thought I'd ask!)
My biggest concern was being a burden on the team, but we gelled like brothers really within the first week and thankfully we just worked. Hmmm the thing I was most excited about? I think mountain flying in the Himalayas –  but actually I think, spending time with the real 100% real tribes in West Papua.
Once in a lifetime for sure that one!
I know! Especially when you think the last reported case of cannibalism was only in the mid 90's. And the couple we were staying with were missionaries and had their farther eaten by the next tribe along!
What has filming the documentary taught you about yourself?
I think just how much I was born to explore and get out and about. I could never work the 9-5 or office based job. There's a famous quote from someone who I forget, which is 'life's a book, and if you don't travel you only read a page' I'm sure you've heard it. 

Do you have any more plans in the works for more exploring?
I desperately hope they commission a series two but we'll see. We do have other ideas with the channel which are bigger and better but they're confidential at the moment! Basically along the same lines but more episodes and more dynamic discovery of places.
We live in a bubble world that and we're spoon fed everything we should do and like and I'm so fed up with it! I'm not saying go out there and hurt yourself, but when we leave this country, and the rules and restrictions, it brings you so much freedom and you can almost breath easily. 

What I loved so much about the documentary was how real it was. Un-staged, raw travel – just a normal guy exploring.
Thank you. I am just a normal guy, I'll never  be what they call 'talent' haha!
Now the hardest question! Where haven't you been, that would be next on your list?
I love finding the locations that are unique. I'd never go traveling in Thailand for example. D love to go and explore Russia. The far flung extreme regions, Siberia for example. I'd also love to go to South America, Greenland, Iceland and also some of the tiniest island around the world.
Arthur actually has his own blog (click here to read it) which I highly recommend checking out. He's going to be writing more about his adventures on there – so if you enjoyed the TV shows, you'll definitely enjoy reading his take on things on there too.
I was so happy to be able to talk to Arthur, and it's not often you feel humbled in a persons company. An awesome guy, and a brilliant TV show (there are still 2 more episode to come, on Channel 4!) so make sure you tune in.