Are you looking for a guide to all the New York shows on Broadway?
If you're in NYC, chances are you're planning to see a Broadway show, New York shows are one of the main attractions of visiting the city! I mean, Broadway is iconic and it's one of the best things you can do in the city, and there's nothing better than the excitement and anticipation of seeing one of the famous New York shows.
Did you know…? A lot of the shows on Broadway in NYC are exclusive to Broadway and you won't find them anywhere else in the USA (or even the world).
But which New York shows should I see in NYC? It's hard to choose and I totally get that – there are recent New York shows, old shows, quirky shows… it's hard to know which Broadway show you'll enjoy the most. Hopefully this guide will help you choose!
When you've finished reading this, you might want to check out my  ultimate guide to visiting NYC here, for other tips and tricks!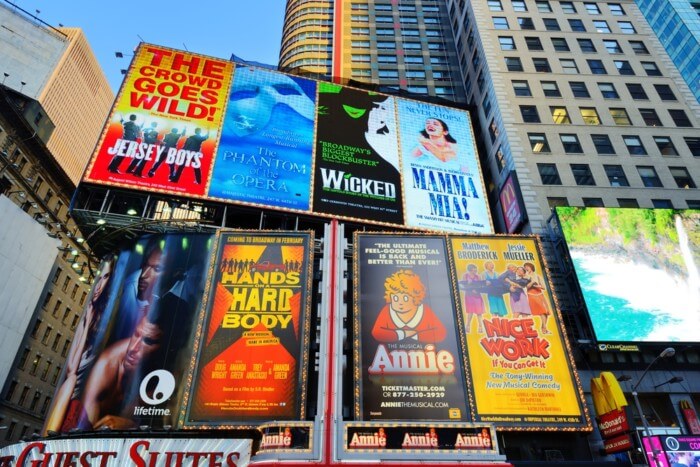 ---
Why is picking the right Broadway show so important?
---
So you're wondering "which Broadway show should I see in NYC?"
Chances are you're not in NYC very often, so taking the chance to see one of the New York shows when you're in the city is ideal. Personally, I visit the city 2 or 3 times a year (I know I'm really lucky!) and I will always try and grab a cheap Broadway ticket if I can – because I know my opportunities to see these shows are often limited to when I'm in either NYC or London. I'm lucky that I've been able to see the majority of big shows on Broadway… although they're are still some amazing New York shows I'm yet to see!
Another reason to make sure you pick the right New York shows, is that Broadway shows are expensive! Of course, the price is justified and the ticket price is worth the amazing experience, but tickets are pricy – and it's likely you'll only have enough budget to see one (maybe two) shows during your time in the city. You don't want to waste time seeing one of the New York shows that isn't 'your cup of tea' or one where you don't know any of the songs, which is why researching the right Broadway show for you is so important.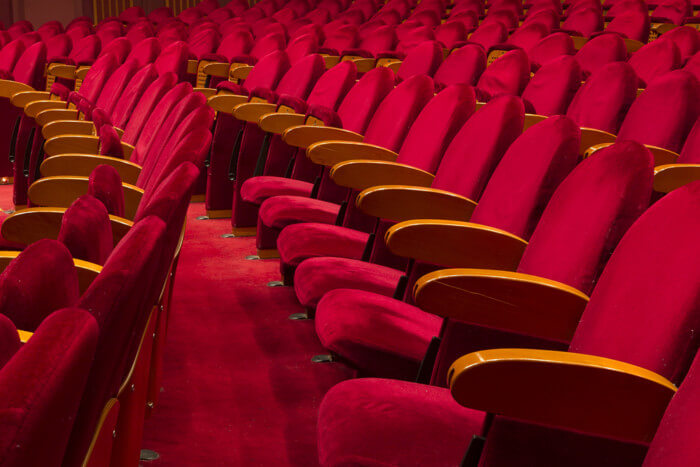 ---
Which Broadway show should I see in NYC?
---
Ok, so here's my low-down on the different New York shows, so you can hopefully make the right choice! You can click on the titles of the shows below to book tickets – to make everything super easy for you!
---
The first New York shows on my list… Based off the amazing Disney animation, Frozen the musical is a colourful, incredible show that anyone who loves the film will absolutely adore. You'll find all the characters you love, all the songs you love and there are even some surprises too. I loved this show, it was super impressive, fun and memorable. This is a really children friendly Broadway show, there are lots of children in the audience having their first 'Broadway' experience – which is so lovely!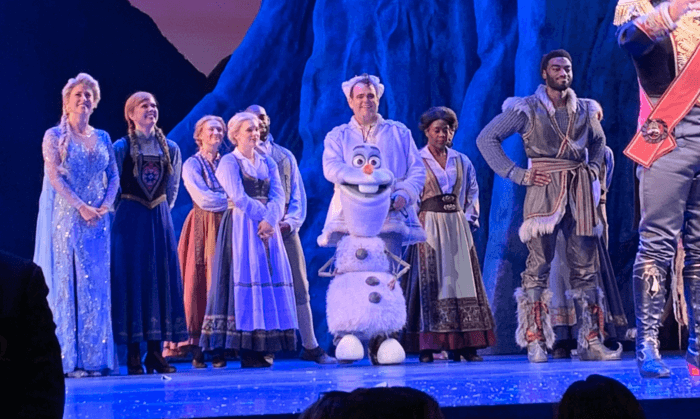 ---
If you're looking for New York shows with a bit of attitude and comedy… This is the New York show for you! Based on the movie of the same name, this is a funny, witty and clever musical comedy. It packs all the attitude and sass that the movie has, just on a stage instead of on your screen! This is a great choice for a bachelorette party or a girls night out!
---
OK, The Lion King is probably one of the most iconic and famous broadway musicals and one of the most well known New York shows. It's so well known, the songs are so popular, and it's just a brilliant choice. The Lion King is especially good for families with kids (because you'll all recognise the music and characters) but it's also great for couples who want to experience some serious Disney nostalgia. If you book tickets to this show, my advice is to get tickets on the ground floor, and close to the aisle… trust me…. those seats pay for themselves in how amazing the experience is.
---
The Book of Mormon is a controversial, quirky, comedy musical which looks at the practices of the Mormon religion, and (to put it bluntly) makes an absolute mockery of it. It's one of the more adult-themed New York shows, but I've seen this twice, and loved it each time. It's totally different to the 'normal' musical, and that's one of the reasons you'll love it. This musical is HILARIOUS but it's definitely an adults-only kinda musical. You don't want to be bring kids or even young teenagers to this show – pretty much all the jokes are either crude, rude or controversial. If you fancy going for one of the more risky New York shows, then this is it.

---
This was the first Broadway musical I ever saw, and it's one of the classic New York shows. If you enjoyed the movie version, you'll love the stage version as it's even better. There are so many great songs in Chicago, and you'll find yourself remembering them all as they get performed. This is one of the classic Broadway shows that I don't feel like anyone could go wrong with!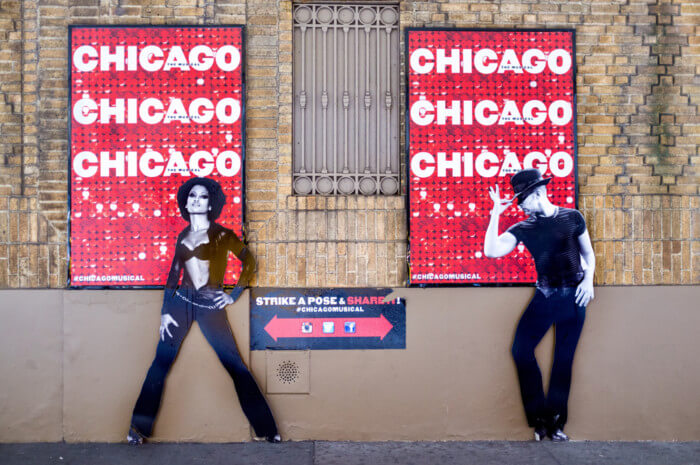 ---
This is a relatively new Broadway musical and a new addition to this list of amazing New York shows. I actually haven't seen it yet (aside from googling YouTube clips!). It's based on the true story of the 7,000 stranded passengers that had to make emergency landings on the day of 9/11in a small town called Newfoundland in Canada. It's a beautiful story, and the musical highlights certain people's stories that are especially interesting or beautiful. If you want something truly moving and based on a true story, this is one of the right New York shows for you.
---
Next on my list of New York shows, I know you've heard of this one! We've all heard about how amazing Hamilton is. It's one of the most talked-about musicals of the last 10 years – and it's no wonder why. This musical makes historic cool, so cool you'll wonder if it's a musical you walked into or a concert. It's such a great show, and it's one of the most popular on Broadway right now.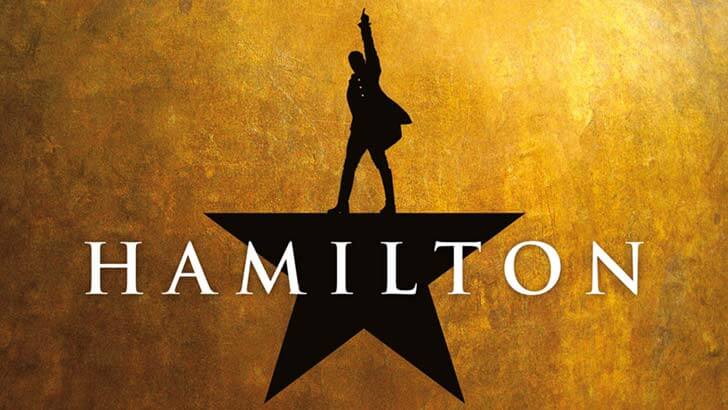 ---
Another recent New York show on this list, this one only opened recently, I'm absolutely desperate to see it. As you've probably guessed, Moulin Rouge is based on the movie with the same name (the Nicole Kidman one) and is about the romance of a performers in the Paris Moulin Rouge district. It's promises to be opulent, beautiful, over-the-top and I'm absolutely here for it! Can't wait! The story is pretty dark though, so this might not be the best musical to watch with children. If you like being the first to see New York shows, then you'll want to tick this amazing new show off your list before anyone else!
---
Next on my list of New York shows, this is one of my favourites. Wicked is about the 'untold story of the Witches of Oz. It's a prequel to the Wizard of Oz, so if you love that film, you'll probably love this too. Chances are if you haven't seen it yet, you'll recognise some of the songs! The amazing 'Defying Gravity' is actually the Act 1 finale for this musical, and it's absolutely beautiful! This is a good choice for families with older children and teenagers (as it's well known enough to keep them entertained). It's also great for adult groups and couples too!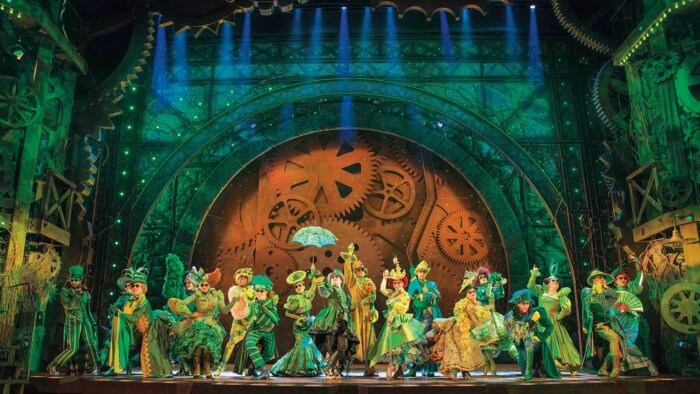 ---
Of course the next Broadway musical on my list of New York shows, it had to be Phantom of the Opera. One of the longest running musicals, this is one of the classic musicals that never seems to age or fade in popularity. It's always packed out, and it's one of the popular choices in the city for sure. I wouldn't recommend seeing this with kids – the themes are a bit confusing, and the staging and costumes might be a frightening too.
---
The next Broadway show on my list of New York shows, is Aladdin. This show is a great choice for children and families – this is the stage musical of Disney's Aladdin film. There are a few changes to characters and plot (there's no monkey!) but over all it's a good conversion from film to stage and it's really enjoyable. I loved the colours and the costumes of this one, and I absolutely loved seeing them recreate the flying carpet too!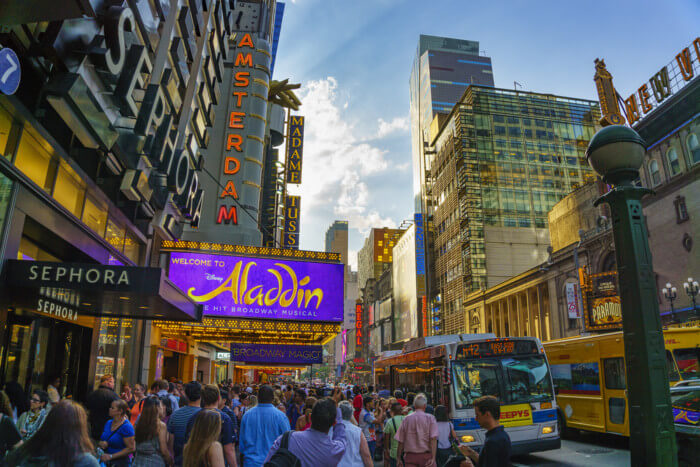 ---
I'm afraid I haven't seen this one so I don't know too much about the plot line – but I do know that it is full to the brim of Tina Turner songs. So if you want something uplifting with songs and musical you know and love, this is likely going to be a good choice for you!
---
This is mega award-winning musical (and a relatively new addition to the Broadway scene) is one of the most popular New York shows at the moment, especially amongst young adults. It was described by the Washington Post as "One of the most remarkable shows in musical theatre history" so that's a pretty good testament to how good this show is. The show is about a young man in high school, who has severe social anxiety disorder. He develops a relationship with a fellow student, but that student isn't quite who you expect. I don't want to say any more for fear of ruining it, but it's a really beautiful show and it'd be a great one for families with teenagers, or adults and couples.
---
And last on my list of New York shows, it's the Cursed Child. This New York show isn't actually a musical, but it's one of the best shows on Broadway – and any Harry Potter fan will absolutely adore it. It was written by JK.Rowling herself, and it's the continuation of Harry, Ron and Hermione's lives after they've all grown up. You have to watch both parts of the story (told in two separate plays) so you'll be spending the whole day in the theatre if you commit to this one. Make sure when booking tickets that you book part 1 and part 2 tickets. This is such an incredible piece of theatre, I won't say anything to spoil it. The surprises make it truly magical!
---
I hope this list of Broadway musicals and New York shows has helped you decide which is the right choice for you!
They're all amazing New York shows, and you'll have an incredible time no matter which you choose. If you have any questions, let me know in the comments below!