Are you looking for advice about visiting Sorrento on your honeymoon? Are you wondering if Sorrento is a good honeymoon destination?
---
My husband and I had two honeymoons, our first was immediately after our wedding and was our 'mini-moon' escape to Sorrento. Neither of us had been before, but we both new we wanted to go to Italy and somewhere along the coast. It turned out to be a great decision, and we had an amazing time!
---
Here are the main reasons we chose Sorrento for our honeymoon
---
There are many reason why you might choose Sorrento as your honeymoon destination, but for us it boiled down to the following reasons…
We could fly into Naples, which was only a 3 hour flight from London. We wanted to keep the flight quite short for our mini-moon, so that we could maximise the time we had away and didn't need to be worried about jet lag or time difference.
The next reason was how scenic Sorrento looked, and how beautiful the coastline is around that part of Italy. We both new we wanted to be based somewhere along the Italian coastline for our honeymoon, and Sorrento turn out to be the perfect location for us.
There were loads of things to do in and around Sorrento. We're not the kind of couple who can just switch off and sit by the pool all day, every day for a week – we always like to have options and choice for day trips or exploring. In Sorrento there was lots of other towns nearby to explore on our days away.
The price was the last reason. There are other 'more luxurious' Italian towns further down the coastline such as Amalfi and Positano – but the truth is, the cost of the 4* or 5* hotels in Amalfi or Positano were just crazy high in peak season. Sorrento was a good balance, and we still got to stay in a beautiful hotel.
---
Where should you stop on honeymoon in Sorrento?
The hotel we stopped in was Grand Hotel Capodimonte – it's a little further from the centre of town, but it's only a 5-10 minute walk to all the restaurants and shops (and the walk is pretty easy too, no hills or anything). What we traded for in distance to town was amazing views, a huge pool and incredible room size. Here's a link to their TripAdvisor page too – that's usually the first thing I check before booking a hotel, especially an important hotel for your honeymoon in Sorrento!
There are lots of other options in Sorrento for honeymooners – but this is the only place I have personally stayed – and I'd definitely recommend it. The room, the views, the pool – were all gorgeous.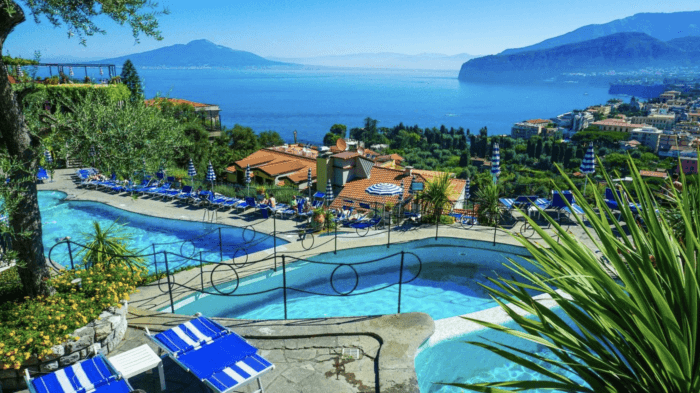 ---
How did we spend our time in Sorrento on honeymoon?
---
For our honeymoon in Sorrento, we were visiting in the peak of summer (mid-July) so we knew it'd be hot during the day. Because of this we made sure we picked a hotel with a balcony and also a pool. We quickly learnt that not all hotels in Sorrento will have a swimming pool (it's a small-ish town and some fo the city-centre hotels won't have room for pools). So it's always worth checking the facilities before booking.
During the 8 days we were there, most days we spent a few hours by the pool, and then went out exploring in the town in the afternoon / evening when it had cooled down a little. However, some days we spent the whole day out and about on day trips and tours or exploring nearby towns. One a couple of particularly hot days, we spent the entire time lay by the pool sunbathing (because it was too hot to do anything else!). There are plenty of things to do in Sorrento, so you won't struggle to entertain yourselves.
In the evenings we'd find a new place to eat at, and have a few drinks, eat some delicious food and wander around the town!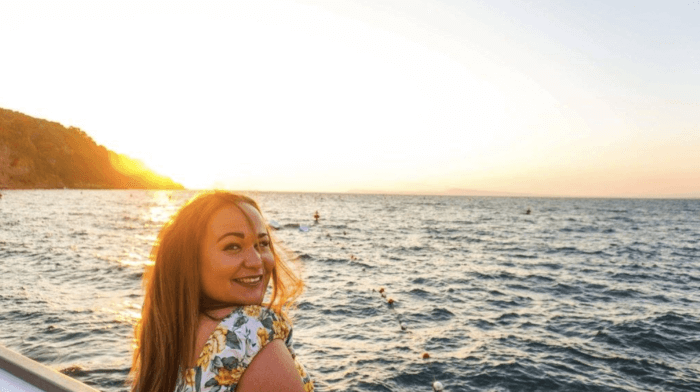 ---
What is there to do in and around Sorrento on your honeymoon?
---
There's loads to do in and around Sorrento, it's actually one of the main reasons we chose it as our mini-moon destination. Here's a few of the things we did whilst we were there:
Try all the local cuisine
We ate sooooo much food during our mini-moon. Literally the food in Sorrento is so good and there are so many places to try. We tried to mix it up a bit too, some night we opted for super luxurious romantic restaurants, and other nights we sought out the local pizza place or pasta bar. I don't think we ate a single bad meal during our honeymoon in Sorrento.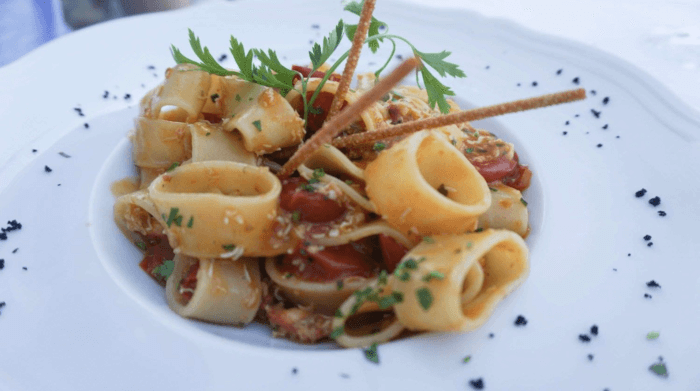 Explore Sorrento's cobbled streets and coastline
Sorrento is set on the coastline, so it's actually a really beautiful town to walk around and admire the coastline of. I love the rugged cliff edges leading down to the beaches, it was unlike anything I had seen. I also loved how some of the building were built onto the very edge of the cliffs.
Visit Sorrento Marina
The Marina in Sorrento is based a little further from the centre of town (where all the shops are). You could walk there, but we decided to get a taxi as the walk would've taken about an hour from our hotel. We love the night we spent at the marina and it was the perfect place to people watch, enjoy good food, and share some cocktails.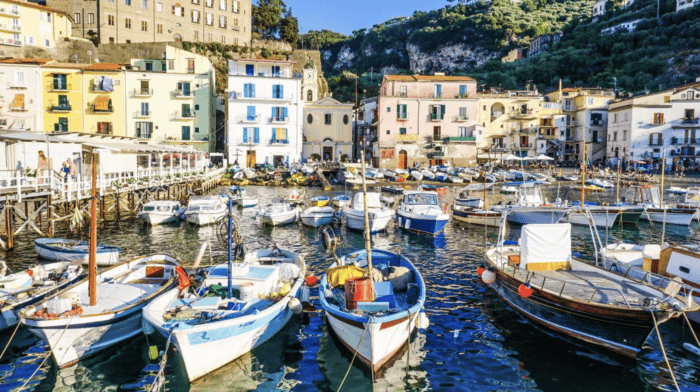 Visit Positano
Positano is a little town about 30 minutes drive from Sorrento, just further down the coastline. It's a stunning town, built into a really steep cliffside, and all the building are beautifully painted and colourful. We spent a morning here and absolutely loved it. I think it would've been a bit out of our price range at the time (planning a wedding is expensive!), but if I went back to this part of Italy again, I'd love to stop in Positano for a night or two – I thought it was absolutely stunning.
I really recommend this tour which includes Positano, Amalfi and Ravello in one day!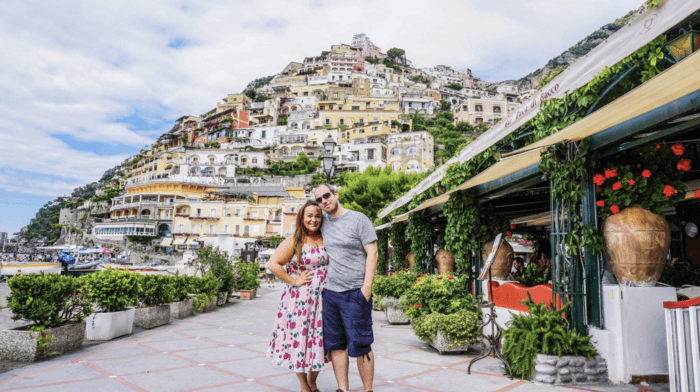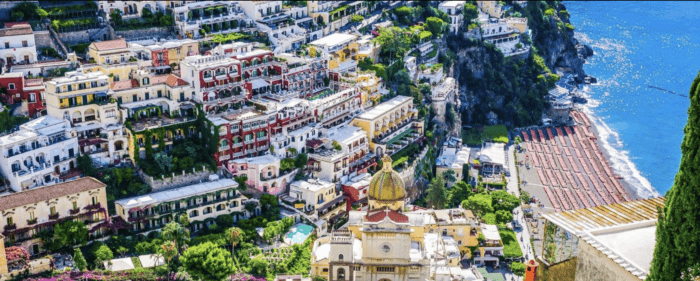 Visit Amalfi
Amalfi is another coastal town, again further down the Italian coastline. Amalfi is bigger than Positano, but slightly smaller than Sorrento – but it has just as much charm as both. I loved wandering around the cobbled streets, sipping coffee in cafes and admiring the amazing buildings and history.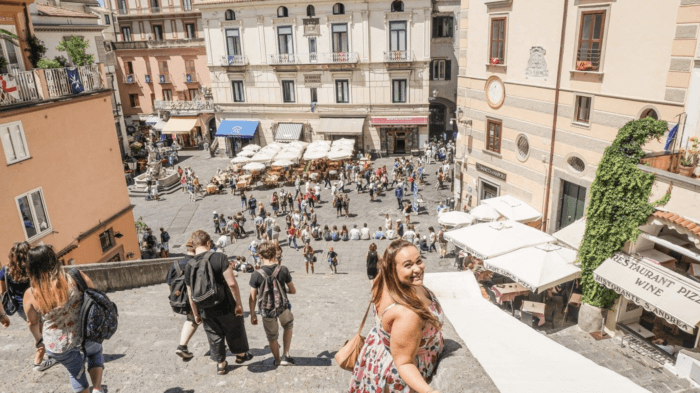 Visit Ravello
We visited Ravello on the same day we visited Amalfi (they're quite close together). Ravello however, isn't nestled on the coastline, it's high up in the mountains. It's just magical – and the views from up there are crazy beautiful.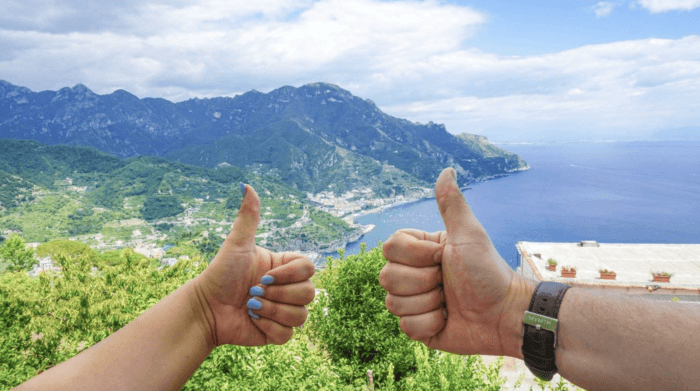 ---
Useful day trips and tours to know about!
---
I know that when you're planning your honeymoon, the last thing you want to be worried about is car rentals and getting lost in the Italian countryside. For us, visiting the places above (Positano, Amalfi and Ravello) were much easier to do by booking tours and private drivers for the day. In fact, we had the most amazing driver when we visited Amalfi – here's a photo!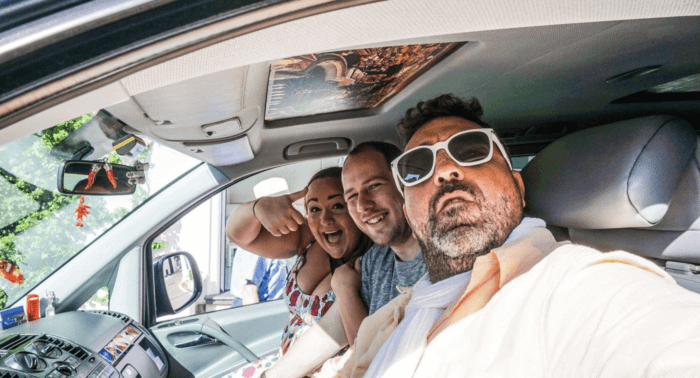 If you're looking to take a bit of the stress and hassle out of exploring, then I recommend booking tours to get around. Italy isn't the easiest country to drive in (it's a bit scary to be honest!) so having a tour guide drive you around is actually a huge relief and means you can lean out of the window taking photos, instead of frantically staring at the on-coming traffic.
Here are some great day tours I recommend looking at:
---
What to pack for a Sorrento honeymoon
---
If you're visiting in the spring or summer months, Sorrento is most likely going to be absolutely beautiful weather-wise. It's an ideal honeymoon destination for that reason!
For women: Take light summer clothes, some shorts, dresses, skirts, bathing suit / bikini. Shoes wise, take some comfy sandals or trainers for walking and also some easy slip-on pool shoes. It's worth taking a light cardigan or jacket for the evenings, just in case it's breezy.
For men: Same as above really, maybe just minus the dresses and skirts (if that's not your thing). I'd also recommend taking a pair of smart trousers and a shirt incase you decide to go out to one of the more posh restaurants one night.
The place below was the most 'posh' place we visited (it's one of the best in Sorrento) and this is what we wore… Nothing too fancy (you won't need a full suit!). 
---
I hope this guide to taking your honeymoon in Sorrento has been useful! Let me know if you have any questions in the comments and I'll do my best to answer them!