Manapouri is one of the most under0rated and STUNNING locations in New Zealand. I've spent a lot of time in New Zealand (I even lived there for a year!) and I never came across this little town. I hadn't heard about in guide books, it was really mentioned on tour websites… but it's so beautiful!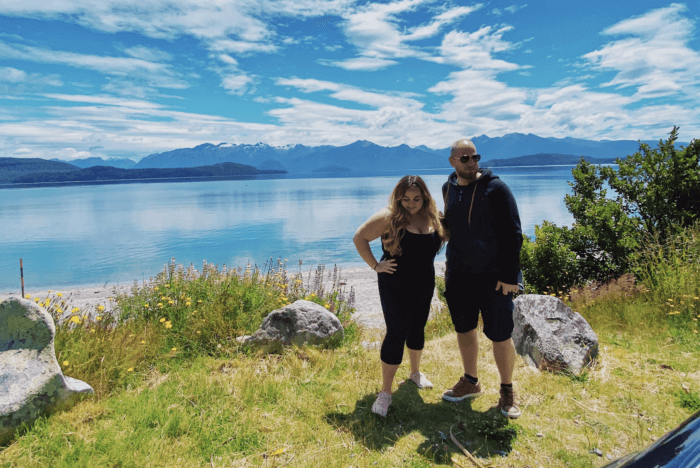 It's truly a hidden gem. With a population of only 300 people, this little town is truly tiny. 
Upon discovering it, I just had to write about this beautiful town in the South Island, so that other people could discover it and see how amazing it is! There might not be loads of things to do here, but if you're stopping in nearby Queesntown, Te Anau, Invercargill or Christchurch, it's definitely worth a road trip or a visit over there.
---
What is there to do in Manapouri?
---
Doubtful Sound tours
First on my list of things to do in Manapouri… Doubtful Sound. The main reason you'll likely visit Manapouri is to go on a Doubtful Sound tour. Doubtful Sound is a beautiful part of New Zealand (accessible by boat) and most of the boat tours leave from Manapouri. It's often likened to Milford Sound, but Milford Sound seems to be the more popular option with tourists because it's a little bit easier to get to. Doubtful Sound is stunning, and if you left Milford Sound wanting to see more, then Doubtful Sound should be your next stop.
Kayak on Lake Manapouri
Kayaking on Lake Manapouri is next on my list of things to do in Manapouri. Lake Manapouri has some amazing views of the surrounding mountains and fiordlands, and you can easily rent kayaks, bring your own kayaks, or go on a kayak tour. It's such a nice way to spend the day, and the water is really calm too – so conditions are easy and enjoyable.
Have a picnic on Fraser's beach
Fraser's beach is one of the biggest and most heavenly beaches I've come across in New Zealand. It's not just the beautiful sand, it's the views across the lake, and also how calm and un-crowded it is there. It's the perfect picnic spot. My only tip would be to wear bug-repellent, as there are sand flies on the beach like with most of the fiordland.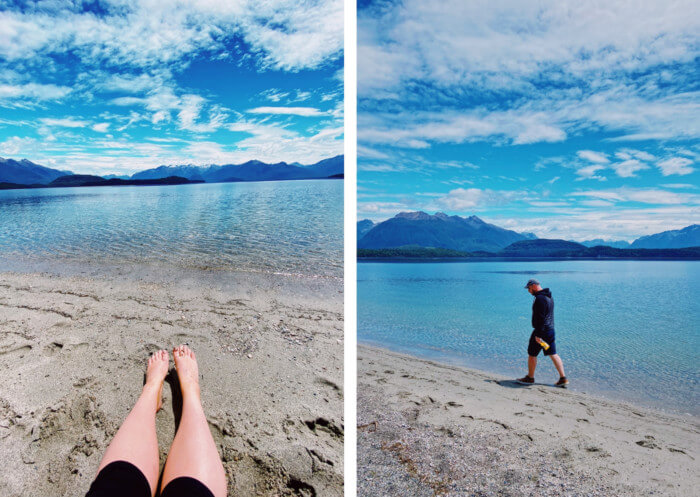 Manapouri Hall & LotR location
A little community hub in the town, and also a filming location for Lord of The Rings!
Pearl Harbour (walking and cycling)
A lovely little harbour, where the boat tours depart from in Manapouri. It's a lovely spot to walk around, and there's a view point (and toilets!). There's also a cycling track that starts here too, if cycling is your thing!
Visit the 'Wee Bookshop'
Next on my list of things to do in Manapouri, is the Wee Bookshop! These are the 2 smallest bookshops in New Zealand… And definitely worth the visit! The smallest of the two bookshops sells second-hand children's books, and the other 'wee bookshop' sells novels and other books (about everything else!). It's such a fun and quirky thing to do in Manapouri!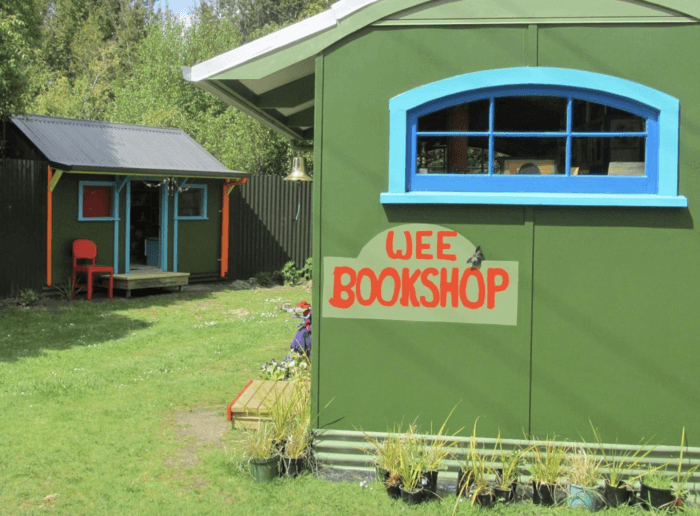 Manapouri hiking tracks
There are a few hiking trails in Manapouri, so there are a few options to try if you enjoy hiking. The Manapouri track is a 4 hour walk on the Circle Track, with further (and longer) detours up to Hope Arm and Mt Titiroa. The amazing views are definitely the highlight of these hikes. It's also worth checking out this hiking brochure from Manapouri Council, it outlines all the main hiking tracks, and also tips on safety too.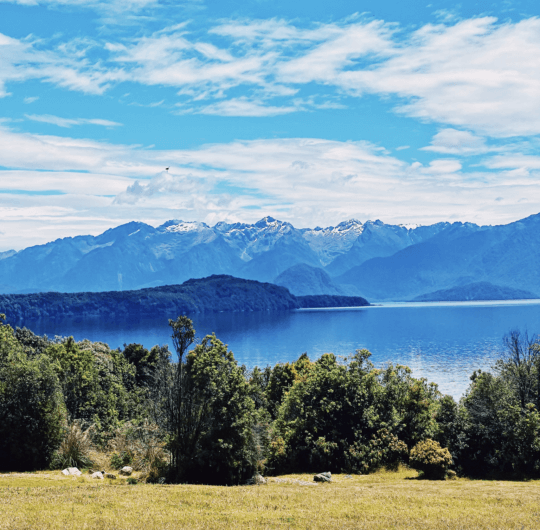 ---
Where is there to eat in Manapouri?
---
Manapouri is well and truly tiny – so there aren't many places to eat! Here are the main three cafes / restaurants that you could try out during your visit to Manapouri!
Manapouri Store & Cathedral Cafe – .
29 Waiau St, Manapouri 9679 – Click here for their Facebook page
Manapouri Lakeview Cafe and Bar
The Church Manapouri
---
Travel times from other South Island locations
---
Travelling to Manapouri is pretty easy by car, the roads are nice and smooth, and not too difficult. If you rent a car, below are the driving times and routes for other South Island locations. Remember, with these drive times, that the approx times are with no stops! Knowing these drives (and how stunning the New Zealand landscape is) you'll probably end up stopping a few times to take photos along the way!
Driving from Te Anau to Manapouri: Approx 18 – 20 minutes
Te Anau is one of the closest towns to Manapouri, and it has slightly more options in terms of supermarkets, restaurants, cafes, etc. So it's a good place to stock up on supplies if you plan on stopping in Manapouri!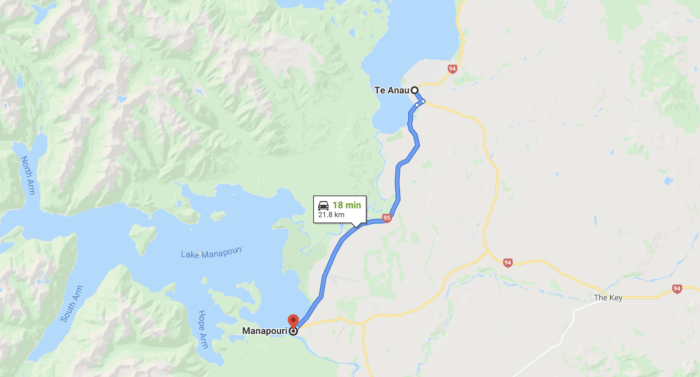 Driving from Queenstown to Manapouri: Approx 2 hours
I absolutely LOVE this drive, you go through so much scenery and beautiful areas, and the roads are nice and easy to drive on too. Queesntown is one of the South Island's biggest hubs, so if you fancy doing the day trip from here it's a great choice as you could get there and back in a day.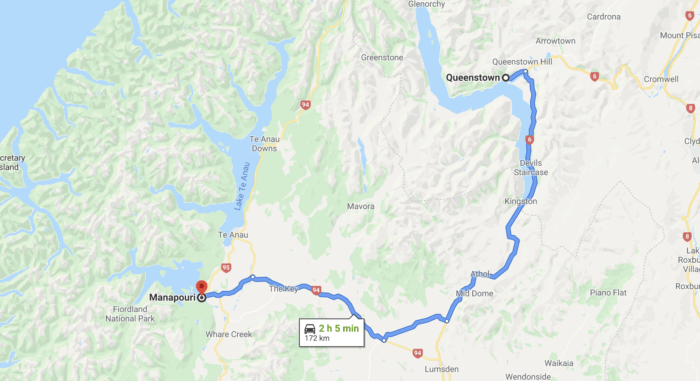 Driving from Invercargill to Manapouri: Approx 2 hours
Invercargill is located at the very south of the South Island, so if you want to start making your way up the island towards Queenstown, then Manapouri would be a great stop-off point along the way!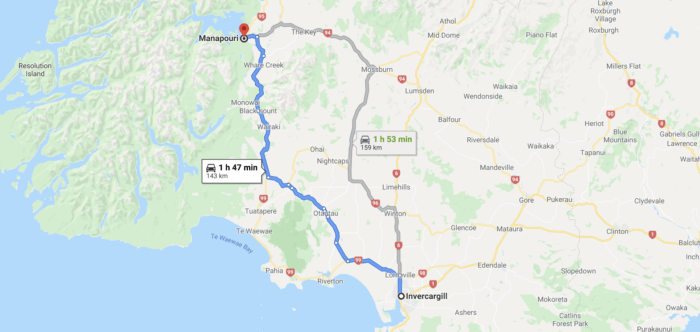 Driving from Dunedin to Manapouri: Approx 3 hours, 30 minutes
Dunedin is one of the biggest cities in the South Island, so it could be where you're starting your South Island adventure. Manapouri isn't too far from Dunedin, and if you make it part of a Milford Sound trip, it'd totally be doable.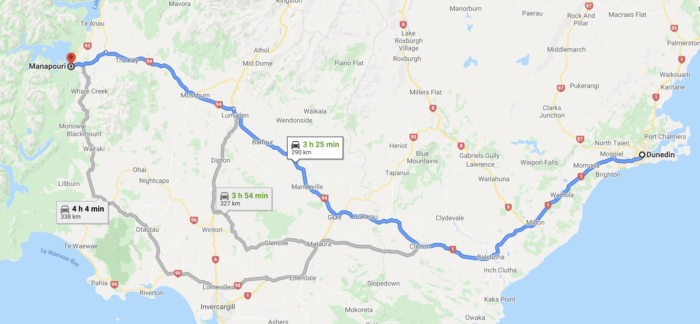 Driving from Christchurch to Manapouri: Approx 8 hours
I wouldn't recommend driving this route in one go (there are too many amazing places in-between you won't want to miss) BUT I wanted to include it so you can get an idea of the scale of South Island. Christchurch is often the city people fly into if they're exploring the South Island.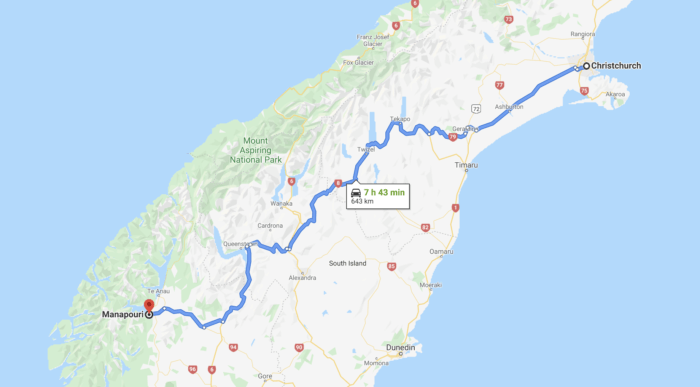 ---