During my recent trip to Venice with my lovely friend Harriet, we were lucky enough to bag a room at the beautiful LaGare Hotel in Murano, Venice. Here you'll find a review of the LaGare Hotel, its facilities and amenities. Prepare for lots of lovely photos!
The bedroom
I don't know about you, but the most important part of any hotel I stay in – is always the room itself. I like a room to be clean, modern, with enough space to relax in – without feeling cramped of on top of each other. The room at LaGare Hotel definitely ticked all those boxes. The bed itself was huge and pretty firm (which is how I like it) so I couldn't have complained in the slightest. It was beautiful!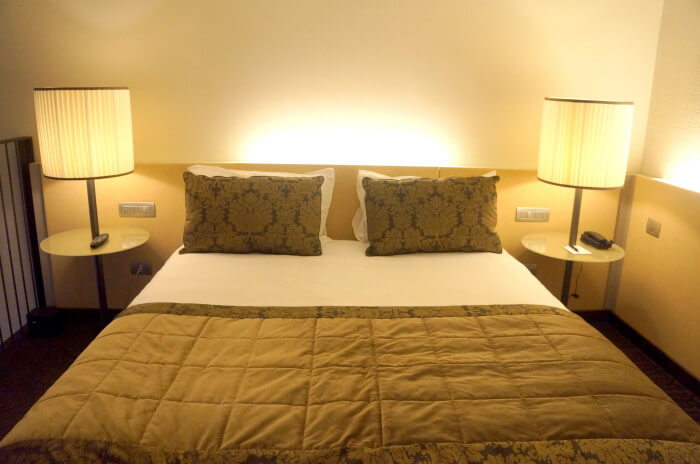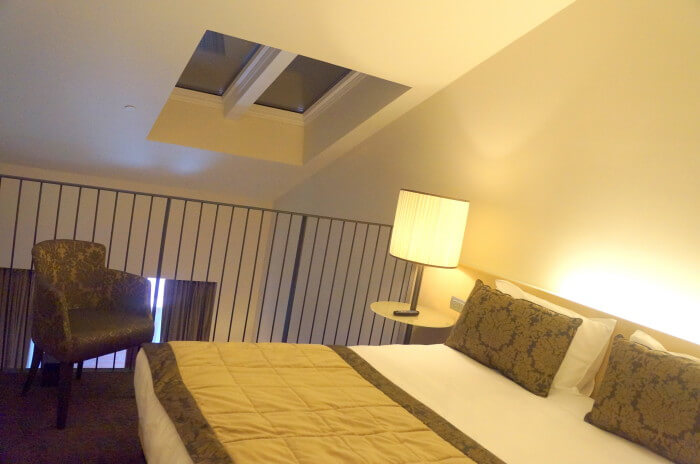 The bedroom area is positioned on a matinée level, which looks over a mini-living room with a TV and big sofa. There are sky-lights on the ceiling, which you can see in the photo above which was a lovely touch.
In terms of storage and space, was plenty of wardrobe space in the corridor, a big safe for our belongings, and a huge bathroom too – which was super modern and well-lit (important on a girly getaway – for make-up and hair of course).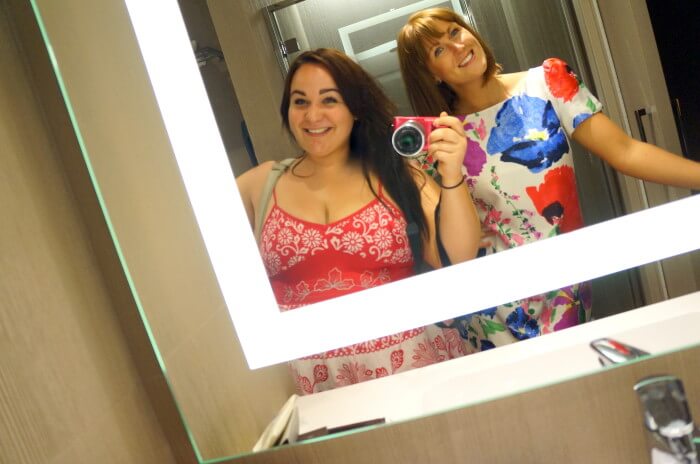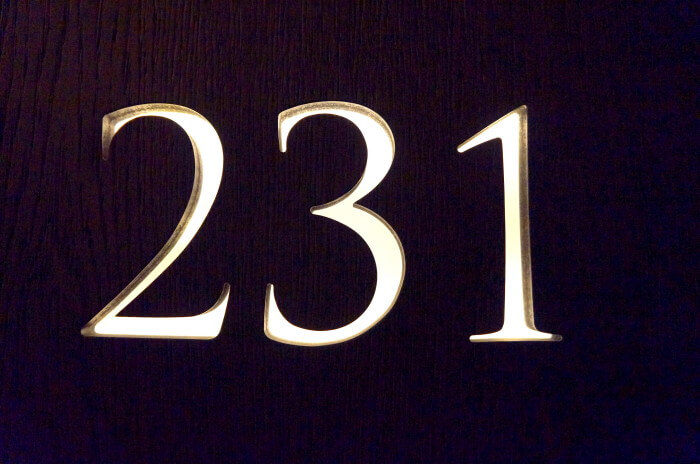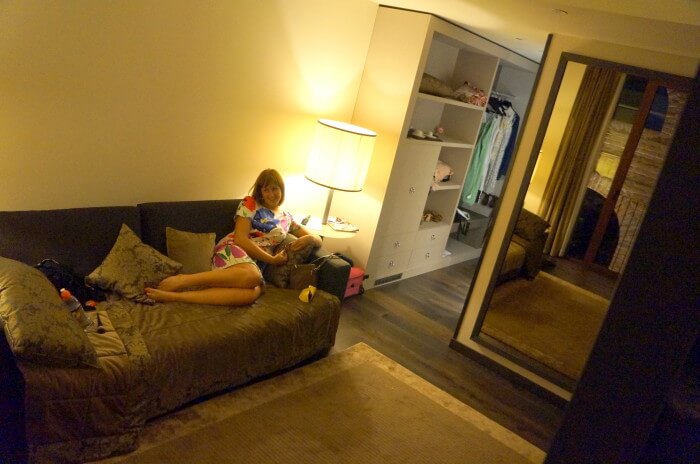 Public areas in the LaGare Hotel 
As well as the private space you have inside your room, the hotel is actually really generous in terms of public space too. On our floor there was a gorgeous lobby area (only accessible to guests) which had sofas, arms chairs, and a private art collection of beautiful Murano glass works.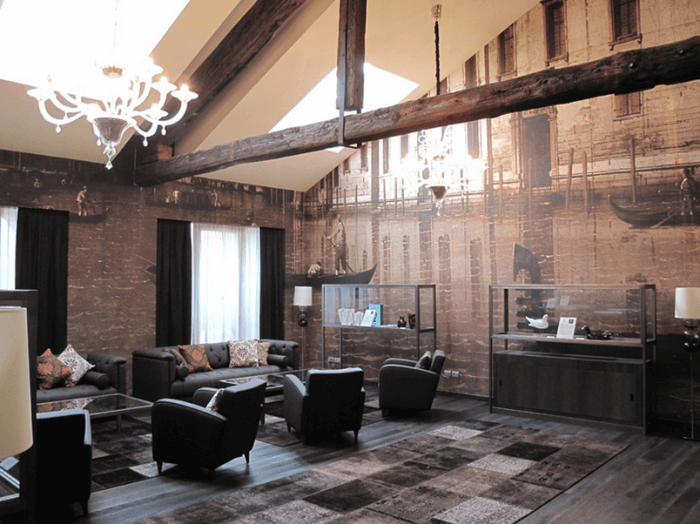 Then there is the main lobby on the ground floor, which is next door to the hotel bar and the restaurant. In this area you'll find plenty of sofas, lounges, and books to fill the time. Everything is decked out to make you feel at home. But not you actually home – a fancy, posh, art loving Italian's home. Look out for all the art work around the hotel too – you can see how carefully it's all been selected – so don't forget to soak it all in.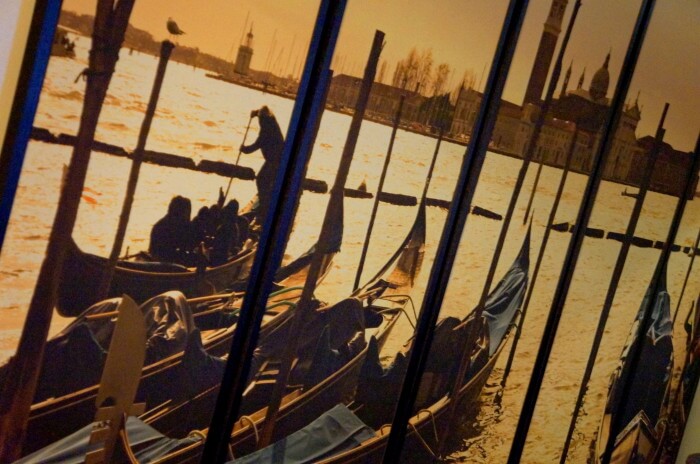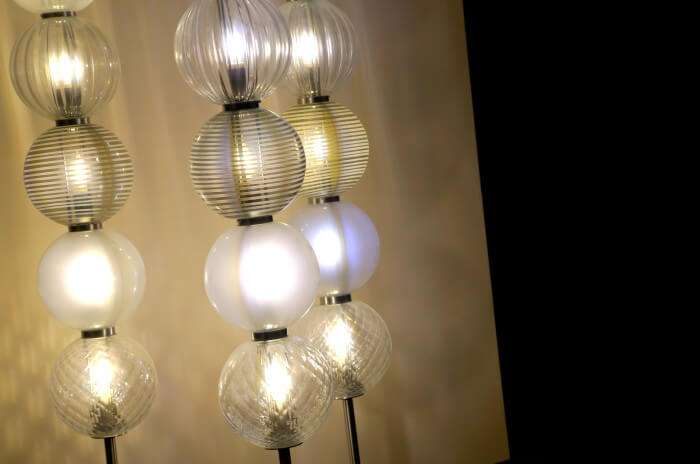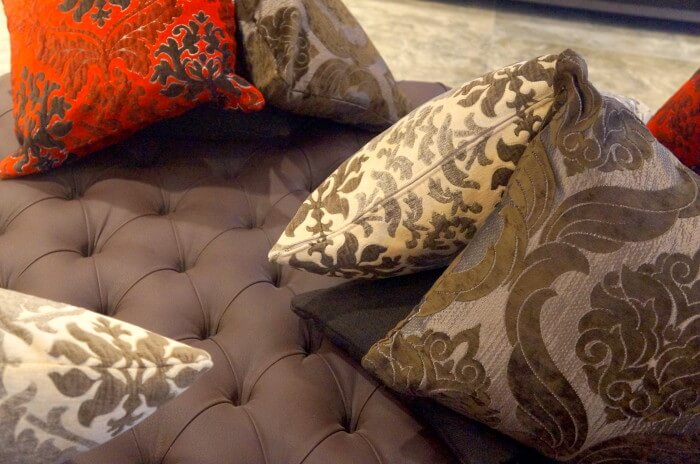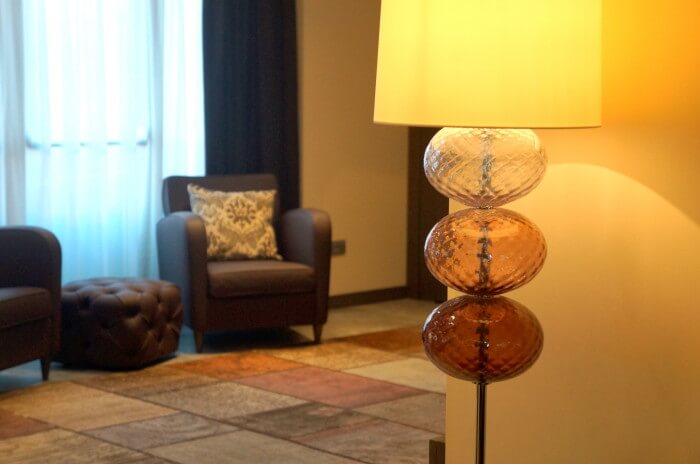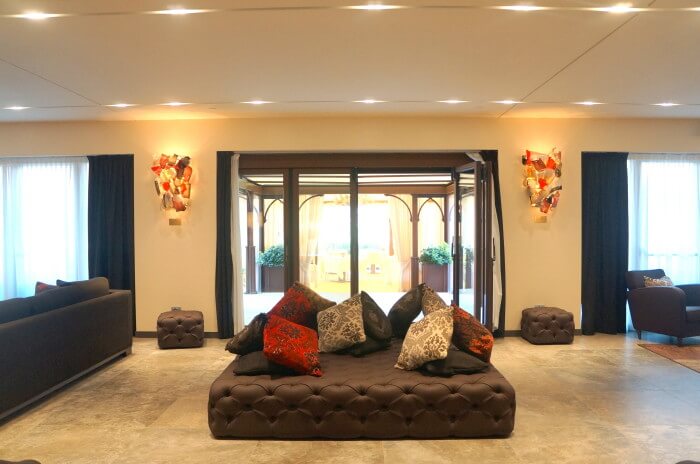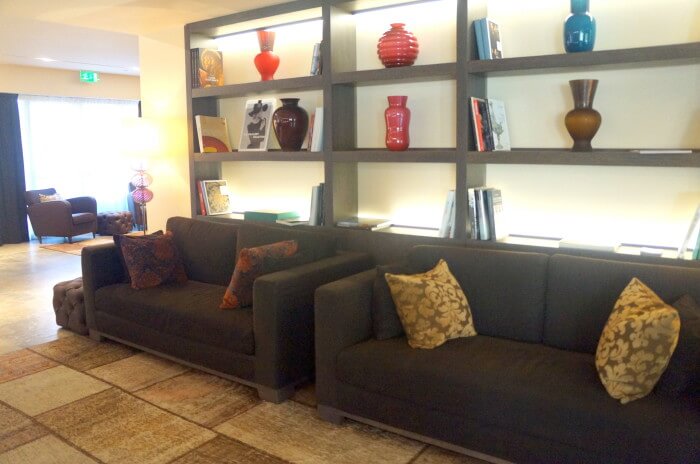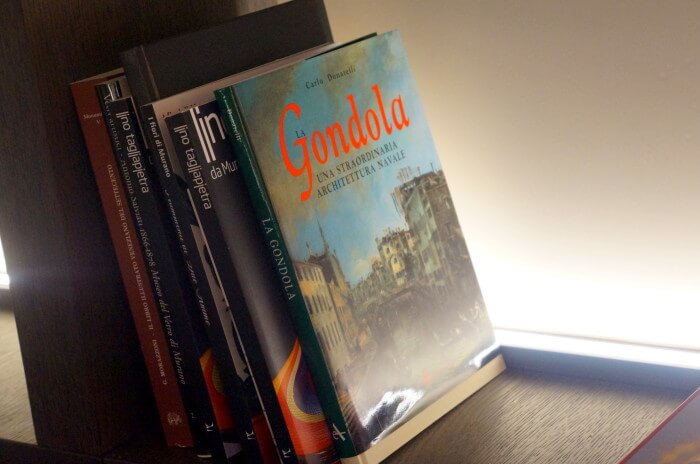 The breakfast
If you're staying at The LaGare Hotel in Venice, then you might've booked a package including flights and breakfast, so you'll be wanting to know if the breakfast is any good!
I really enjoyed it. It was far from what you'd get at a big major hotel (the hot options were pretty limited, and the selection was small) but there was still lots of choice, and the food that was put out was never anything less than delicious. My favourite was their little Bruscettas – I could've eaten about a 100 of those and still gone in for more.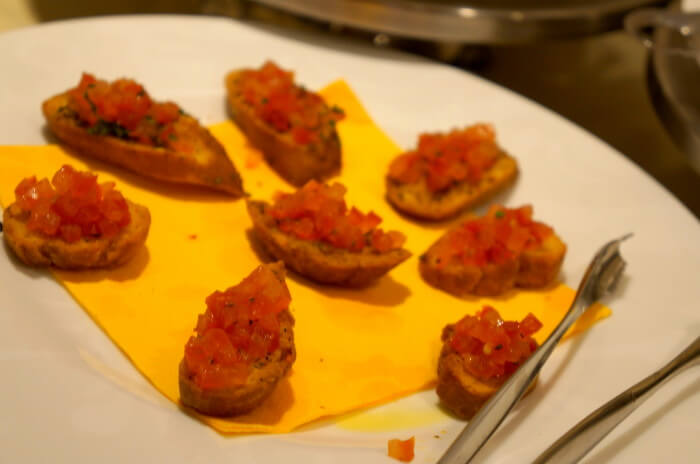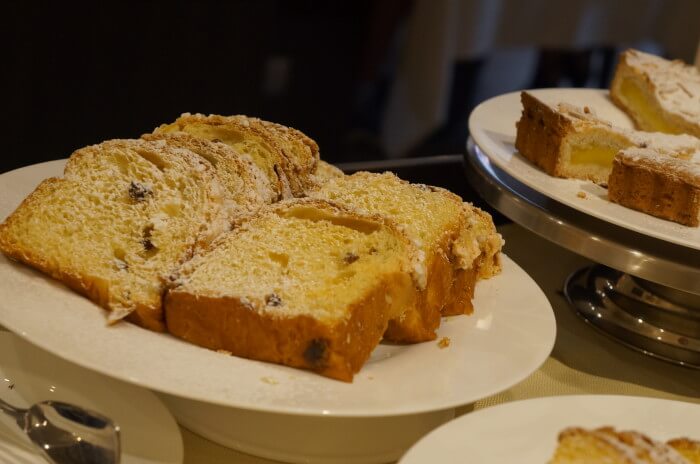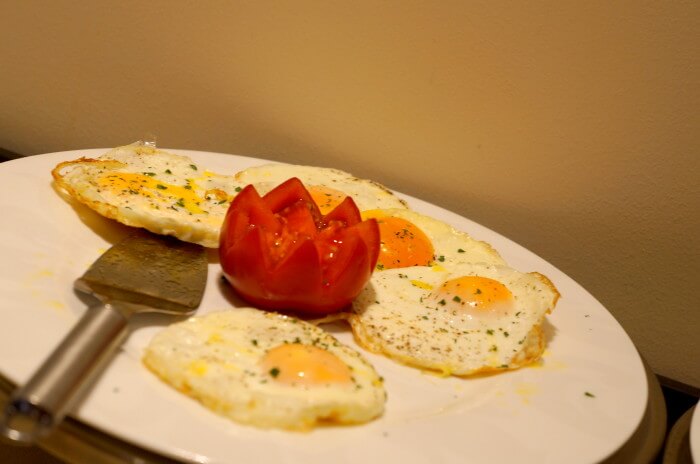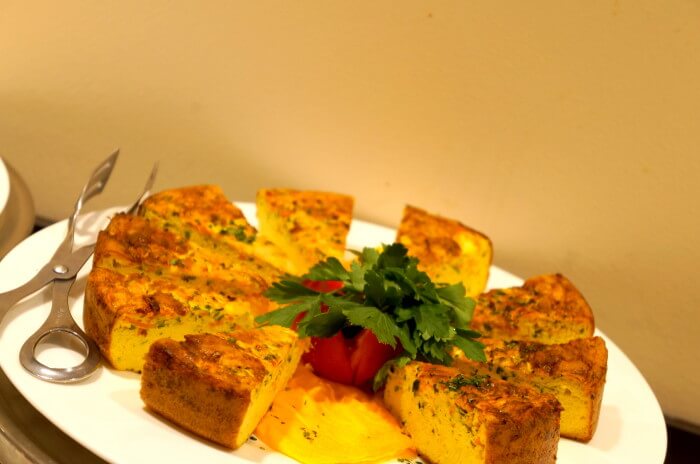 The selection ranged from egg pastries, quiches, fried eggs, cold meats, cream cheese, cakes and sweets and fresh fruit. They also had some juice choices, as well as champagne (for breakfast!) which was a welcome start to the day, and just want you want on holiday.
The little breakfast room was light, airy and really nice. Not too crammed full (that's quite a pet peeve of mine) and there was even an outdoor area too which you could opt for if the weather was nice enough (which it was when we were there).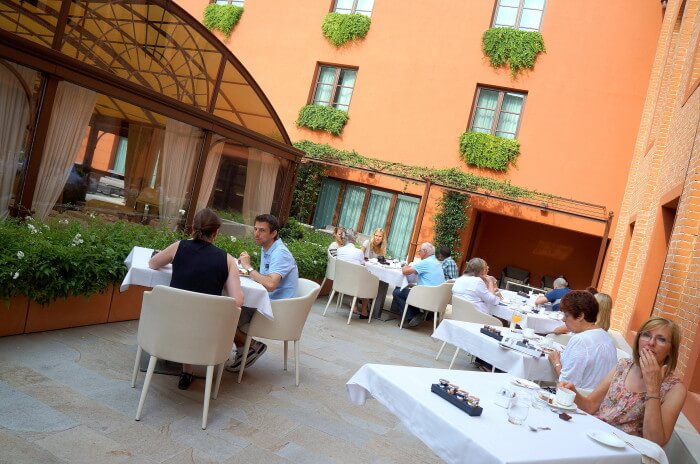 Getting around, in and out of Venice 
As you may (or may not) know, the hotel isn't actually on the main island of Venice. It's located on Murano – a smaller island about a 15 minute speedboat ride from Venice. The hotel actually offers a complimentary speedboat to get you around – which is amazing – but you'll need to book in advance as the speedboat only seat around 10 people, and only makes a few trips a day.
I'd recommend booking all the trips you're wanting to take on your first day when you check in, and then keep track of which trips you've booked places on. They have a boat head into Venice in the morning and in the evening, as well as a return trip mid afternoon and evening. They also do airport transfers too – and will pick you up from the airport if you give them a heads up.
The speedboat is below… 🙂 pretty nice right?!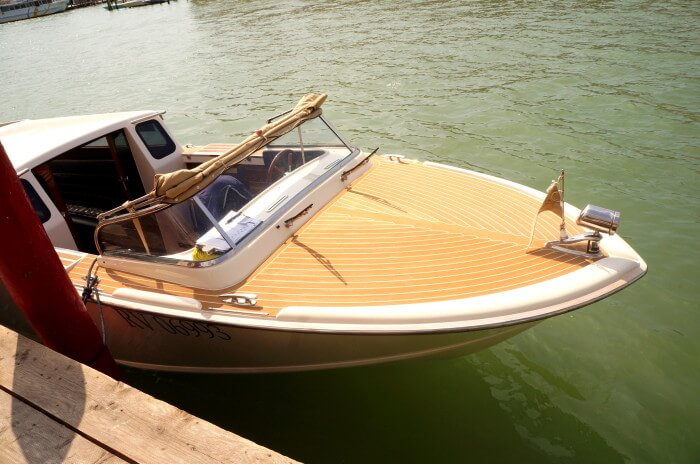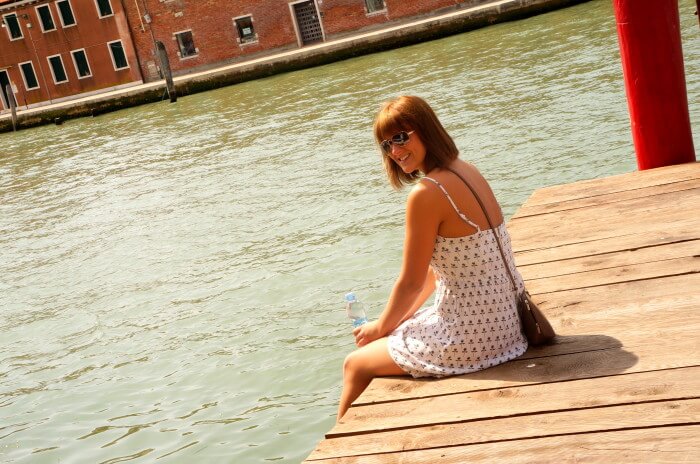 The speedboat leaves from a little jetty right outside the hotel (in the photo above) – it's not hard to find and the staff will always point you in the right direction if you can't find it!
What amazed me about the whole 'free'speedboat' arrangement was that it was free. If you were to pay for a private speedboat in Venice, to and from Murano it would cost you upwards of 100 Euros. So believe me when I tell you it's a perk worth having!
The photo below is the view you get from their speedboat as you whizz into central Venice. Picture perfect!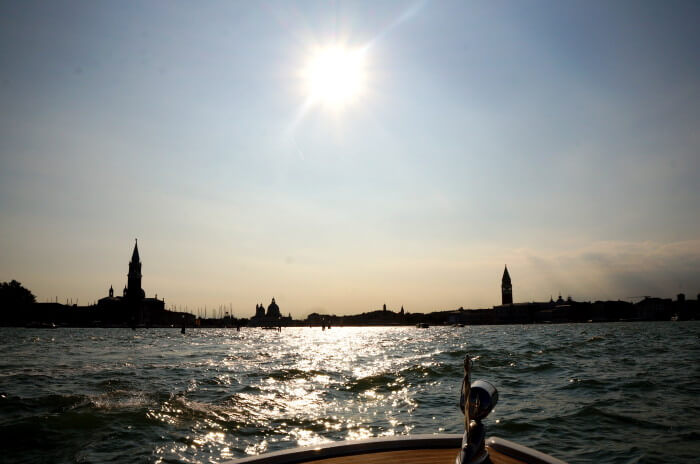 Public transport around the hotel
As well as the speedboat, there is also loads of public transport options in and out of the city in the form of water buses. There are two routes, the more frequent (every 10/15 mins) takes you to Fte Nove (a main ferry hub on the closer side of Venice island to Murano). Getting off here will require a little bit of walking to get into the main tourist bit of the city, but the ferry itself only takes 15/20 minutes.
The other is less frequent and takes you right into the heart of San Marco (so no extra walking needed). However this ferry comes less frequently and takes much longer (about 45 minutes in total).
So it's just up to you which you'd prefer. For us, we got the first option on the way in when our feet were feeling fresh and then got the longer ferry back when we wanted a nice long sit down after sightseeing.
For either option – the ferry stations are all within 5 minutes walk of the hotel door – if that. It's super convenient.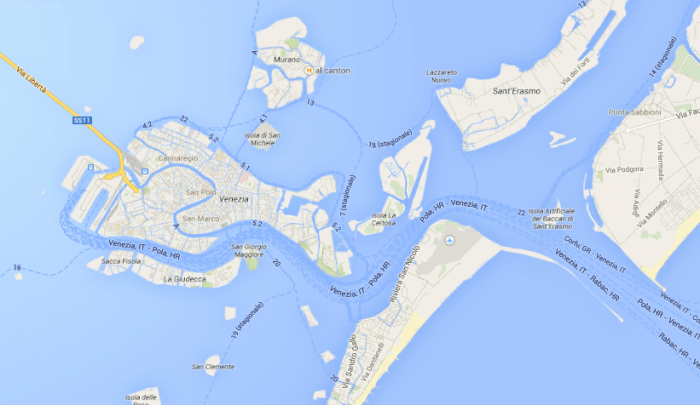 I'd recommend staying late in Venice and then grabbing the water bus back to the hotel later in the night, as it means you can enjoy the sunset whilst you travel! We always got a seat too on the ferry, and at night, there was barely anyone on there – so quite a relaxing way to end the day!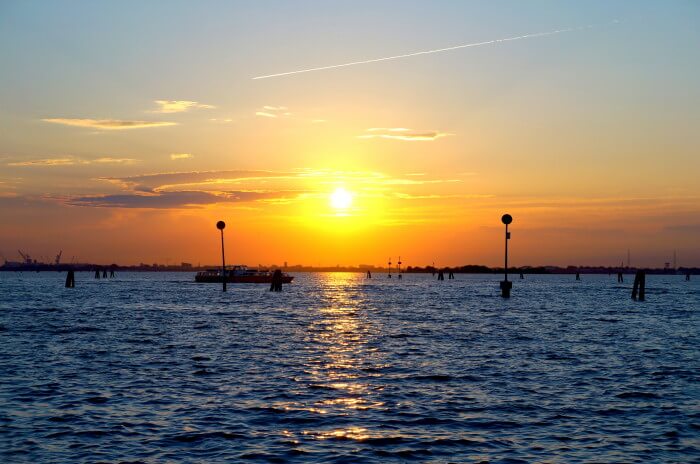 Overall? 
It was beautiful and impressed me no end. The staff were so friendly and willing to help with every question. They provided us with maps, brochures, recommendations… you name it.
Granted the hotel isn't actually on Venice island itself, but to me that meant we explored more of the city and actually got to see and make the most of Murano too. It was nice after being in the crowded hub of the touristy areas, to come back to the calm and quiet of Murano island – where real people live and where the crowds barely exist.
I loved using the public transport, but more than that, I ADORED the speedboat bonus – as it meant we got to live and feel like VIPs.
Would I go back? Absolutely.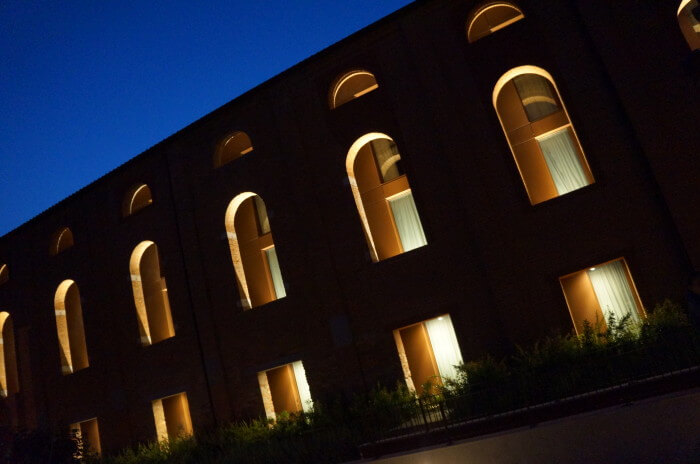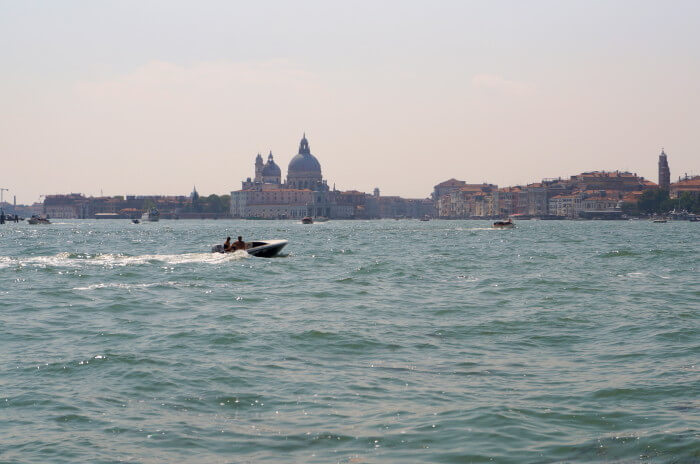 If you're booking your trip soon, I'd recommend the following websites for great deals and prices:
tripadvisor.com (hotels and reviews)
expedia.co.uk (hotels)
agoda.com (hotels and tours)
skyscanner.net (flights)