We knew that one of the main things we wanted to do whilst in Australia was go and explore The Great Barrier Reef. It's one of those bucket-list items that pretty much everyone has, and we are no different. The company we chose were Tusa Dive, and we couldn't have been more happy with the day we had. Granted, the weather wasn't perfect, and we had to tackle some pretty strong waves and currents when we got out the the reef – but the crew on board literally made it as enjoyable and as easygoing as they could – which made everything so much more memorable for us.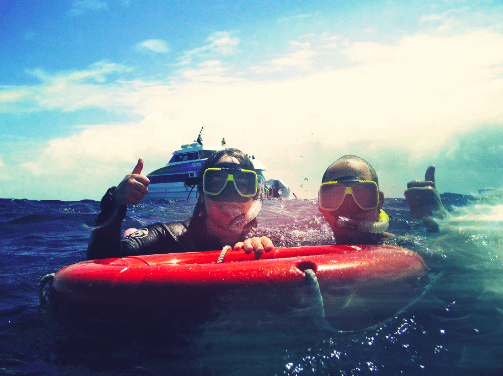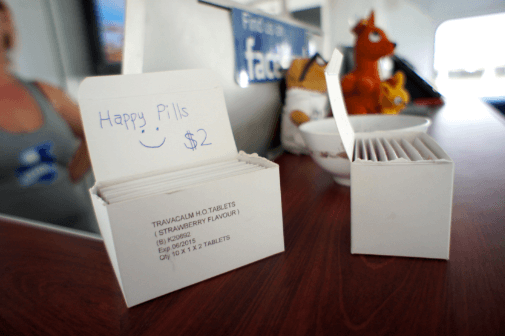 "Happy Pills" are crucial if you're prone to motion sickness, because that's basically what they prevent. Tusa gave these out for free when everyone got onboard – which was very nice of them and something we were very thankful for later on in the day! Not all boats do that though – so make sure you have some with you and you take some before setting off, especially if you're sailing on a rough day like we were. Even if you're not prone to sea sickness – take one anyway. 
For those photographers reading this (or photography enthusiasts) you can actually hire digital cameras that are waterproof onboard the Tusa boat – which is totally awesome, and I wish I'd known. The photos in this post were taken with a super cheap waterproof camera I found in NZ for like $40 – and whilst the quality isn't terrible, it certainly isn't the standard of imagery I usually work with! But I love all the photos I took, and I kind of like the fact they're a bit blurry – we were under the sea after all!
We opted for snorkelling on our Tusa Dive, although they do have diving options too – if you want to dive. We've never dived before though – and the sea was quite rough, so we thought snorkelling would be a good way to see the reef – and it totally was. The reef is pretty shallow in most places – between about 5 ft and 15 ft in deeper parts, so for those who are nervous about swimming in the vast deep ocean – dont let any fear like that put you off doing something like this. I have always had an irrational fear of sharks (sometimes I even get it in the deep end of a swimming pool… wait, did I just admit to that?) and not once did any kind of fear or doubt cross my mind whilst we were snorkelling the reef. Sure, there are little sharks out there, but the crew are pretty vigilant in spotting them and also pretty convincing when they tell you not to be worried. Apparently the sharks are actually really shy, and if you spot one, you're very lucky.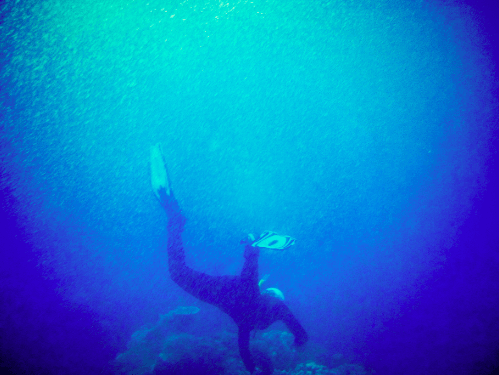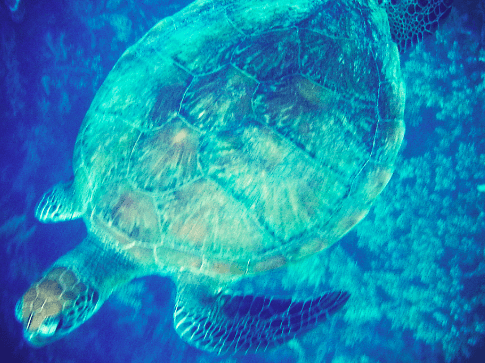 The highlight for me was spotting a turtle. There were two things I wanted to see whilst we were out there; a turtle and a Nemo fish. We saw both! The Nemo fish we found pretty early on (yes, we found Nemo…. haha) and the turtle we spotted a little later in the day. It was just incredible, and had been gliding around the bottom of the reef for a while as we eagerly watched it at a distance, but then without warning it came up for air about half a foot away from my face. It was just breath-taking to be that close to a wild animal – I even got to stroke it's shell!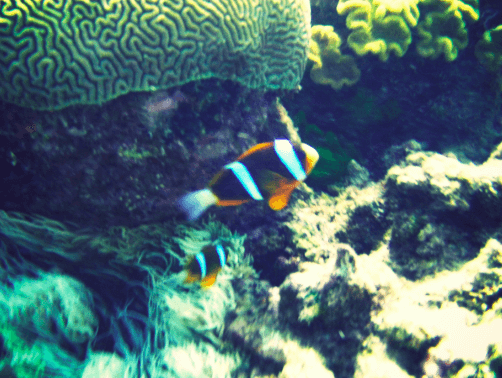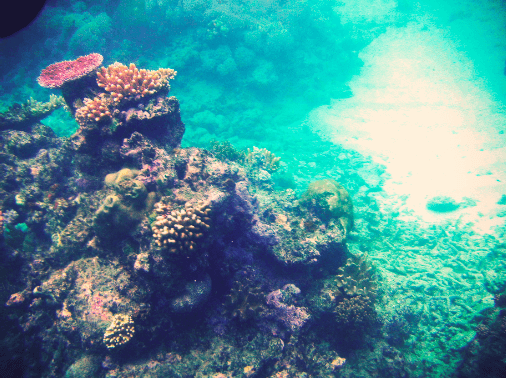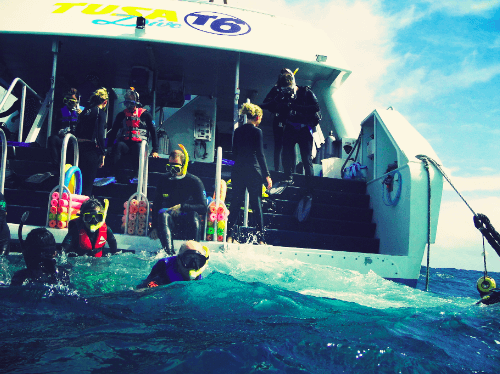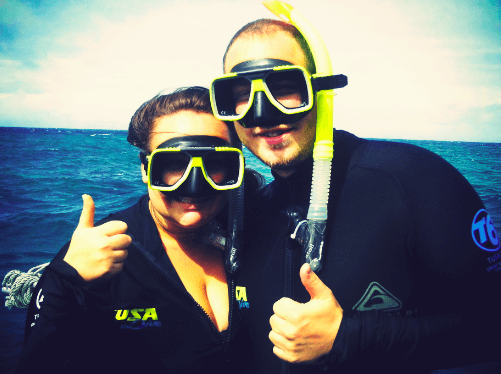 Stinger suits (you can see how fetching we looked in them above) were provided for all, and fitted well and were actually pretty comfortable. They had all sorts of sizes for everyone on board and the whole "handing out" process was easy and fuss free. You even get little booties to wear too. Your snorkel and suit are then yours for the whole day – so there is no mixing and matching which is handy as it makes the whole process miles easier when you're getting in and out of the sea.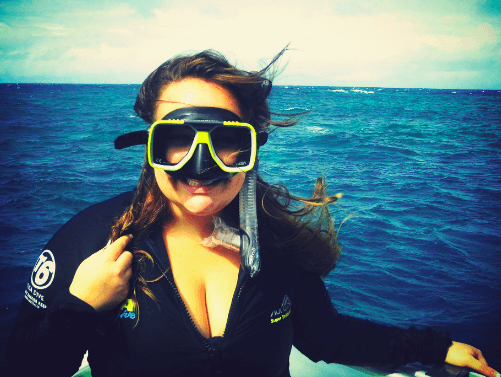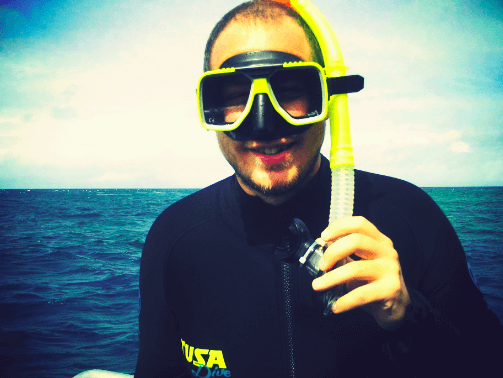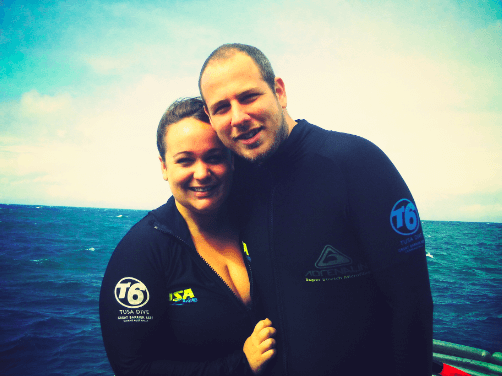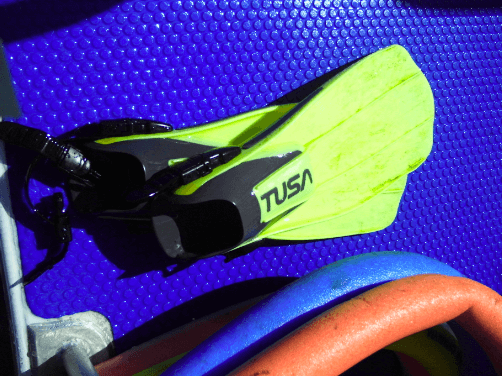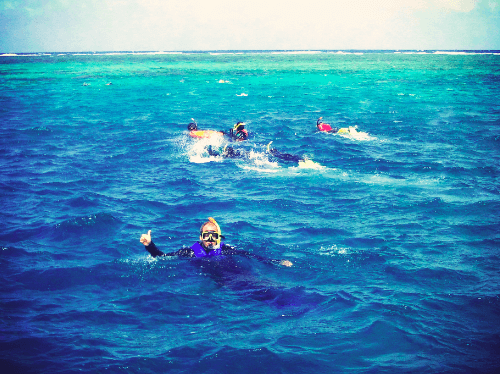 I think the conditions we were snorkelling in were quite rough at times, as there was some powerful wind and waves coming at us (especially in the beginning). I'll have to be honest here, it did frighten me a little when I first got in the sea and I panicked slightly because I just didn't have the physical strength to be wading through the waves with my flippers on, fighting the current which was pulling me in the opposite direction I wanted to be going. I think I was a bit surprised at this – because I've always been a really strong swimmer (my Mum taught me to swim when I was about 2 years old) so it's always come naturally. But I gather that the wind like we had would be an exception in the summertime – and during peak season the water would be much calmer.
Saying that – the crew were fantastic though – and within minutes one of the lovely snorkelling blonde girls from the crew had swam over and offered to tour us around (I wish I had grabbed her name, because she was brilliant and really made the experience), meaning there were three of us all swimming together against the current and the waves. This made it so much easier to navigate, and it meant she could point out some of the interesting fish and coral for us to see – she is the one who found us our Nemo fishy!
Overall, we just had the best day. We've been building it up in our minds and it didn't disappoint at all. The reef is beautiful and it's something that will stick with me forever. It's such a funny feeling being somewhere you've always imagined – and seeing all these incredibly coloured fish and coral right there inches away from you. Pad and I said once were were back on dry land, that it's already one of our highlights – and we still have 2 months to go.