If you're in Melbourne, the one thing I'd definitely say you have to see (and do) is The Great Ocean Road. Whilst Melbourne is a lovely city – it's very similar to lots of other cities – so for me it was our day driving The Great Ocean Road that will stick with me most when I remember our time in Melbourne.
It's unlike any road I've ever been down before. I mean, yes, I've been on coastal roads before – but nothing quite as spectacular and breath-taking as this. It's the kind of road which bends and winds, and as you turn each new corner there is something more beautiful to look at. We'd had it recommended to us by so many people before visiting Melbourne, that it had this promise of greatness before we'd even got on it. Luckily – it didn't disappoint.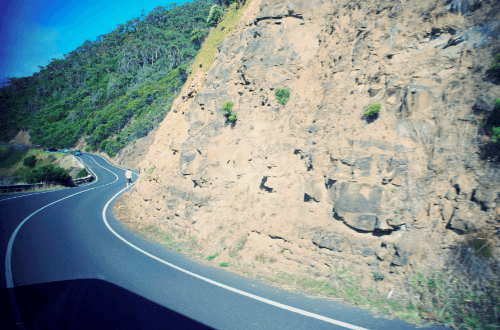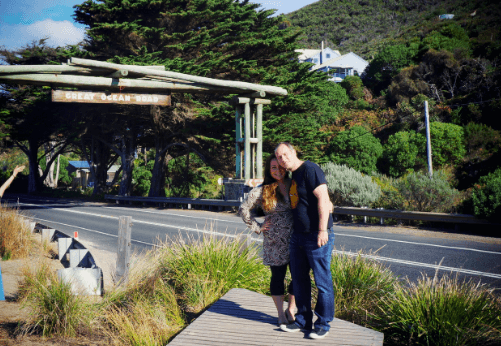 The road stretched pretty far (like 600km or something!?) we didn't see the whole thing though – as we were limited with time, but we saw enough in about 12 hours of driving to feel like we'd seen all the gorgeous beautiful places on offer on this stretch of road. There are loads of stop-off places along the way too – like Koala Cove (where you can see wild Koalas) and various little sea-side towns and villages. We liked the look of Lorne as we drove through it – but wanted to get to the main show (in other words… the 12 apostles) so we didn't stop.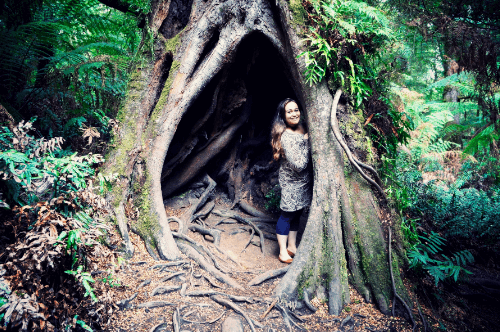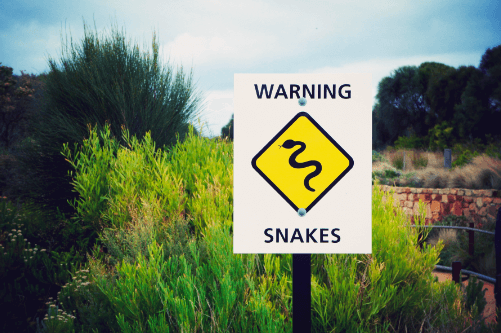 On your way up to the 12 Apostles, there are some phenomenal beaches and rain-forests to drive through and explore too – which you can see above. We did a little walk through some of the forest and it was stunning – trees that are bigger than any I've ever seen, that you can actually go and stand inside them. At first this hugely excited me…. there were a few which I could've set up camp in and it probably would've been bigger than some hotel rooms I've slept in, in the past! But then, I remembered "This is Australia, and a jungle and there are snakes and spiders" and it didn't take long for me to jump out again.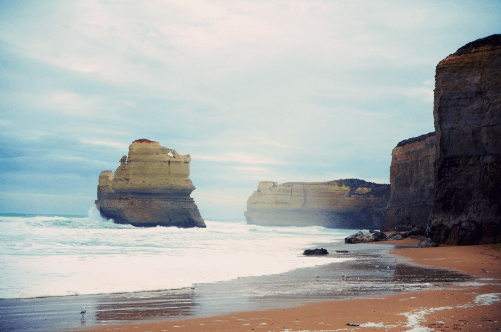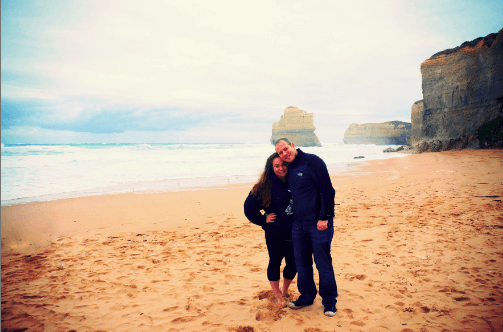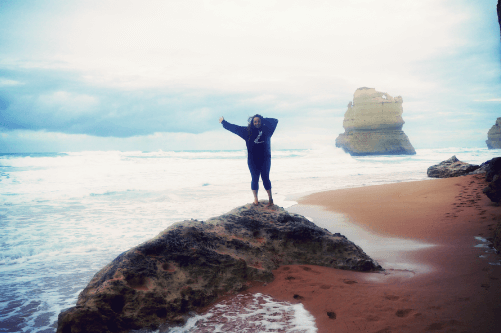 This beach was one of my favourite spots, when we arrived there it was pretty desserted, so it felt like it was just ours, you even had to walk down these tiny stone step carved into the cliff face to get down there. It reminded me a little of the scene in Inception where Leonardo DiCaprio's character gets washed up at the beach at the start. That's kind of how steep the cliffs were and how rough and epic the waves and weather was too, it felt like the edge of the world. Which it kind of was, as there is no land between this beach and Antartica. So if you dived in and kept swimming (of course I'm talking hypothetically here…. No one would actually be able to do that) you'd eventually reach the south pole.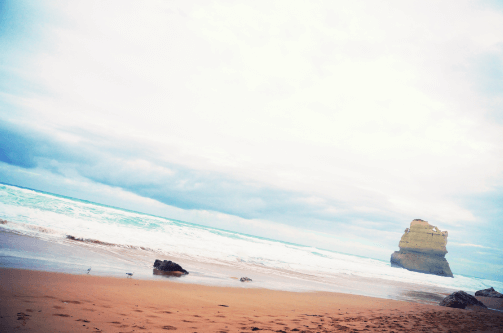 This is the site everyone comes to The Great Ocean Road for. And you can see why once you're there, it's pretty breath-taking. I think we were really lucky to get there on a windy day as the waves and mist made everything a little bit more epic and powerful.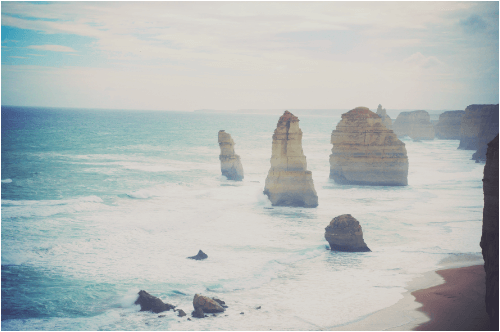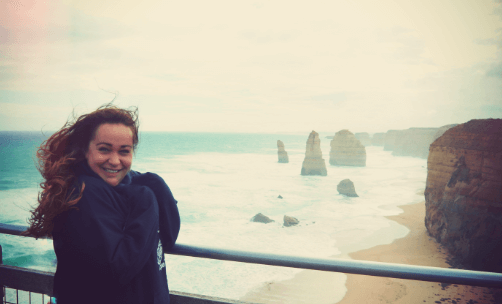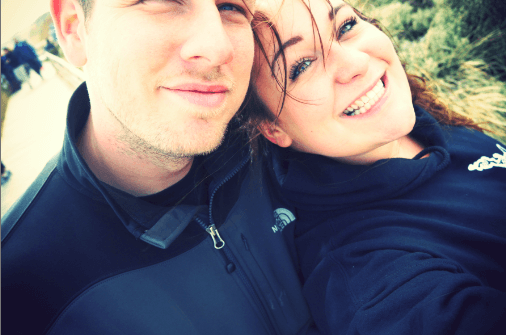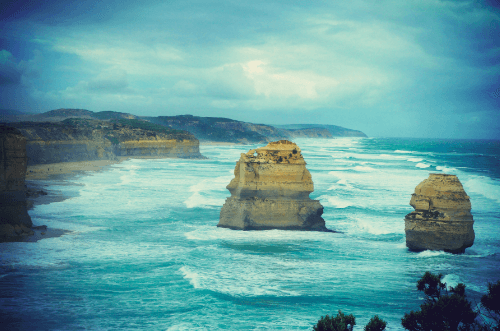 These two rocks are the same as the ones taken from the beach above, but this time viewed from above at road level. You can really see the scale of them here and just how powerful the waves were that day. I love the photo above – it really sums up the whole view and the whole Ocean Road experience as you drive down it.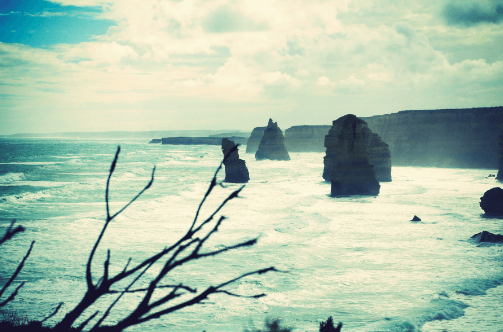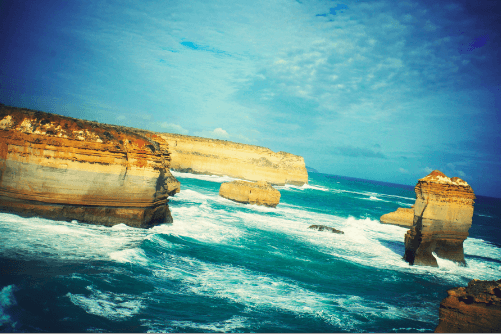 It was a really long day, and I can totally see why people set aside 2/3 days for doing this – but we just didn't have time. Even as I'm writing this up, we're in our next destination of Sydney, so we're moving through the country pretty quickly. I felt like we saw everything we wanted to though, and I got all the photographs I wanted too – which was a bonus.