On our way down the East Coast of Australia, we decided to treat ourselves and spend a couple of days in The Reef View Hotel on Hamilton island. The idea was to spend a few days in glorious sunshine on a tropical island – but unfortunately the few days we booked happened to fall during a big tropical storm. Bummer.
We made the most of it though and although we didn't really get to do what we wanted (our seaplane trip to Whitehaven Beach got cancelled… which made me a bit sad as it was one of the things I was most excited for during the whole trip) at least we were stuck somewhere beautiful. I mean if you're going to be stuck inside – may as well do it in a gorgeous hotel right, with a killer view?
Speaking of which… This was our balcony view, and a quick snap of our lovely hotel room.
We had about 2 and a half full days on Hamilton Island – and we did absolutely love the place. We've both agreed that the bad weather is just an excuse to back again one day. After all, if we loved it in torrential rain and storms…. chances are we'd fall head over heels for the place in the sunshine. We made the best of it though. On our first day we went swimming in the rain, and then proceeded to get even more drenched walking back to the hotel. We broke one of the hotels umbrellas and we had about 15 local tropical parrots come visit us on our room's balcony. We then went down and sampled our hotel's buffet in the evening (we were planning on going to this place on the marina side of the island – about a 10 minute walk) but we would've ended up looking like two drowned rats sat in a posh restaurant, the rain was like stepping into an actual shower. But the buffet was good… they had jelly and ice-cream for dessert which is a total win.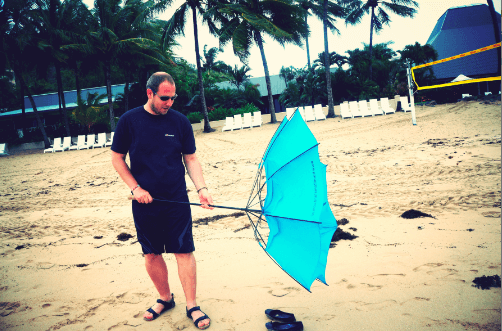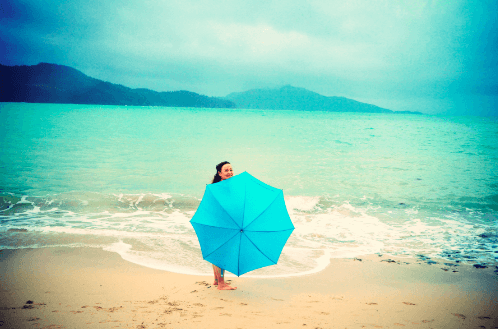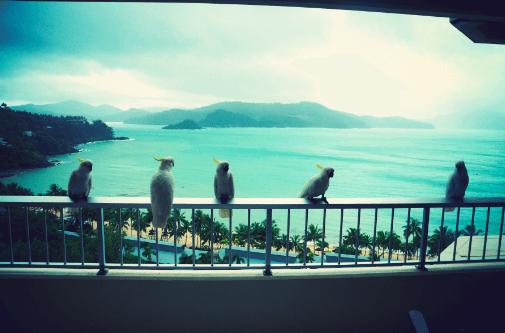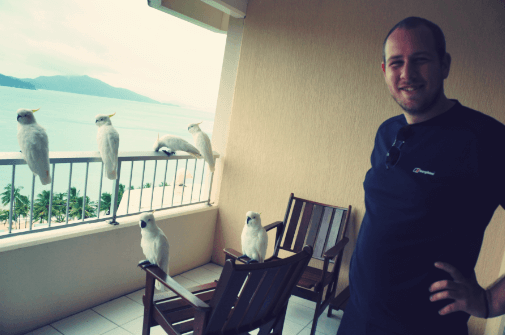 In all honesty – the parrots were actually one of my main highlights from the few days. They'd come and sit with you on the balcony and they're gorgeous little birds. I've never really been a bird person but I could've watched these ones all day – they are just beautiful! Plus it's like having a little free zoo on your balcony!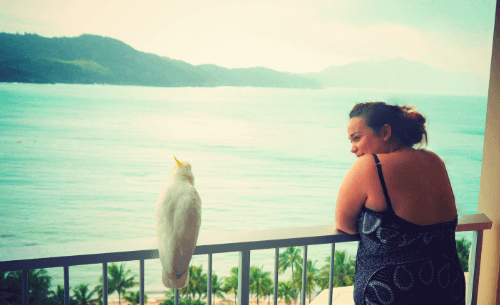 My other highlight was hiring a golf buggy to see the island. That seems to be the main way to get around on the island and the golf buggies are everywhere you look. It's kind of nice actually – the island is so small that having cars would just clutter it up – so little golf buggies are the perfect solution. We rented ours for the day and it cost us $70 – which was much cheaper than we were expecting! We basically spent the day zooming up and down the islands hills and little roads, enjoying the very beautiful views and getting absolutely drenched whilst we did it.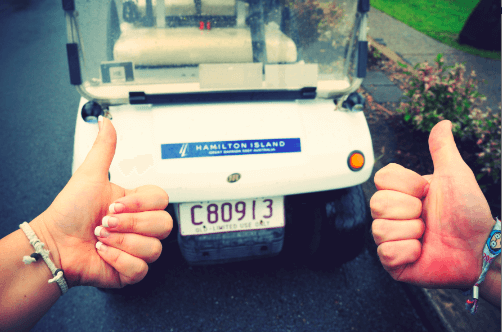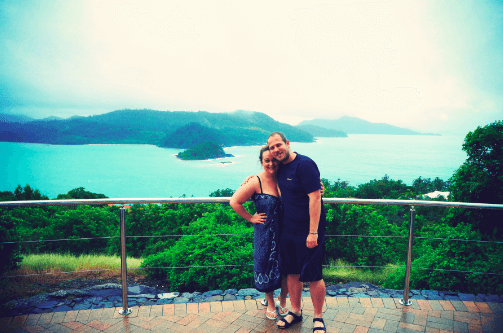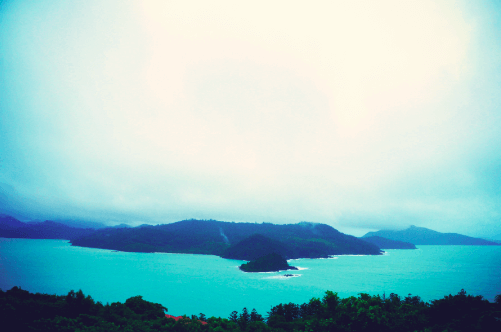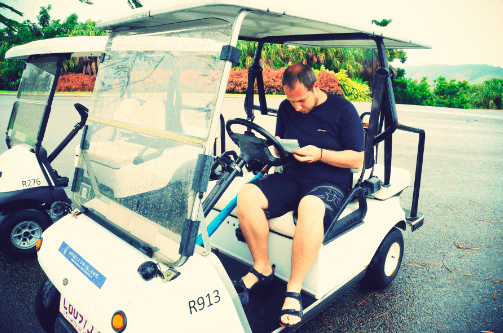 We've actually just arrived in Hervey Bay (we do Fraser Island tomorrow) and we've managed to catch our first bit of sunshine since Sydney (YAY!) so I'm hoping the storms might have finished and we can finally catch some luck where the weather is concerned. We're both so lucky to be here and be experiencing all these incredible places, and we're definitely not the kind of people to let a bit of rain get in our way of having fun (as we proved on Hamilton Island the past few days) but it can get a bit tiring and frustrating after more than a week especially when so many of the things you have planned are weather dependant.
It just goes to show though, you can never plan for this kind of stuff and you just have to get on with it. I was gutted about the sea-plane being cancelled, but if it hadn't been we wouldn't have had time to ride around on the golf buggies – which was awesome. So things tend to work out 🙂
Saying that though…. any sunshine will be welcomed with open arms!