Last year in the midst of our RTW trip, we got an email from our friends back home, announcing their engagement and their plans to get married int he Dominican Republic. They invited us along (yay!) and so we booked ourselves onto our first ever All Inclusive holiday. Having just got back from the holiday a few days ago (the wedding was beautiful by the way!) I wanted to get my thoughts down about the experience, as it was so completely different from anything I've ever done before.
Firstly, let me talk about how I usually travel. Pad and I will usually book flights first, and then we'll search out a hotel or maybe an Air BnB apartment (if we're staying somewhere like NYC). Pad and I really love our city breaks, and when we were travelling we did loads of cities, and split the cities up with the occasional town or beach village. We love exploring, seeing everything, trying everything and sampling all the restaurants we can possibly fit into our time.
So. All Inclusive was bound to be different. But I was kind of excited for the change of pace. As much as Pad and I had loved travelling – it had been exhausting – what with keeping up with budgets, changing currencies, finding somewhere new to eat every night and every lunch time, remembering to keep your purse with you, travel documents… all of that. For our all inclusive holiday, we literally turned up. Unpacked our bags. And then started enjoying ourselves. I didn't take my purse or phone out once the entire time – it stayed in our room safe.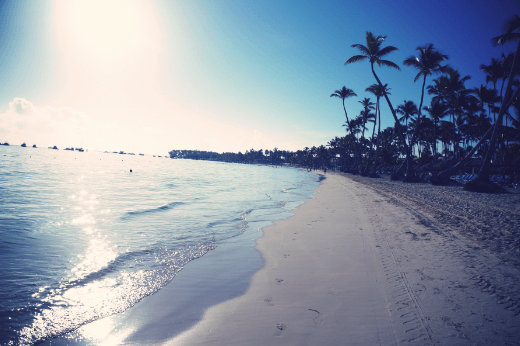 So where did we stay? 
Our hotel was the Dreams Resort Palm Beach in Punta Cana. We didn't choose the hotel – it was the beautiful bride's choice – so we trusted her judgement and just went along with the hotel choice. The reviews were good online, so I wasn't really nervous at all. When we got there it was great. The pool area was incredible, the beach was lovely (beautiful white sand and turquoise water!), and the rooms were well decorated with a massive king-size bed and loads of TV channels (always a bonus for the hungover mornings or late nights).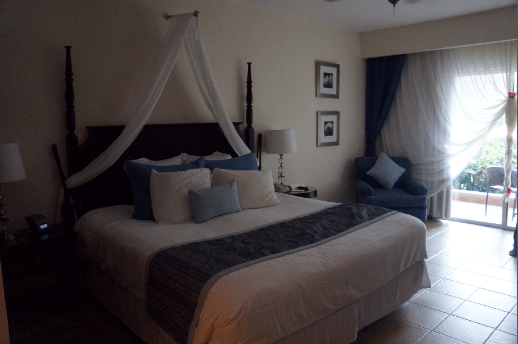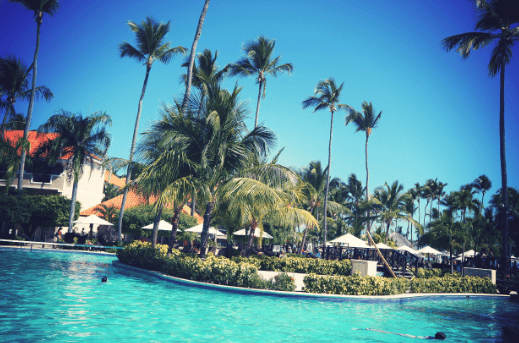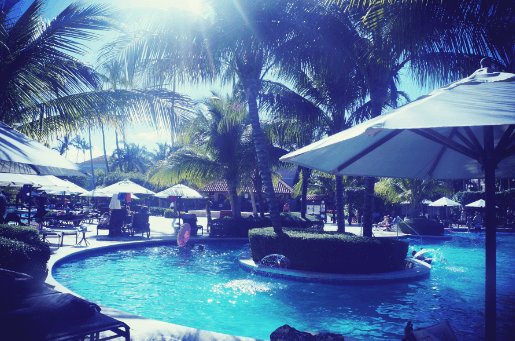 What was included? 
Included in our package was all food and all drink. The only money we spent the entire time we were there was for a 7 day internet pass (which cost $60 US). The price for internet was pretty steep to be honest – but we were used to that from travelling, so didn't think twice. We stayed in a hotel in NZ once where they charged $28 for 24 hours of internet…. so this didn't seem too bad in comparison.
So, we had unlimited supply of food and drink (woohooo). There were several bars located throughout the resort (and we rarely queued for more than a couple of minutes to be served). Drinks included soft drinks, water, cocktails, beer, spirits, etc – whenever and wherever you wanted it.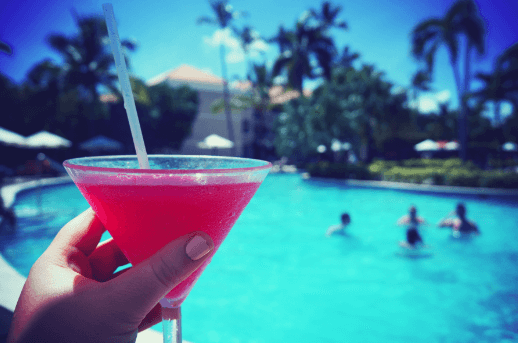 (The Island Kiss cocktail above was beyond amazing… but don't have more than a couple – the coconut milk makes your tummy go funny!)
Food supply was awesome. Breakfast in the morning was served in The World Cafe – a huge buffet hall with loads of selections. The World Cafe also stayed open throughout the day and night serving up different things for lunch and dinner (and midnight pizza if you fancied it). Alongside that there was plenty of sit-down restaurants to choose from; And Asian restaurant (with Japanese and Chinese menus), a sea-side grill (serving up steak, ribs, fish, etc), a mexican restaurant (I tried Cactus for the first time there, yum), an Italian restaurant, a French restaurant and a coffee shop style cafe with sandwiches, doughnuts, muffins and pastries. All of these were open every night, so there was plenty to choose from.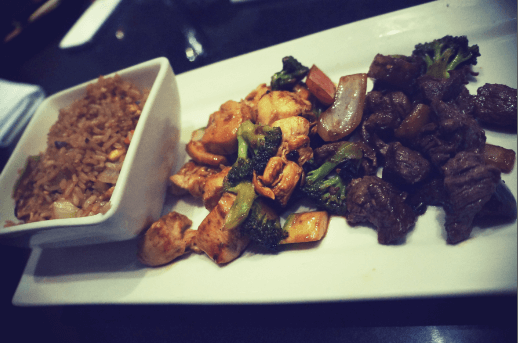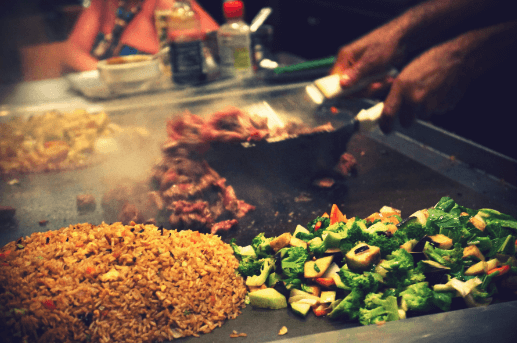 Our favourites were the Japanese (which was loads of fun, and delicious) and the Italian (major yum). I also ate way to many chocolate muffins from the cafe, that would ever be acceptable in normal day to day life.
Mmmmm muffins.
My only negative comment, was that sometimes the waiting ties were a bit ridiculous. Some of the restaurants seemed more popular than others, and (because we were part of a big group, and so often ate in sets of 6+) we were expected to wait an hour (and then some) for a table. This wasn't the end of the world (we'd just go and take advantage of the lobby bar and free drinks…. but it'd be nice if bigger tables and parties were able to book for specific times.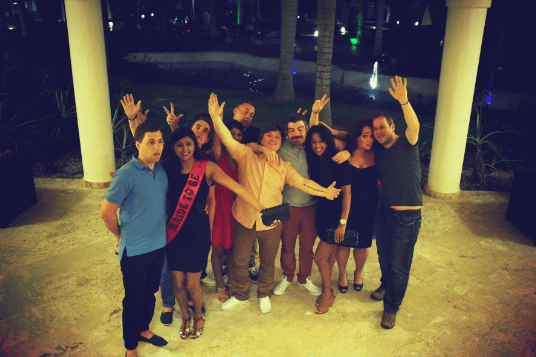 What was the hotel and amenities like?
I have no complaints on that front. The hotel staff were so friendly, and they put on loads of activities for those who wanted to try them. Pad and I are pretty laid back on holiday so we probably didn't take full advantage of this – but that's only because we're just as happy relaxing with a book or chatting with friends. I didn't really feel the need for water aerobics or zumba classes….!
Even if you don't join in with the activities though – it's kind of hilarious to watch.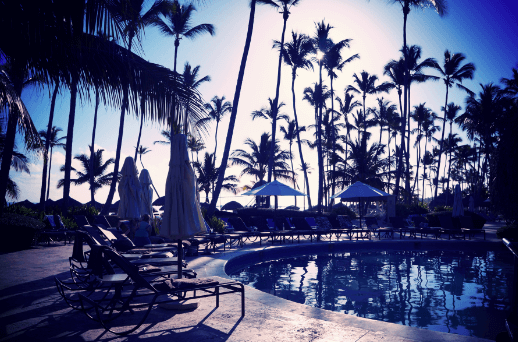 The people in the resort were a nice mix of young and old. There was a huge group of American spring-breakers there for a few days which livened the place up, but there were also older couples and young families with children too. There is so much space in the resort that you're never really on top of each other (unless that's your plan, wink wink).
I loved the pool area, and was quite happy just milling around there all day. I know a few in our group felt a bit restless being confined to a resort for the majority of the time, which is kind of understandable if you're there for a couple of weeks – but I never felt like that bothered me or Pad. We were totally happy to just relax and take it easy – we kind of embraced how different it was to travelling and just enjoyed the 'don't have to do anything' side of things.
On the hotel beach there were several free activities you could take part in at any time, such as kayaking and wind surfing – which was a lot of fun, and added a bit of variety to the pool area. I was really impressed these were free too, and the hotel didn't charge you for the use. Nice touch!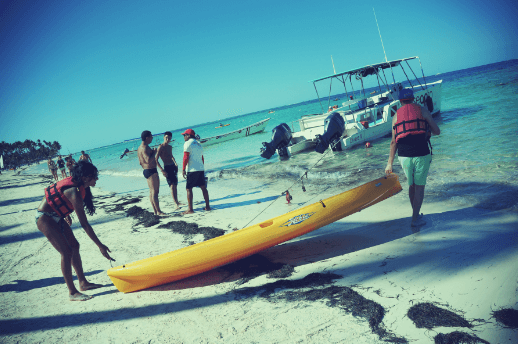 We did go on one excursion after the wedding (and others in the group chose to do more excursions too), which was fantastic. There were plenty of things to choose from, such as snorkelling, deep sea fishing, and dolphin swimming. We took a private boat out as a group and enjoyed a morning of drinking, snorkelling, swimming, etc and it was perfect.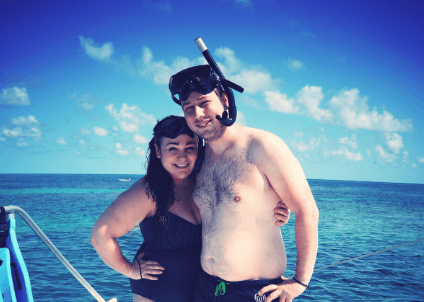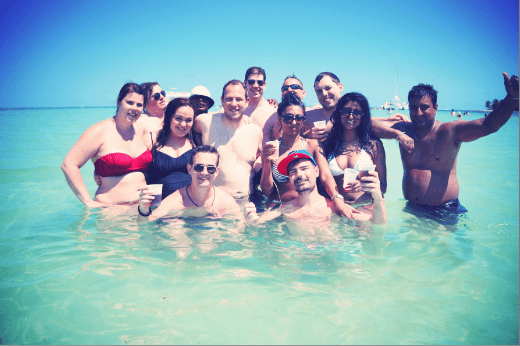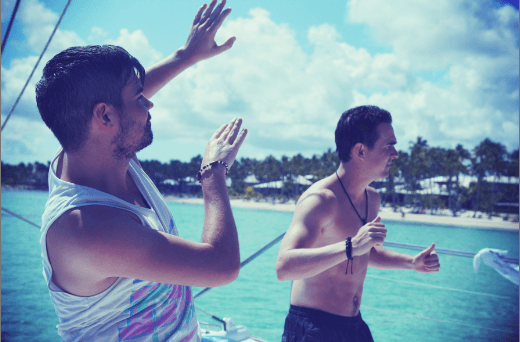 Would I recommend the resort, and going all inclusive? 
Holy crap, yes! I could easily see myself doing more all inclusive holidays in the future. Maybe not every year, but I'll definitely do it again. I loved having the time to get ready in the evening, and get dressed up – knowing I can always pop back to my room and touch up my make-up or change my shoes if they start aching. I also loved not worrying about money or carrying cash – it was so nice to just take my camera out with me and nothing else.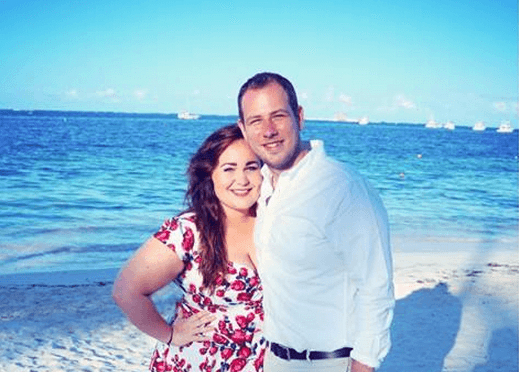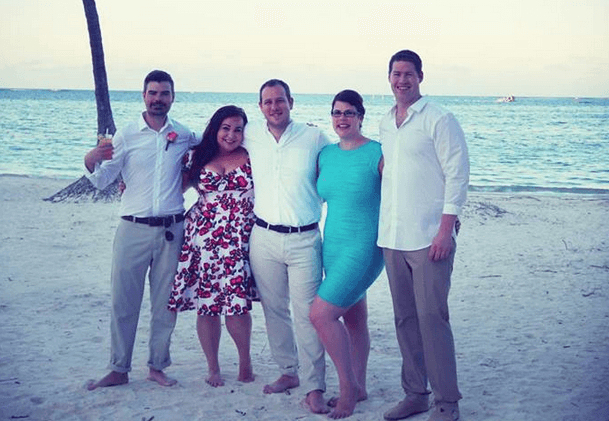 Aside from the perks of not having to worry about anything, I found the pace of the holiday really nice too. I like not having to wake up at a specific time to make sure we got the free breakfast (with all-inclusive that doesn't matter!), or having to worry about missing a bus, or a connection – or something else along those lines. The all inclusive resort holiday just eradicated all those things, and isn't that what going on holiday is all about?
I know in the travel blogging community all-inclusive holidays are kind of scowled upon by many – because you often stay confined to a resort and see very little of the culture and every-man life of locals. And yes, I agree with that criticism. But, if you want a relaxing holiday, with beautiful amenities and without any worry or fuss surrounding you the entire time – then all-inclusive is for you. For me, there should be no stigma. Backbacking / travelling / city breaks / all-inclusives – they're all different types of vacations for different occasions and different types of people. I don't think one is more valid than another.
When I came home I felt truly relaxed, and when you're a Londoner – that's exactly what a holiday should do. So I'm all for it!
Did you like the photos featured in this blog post? Don't forget to follow me on Instagram @TheWorldAndThenSome where I post lots more gorgeous photos from my travels!