---
Are you looking for Grand Central Station photography tips? Keep reading for my advice!
---
Grand Central Station in NYC is one of the most beautiful buildings in the city. It's a stunning place to take photos, but it's also a hub of activity and full of hustle and bustle all day long.
If you want to make sure you capture some amazing photos during your time there, keep reading for my Grand Central Station photography tips.
---
Tip 1: Consider the weather before visiting
---
My first Grand Central Station photography tips are to consider the weather. Of course, the station is indoors – but the light conditions outside do impact the photography quality.
Depending on what the weather is like in Grand Central Station the day you visit, will likely alter the kind of photos you can take. Bright, sunny days mean you'll get lots of light and beautiful crisp photographs – but cloudy days can make photographing the station a little more tricky.
Try and time your visit for a relatively bright day (if you only plan on going once). This means you'll have the best shooting condition to capture those amazing photos.
---
Tip 2: Try different shutter speeds for different effects
---
If you want to capture the hustle and bustle and busyness of the station – then try experimenting with a slower shutter speed. You'll get that blur of movement that is so much associated with cities (especially NYC!).
This is one of my favourite Grand Central Station photography tips as it lets you capture different atmospheres and tell a bit more of a story.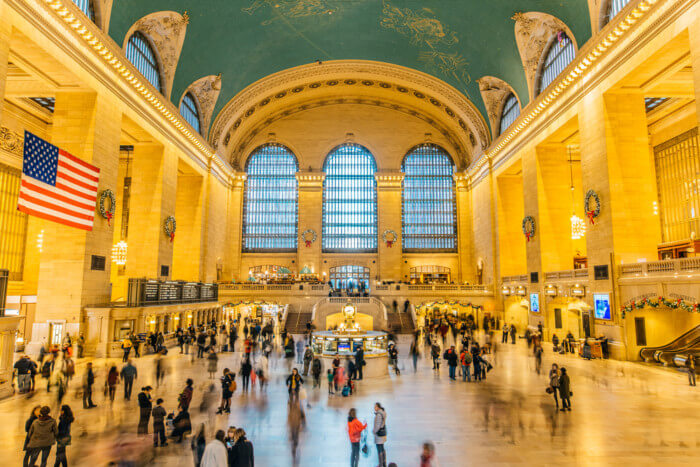 ---
Tip 3: Visit in the daytime and the evening
---
To make sure you get the best possible variety of images, try visiting at two different times of the day.
Morning is great for those long shadows across the station floor, and the evening is great if you want to capture the lighting and the chandeliers around the station.
---
Tip 4: Don't forget your wide angle lens
---
The next of my Grand Central Station photography tips is all about your equipment! Grand Central Station is BIG!
If you plan on capturing it all in one frame, you might want to look into buying a wide angle lens before your trip! Trust me – it's worth it.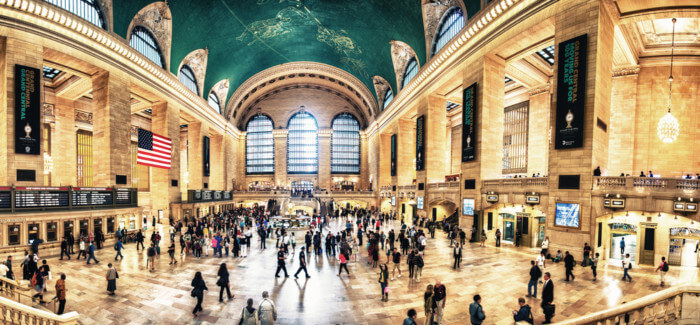 ---
Tip 5: Don't be afraid to explore
---
The first thing you'll probably do when you get inside Grand Central Station is head up those steps to get the famous shot of the entire concourse.
But after you've captured that photo, try walking around a little and seeing what the rest of the building has to offer.
There are some incredible areas of beautiful detail and architecture, and there are some of the most magnificent chandeliers you'll ever see in some of the hallways. Having a little explore could lead to finding even more beautiful photo opportunities.
---
Tip 6: Don't forget the details
---
The concourse is impressive, but don't forget about the details! If you're looking to capture the essence of the station, look for those details that sum up new york commuter life.
I love taking photos of the clock on the ground floor (the clock faces are made from Opal and it is worth between 10 and 20 million dollars!) and also capturing photos of commuters on the move. The ticket desk is also a great place to capture photos!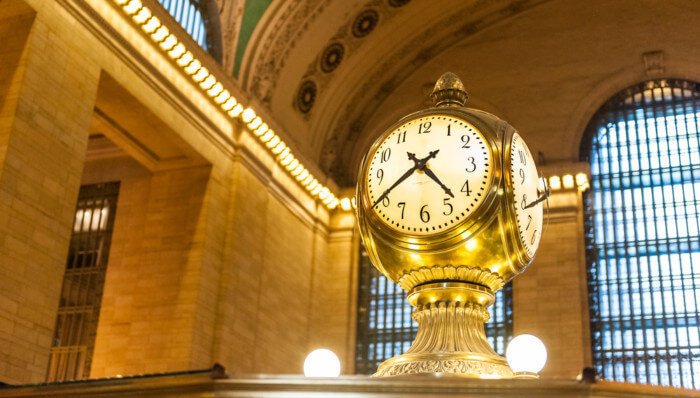 ---
Tip 7: Look up!
---
The roof / ceiling of Grand Central Station is magical. It's a painting of the constellations of the stars, and it really is something special. You'll need bright light conditions to capture the ceiling properly.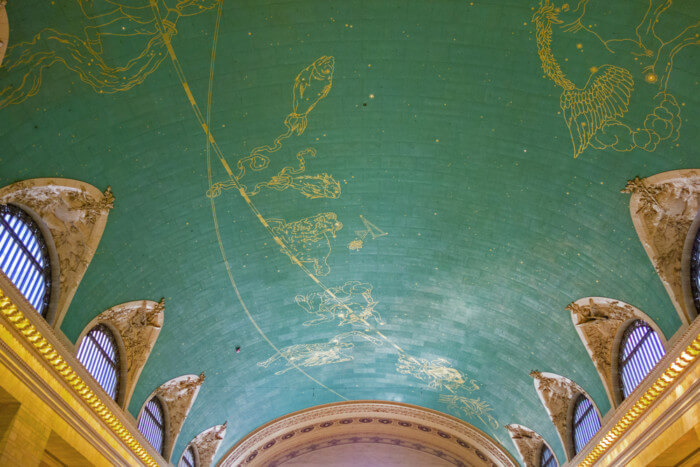 ---
If you love photography…
---
Here are some photography tours I recommend in NYC….
The first is a helicopter photography workshop. You'll take off and be shown the most amazing aerial views for photography.
The door of the helicopter is even open – so you won't get any glare off the glass. It's a once in a lifetime experience and a must-do for any photography enthusiast.
The next, is a classic 3 hour photography walking tour. You'll be taken to some of the city's most iconic photo spots and be given guidance on how to capture the best angles and shots.
It's a great way to meet like-minded photographers, and see the city!
You might also like to read my blog post about my favourite and secret photography spots in NYC!