When we made the decision to do the traditional backpacking route of Australia, at first I was kind of dreading it because of all the flights involved. BUT, after a bit of research and googling (yay for Google!) I stumbled upon Greyhound coaches and I pretty much knew it was the best option for us.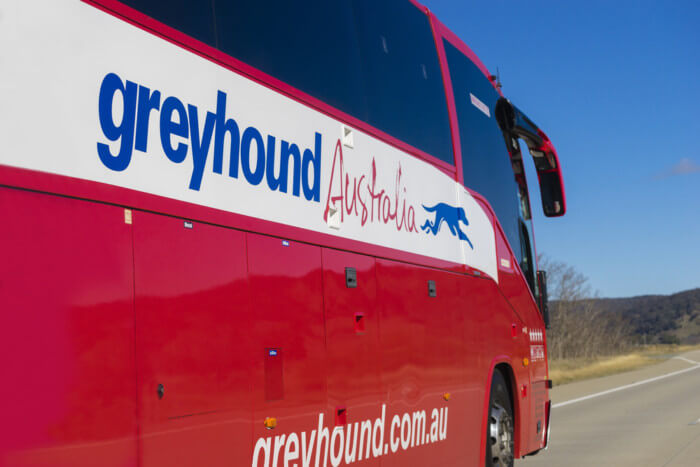 Basically Greyhound offer a huge network of coaches that run all the way up and down (and across) Australia.
Every backpacking destination that is worth going to (and I really mean that) is covered by these coaches, and you hop on and off as you please, depending on what pass you've opted for. We chose a mini-pass, which allowed us to travel all the way from Cairns to Sydney hopping on and off wherever we liked – so long as we only went in one direction (for us, that was down the coast, rather than up).
Obviously, you choose the stop-offs you want (depending on where peaks your interest) and you choose the schedule too. If you only want to stay a night in one place, but a week in the next – that's fine!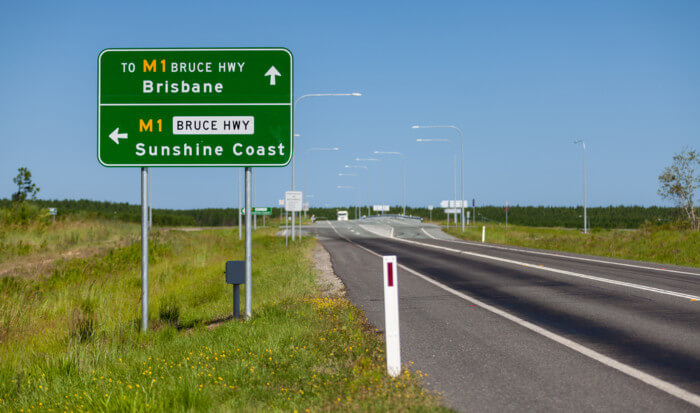 Are the Greyhound coaches nice?
Yes, we were really impressed by them. We only had a couple of occasions where the coaches felt a little old or scruffy – most of the time the coaches were clean, spacious, and new-ish. For what you pay, you can't really find a nicer mode of transport, it's comfortable, easy and takes any hassle away from the trip.
As you can see from below – they're easy to spot too!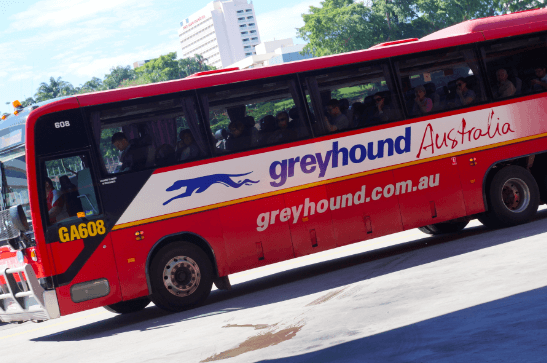 Doesn't it take forever to see Australia by coach? 
OK, so the Greyhound coaches perhaps aren't the quickest way to see the country – but you save yourself the hassle of airports and flying, and usually (what with checking in your baggage, driving to the airport, etc) even a 1 hour flight can end up taking 4/5 hours…. in which case, you might as well get the coach, save yourself the money (especially the airline baggage fees).
Where do the coaches depart from?
The coaches all depart from central locations within each town and city – so you don't have to worry about getting a $30 taxi ride out to the bus station or bus stop – which is usually the case with airports. In Sydney I think we forked out $60 for a taxi from the airport to the city…! Ouch!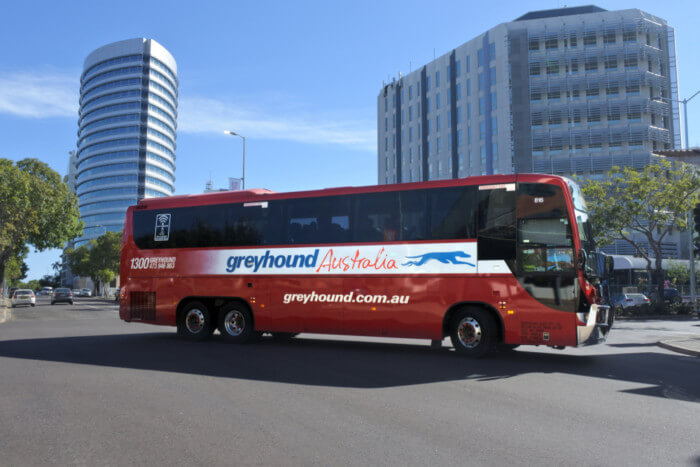 How long are the greyhound coach journeys?
The longest coach ride we did was 12 hours – which seems like a lot, but to be honest it was kind of nice. I stocked up on a couple of cheap movies from iTunes, synced my Spotify so I had lots of new music to listen to – and then just sat back and enjoyed the ride. It's not like UK coach journeys where you never stop for rests or toilets – the guys at Greyhound are pretty good with stopping frequently for that kind of stuff, maybe once every 3 hours – if not more. I'm not a big fan of coach-toilets (even though there are some on board) so I was pretty glad for the frequent rest stops!
We did two of those very long journeys, one over a full day and one over night. The night time one seemed to go much faster and it was way easier to fall asleep because it was dark outside, it was also much quieter during the night time coach and there seemed to be about half as many people on board. I would recommend in all cases doing the longer journeys overnight, because (trust me) 12 hours feels way shorter when you can't waste away at least 5 of those sleeping.
Can you eat on the coaches? 
Of course you can – I think you just need to be respectful of others though. Cold food is best (hot food tends to smell stronger – which might get you a few glances off other passengers!) so stick to things like sandwiches, sushi, pasta salad…. those kinds of picnic foods.
The rest stops are usually for about 20 minutes too – which gives you a chance to get out and stretch your legs, and even grab some food from those garages if you want to. I'd stock up beforehand too as a back-up though, because sometimes the garages you stop at might not have much to offer aside from sausage rolls, meat pies and burgers! Some of them however were serving full on buffet type meals – which was a welcome change!
What are the coaches like for space? 
Not bad actually – I was pleasantly surprised! They were never too busy either, so most of the time Pad and I opted for a double-seat to ourselves. He might be the most loveliest boy I've ever known – but I'd still choose to have 2 seats to myself on a 12 hour coach journey…!
Leg room is pretty good (for all you tall folk reading) although this was never even remotely an issue for me as I'm only 5ft2 and I have small legs. I'm usually spoilt for leg room even in the tightest of spots. I got Pad to model the legroom below for you though – he is 6ft with normal legs and his don't even touch the front seat.
You can book them online, or call them up, or go into one of their branches (see below) – so it's pretty easy really. We liked that you could then book each individual journey ahead of time online – which made us way more organised than usual. You do have to do this – you can't simply turn up and hope to get on a coach. We booked all our journeys about a month ahead of time (being the keeno planners we are) and then we had our full itinerary.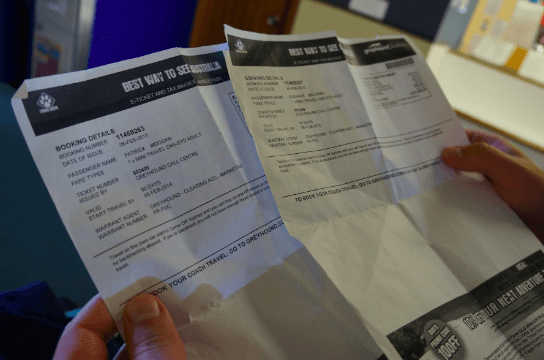 You don't need to be this forward thinking though – you could probably get away with booking about a couple of days in advance, and there would be seats available  To put it into perspective – we travelled on some of the busiest routes in peak season – and none of our coaches were ever full t the brim.
I would recommend printing a few copies of your ticket / pass out though just to keep handy. Usually you don't need them – but occasionally drivers would demand to check them and some people were always caught out. So maybe print a few copies out and keep them in your purse and your passport.
Are the coaches comfortable?
I think so, especially over the budget airlines. I'd much rather spend 8 hours on a coach that has a reclining seat and legroom, than on a budget airline with neither of those two things. I slept all the way through a couple of our journeys – which was pretty sweet!
Here are a few things I'd recommend taking:
A big hoody or jumper (the coach can get a little cold in the evening and at night)
A neck cushion
Socks! Because you probably don't want to wear shoes for 12 hours – and your feet will get cold without them.
Ear-plugs (in case you have a loud talker behind you!)
I don't really think it matters where you sit on the coach (that's just personal preference to be honest) but it's worth grabbing a seat near the front if you don't have any entertainment with you. Sometimes the drivers will put a film on occasionally – so if you're near the front you should have a good view of the TV screen.
Do you have to book ahead?
Yes you absolutely do!
Even though you've bought your 'ticket' or 'pass' you still need to book you seat on the journeys you want to take. You can do this pretty last minute, but it's important to know, you can't just 'turn up' and hope to get on.
Overall rating for greyhound coaches?
I'd give Greyhound 9/10.
We never experienced any problems, and I LOVED not having to get on a plane for a month. The coaches are clean, comfortable and their system is easy enough to work out, and easy to get the hang of. It's an awesome way to see Australia, and you'll even meet new people along the way who are working along the same route as you – which is an extra bonus.
The only thing I'd change is perhaps the online booking system and making the process a little simpler – but like I said – once you get the hang of it – you'll be a pro.