We stopped off in Noosa for a few days on our East-Coast roadtrip after family recommended it to us (and you always listen to your family)! It definitely didn't disappoint though – Noosa is a peaceful, beautiful seaside town and glimmers with all you expect Australia to be. Compared to other East Coast towns and cities like Cairns and Hervey Bay, Noosa is just miles above it's competition. We loved it.
We weren't originally planning to surf in Noosa, but we noticed the surf school on the beach one morning, and had it recommended to us by a girl we met at our hostel – so we decided to go for it. Neither of us have really surfed before – but the instructor at Noosa Surf School is a past world champion so we figured we'd be in good hands. And if not – it'd be worth a few laughs at least!
Our lesson started at 9am and on the gorgeous sandy beach. Our instructor (handsome, French, need I say more) was lovely and talked us through some theory first – which I think we were all a bit relieved about. There were six of us in the group, all around the same age so it was really nice and easy going and everyone was really supportive of everyone else.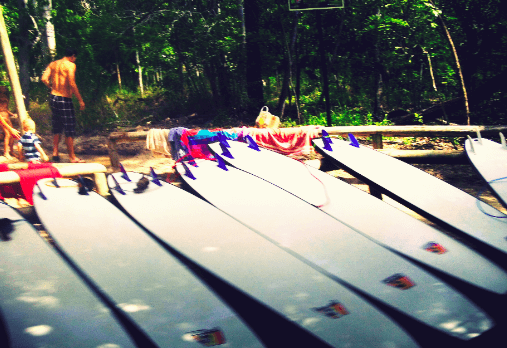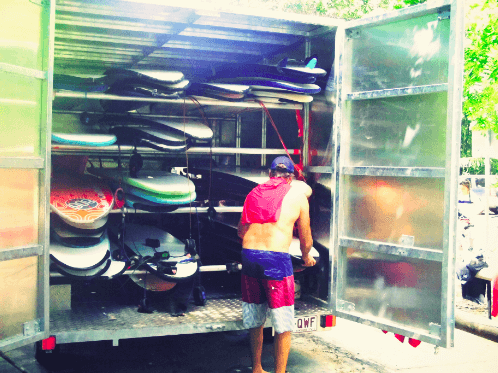 I don't have many photos from the morning, because you lock up all your valuables when you set off onto the beach. Which is great actually – because it means you get to really experience the surfing, and you're not half worried about your camera on the beach or whatever. The surfing was great though – Pad was adamant before starting that he'd be awful at it, but he discovered he actually had a natural talent for it. He was stood up on his board before most in the group and by the end of the lesson he was staying up on there for a decent amount of time! I was so impressed! I know ever since he's been yearning to give it another shot – so I'm hoping there's a surf school in Byron Bay we can burdon ourselves on.
Unfortunately I discovered no such natural talent. But it didn't stop me having fun. It was lovely just to be out there giving it a shot on such a beautiful beach in the stunning weather.
So, yes, Noosa was lovely. And so much fun. We loved the little lakes and water-ways and exploring the town and other beaches (Sunshine beach is beautiful across the other side of town) and everyone was super friendly. Sure it's expensive (what's new – we are in Australia) but there seemed to be a good variety of hostels around for travellers and backpackers to opt for and we loved the one we chose which was called FlashPackers. We booked a private ensuite double – and it even had a private patio, a king-size bed and a gorgeous rainfall shower!
Here are a couple more snaps of beautiful Noosa….