Most tourists in NYC either get around by taxi or the Subway – but I much prefer the bus!
Using the bus is my favorite way to get around NYC.
But I used to be a little intimidated by the bus network (even though I had been using the Subway for years!). There was just something about NYC buses that seemed a little confusing!
Well, if you're also visiting NYC soon, you might be wondering if the bus system is any good, and (importantly) how it all works. Hopefully, in this blog post, I can tell you! And put your mind at ease soy ou can use the bus confidently!
Navigating a new city's public transportation can be a little scary and intimidating, but I promise you, the bus system in NYC is super easy.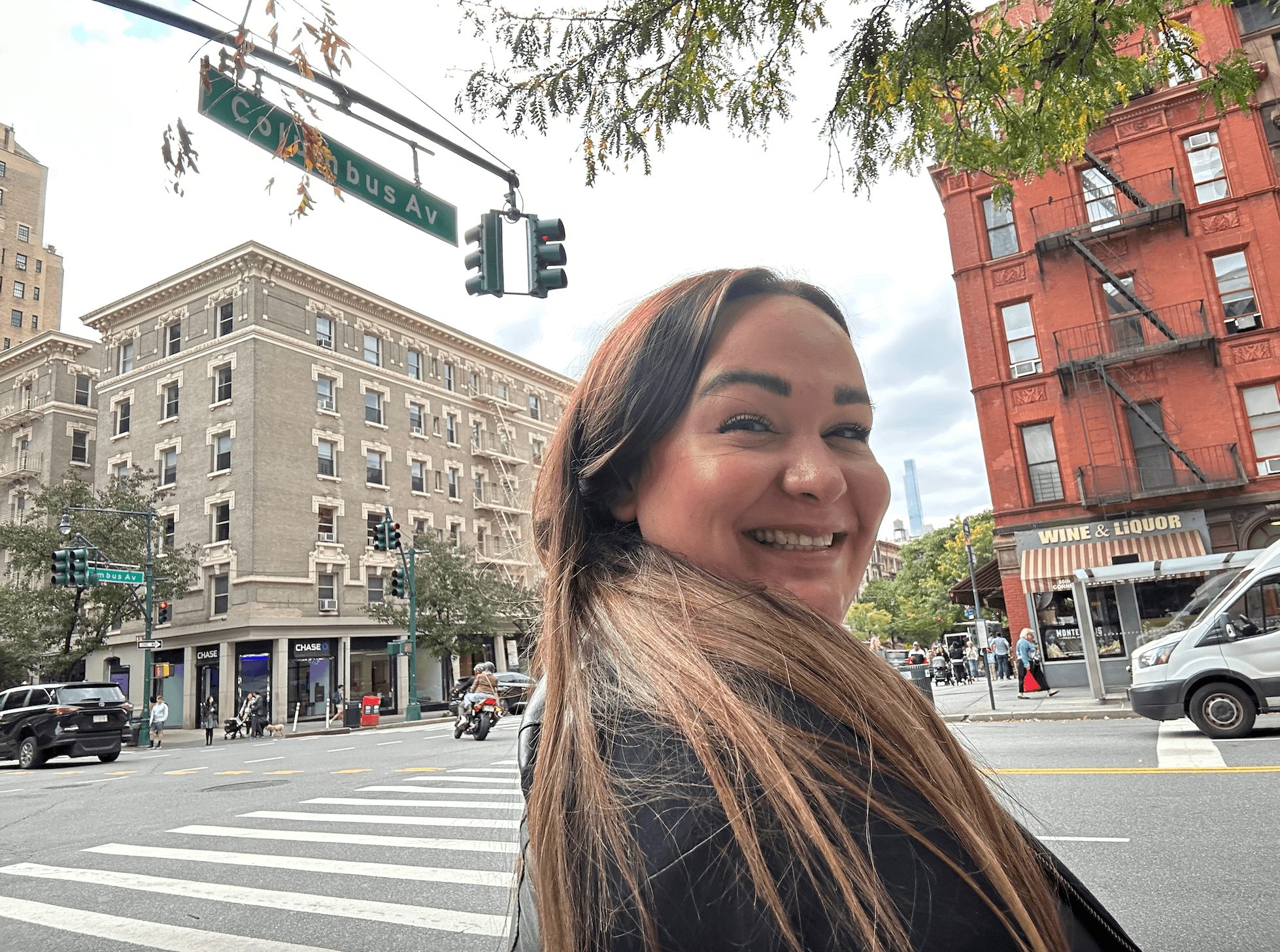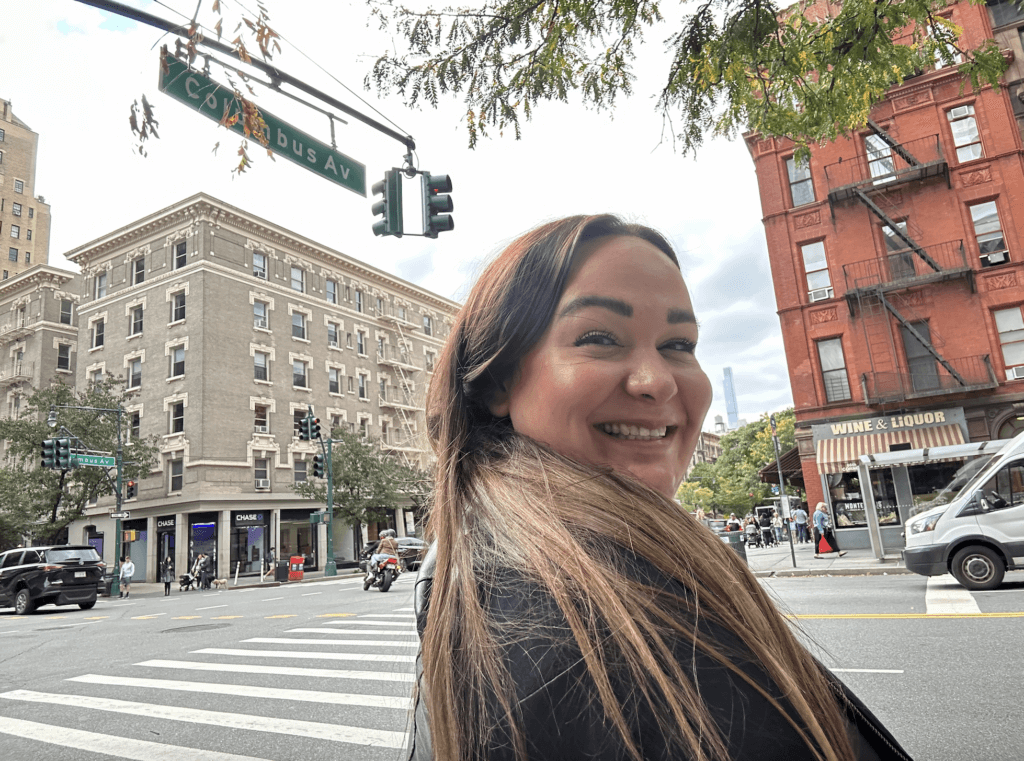 And there are some big advantages to taking the bus over the Subway or a taxi too! Some of the main advantages are:
The bus is much much cheaper than a taxi.
The bus involves a lot less steps than the subway (useful for people with accessibility issues).
NYC buses have phone charging points! This is seriously underrated – and I always appreciate it if my phone is running low on battery.
You don't lose WiFi or signal on the bus, meaning you can still make calls or stream videos, etc.
On the bus, you can still enjoy views of the city! You'll have lovely bug windows to look out of (which the subway definitely lacks!).
The bus can often drop you much closer to your destination than the Subway.
Now that I've, hopefully, convinced you of the advantages to taking the bus – this blog post will tell you everything you need to know, including how it all works, how to pay, and other tips.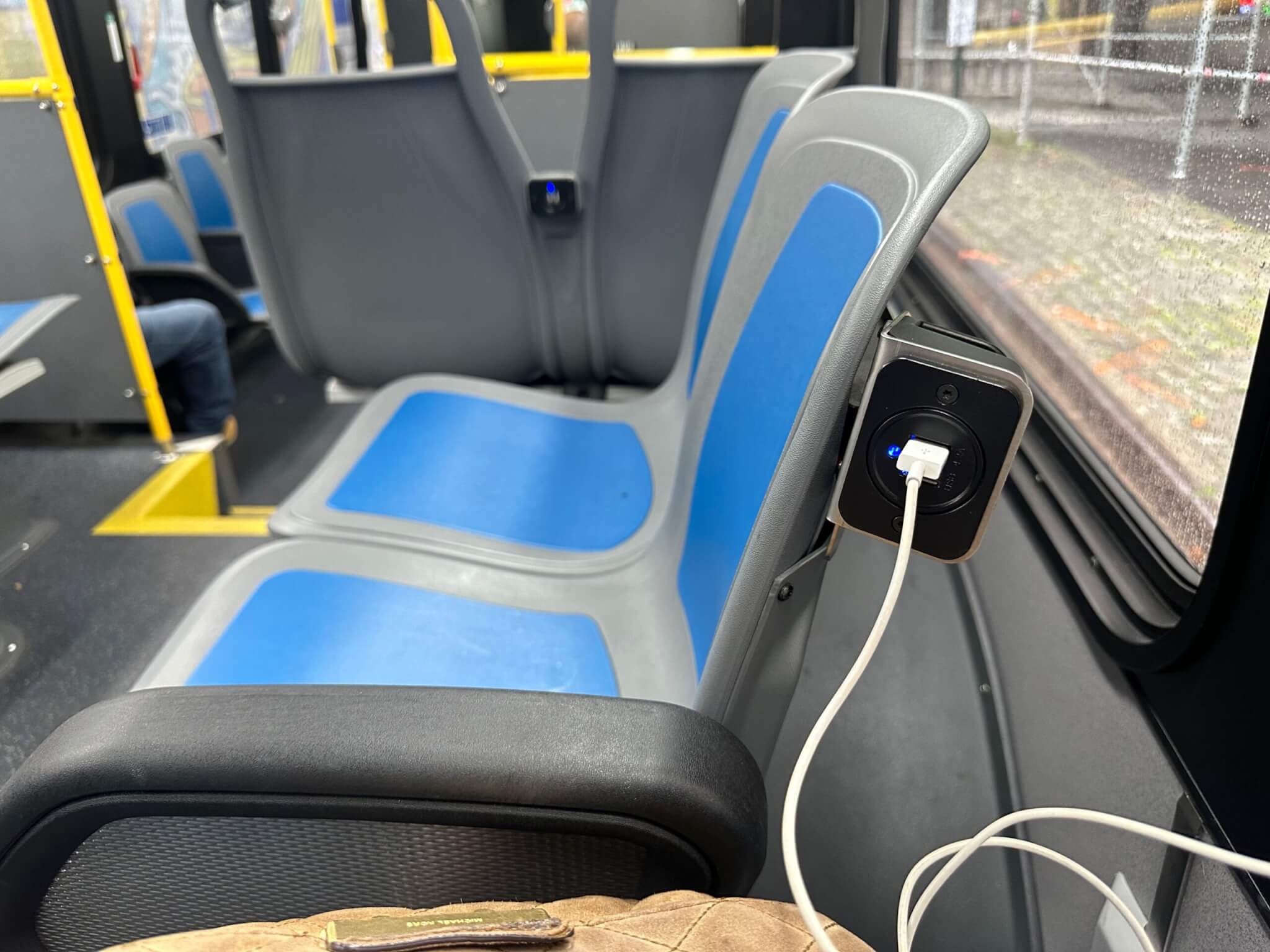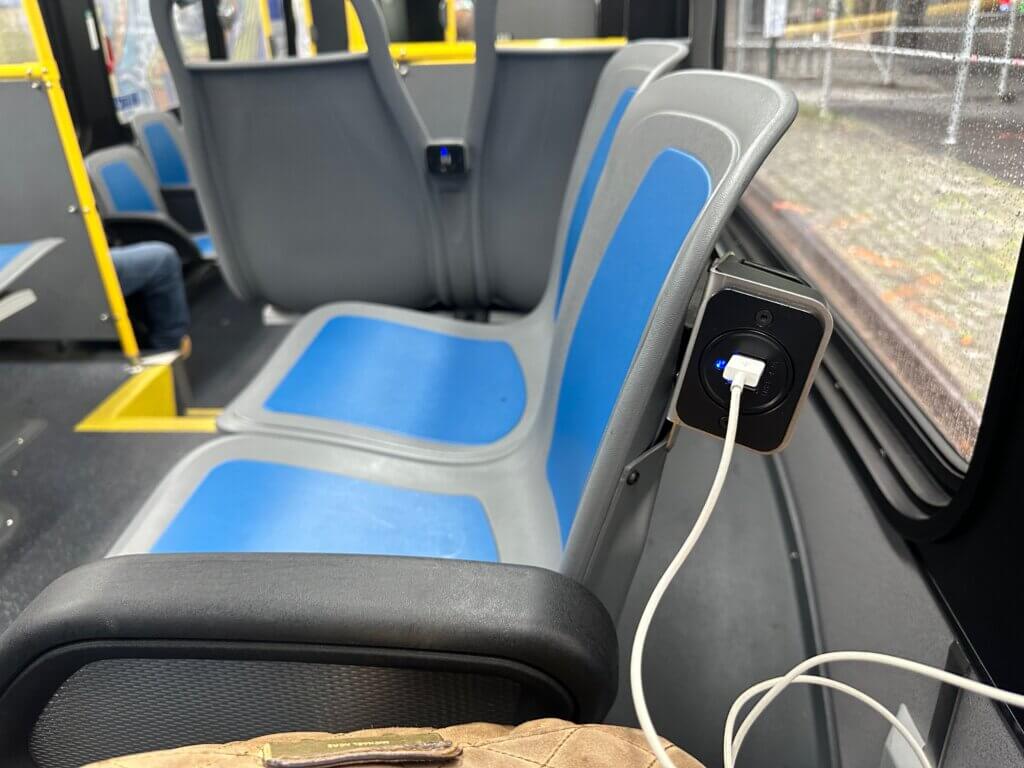 ---
1. Planning Your Route
The first thing you'll want to do when using the bus in NYC, is planning your route.
There are a few ways to do this (which I've listed below) but my fool-proof method is definitely Google Maps. And that's the method I would recommend above all others. Google Maps just makes it super easy, and gives you all the info you need (along with live tracking along your journey).
Google Maps: This is my preferred way of route planning. You can easily use Google Maps to find directions and real-time bus arrivals. Just enter your destination, select the public transportation option, and it will provide you with bus routes and schedules. It can even direct you to the nearest bus stop too.
MTA Bus Time: Visit the MTA website or download the Bus Time app. It provides real-time bus tracking and schedules for every route, making it easy to plan your journey.
CityMapper: CityMapper is another app you can use (works in a similar way to Google Maps) to help you find out which bus routes are nearby, and when they're scheduled. It'll also give you total journey ETAs.
Official Maps: This is a little old-school, but you could always grab a paper map from a subway station or a visitor center to help you get oriented and see the bus routes.
Tip: I've found that once you figured out the best bus routes near to your hotel / accommodation – it only gets easier. Memorize the most helpful bus route for your hotel, and then you know which to look out for.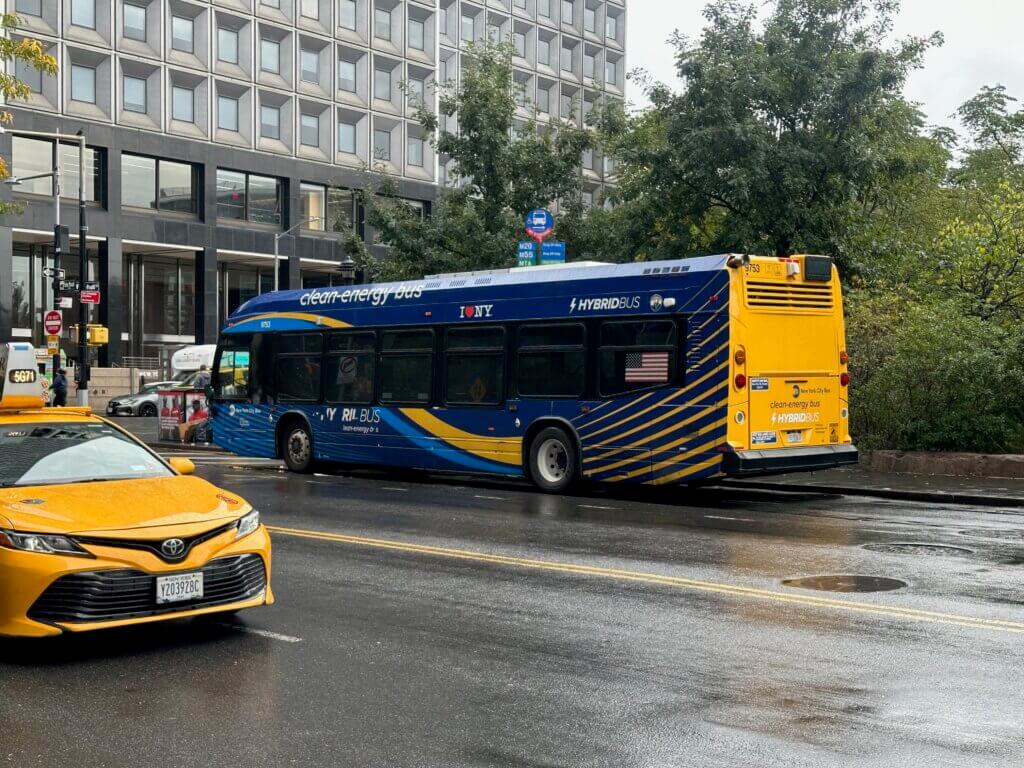 ---
---
2. Bus Stops and Identification
NYC bus stops are typically marked with a green and white sign that includes the bus route numbers, a map of the route, and the direction of travel.
Sometimes there will be seating, and a little shelter area, sometimes it'll just be a pole with a sign (like the example below).
Here's what to look for:
Bus Number: Check the route number to make sure it's the one you need.
Direction: Make sure you're waiting on the correct side of the street for the direction you want to travel. Using one of the apps above should help with this!
Schedules: While the official schedules are handy, remember that buses may arrive a little early or late, so use real-time tracking whenever possible.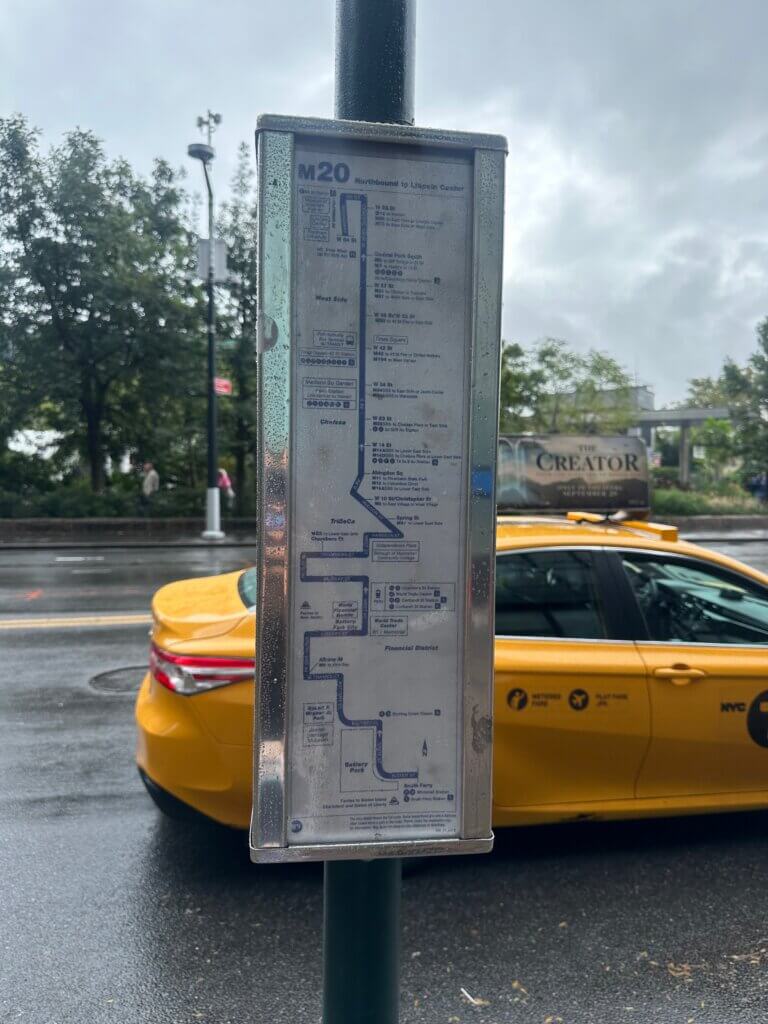 ---
3. Paying the Fare
One of the things I was most nervous about when I first started using NYC buses, was knowing how to pay.
Well hopefully, if you're like me, this next section will help put your mind at ease.
The easiest way to pay on a New York City bus is by using your MetroCard (which can be purchased at subway stations, kiosks, and some convenience stores). You'll likely buy one of these at the start of your vacation / trip to NYC because it is used on the Subway too.
You can also pay by exact cash (but this can be a little tricky), especially as coins and cash are becoming less frequently used.
Here's how to pay your fare, depending on the method:
MetroCard or Unlimited Ride MetroCard: If you have a MetroCard, simply dip it in the little Metrocard slot by the driver's seat, when you board the bus. There is a little image by the Metrocard slot that instructs you which way to dip the card too, so that's nice and easy.
Exact Fare: If you don't have a MetroCard, you can also pay in exact change when boarding the bus. Bus drivers do not provide change, so you'll want to have as close to the exact amount as possible. You drop the coins into the change area, again by the driver's seat.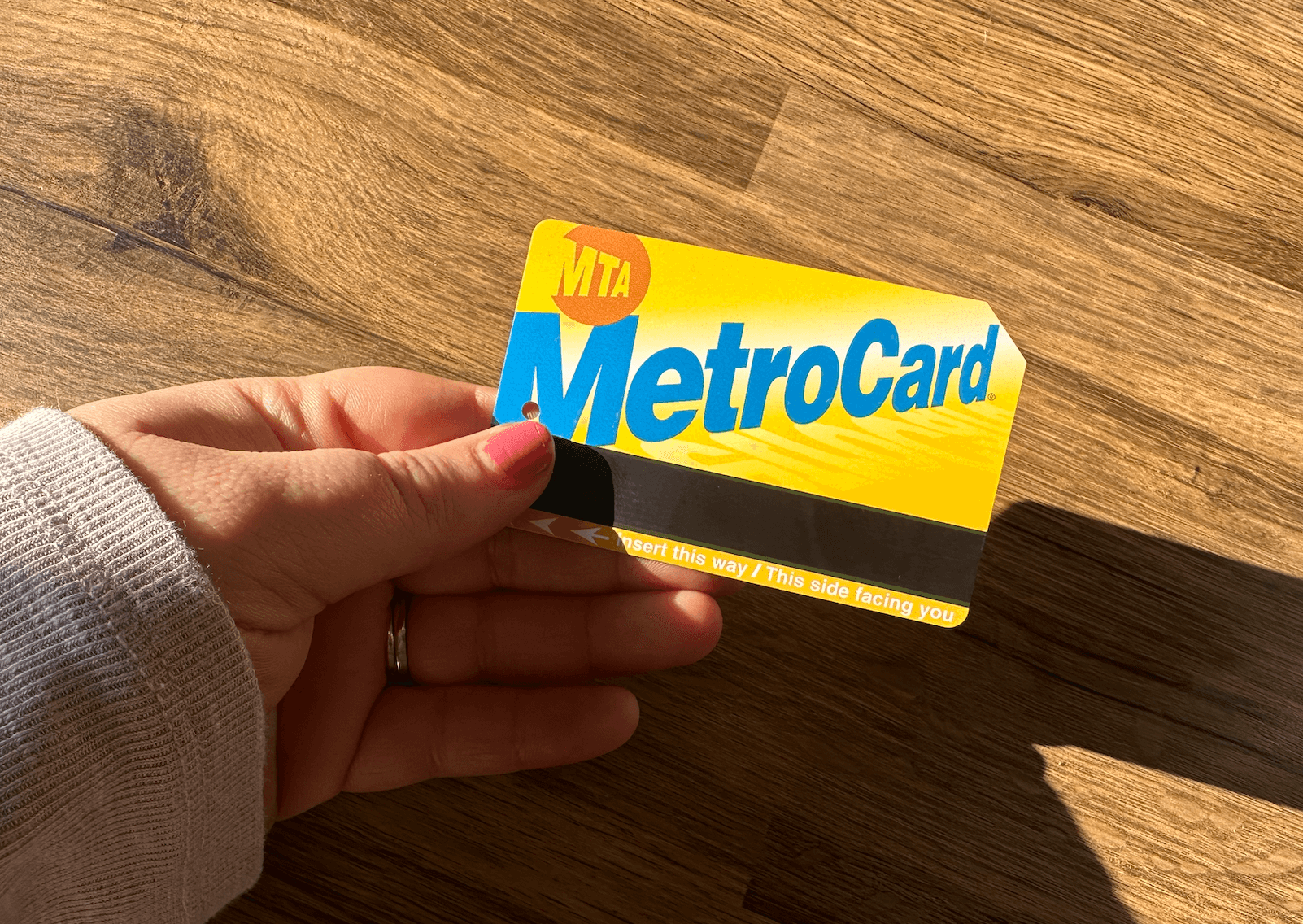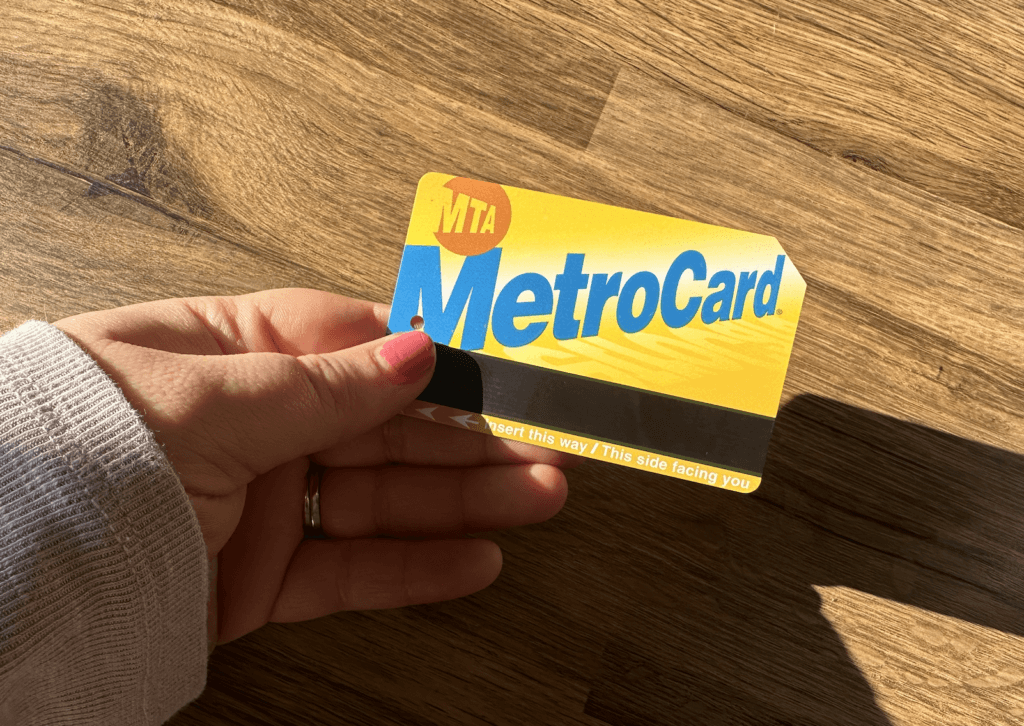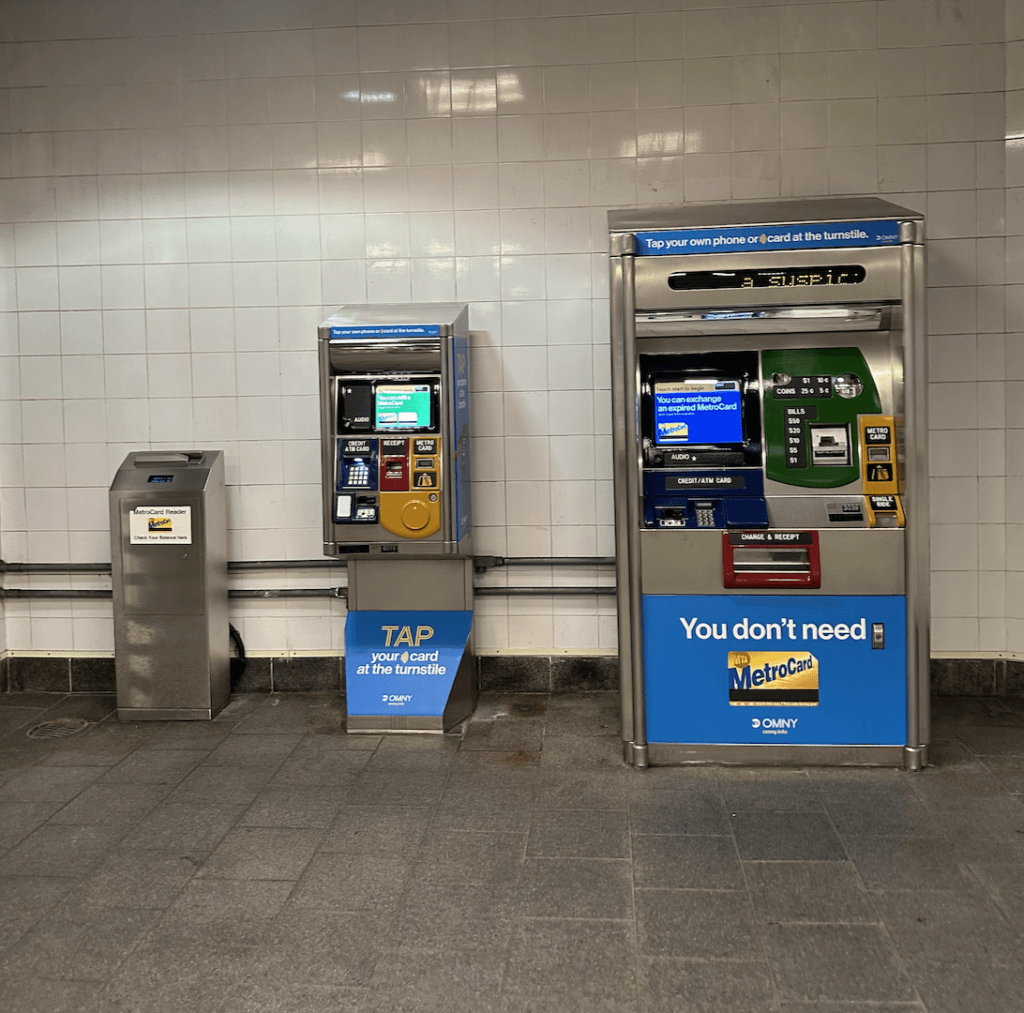 ---
4. Boarding the Bus
Boarding the bus is pretty easy, and not really any different from boarding the bus in any other location. But I'll outline a few bits of advice below – just in case you need it!
Queue Up: Form a line behind the designated bus stop sign. Wait patiently for passengers to exit before boarding, but most passengers with disembark from the back doors – so this isn't always an issue.
Show Your Card or Pay: If you have a MetroCard, dip it into the card reader by the bus's entrance, where the driver sits. If you're paying with cash, drop your exact fare into the farebox next to the driver.
Take a Seat: Find an available seat or hold on to a handrail if the bus is crowded.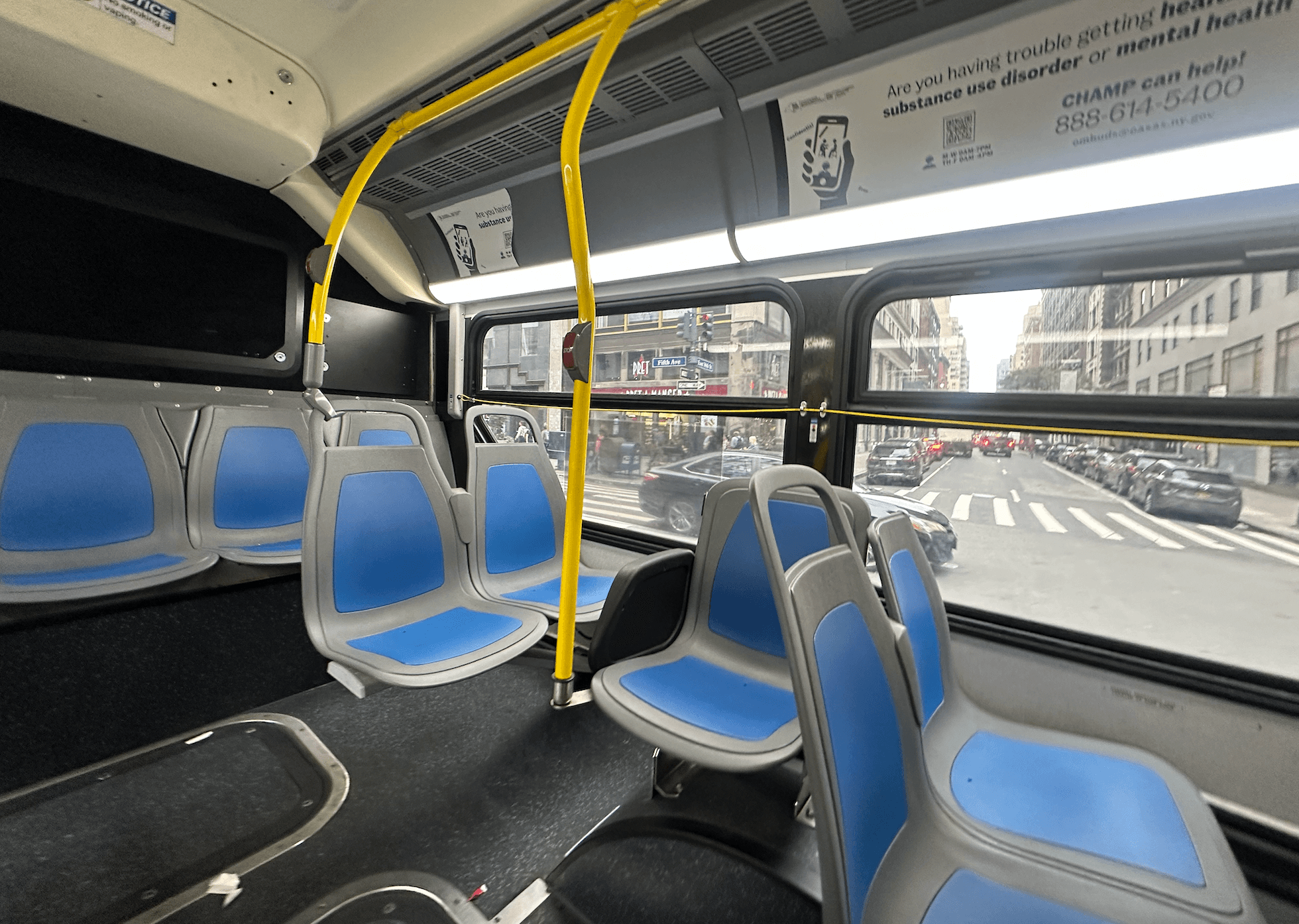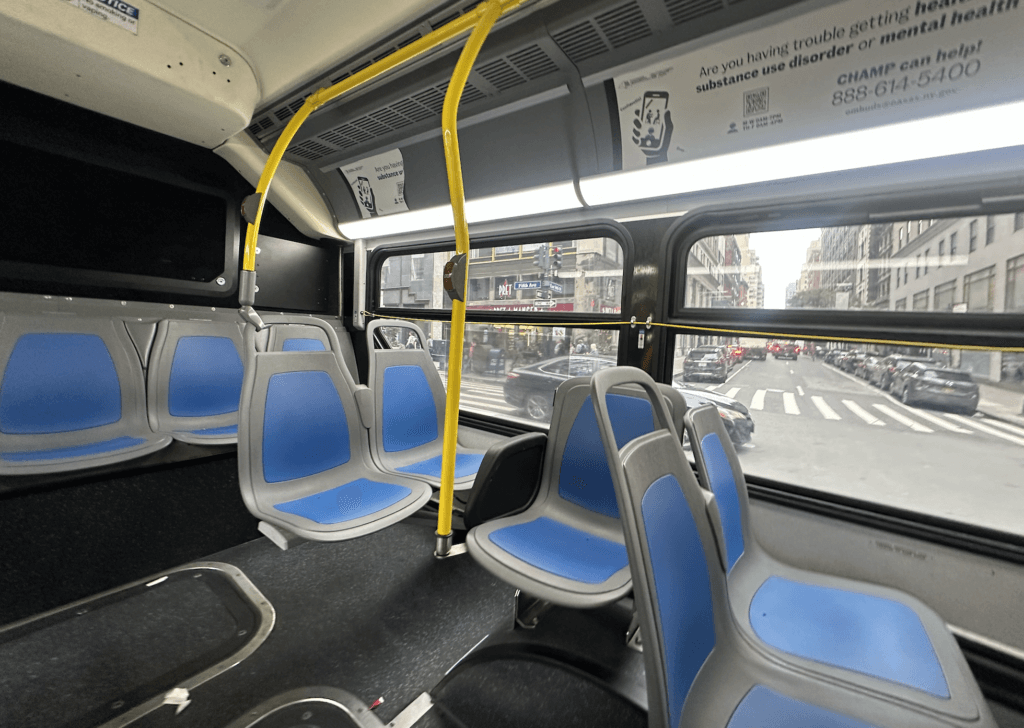 ---
5. Requesting a Stop
Some NYC city buses show the live locations on a little screen in the center of the bus. So if you're nervous about missing your stop, be sure to sit where can view this screen. I've included a photo of it below.
Bear in mind, NYC buses will not always stop at every bus stop along the route. To request a stop, and ensure it stops, follow these steps:
Pull the Cord or Press the Strip: When your stop is approaching, pull the cord or press the stop request strip located near the windows. This will signal the driver to stop at the next designated bus stop.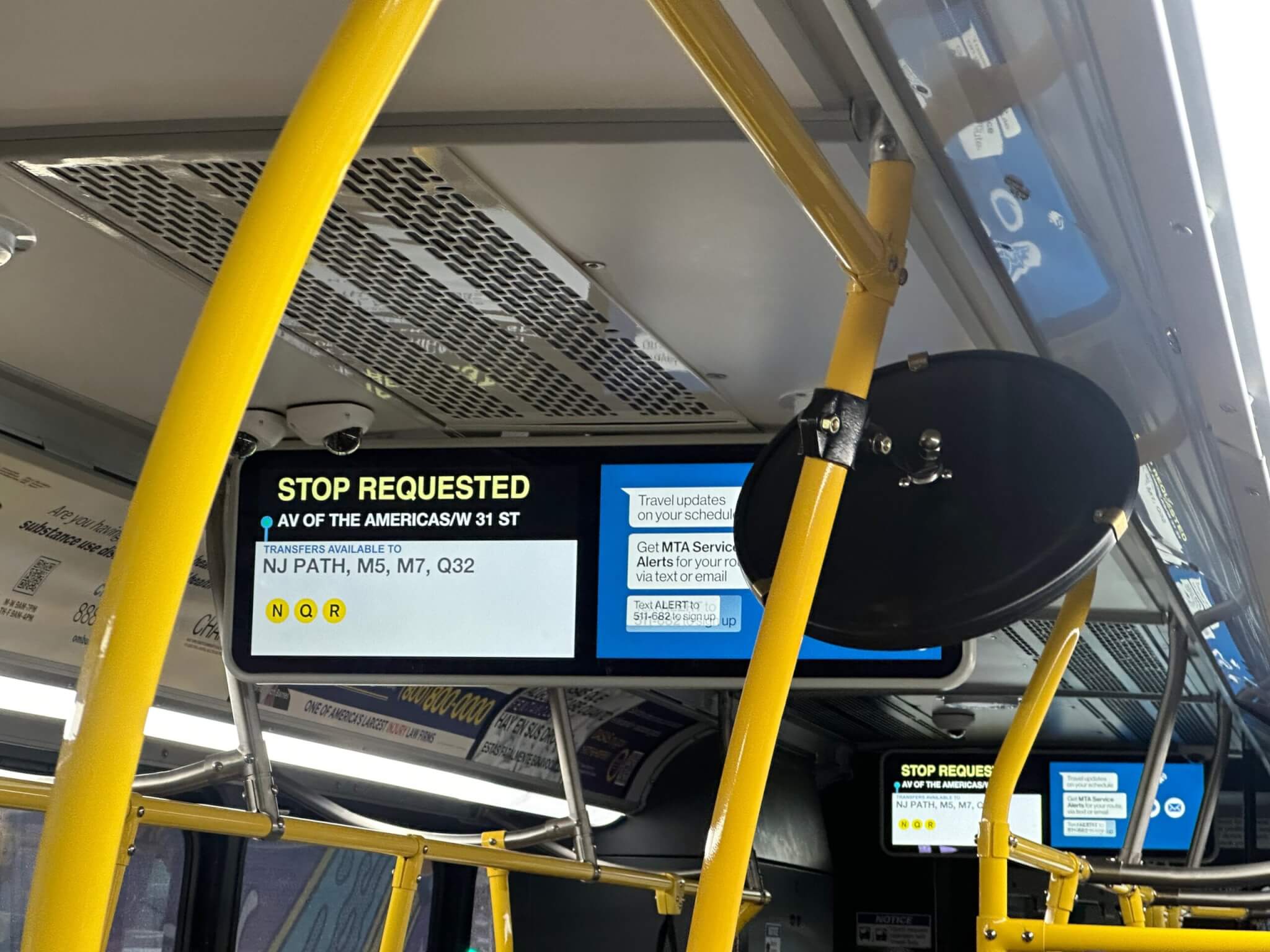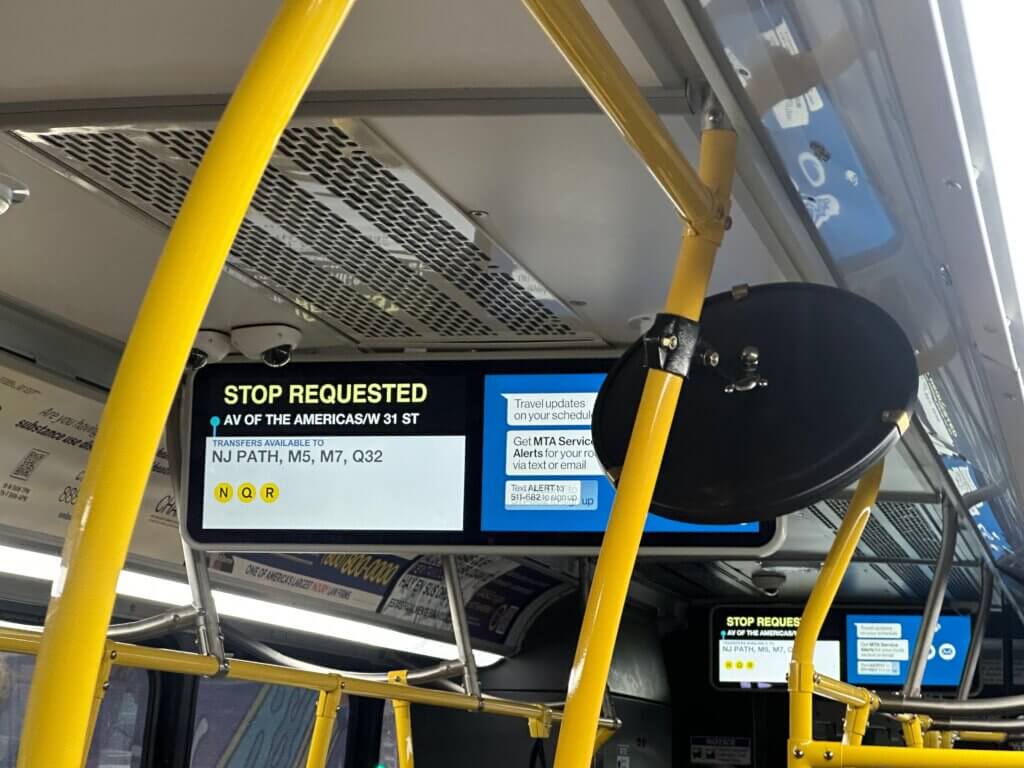 ---
6. Exiting the Bus
When the bus arrives at your desired stop, here's what you should do:
Exit through the Rear Door: In many NYC buses, passengers exit through the rear door to speed up boarding. This bit did confuse me a little at first, but you have to press the rear door with the palm of your hand to open it.
If the driver doesn't open the rear door, politely shout "Rear door please" to remind them. This has happened to me once or twice, and you just have to shout and ask, otherwise they'll drive off and you'll miss the stop!
Check for Personal Belongings: Obviously, ensure you have all your personal belongings with you before leaving the bus – especially if you've been taking advantage of their USB phone charging ports!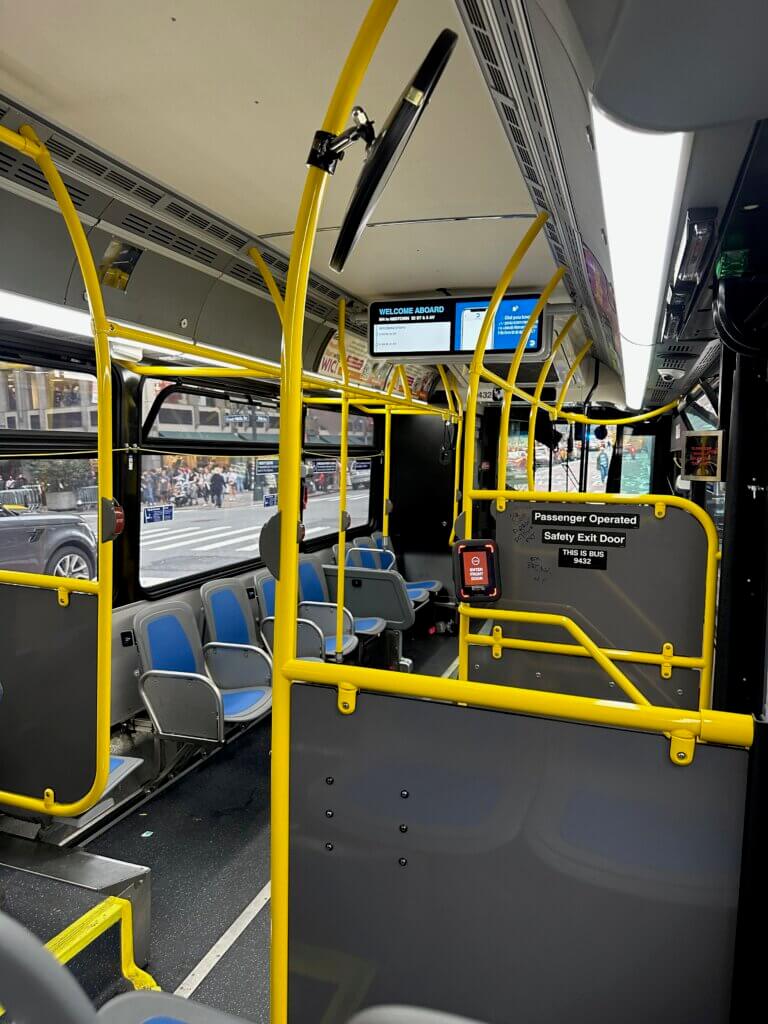 ---
7. Additional Tips for taking the bus in NYC
There are just a few other things it's worth knowing before you board a bus in NYC. Juse etiquette-type stuff that's it's worth remembering.
Peak Hours: Buses can get crowded during rush hours (approximately 7 AM to 9 AM and 4 PM to 7 PM), so plan accordingly. If you're not OK with crowds and busy buses – then it might be worth avoiding them during these times.
Express Buses: NYC has something called 'express bus routes' – these are quicker than other buses, but they also require an additional fare. Be sure to check before boarding an express bus.
Bus Etiquette: Remember to offer your seat to elderly or disabled passengers and keep your conversations at a reasonable volume. Don't play music via your speakers either – always have headphone with you.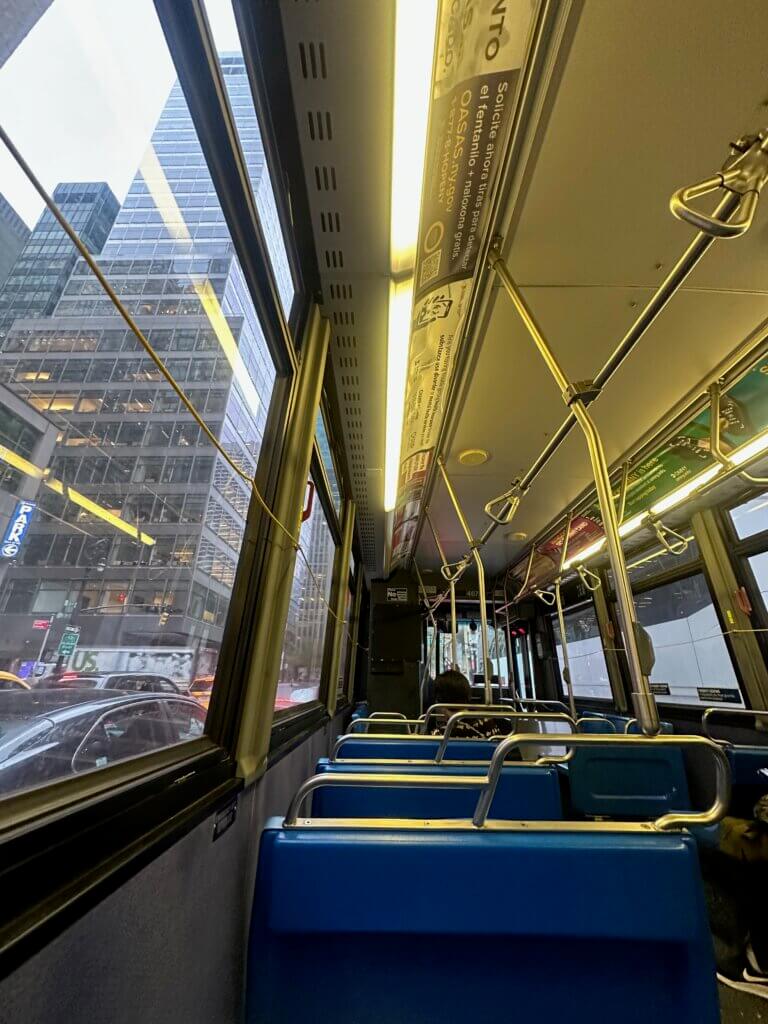 ---
Let me know if you've got any questions or if I can help!