The second half of our trip to Bay of Islands was to be spent on the Rock Cruise. I'd been looking forward to this since we first booked our flight to New Zealand like 7 months ago. Pad went three years ago when he first visited the country and I'd already heard loads about it (all good) so the expectations were definitely high.
I can well and truly say, every expectation was met. This tour is absolutely one of the must-do things in New Zealand, without a doubt. Bay of Islands is about a 3.5 hours drive from Auckland, which can seem a bit heavy – but in all honesty – it's worth every second of that drive to go on this tour.
Anyway, I took so many photos during the 2 days on board – I'll let them do most of the talking.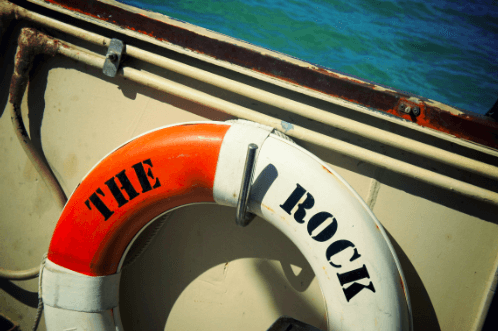 We were booked into the double cabin on board – which was a super cute little wooden room with a little double bed. It had a gorgeous sliding door window which looked out onto the water (kind of obvious – because it's a boat) but waterviews always make me swoon. This was a view that would take some beating, especially as it changed every time we set sail and cruised somewhere else in the area.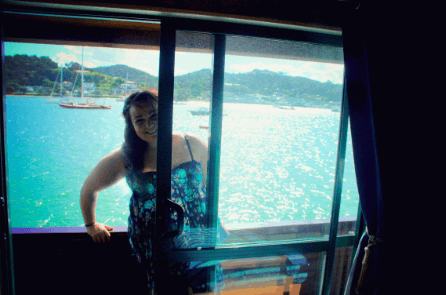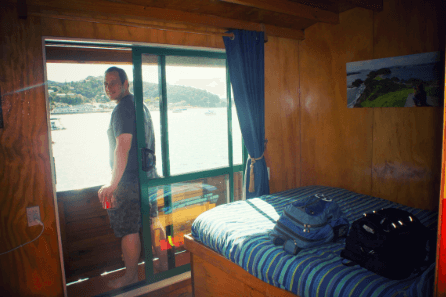 There's plenty of room in the cabin, not that you spend much time in there – you're too busy doing all the awesome activities they have planned for you! I think we had the only double cabin on board- and I'm pretty sure the other rooms are quads and dorm-style. Still – they all looked roomy and pretty similar to ours in design. You're only on there for one night anyway – so whichever room you have would be fine.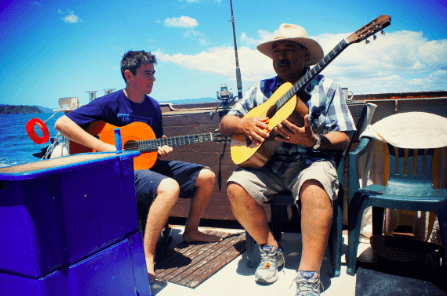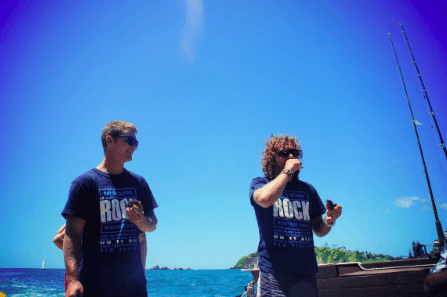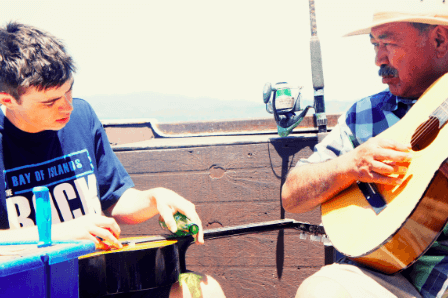 The best bit?
One of the biggest selling points for this boat-tour (and probably what sets it miles apart from others in NZ) is the incredible staff and how informal they make the whole experience. In the past I've felt a bit like sheep being loaded onto a boat – being told to do this and look here, etc. The Rock Cruise is nothing like this though – there are scheduled activities and a clear itinerary – but actually, if you're not feeling any of it, or you'd rather just chill out at the cute little bar on board, that's fine. There's no pressure.
The staff are awesome too – friendly and helpful and hilarious from the moment you step on board. They're all young (which we loved, being a young couple, as they were all a similar age) but I'm guessing if you're in an older crowd the staff inject a bit of youthfulness and excitement into the whole experience too.  Big kudos to Dan who was on his first cruise, and was made to drink some weird concoction of fish grossness (which you can see above). Also to Ryan and James who definitely deserve some kind of medal for continued enthusiasm and all-round lovelyness. And also Johnny, Steph, Chelsea, Ben and Jake! Keep up the good work guys, I think you've built the best team of staff this side of the hemisphere!
Evening activities?
As the evening rolled in, we'd cruised over to a gorgeous little bay, to set up anchor for the night. The bay we were in was pretty stunning (the amount of photos I took testaments to that). Within a few minutes of settling in the bay, the crew had the fishing rods out – and I was so eager. I've never fished properly before – and had a funny feeling I'd be awesome at it.
I wasn't as good as I might have hoped (not a single fish was caught by myself) but it was still extremely fun! I had a few nibbles, and my bait kept going missing but alas I didn't catch anything. Except some coral. Which was exciting for about 3 minutes whilst I reeled it in thinking it was a fish. Error!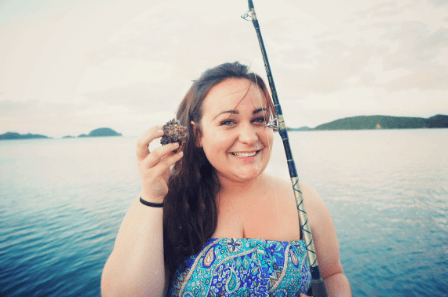 Catch of the day. Obviously.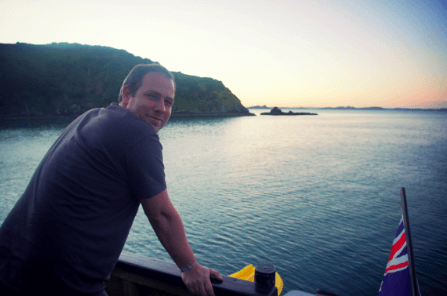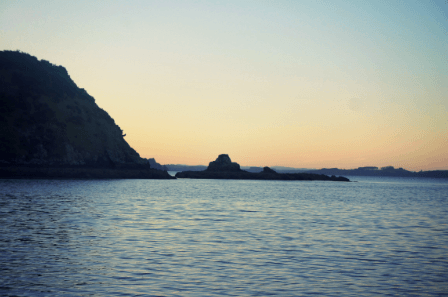 It's hard to concentrate on fishing though, when this is the view. That's my excuse.
After fishing, it was tea-time (yay!) and the crew got the BBQ going. Tea consisted of Steak and Sausage and a variety of salad, bread and other yummy stuff. I was pretty impressed by the food actually, there was a big choice of stuff and it filled us both up for the kayaking later on. Tea is a great time to get chatting to the other guests onboard too, as you all sit on a huge long table. We were lucky to sit near the guy who caught a big Snapper fish – so got a sneaky taste!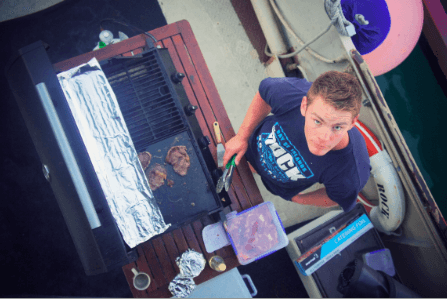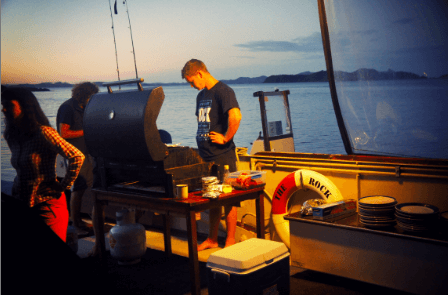 Night Kayaking anyone? 
This was my highlight of the entire trip. There are a few things that made this little part of the trip so good though; not only was it a first for me (I've never kayaked at night time before!) but the surroundings were just beautiful. The stars in the sky were so clear and stunning – probably the most clear sky I've ever seen in my life, only being topped by Abersoch in Wales. This night sky topped that 100% though, with so little light pollution, you really can see every tiny star. The other thing that makes this kind of magic is the plancton in the water (did I spell that right?) which glows whenever you move it. It means that whenever you move through the water it glows around you. It's something incredibly beautiful and something I've never seen before – which made it that bit special.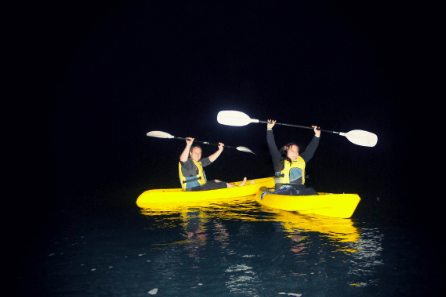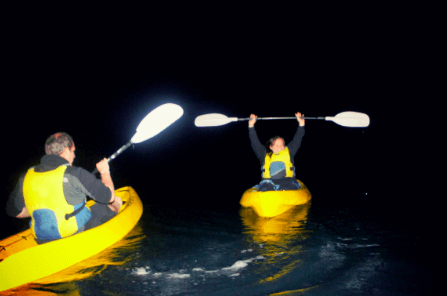 Day 2
Next morning, we were up to the following views – which was definitely enough to wake us up! We slept pretty well actually – although there was a phantom snorer on board – who was never named and shamed. His (Well, I'm guessing it was a he) snoring was literally shaking the boat at one point!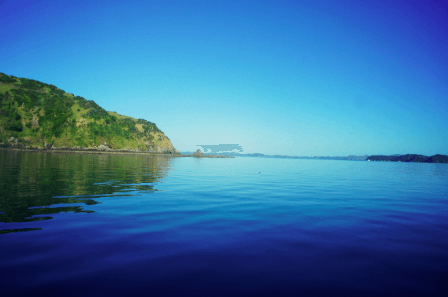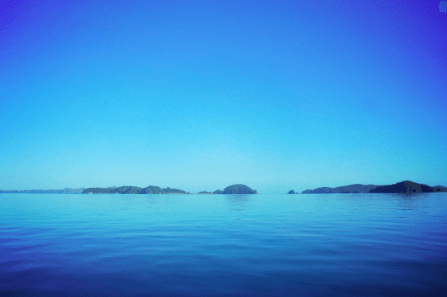 Breakfast was at 8am, which surprisingly we made in time and consisted of porridge (yum) and fruits and cereal. The morning then consisted of some diving in the nearby reef, and a trip over to a little bay / beach which was just stunning.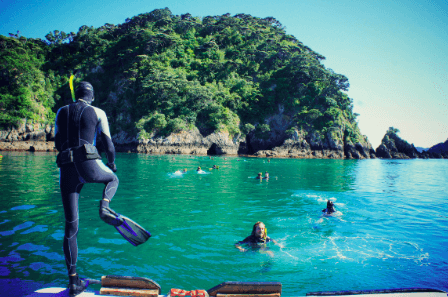 The island we headed over to was probably the most lovely, remote beach I've yet to visit. Part of the trip over there though, did consist of a (very hardcore) walk up a hill, so you could really take in the views from up top. Whilst the views were definitely worth it…. I have never been one for hills (especially walking up them) – so I was a bit of a wimp here. OK a lot of a wimp, I swore several times while trying to keep my cool getting up the "mountain".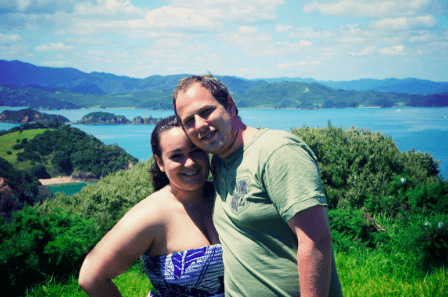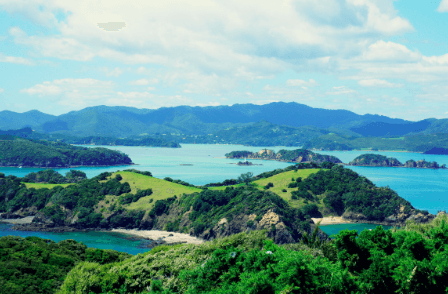 Those views I was telling you about.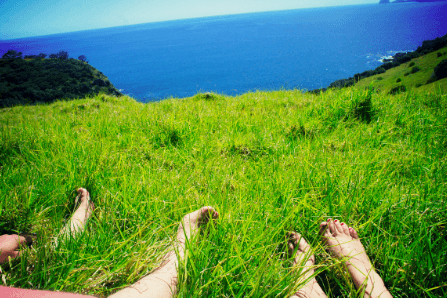 I could've happily just stayed on this beach all week.
So yeah. That's about it! After we headed back to the boat, we had some lovely lunch (beef sandwiches) and then cruised back over to Paihia in the sunshine. I don't know what else I can do to convince you to do the Rock Cruise, if you're not convinced by now there is no hope. For you. Ever. Because you'll be really missing out.
Oh, here is the blog post from the first half of our Bay of Islands trip. In case you want more reading!