I have family in Dubai, so I'm really lucky in that I always have an excuse to visit. Dubai is deifnitely a 'Marmite' kind of city – and usually when I speak to people, they have either loved it or hated it.
For me, I love it.
Sure, it's a very new city, and it is all about the sparkle, the glitz and the glam. But, if you take it for what it is, you can have an amazing time here. There is (believe it or not) culture to be found amongst the skyscrapers and luxury hotels, and there are tons of fun things to do too.
So with this in mind, I thought I'd write about my favourite things to do in the city. Enjoy!
1. Watch the sunset
The sunset is so beautiful in Dubai – and you'll never witness a sky more orange and a sun so bright as you do whilst you're in the middle east. Take an entire evening and go sit on the beach as the sun sets into the horizon. It's magic.
2. Watch the Dubai fountains
Made by the same guys who did the Bellagio fountains – but on a much bigger scale – I challenge anyone not to be impressed whilst watching them. I cried the first time I saw them (I know – get a life Ellie) because they were just so beautiful, and my favourite song was playing in the background. But anyway, just go watch them.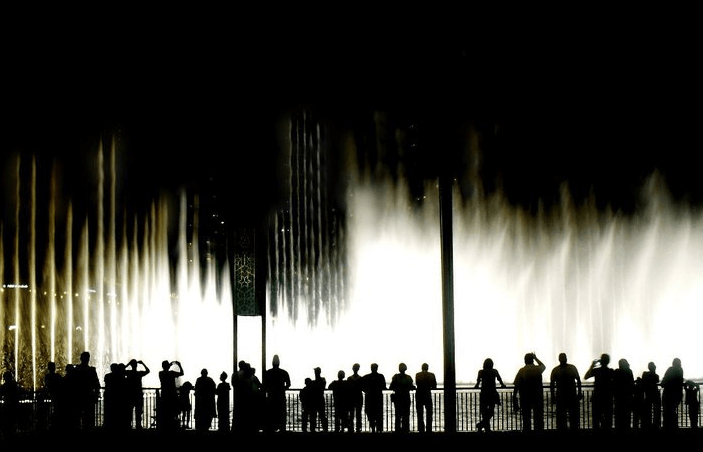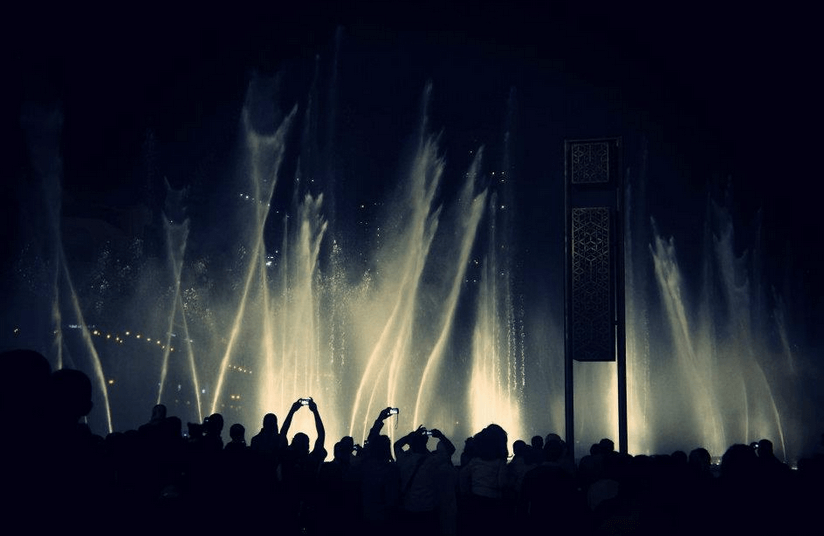 3. Explore the shopping malls
The shopping malls in Dubai are on a huge scale and you can find just about anything in them, that you would need in life, ever. I could literally spend days in the Pottery Barn they have – it's so big. In Dubai mall there is ice-skating rink and the world's biggest aquarium (they don't do things by half…!) and in the Emirates mall you'll find an indoor skiing slope. Yes really.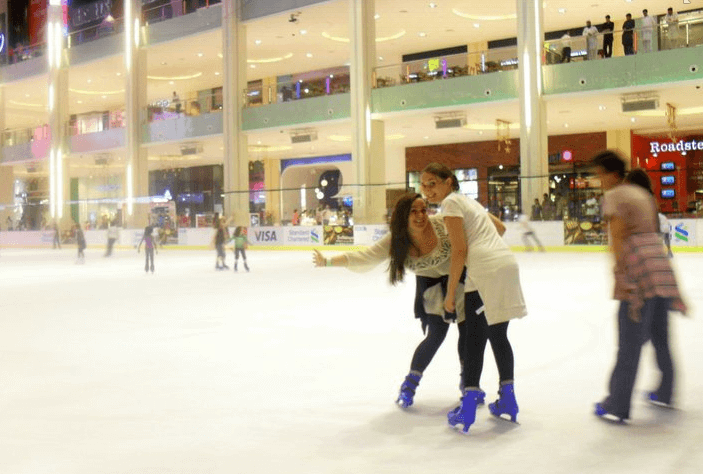 4. Take in some culture
Many people visit Dubai and stay in the compounds of their hotel – which is a total mistake. Get out and about and you'll stumble across some beautiful buildings (like the one below). Head into Dubai's old town and there is even a museum you can visit which will fill you in on all the old-ways of the city. The traditional gold markets and fish markets are also a lot of fun, as is the tiny taxi-boat across the creek (which only costs about 20p).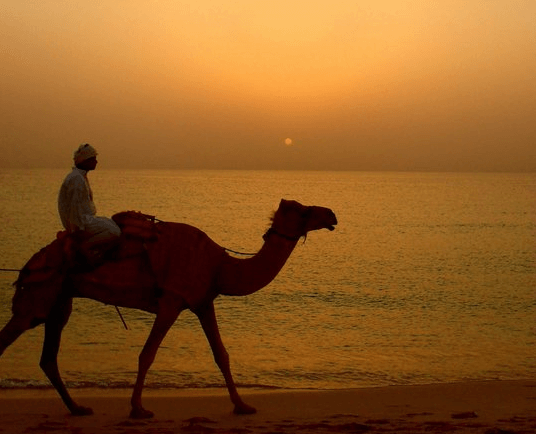 5. Visit a water park 
There are plenty of water parks to choose from, but I'd go for either The Atlantis one (because they have DOLPHINS!!) or the Wild Wadi one (because they awesome rides). It's a lot of fun and a nice break from the city life too. Plus you get to spend a whole day messing about in pools and on slides – which is pretty cool. And Dolphins. Did I mention the Dolphins?!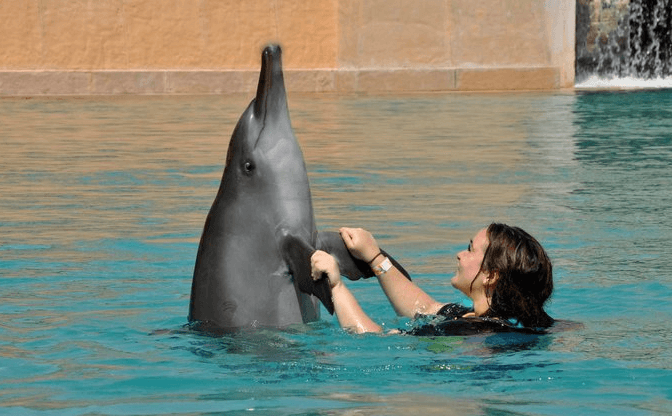 6. Visit the Marina
I love the marina because it feels a little separate from other touristy parts of the city – and yet it's just beautiful and bustling all the time. I love just wandering around during the evening and watching the day turn into night. Enjoy a nice meal outdoors and enjoy some people watching too.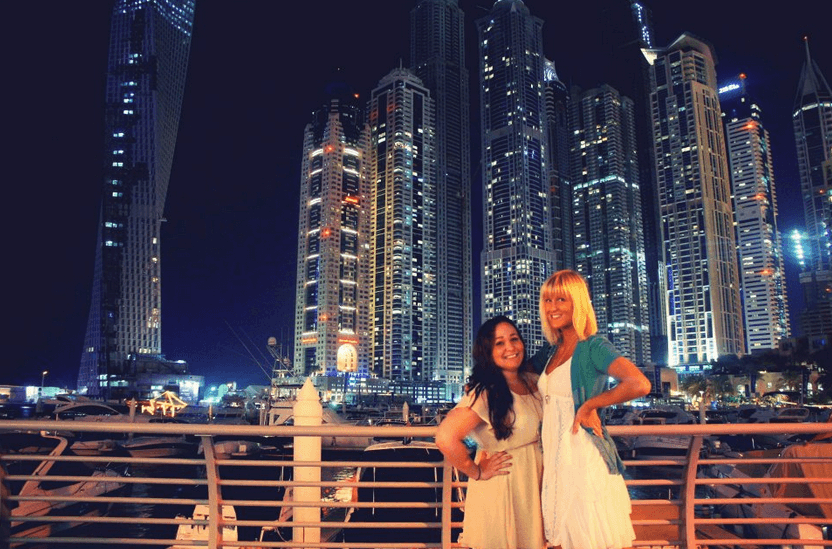 7. Hit the beach
During the summer months (June – August) the beach might be a bit unbearable because of the sheer heat (my sister and I almost died once trying to walk for about 15 minutes along the beach in 50 degree heat. This sounds like an exaggeration  but I swear we both thought we would literally melt to death), but saying that during the cooler months when the temperature is gorgeous – the beach is the perfect place to be. Dubai has some amazing beaches, and the sea is calm and clean too – so it's always a pleasure to swim in it.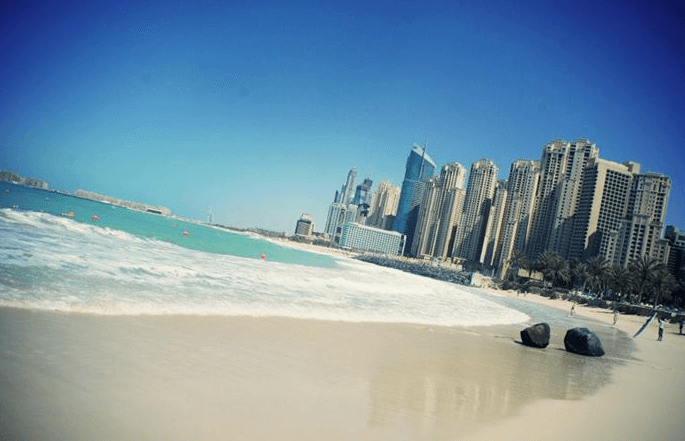 8. THE FOOD!
The Food in Dubai is pretty damn good – what with all the buffets, posh restaurants and lebanese / middle eastern influence. The below is my favourite kind of food to eat in Dubai. Just give me humous, and tabouli. Lots of it. Everyday. For every meal.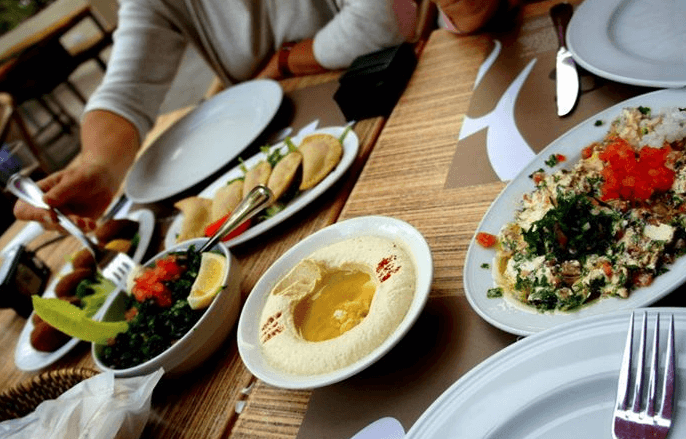 What are your favourite things to do in Dubai? I always love hearing new recommendations! 
Did you enjoy this post or find it helpful? If so I'd love if you could spare a second to vote for me in The Cosmopolitan Blog Awards 2014. Just click here to get to the voting site. Thanks a million!