If you're visiting Las Vegas for the first time, you might be looking for the best hotel pool in Las Vegas.
There are so many choice to choose from when it comes to the best pools in Las Vegas, but for me, I will always choose the Aria Las Vegas pool as my favourite pool in Las Vegas.
Let's face it – Las Vegas (in the summer at least) is all about the pool!
Sure, the evenings are for casinos, bars, restaurants and nightclubs… but in the daytime, it's all about sitting by your hotel pool with a drink and enjoying the atmosphere.
So, obviously, it's important to pick the best hotel pool in Vegas!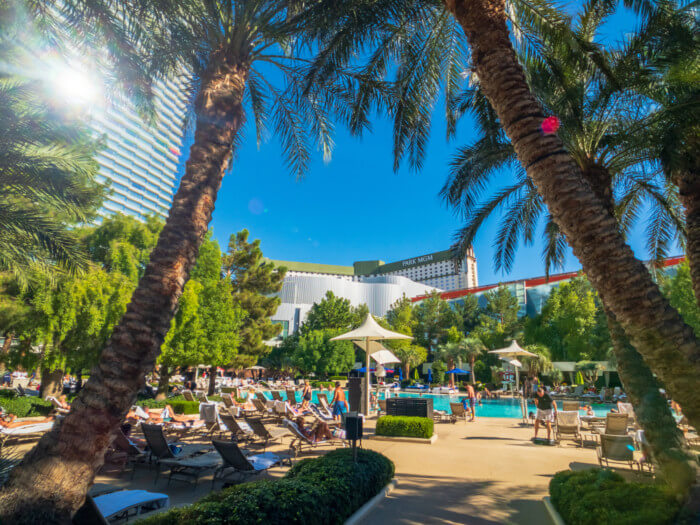 What makes the Aria Las Vegas pool so good?
OK, I'm going to run down why I LOVE the Aria Las Vegas pool.
I'll include plenty of photos along the way too – so you can see the pool and how amazing it is!
The Aria Pool area is huge
This is perhaps one of the best reasons to choose the Aria Las Vegas pool. It's huge, and for standard guests (not suite guests) you have two different pools to choose from.
Both of them are next to each other, but sectioned off, so that they feel slightly different. The pools are HUGE, so you don't feel crowded or tightly packed in like pickles in a jar.
There is so much space at the Aria pool – you'll never feel crowded or squished in.
Read more about Las Vegas: Top 12 BEST hotels in Vegas
Some hotel pools in Vegas are beautiful, but they lack the space, so when it's peak time, and everyone is enjoying the pool and standing around in it, you feel like you're stood in a busy bar.
I've never really felt like this in the Aria Las Vegas Pool – which is a definite advantage!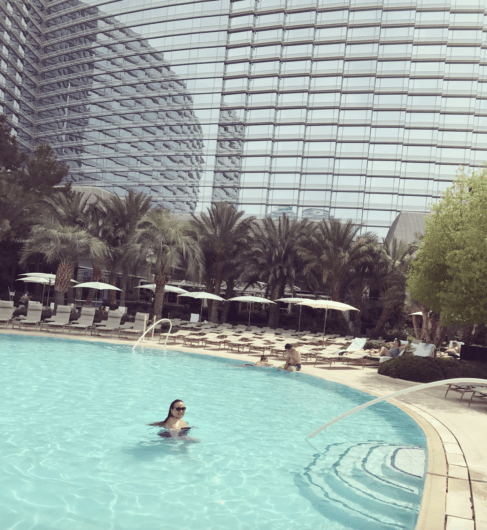 There are PLENTY of loungers
Another one of the things I love about the Aria Pool, is how many loungers there are.
One of the most difficult things when you visit lots of Las Vegas hotel pools, is finding a decent sun lounger, or finding one at all.
Some of them get filled out by 11am, and after midday you don't stand a hope in hell of finding 2 together (never mind 3 or 4). This is never a problem at the Aria Pool.
At the Aria, because the pool is so big, and because they've designed the pool area so generously, I've never struggled with space or finding a sun lounger for myself and friends.
You can rock up at 2pm in the afternoon, and you'll still be able to find a few loungers to relax on.
For me, this is a big selling point for the Aria Las Vegas pool, because it means you're not rushing to get down there, and you're not having to wake up early to grab the best beds.
Just look at all those loungers….. THERE ARE HUNDREDS!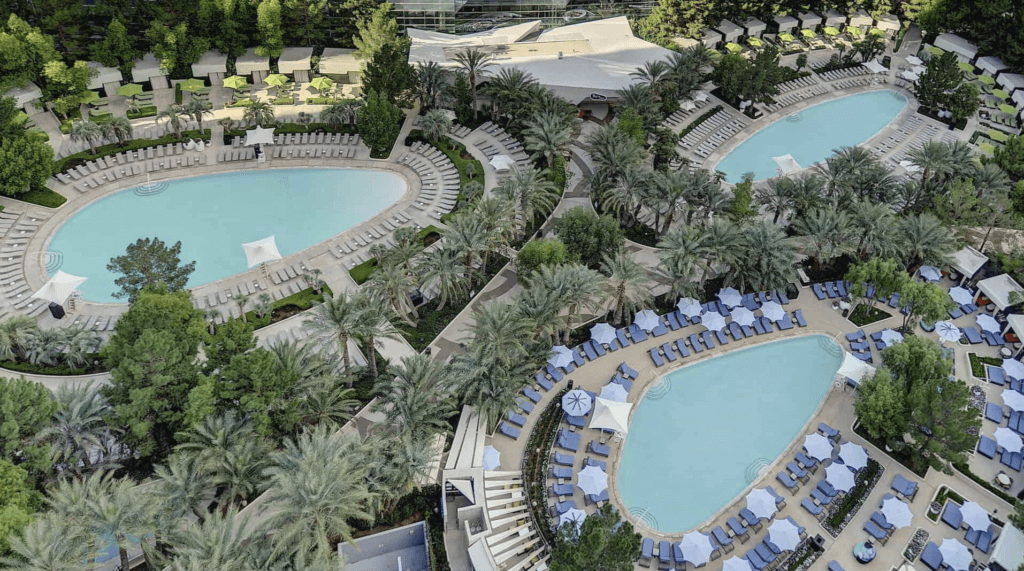 There are umbrellas
OK, this might not seems like a big deal to some people, but in a lot of Las Vegas Hotel pools – there is NO SHADE.
It baffles me every time, but it's the reality. For example, the Cosmopolitan Hotel pool is amazing, but there are no fully shaded areas around the pool (unless you're in a cabana).
Sometimes you don't want to be in the sweltering sunshine all day, and you need an umbrella for shade. At the Aria Pool there are shaded options, which works perfectly for those not too keen on being in the sun for several hours!
The Aria Las Vegas pool has umbrellas for shade, and there are umbrellas positioned around the pool if you need them.
The Aria Las Vegas pool feels like a luxury resort
A lot of the Las Vegas hotel pools feel like an 'added extra' or an 'after thought'. Just added in because they know they needed one.
The Aria Las Vegas pool feels like an extension of the hotel. It's as beautifully designed as the lobby and the bedrooms, and it feels just as luxurious and beautiful as all the amenities inside.
You can also look up at the beautiful building whilst you sunbathe which is kinda nice.
Read more about Las Vegas: Top 10 Penthouse Suites in Las Vegas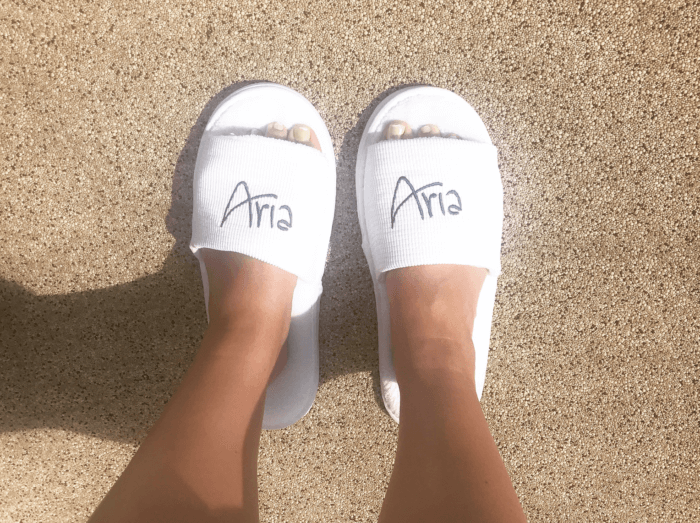 The food!
There is great food at the Aria Las Vegas pool, and it's sun-lounger service from the amazing pool-side staff too.
I love the food around the Aria pool. If you want it delivered to your sun bed – you can. If you want to eat it in the cute little bar area, you can. They're flexible!
The foods ranges from simple bar-style snacks, to delicious smoothies and cocktails. My favourite choices are the nachos and the burgers!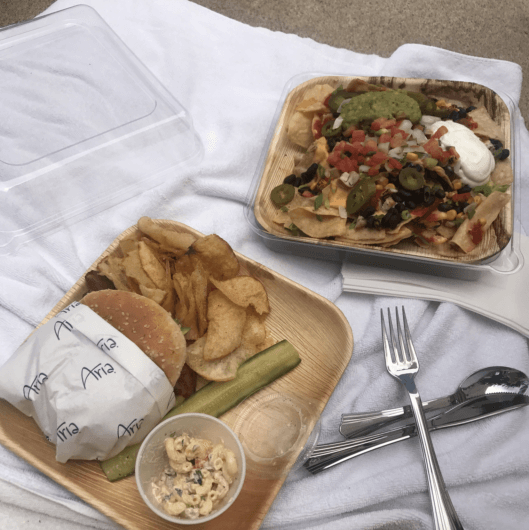 The cabana experiences are amazing
Another fantastic part of the Aria pool is the cabana experience. We treated ourselves to a cabana at the Aria Pool last year, and it was so good.
You have a dedicated member of staff, free soft drinks, coffee, bottled water, a TV, music system, chairs, sofas, loungers, the list goes on. You can even get a massage at your lounger!
It's an amazing experience – and well worth every penny. In my opinion I think it's one of the best cabana experiences from any hotel pool in Vegas. Just the quality of it, the proximity to the pool, the privacy, etc – it's all fantastic.
If you opt for a cabana at the Aria Pool during peak times (weekends) you'll pay a lot, but but during week days you can get pretty good deals on the cabanas, so keep that in mind.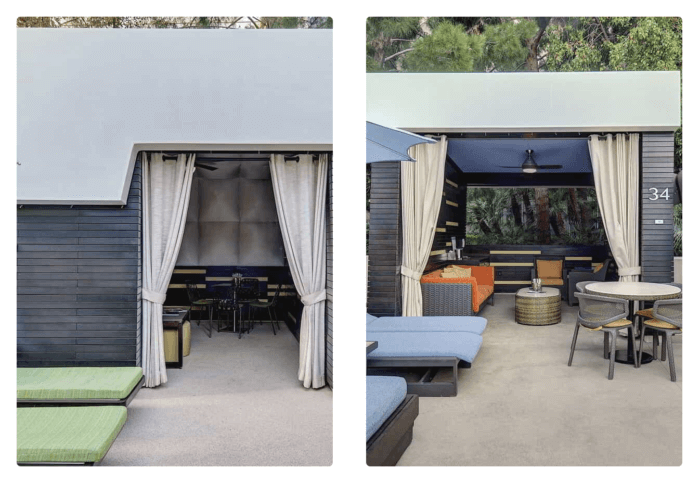 They have hot tubs too!
I nearly forgot to mention this, but the Aria Las Vegas pool also has 3 hot tubs in the resort area too! When you want to relax a little more, these are the perfect break from the main pools.
They're a little quieter, and separated from the bigger pools, which is nice as you feel like you've found a little escape from the busier parts of the outside areas.
I hope this post about why the Aria pool in Las vegas is amazing had helped!
The Aria pool is a fantastic pool and it's definitely one of the best (if not THE best) in the city. It's spacious, well designed, with great food and generous seating.
It's been really well put together, with guests in mind. I always love spending the day at the Aria pool – I think you will too!
I've also reviewed the Aria hotel buffet – if you'd like to know more about that too!