If you're planning to visit Las Vegas with children, you might be wondering "Are kids allowed in Las Vegas hotels?"
---
If you're wondering "Are kids allowed in Las Vegas hotels?" – The answer is yes!
Most hotels are totally kid-friendly. As in, children are allowed to stop as guests at the hotel.
However, it's a little more complex than you think – so be sure to keep reading to get a full picture of what is (and isn't) OK in Las Vegas hotels, and the city in general.
So let's investigate: Are kids allowed in Las Vegas hotels, and what are the rules?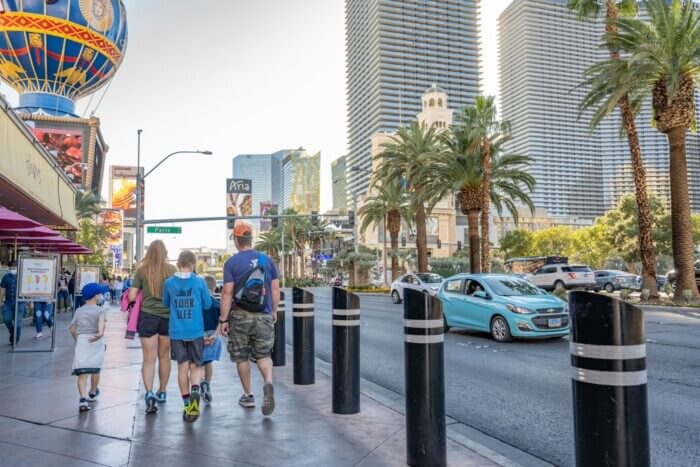 ---
Is Las Vegas a good place for family vacations?
Believe it or not, Las Vegas isn't a bad choice for a family vacation.
It may not be the most obvious choice (especially with destinations like Disneyworld, Orlando, Florida on the cards).
But it's certainly not the worst place to bring kids, if you know the do's and don'ts.
And if you know the answer to key questions like "Are kids allowed in Las Vegas hotels?" it's pretty easy to plan a successful vacation in Las vegas, even with kids in tow. 
Las Vegas is actually a great place for family vacations. There are plenty of things to do in Vegas for children and families, and there are lots of family-friendly shows, attractions and restaurants too.
Sure, the city has a reputation for being a more adult-focussed destination, but it's actually very kid-friendly too, and plenty of families enjoy their vacations together here.
---
Ensure your Las Vegas hotel is kid-friendly before booking
Now onto the important part… Not all hotels in Las Vegas welcome kids.
Which is fair enough, especially as Las Vegas does tend to be geared more towards adults.
However, many do welcome kids – so make sure you book one of the child-friendly resorts or hotels if you're visiting with children.
If you're particularly worried about kids not being allowed into a Las Vegas hotel – you can always check with the hotel by calling them. But most will give you the info you need on their website too.
Notably, some of the biggest adults-only (no children allowed) hotels / resorts are: 
Circa Resort & Casino
Artisan Hotel
El Cortez Hotel and Casino
The list above isn't definitive – but it is small though, and it's worth knowing that children are allowed in the majority of Las Vegas hotels.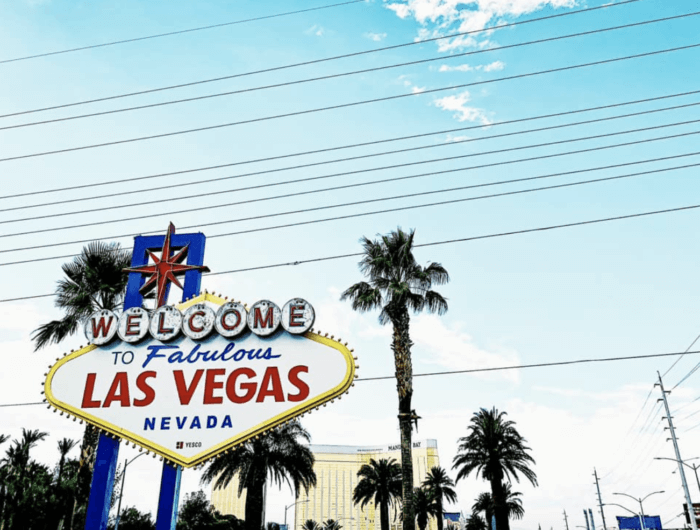 ---
Most important rule when bringing children to Las Vegas…
Avoid the casino areas with children
The main restriction when it comes to 'Are kids allowed in Las Vegas hotels?' is the casino areas inside the hotels.
Of course, the gaming areas inside the hotels are a big part of the resorts, and gambling is illegal for anyone under 21 is the USA.
When asking "Are kids allowed in Las Vegas hotels?" – the most important rule is regarding the casinos.
The most important rule when bringing kids to Las Vegas, is to avoid the casino areas with children.
Children are not legally allowed to gamble (rightly so!) and so children are not allowed at any of the gambling machines or betting tables.
For this reason, children and kids aren't allowed to stop inside the casinos or use any of the machines in the casinos.
A lot of the main Strip hotel in Las Vegas have large casinos that span large areas of the lobby. Which means sometimes you;'ll need to stay on designated pathways.
Sometimes there may not be much opportunity to avoid these areas (even with kids) but you should always stay to the designated walkways, and don't let your kids stray off into the machine areas or table areas.
Read more about Las Vegas: What is the coldest month of the year in Las Vegas?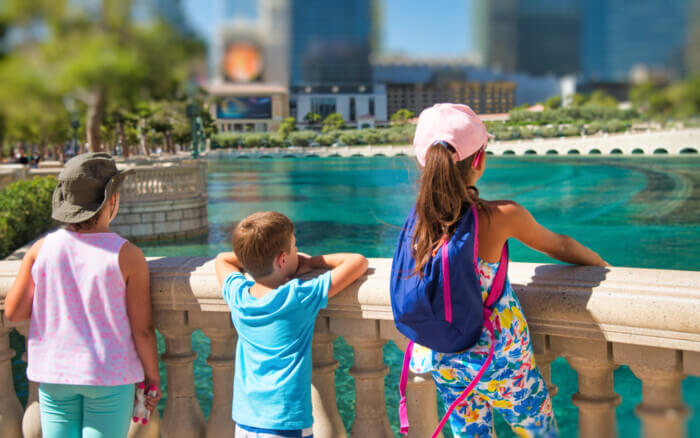 ---
Which Las Vegas hotels are best for children?
As we mentioned, most of the hotels on the strip are kid-friendly, but some are certainly more suitable for children than others.
I'd recommend the following hotels if you have children with you:
Aria Hotel: Big spacious hotel, and two amazing swimming pools (that are relatively shallow).
Mandalay Bay: Great pool area with a wave pool (which children would love).
MGM Grand: Another great pool area (with a lazy river!).
The Mirage: Big pools, and lots of free child-free entertainment options too.
Wyndham Grand Desert: Big family hotel, with a kids mini-arcade and an arts-and-crafts room.
It's worth noting… That the Wynn and Encore hotel are quite notorious for being quite anti-children – as they're quite up-scale and luxury resorts.
So we'd streer clear of these hotels if you're looking for book a family vacation where you don't feel self-conscious of letting the kids enjoy themselves.
Read more about The Aria: 10 reasons the Aria Hotel pool is the best in Las Vegas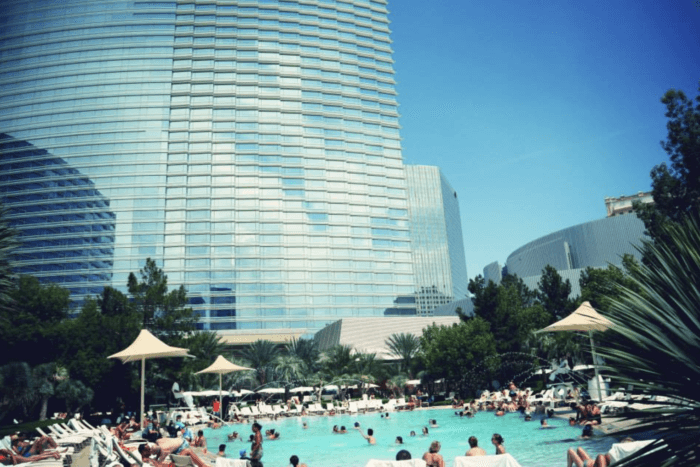 ---
Is Las Vegas child friendly?
It's not the most child-friendly city (there are certainly more child-focused destinations you could choose!) and there's no denying that Las Vegas is more geared towards adults.
But saying that, there are plenty of fun activities for children and families in Las Vegas.
You certainly won't be stuck for things to do in Las Vegas with children. Which is great news if you're planning to bring them with you.
Actually there's lots to do in Las Vegas with kids, such as:
Pool areas
Cirque du Soleil shows
Shopping malls
Day trips to the Grand Canyon (click here to book)
Looking around hotels and all the different themed areas
Bellagio Fountains
Various animal-themed hotels / attractions
Las Vegas sign
Eiffel Tower
Escape rooms and themed attractions
Famous Las Vegas Buffets
Red Rock Canyon
The Neon Museum
Dig This
The Mob Museum
Fremont Street
The Adventuredome Indoor Theme Park
Shark Reef Aquarium at Mandalay Bay
Discovery Children's Museum
Las Vegas Natural History Museum

Las Vegas Mini Grand Prix Family Fun Center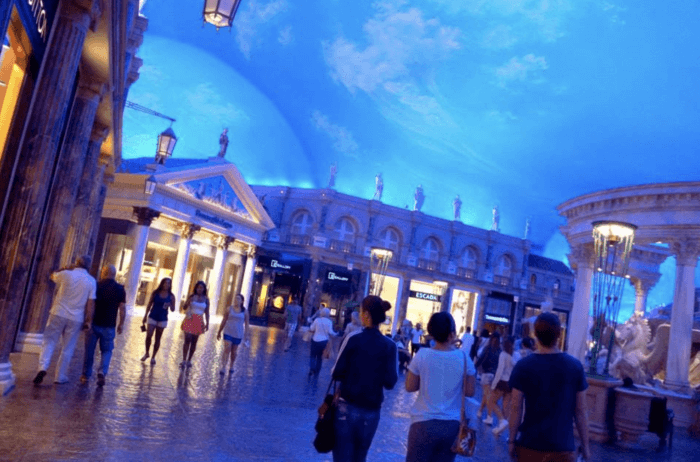 ---
Can children go into the casinos in Las Vegas?
Hotels and casinos in Las Vegas are pretty much the same thing…
But the answer to "are kids allowed in Las Vegas hotels" then gets a bit complicated when you include the casinos.
The answer, is that kids can walk through the casinos (if they need to get to a show, or the hotel room) but they can't stop by any tables or play any games.
Even if an adult is with them – they can't stop. Children must always be accompanied by their parents too.
---
Is Las Vegas safe at night for children?
Yes, the strip is a very touristy area and it's generally pretty safe.
We wouldn't recommend taking your children down the strip at 11pm when people are drinking, but during the day, the strip is a very nice place to walk and children would be absolutely fine taking a stroll along with their parents. Hotels are really safe, and the malls are safe too.
There is actually a curfew for children, which is that children under 18 may not be out past 10 p.m. on the strip on weekdays and midnight on weekends unless accompanied by an adult.
Read more about Las Vegas: 20 Things to do in Las Vegas when pregnant
---