---
Are you looking for fun and romantic dates ideas in Las Vegas?
---
If you're looking for fun and romantic date ideas in Las Vegas, you've come to the right place! I've been visiting Las Vegas twice a year for the last decade (almost!) and it's one of my favourite vacation destinations to visit with my once boyfriend, now husband. There are so many amazing date ideas in Las Vegas – you'll be spoilt for choice.
I won't go on about how much I love Las Vegas too much – but I do, it's amazing, and there are so many fantastic date-night activities in the city to try out!
Here are my top picks for date ideas in Las Vegas…
---
Watch "O" by Cirque du Soliel
---
First on my list of date ideas in Las Vegas, if you've got a big budget, in my opinion this is the ultimate date night in Las Vegas. For me, "O" is the best show in Las Vegas, it's original, mind-bending, over-the-top and just beautiful beyond words.
I've seen it 3 times now, and it's incredible every time. It's such a memorable and fun date idea, and it'll give you something to talk about for hours afterwards too. Even if theatre isn't 'your thing' this is fantastic and mind-blowingly beautiful.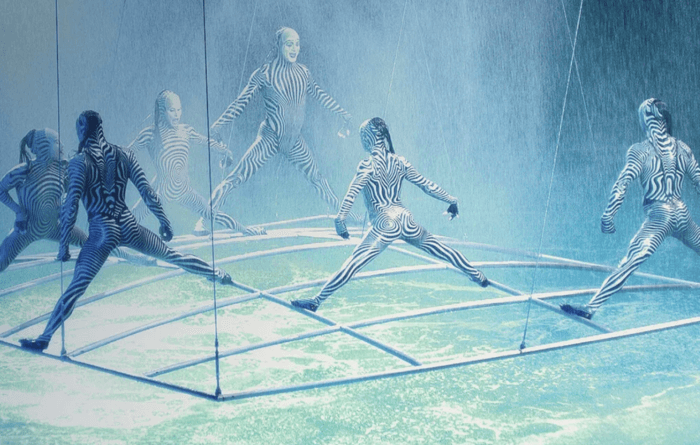 ---
Visit The Neon Museum
---
My next suggestion for date ideas in Las Vegas, is The Neon Museum in Las Vegas. This place is a great idea for a day-date or an evening date. The Neon Museum is pretty much what it sounds like, it's a museum dedicated to all the old neon signs that once filled the streets of Las Vegas.
It's unique, a bit quirky and provides loads of cute photo opportunities too.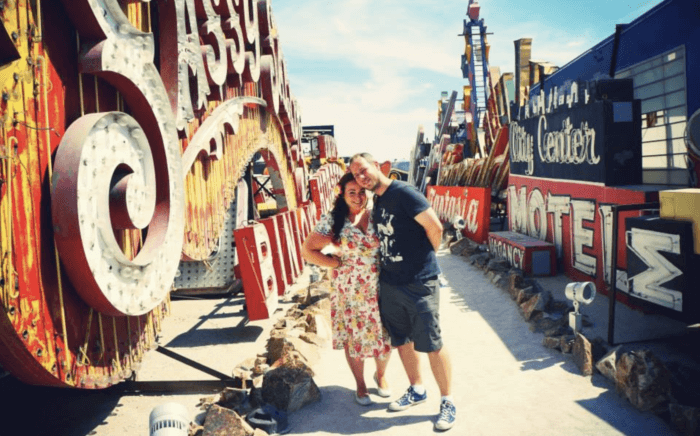 ---
Go to a casino
---
How could I write a list of date ideas in Las Vegas and not include gambling in a casino? When you gamble you'll get complimentary drinks from the casino hostesses (you only need to tip them a dollar) so if you've got around $30-$100 dollars, you could easily spend the night gambling and get free drinks too.
Gambling together is fun, try out different machines, try and work out how the different table games work, it's a really good time.
---
Chase the adrenaline!
---
I read once that couples who do daring and adrenaline-fuelled activities together bond quicker… so that's why I'm including these ideas on my list of date idea in Las Vegas!
There are quite a few adrenaline-fuelled activities you can do in Las Vegas, and they all make amazing date ideas! Try out indoor skydiving,  or perhaps quad biking… or even racing supercars around a racetrack!
---
Have a luxurious spa treatment
---
My favorite spa in Las Vegas is the Aria Hotel spa. Most spas in Las Vegas have separate men and women's areas for relaxing, but the Aria Spa actually has an amazing co-ed spa pool to enjoy together too – which makes it a lovely date location.
You could have a couple's spa treatment, and then cool-off in the pool together afterward. This is one of my favorite date ideas in Las Vegas by far.
---
Book a Grand Canyon tour
---
The Grand Canyon is right on your doorstep in Las Vegas and there are so many tours that can take you there. I LOVE Pink Jeep tours, they've always been my favorite tour group. The vehicles are super fun and comfortable, the tour guides are amazing, and the groups are small – which makes a big difference to seeing everything and making it to places on time. You can book a Pink Jeep Tour by clicking here.
Their amazing Drive, Fly and Float tour includes an amazing drive over to the Canyon, a helicopter ride down to the base of the canyon, and then a boat ride along the river at the bottom. It's so cool, I've done it and loved every second. Highly recommend!! You can book it here. 
Or click the link below for their other tours…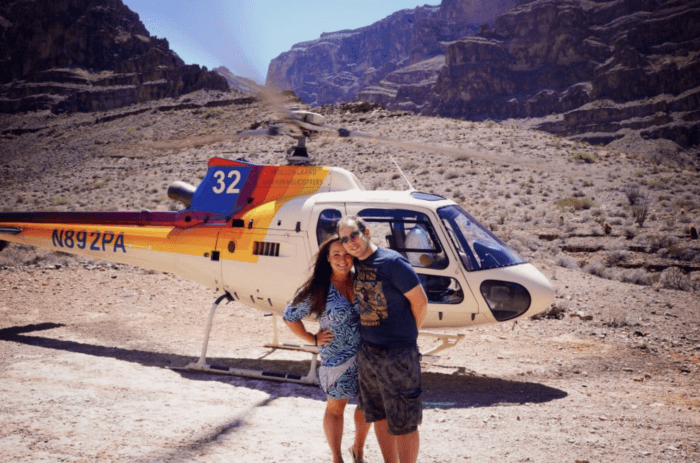 ---
Head to Red Rock Canyon
---
If you want to head into the great outdoors, but you don't fancy going as far as the Grand Canyon, then Red Rock Canyon is a good choice instead. We took this tour out to Red Rock, and we had such a fun day. Red Rock is only 30-40 minutes out of town, and the views are stunning.
It's such a beautiful national park, and the tour guides have so much cool stuff to point out to you (like movie locations and TV filming locations!). Again, I really recommend going with the guys at Pink Jeep Tours, they're so amazing, friendly and professional. I only have amazing things to say about them.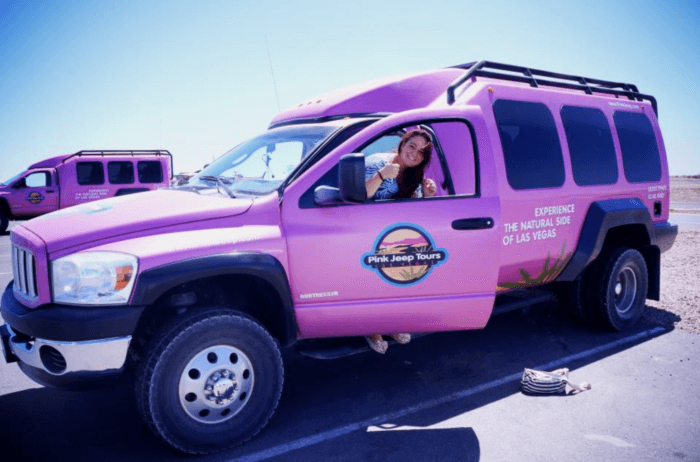 ---
Visit a steak house
---
Las Vegas is known for it's steak houses and there are loads of incredible ones in the city. My husband and I love steak, and we've made it our mission to try and as many steak houses as possible over the years.
Our 2 stand-out restaurants have to be Andiamo's at The D Hotel downtown, and SW Steakhouse at the Wynn Hotel (ask for a table on the balcony). My husband and both love this date idea in Las Vegas, and we visit at least 2 steak places each time we visit!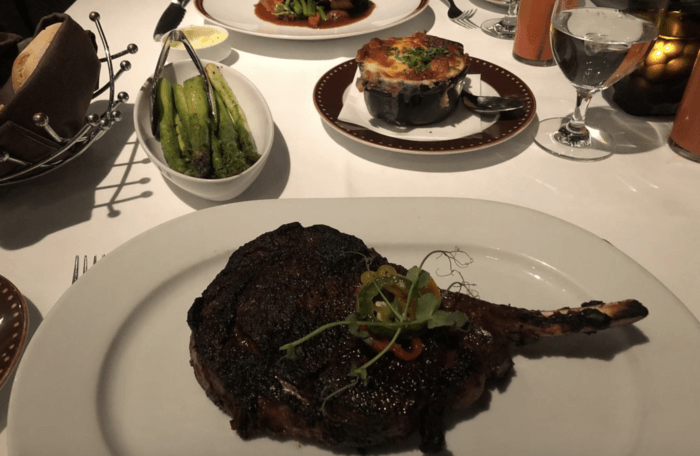 ---
Take a romantic helicopter ride over the strip
---
Next on my list of date ideas in Las Vegas, a helicopter ride! I love this date idea, because it's probably the most memorable thing you can do in the city. Taking a helicopter ride over the city and seeing all the light twinkling below you is just pure magic. A helicopter tour has to be (hands down) one of the most romantic date ideas in Las Vegas.
You can click here to book the group tour, or click here to book the completely private helicopter tour (which is slightly more romantic!). Both are highly recommended by myself!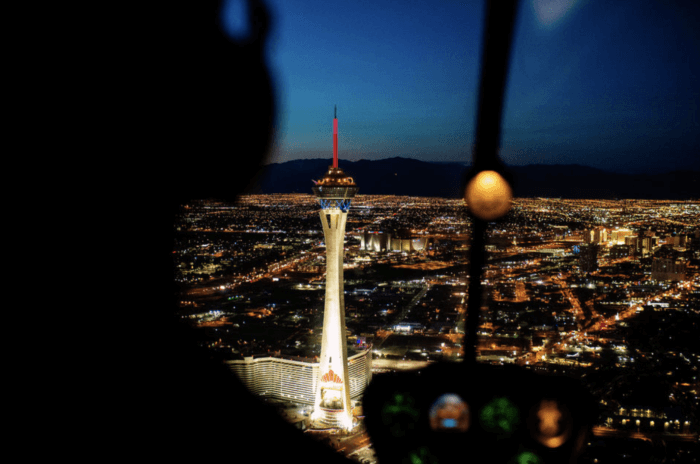 ---
Book a private hot air balloon ride
---
OK, this is a mega extravagant date ideas in Las Vegas – but I had to include it because it's probably one of the most romantic dates you can do around Las Vegas. This incredible private hot air balloon ride is literally the date of a lifetime. We're talking 'The Bachelor' levels of romance. You'll even get a champagne toast when you land! You can book this insanely romantic date by clicking here.
---
Go to a shooting range
---
Shooting and guns isn't everyone's cup of tea, but it's definitely a date to remember, so I had to include it in my date ideas in Las Vegas list. There are quite a few gun ranges in Las Vegas, and the major ones are really professional, safe and entertaining.
Usually, they will have certain packages to choose from, where you can choose the size and power of the guns you want to fire, and you basically do target practice in a controlled environment.
Everything is really controlled and you'll be under constant supervision, but it's definitely one of the more unique dates I've been on, and I did enjoy it because it was out of the ordinary.
---
Watch a magic show
Vegas is famous for it's many magic shows, and if magic is your kinda thing (or maybe you're a little bit curious about it) then a date night to watch one of the many Las Vegas magic shows is a must.
Magic shows make a great date night idea because they're fun, interesting, unexpected, and you'll have so much to talk about after the show too!
---
Do a hotel crawl
---
Every single hotel in Las Vegas has something unique to offer. From themed shopping centres, to crazy casinos… it's a pretty epic city to explore. One hell of a date idea in the city is to work your way down the strip, having a drink in as many hotels as possible.
It's a great way to see them all, and it's a lot fo fun too. This is one of those classic date ideas in Las Vegas, and it's so easy to do too!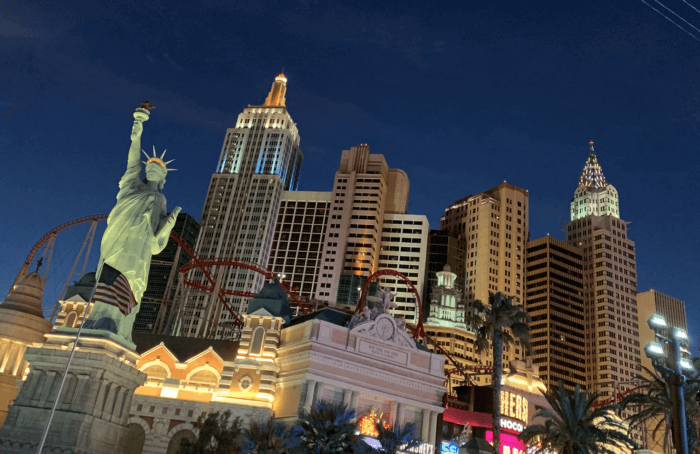 ---
Take a romantic gondola ride
---
OK, this has to be one of the the most iconic date ideas in Las Vegas… Taking a romantic gondola ride! Inside the Venetian Hotel, you'll find the canals and gondolas (usually found in Venice, Italy).
For a pretty reasonable price, you can take a private gondola ride around the canals, and even enjoy being serenaded by your host. It's definitely romantic, and it memorable too!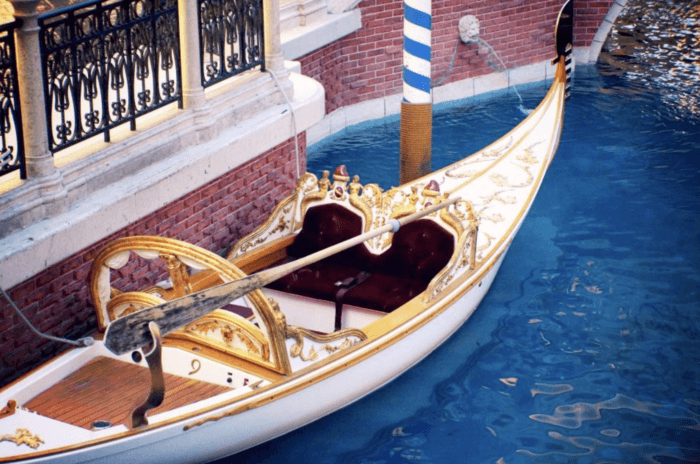 ---
Visit Hells Kitchen
---
This restaurant only opened last year in Caesars Palace Las Vegas, and if you're a fan of the TV show (or if your date is) they will absolutely LOVE visiting this place. It has all the classic food items on the menu, and you might even bump into a celebrity or two!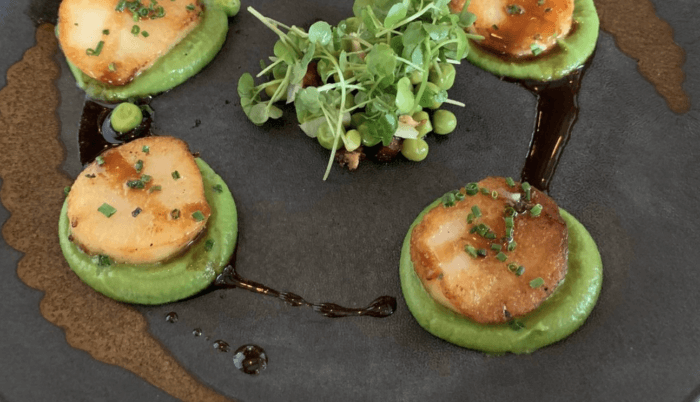 ---
Visit Top Golf
---
We did this on our most recent trip to Vegas and it was so much fun! We actually did this as a double-date with our friends, and despite our hangovers from the night before, we all had so much fun.
Each driving range booth has sofas, TVs, and a range of clubs, and you can order food and drinks through the table service too.
You get a great view of the city, and hitting a few balls over the course of a few hours is a really fun and casual date idea in Las Vegas. Not conventional ideas, but I think it's one of my favorite date ideas in Las Vegas!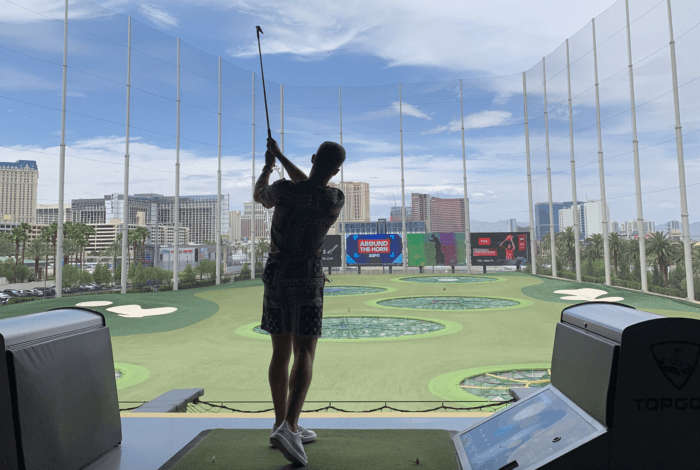 ---
FlipNOut Xtreme
---
I always think some of the best date ideas are the ones that bring out our inner child. This date idea at FlipNOut is definitely one of those. This is basically a giant room of trampolines where you can flip, bounce, run, and jump to your heart's content. It also has zip-lining, laser tag, and even ninja warrior courses.
---
Visit the top of The Eiffel Tower
---
You might not be able to whisk your date away to Paris, but a trip to The Paris Hotel might be enough to win them over! The Eiffel Tower inside The Paris Hotel has it's own restaurant and observation deck (click here to book skip-the-line tickets) and either of them would be a beautiful date idea in Las Vegas.
A classic on this list of date ideas in Las Vegas for sure! You can never go wrong with Paris!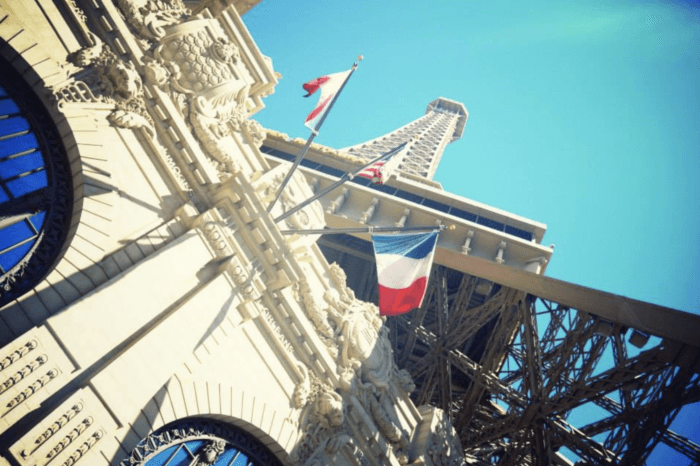 ---
Take them on the High Roller
---
The High Roller is a huge observation Ferris Wheel overlooking the city and it makes an amazing date idea in Las Vegas. It's a pretty amazing date idea in Las Vegas, it's the perfect mix of fun and romantic and the views on offer from the observation pods are insanely good.
You can click here to book skip-the-line tickets.
---
Lake Mead Cruise
---
Lake Mead is so under-rated, it's not far from the city at all and it's a gorgeous place to tour and relax at. I found this Lake cruise (on one of those super cute old-style boats) that also includes a Hoover Dam tour, and I think it's an amazing deal.
This would be a great day-date from Las Vegas, and something a bit different too which is why it makes my list of date ideas in Las Vegas. Click here to book it.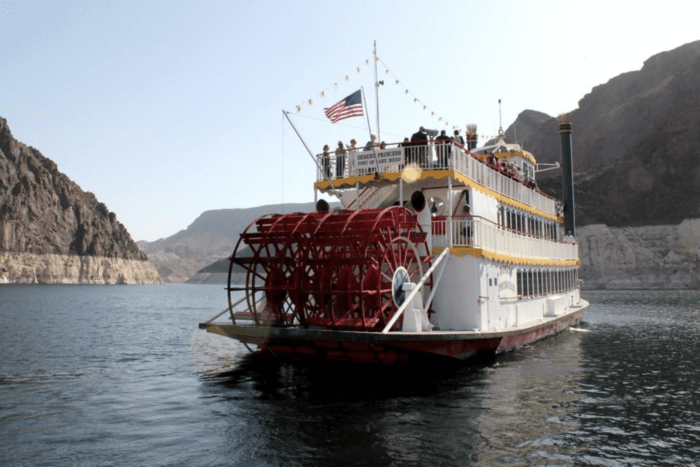 ---
Take a food tour
---
If you're both foodies and love trying new things, then booking yourself onto a Las vegas food tour would be a cracking date idea in Las Vegas.
If you haven't done a food tour before, they're so much fun, especially as a couple! You can guided around the city, and taken to the best food locations. You'll get to skip any lines, and try out the best items on the menus, before heading off to a new place after!
It's a lot of fun and it's a great way to scope out potential future date locations too! You can book the Secret Food Tour of Las Vegas by clicking here.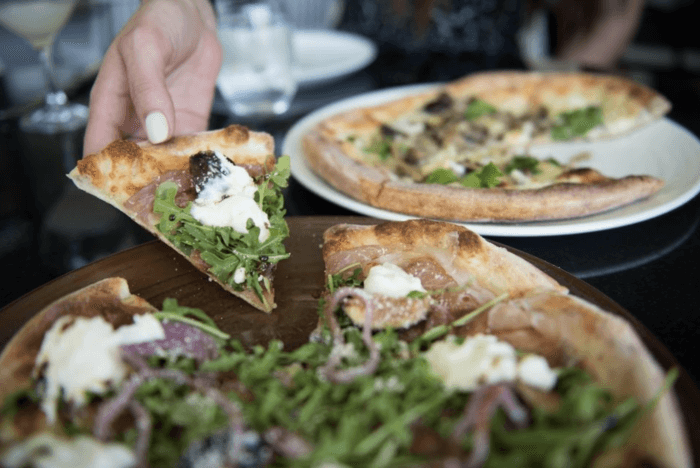 ---
Go go-karting
---
Go-karting is such a fun date ideas in Las Vegas. It's fast-paced, it's fun, it's full-on. If you're the kind of couple who like to keep things exciting, then this date idea in Las Vegas is a must-do for your list! You'll zoom around the local course, perfecting thos corners and competing for the best time! You can book tickets here.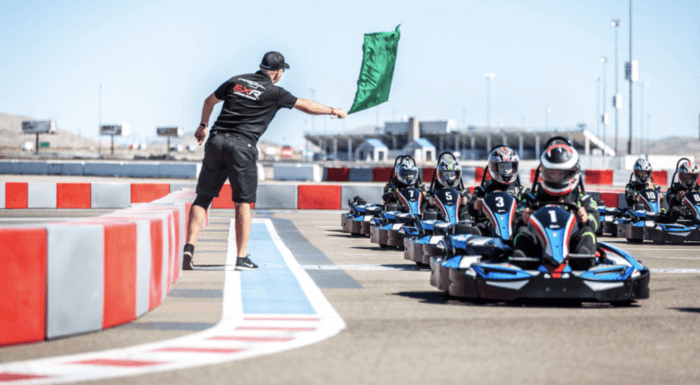 ---
Take a stroll around Town Square
---
Town Square is an outdoor shopping centre just off the Las Vegas strip. It's a great location for a slow stroll around some shops, a romantic meal and a coffee. This is much less touristy than the other destinations on this list, but just as enjoyable.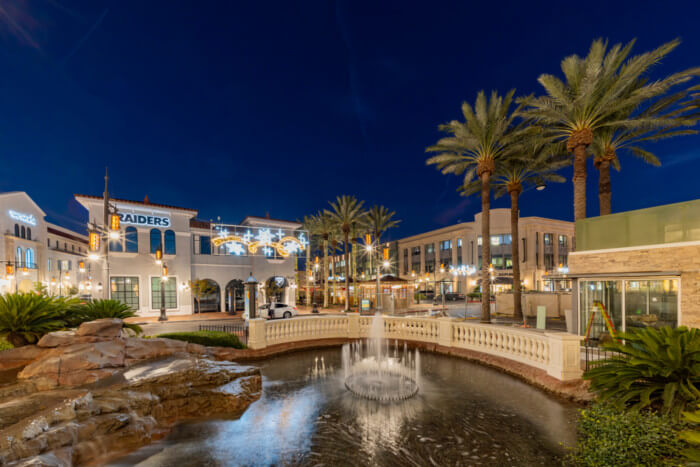 ---
Watch FRIENDS: The Musical Parody
---
Next on my list of date ideas in Las Vegas, something a bit cute and funny. If you're both of a certain age (over 25!) chances are you've grown up watching the TV show Friends and you know it like the back of your hand. I know that's the case for me and my husband at least!
This show is a musical parody, and it's absolutely hilarious. I was lucky enough to watch it last year, and it is SO FUNNY. If you like friend (even if you hate it) you'll enjoy it, it's such a cheap comedy to enjoy on the strip and it'll definitely gives you loads to laugh about after!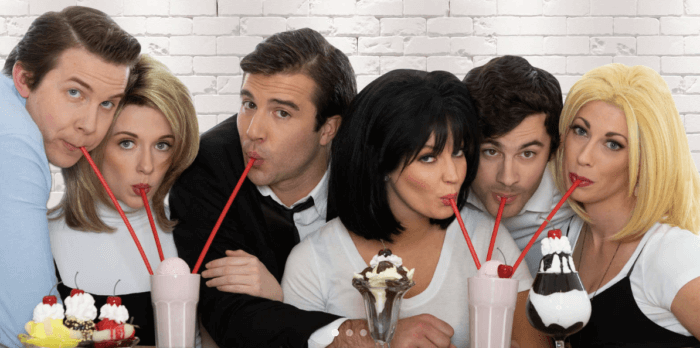 ---
Watch the Absinthe Show at Caesars Palace
---
This adults-only carnival show is like a feast for the senses. It'll remind you of the old-fashioned circus you saw as a child, but a little more grown-up, cheeky and fun. There are so many different acts in the show, from extravagant vaudeville-inspired acts to jaw-dropping acrobatics.
---
Watch the Bellagio Fountains
---
This date idea in Las Vegas is totally free, and you can literally spend the evening just wandering around the strip finding the best locations to view the fountains from. I've actually written a blog post about this (click here) so you won't even need to do any more research!
The fountains are so gorgeous, and they're one of those iconic Vegas-moments you just have to indulge in at least once.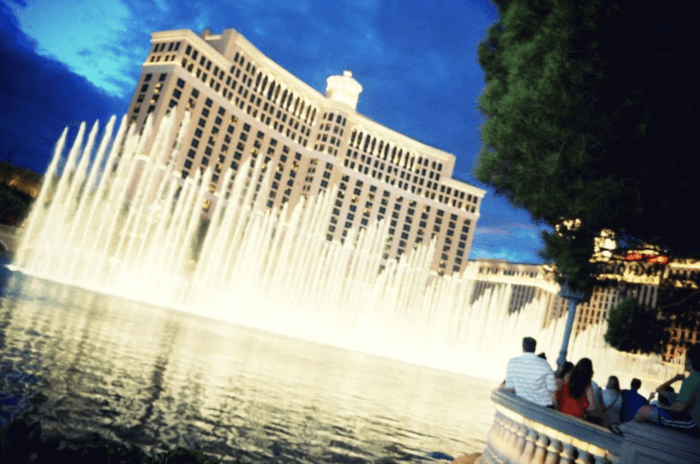 ---
Visit a strip club
---
This isn't for every couple, but for many couples visiting a strip club is a great night out and a fun date idea too. You'd probably be surprised how many couples you'll see in Las Vegas strip clubs.
A tip for those planning to visit, if you call the club ahead of time, they will send a private car to pick you up and you'll also get to skip the line when entering the club.
---
Dine at the Stratosphere revolving restaurant
---
Next uop on my date ideas in Las Vegas list, it's this famous Vegas restaurant. The restaurant is called 'Top of the World' and we've eaten here once, and we both really enjoyed it from start to finish.
The restaurant is right at the top of the huge Stratosphere tower, and it slowly revolves 360 degrees, giving you incredible views of the city all night long. The menu is big with lots of choice and it has a really lovely romantic vibe to it – perfect for a date night.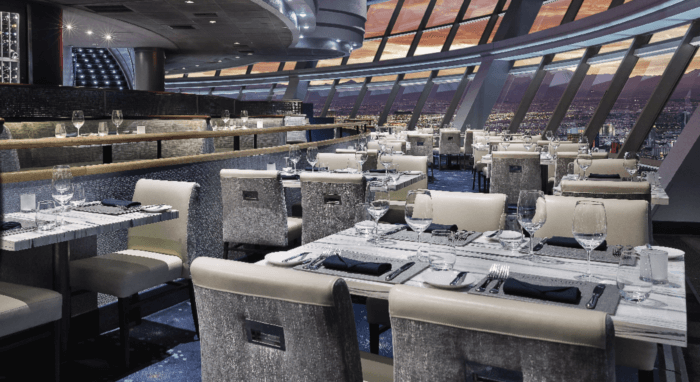 ---
Sip cocktails at The Chandelier Bar
---
The Chandelier Bar is located inside the Cosmopolitan Hotel and it's probably the most glamorous and glitzy bar in Las Vegas. The entire bar appears to be suspended inside a gigantic diamond chandelier, and the experience is just perfect.
Get dressed up, order some fancy cocktails and spend the evening talking and people watching. Sounds like a perfect date to me!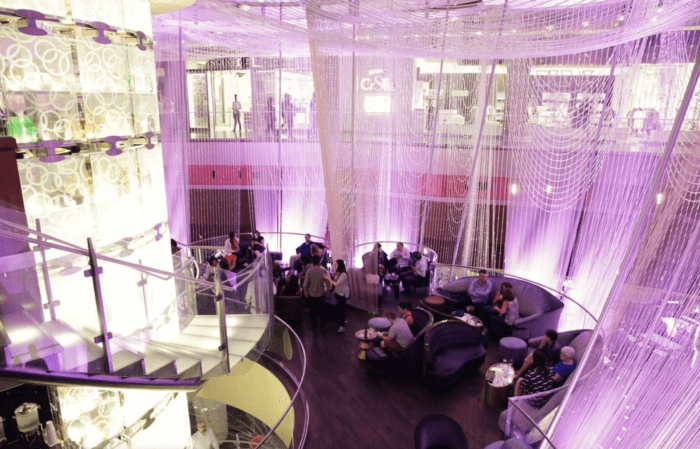 ---
Ride a rollercoaster
Las Vegas has a couple of rollercoasters, so if that's your thing, then an afternoon or evening riding some of the thrills rides in Vegas is probably going to be right up your street! NYNY has one of the most famous rollercoasters in the city, which you'll definitely want to try out!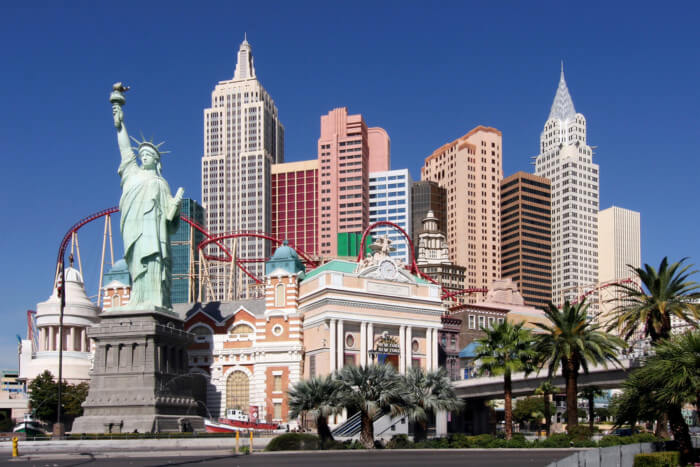 Now that you've read about the best date ideas in Las Vegas… Here are some other posts I have written about Las Vegas that you might find useful.
---
The best shopping malls in Las Vegas 
Best Las Vegas nightlife for couples
The most romantic hotel suites in Las Vegas 
The most romantic things to do in Las Vegas
Las Vegas restaurants with amazing views of The Bellagio Fountains
The ultimate guide to visiting Las Vegas on a budget 
Where to find the best views of The Bellagio Fountains
Things to do in Las Vegas when you're pregnant