If you're planning to visit DUMBO in Brooklyn, this ultimate guide to DUMBO will have all the info you need!
The DUMBO neighborhood of Brooklyn NYC is one of the coolest places to visit in New York City, and it also offers up some of the most amazing views of the city's skyline too.
In this guide to DUMBO Brooklyn, we'll give you all the information you need. From different ways to get there, to which streets have the best photo opportunities and where to eat and drink.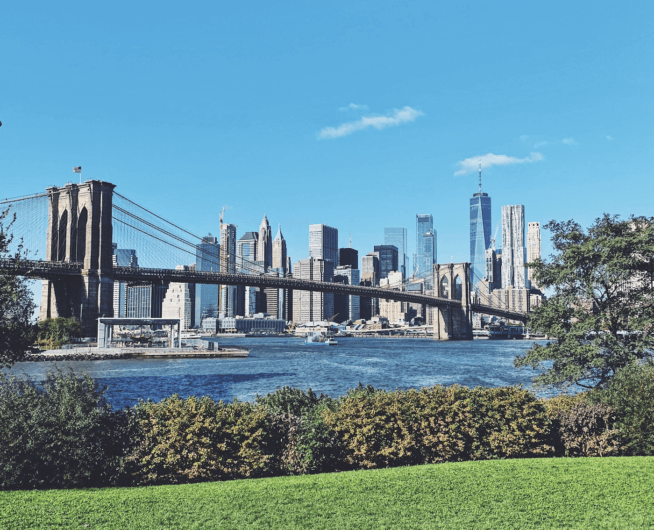 Many tourists don't venture out to Brooklyn (as it's a little confusing for first-timers navigating the Subway), but I promise you, it's worth it.
This part of NYC has so much personality and charm. So don't miss it!
Alongside the amazing city views, you also have wonderful restaurants and cafes, some cute stores, several parks, and even a giant food hall with a rooftop terrace!
In this guide to DUMBO Brooklyn, we'll go through all the essential information you need, to make visiting DUMBO as easy as possible.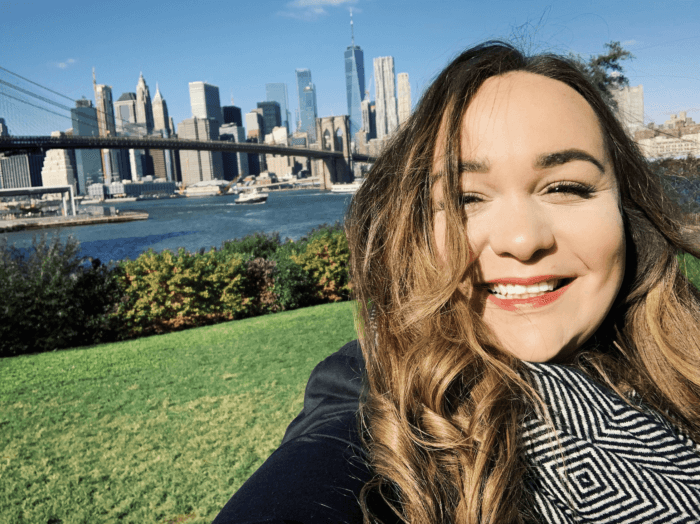 ---
What does DUMBO stand for?
I guess the first thing we should cover in this guide to DUMBO Brooklyn, is what the name actually stands for!
DUMBO Brooklyn is an acronym for 'Down Under the Manhattan Bridge Overpass'.
It's a bit of a mouthful, and now you can see why they shortened it! DUMBO is a little more catchy, hey?
The historic area of DUMBO Brooklyn brings together the old and new, resulting in a really cool area packed with fun things to see and do. The area is best known for its charming cobblestone streets, waterfront access, and stunning views of the Brooklyn Bridge and Manhattan Island.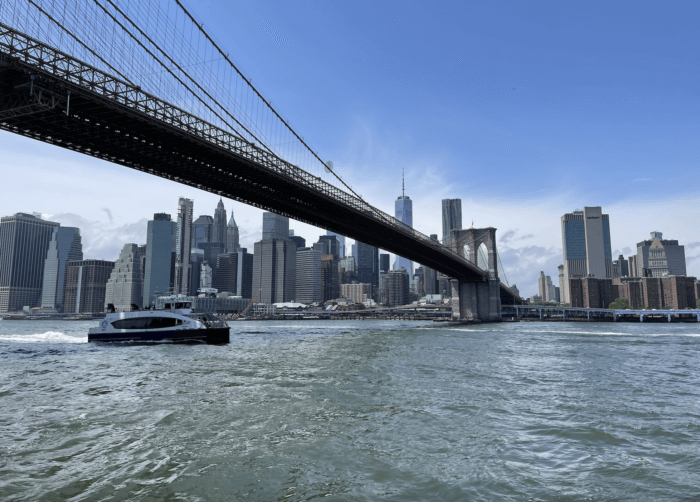 ---
Why is DUMBO Brooklyn so popular?
As you'll find out in this guide to DUMBO Brooklyn, there are many reasons that make DUMBO Brooklyn so popular.
First of all, it has some of the best views of Manhattan, and the incredible NYC skyline. Secondly, there are amazing food places to enjoy! Third, the neighborhood feels quirky and 'authentic', with features like cobblestone streets and converted warehouses.
Or maybe it's just the vibe and the energy here that people love! Whatever the reason, it's a great place to visit. Now, let's get into our guide to DUMBO Brooklyn!
Read more NYC ideas: 60 free and cheap things to do in NYC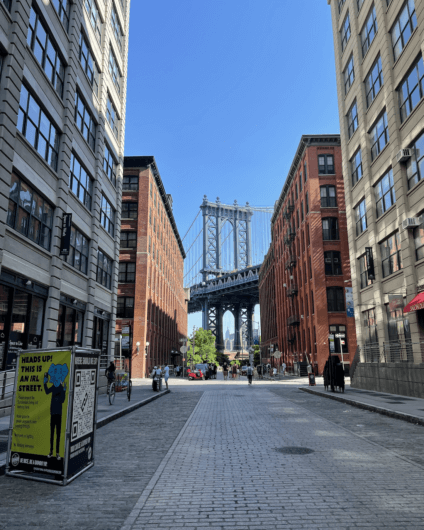 ---
Directions to DUMBO in Brooklyn
---
The first thing we'll cover in our guide to DUMBO Brooklyn… Is getting there.
One of the things people are most nervous about when visiting DUMBO in Brooklyn, is finding it and getting there from Manhattan.
But don't worry. Although it's located across the river, it's relatively simply to reach. It may seem like a long way on the Subway, or in a taxi, but it's actually relatively straightforward. In the next part of our guide to DUMBO Brooklyn, we'll show you how!
Here are some options for reaching DUMBO easily from Manhattan…
---
Taking the subway to DUMBO, Brooklyn
The easiest way (and cheapest way) to get to DUMBO quickly from Manhattan is to take the subway.
You can take the F train from Manhattan and get off at York Street Station in Brooklyn.
From there, it's a very easy downhill walk, and only takes about 10 minutes to the waterfront. I want to mention here, the exit at York St Station has LOTS of steps – so be prepared!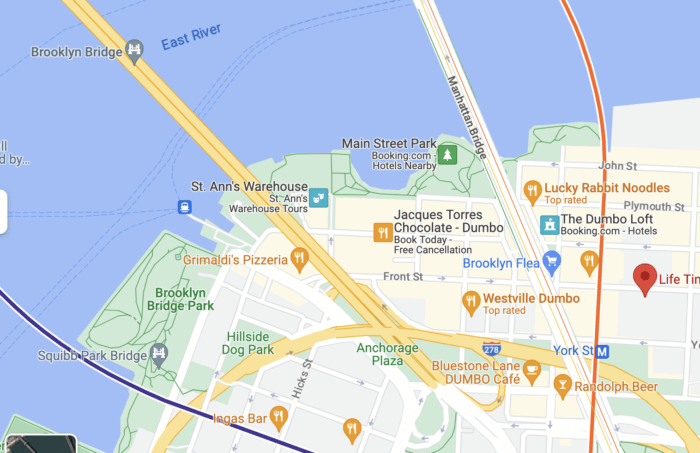 ---
Walk across the Manhattan Bridge to DUMBO, Brooklyn
Many people think the best way to reach DUMBO is by walking across the Brooklyn Bridge. However, the pedestrian pathway exit from Brooklyn Bridge is not actually that close to the DUMBO waterfront, and I wouldn't recommend it – as it's easy to get lost.
For a scenic route (if you want to walk across abridge), you can walk across the Manhattan Bridge to get to DUMBO instead.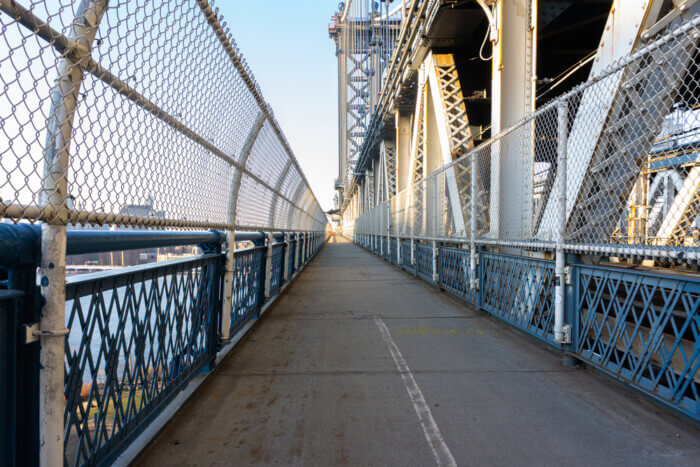 The pedestrian entrance to Manhattan Bridge in Manhattan is at Canal Street and Bowery, and the exit in Brooklyn is at Sands Street and Jay Street. This is where you'll want to exit for DUMBO.
So you know, the bridge walk takes about 30 minutes in total, but maybe add 10 minutes for photo stops.
OK, so Manhattan Bridge isn't as famous or iconic as Brooklyn Bridge, (or as scenic) but it's far less crowded, and the views are still lovely. I would avoid it at nighttime though (just as a piece of advice, it can feel a bit eerie once the sun goes down).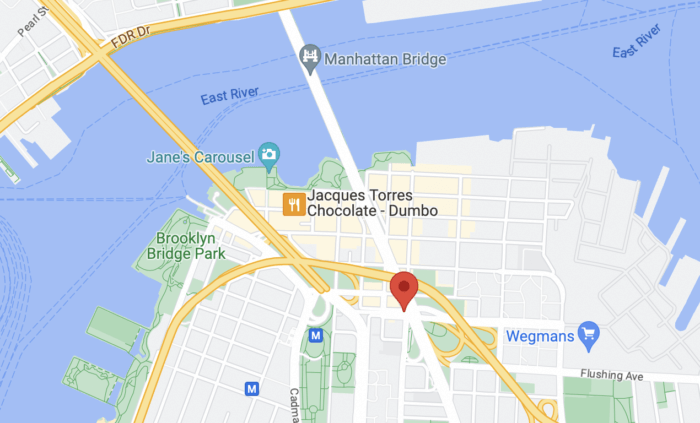 ---
Take a taxi or rideshare to DUMBO
If you prefer a faster and more direct route, you can take a taxi or rideshare service from Manhattan to DUMBO. The trip usually takes around 20-30 minutes, depending on traffic, and it's probably the easiest option if you're worried about getting lost.
I would ask your Taxi / Uber / Lyft to drop you in one of the following DUMBO locations:
Time Out Market New York
Brooklyn Bridge Park – Pier 1
Shake Shack Dumbo
These are just very easy places to reach by taxi, right in the heart of DUMBO. Because DUMBO is quite a large neighborhood, you'll want to put something into the app that pulls up an exact address, rather than a vague area.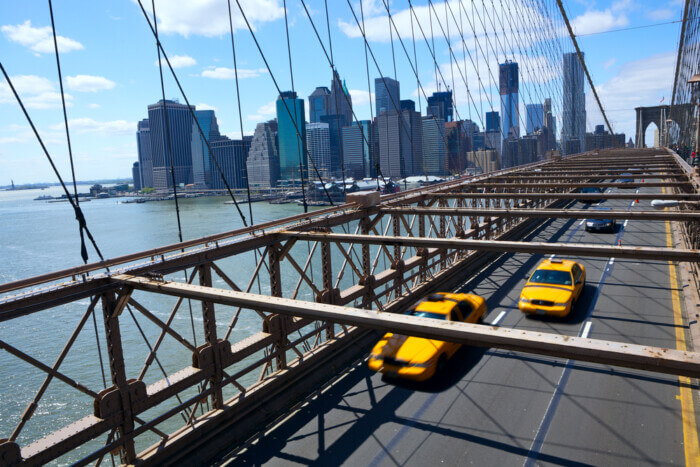 ---
Getting around DUMBO
Once you arrive in DUMBO Brooklyn, how do you get around? That's what we'll talk about next on our guide to DUMBO Brooklyn.
Well, DUMBO is a fairly small neighborhood, and it's easy to get around on foot, as long as you can handle a few cobblestones!
You'll do most of your exploring, once you reach DUMBO, by foot. If you want to rent a bike, you could also explore this area by bike too, as the parks in this area are lovely on bike too.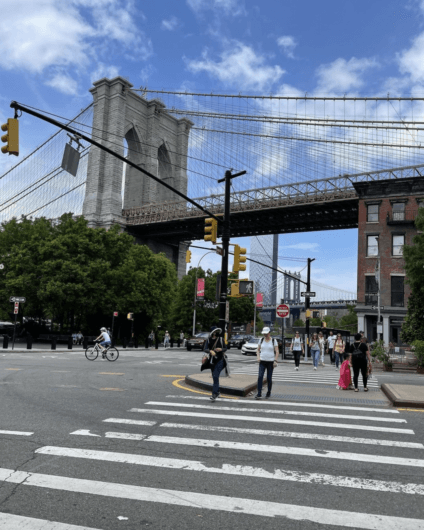 ---
What famous streets are in DUMBO?
Next on our guide to DUMBO Brooklyn, it's the famous streets in DUMBO!
Now you have successfully arrived in DUMBO, you might want to know all the famous locations and famous street in DUMBO.
There are (without a doubt) some amazing photo-opportunities in Brooklyn, and you'll find these located on the famous streets in DUMBO, Brooklyn.
Here are the top 3 famous streets / locations in DUMBO that you'll want to check out:
1. Washington Street (between Front Street and Water Street)
This is where you'll find the famous cobblestones, and the iconic shot of Manhattan bridge poking out between the apartment buildings. See the photo below!
This is one of the most well known areas on our guide to DUMBO Brooklyn, and we absolutely recommend checking it out.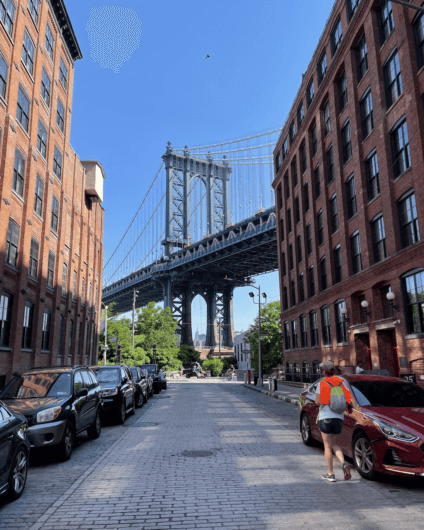 2. The corner of Water Street and Dock Street
This is an amazing street in DUMBO to capture views of The Brooklyn Bridge. It's also right near the waterfront, so a great location you'll likely stumble across anyway.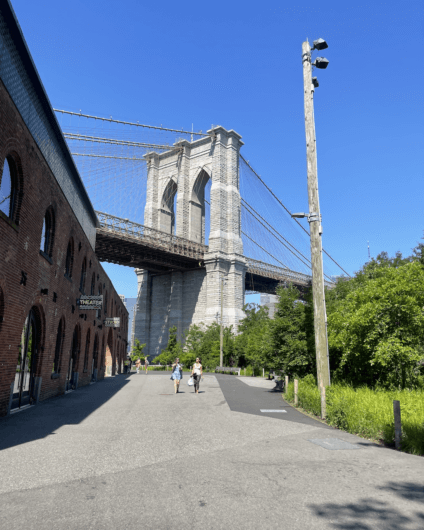 3. Jane's Carousel
This isn't 'technically' a street, but Jane's Carousel is located on the waterfront (closest to Main St and Plymouth St) and it's a classic photo-opportunity in DUMBO, and a super famous viewpoint.
This is another really iconic place in DUMBO Brooklyn, that you'll absolutely want to check out.
---
What are the best things to do in DUMBO, Brooklyn?
We couldn't write a guide to DUMBO Brooklyn, and not include all the best things to do in DUMBO Brooklny.
There are plenty of great things to do in DUMBO Brooklyn, even through it's only a relatively small neighborhood. You'll be surprised how many great activities there are in our guide to DUMBO Brooklyn.
So, you already know about the famous streets in DUMBO (listed above), so we'll leave those off this section. Although we absolutely recommend heading to all the famous streets in DUMBO we listed, because they're well worth it!
Here are some other key things to do in DUMBO, Brooklyn:
Walk around John Street Park
Visit Pebble Beach in Bridge Park
Have a walk around Bridge Park and soak in the views
Take a ride on Jane's Carousel
Have a drink at Time Out Market's rooftop
Walk along Emily Warren Roebling Plaza for amazing city views
Have lunch at The River Café
Admire the Clock Tower Condominium (featured in several TV shows!)
Visit the Brooklyn Bridge Lookout Point on Pier 1
Visit the Harbor View Lawn at Brooklyn Bridge Park
Visit the Squibb Park Bridge
Have a coffee at the Fruit Street Sitting Area
Grab ice-cream at Brooklyn Ice Cream Factory
Visit the Christmas Shop in Dumbo
Read more about visiting NYC: What is the best observation deck in NYC?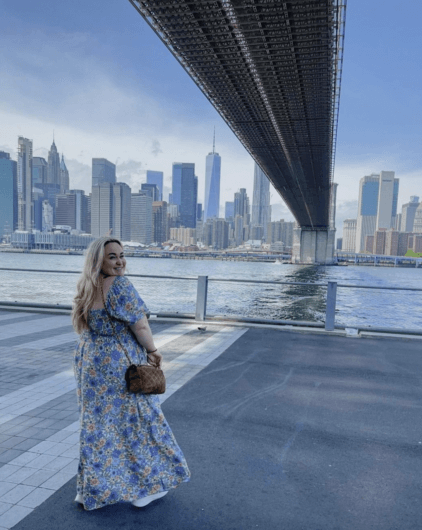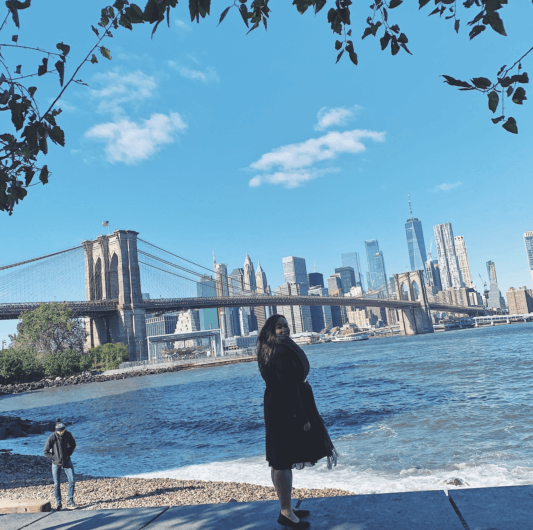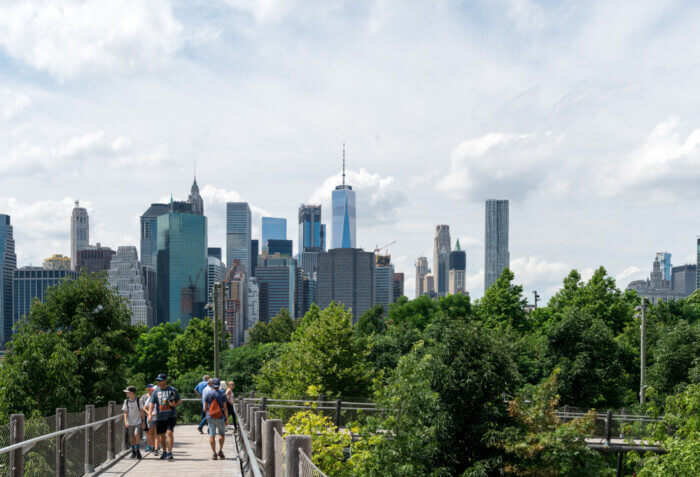 ---
Best Places To Eat in DUMBO
---
One thing is for sure in DUMBO Brooklyn… you'll find no shortage of places to eat! There are so many places to eat in DUMBO, Brooklyn. So that's the next port of call on our guide to DUMBO Brooklyn.
DUMBO Brooklyn offers up restaurants serving a huge range of cuisines from around the world, and I'll include some of them below in our ultimate guide to DUMBO Brooklyn.
Whether you're looking for somewhere special for a romantic meal or a quick bite before you head off sightseeing, you'll definitely find something in DUMBO Brooklyn.
I've listed a couple of my personal favorite locations below (but remember, there are plenty more!).
---
Time Out Market New York in DUMBO
This amazing indoor food market is located in the heart of DUMBO, and I think Time Out Market in NYC feels like the epicenter of DUMBO.
It's an amazing indoor food market, with some of the city's most famous restaurants having stalls and concessions inside. For example, you can try Jacob's Pickles from here (and usually you'd need to visit the Upper West Side for their amazing fried chicken and biscuits!!).
There's something for everyone in Time Out Market, from pasta dishes and pizza, to dumplings and Vietnamese food. And the seating is super casual too – so there's no need to book.
Oh! And don't miss out on their rooftop terrace! Some of the best views in DUMBO can be found up there!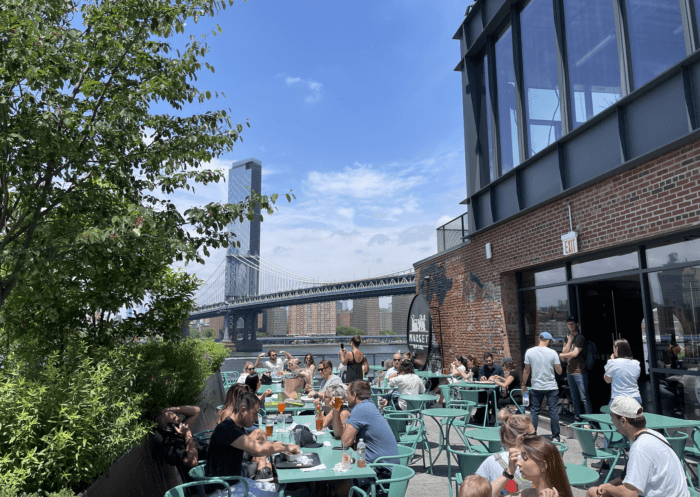 ---
The River Cafe in DUMBO
For fine-dining, The River Cafe is a great choice. Boasting gorgeous views of the New York skyline, this upmarket eatery is especially wonderful at sunset and offers attentive, high-quality service.
If you're searching for something special, maybe for a date or birthday celebration, this is a perfect option.
Although the food isn't cheap, it is of an excellent standard, and the menu encompasses all the most luxurious items such as foie gras and lobster.
Read more NYC food recommendations: Top 15 upscale restaurants in NYC
---
Luke's Lobster
Next on our guide to DUMBO, Brooklyn, we're going to recommend Luke's Lobster.
If you want an easy and fuss-free lunch or dinner in DUMBO, then Luke's Lobster is a really fantastic option.
Grab one of their famous Lobster rolls, find a bench, and enjoy the view! It's perfect!
Read more about NYC food: Where to find the best lobsters in NYC!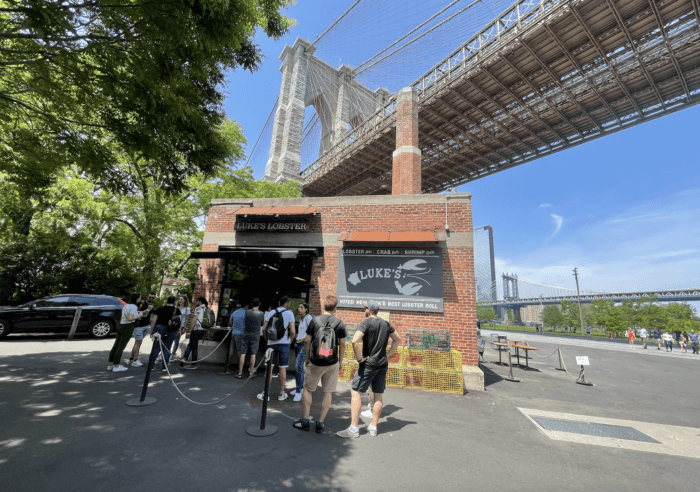 ---
Juliana's
If you're looking for a slice of pizza that's as authentic as it gets, then Juliana's Pizza in DUMBO, Brooklyn, is the place to go.
As soon as you walk in, you're greeted by the irresistible aroma of fresh, hot pizza straight from the oven, and this place just oozes that gorgeous cozy, and friendly atmosphere you expect from a great Italian restaurant.
Their amazing menu is full of the classics – which is exactly how it should be! You'll find all the favorite pizza options like Margherita, pepperoni, and sausage, but there are also some unique twists to try, like the White Clam Pizza and the Artichoke Pie.
The real standout, though, has to be the classic Neapolitan pizza. With its perfectly charred crust and fresh tomato sauce, it's hard to resist coming back for more.
---
Em Vietnamese Bistro
Next on my mini list of where to eat in DUMBO Brooklyn, it's Em Vietnamese Bistro.
This is a little different from other restaurants in DUMBO Brooklyn (which do tend to lean towards Italian cuisine). Here you'll find beautiful Vietnamese cuisine.
I adore Vietnamese food, and Em Vietnamese Bistro has some of the best in Brooklyn.
Give me a plate of their Hu Tieu Kho (also known as dry style pork noodles) or one of their delicious Bánh mì sandwiches – and I am a happy girl.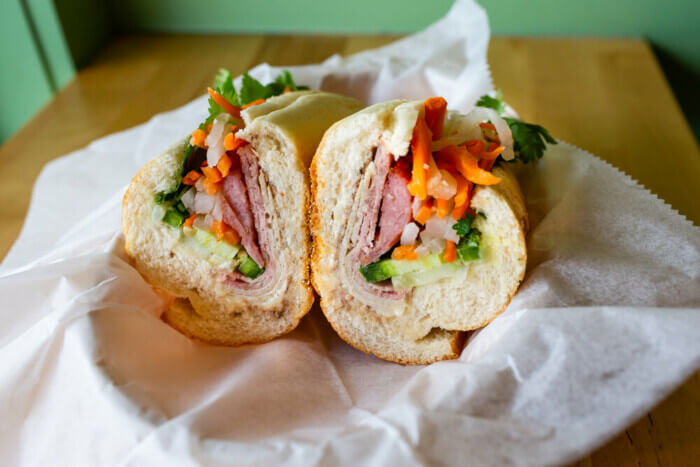 ---
Lucky Rabbit Noodles
This is one of the best reviewed noodle stores in NYC – so we obviously had to include it in our list of DUMBO restaurants!
Lucky Rabbit Noodles is amazing and it's so unassuming too – which we absolutely love. We dream about their garlic noodles!
Whilst it's not super central to the DUMBO waterfront, it's only a 5 minute walk away, and well worth the extra stroll.
---
Fulton Burger – Dumbo
Sometimes you want a burger, and nothing else will hit the spot. If you're in that kind of mood, then you're going to love Fulton burger.
If you're looking for a delicious burger joint with a great atmosphere, Fulton Burger in DUMBO Brooklyn is absolutely worth checking out.
This little place is only a short walk from the waterfront, and it's a great place to grab a quick burger before sightseeing!
As you'd expect… their burgers are the real stars of the show. They're juicy, flavorful and downright delicious. Oh, I love the fries here too!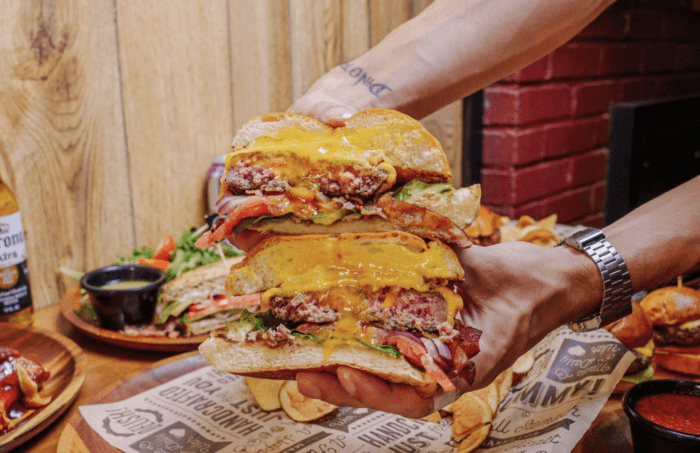 ---
Ignazio's
Another really well known pizza place in DUMBO Brooklyn, is Ignazio's. This place is locked in the heart of DUMBO, and you won't have any issues finding it!
This place is charming and welcoming, but can get a little busy during peak times (especially when the weather is good!).
But what to order? Well, pizza is going to be a hit (obviously) and you also can't go wrong with the rigatoni alla vodka or the gnocchi with pesto. Delicious!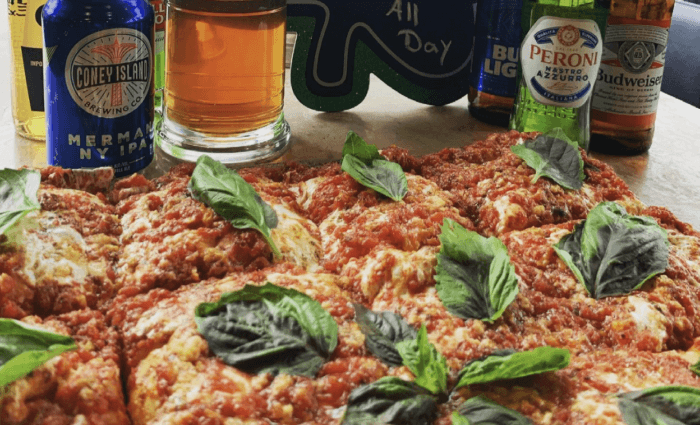 ---
Sweetgreen
OK, I know Sweetgreen is a health chain store, but it's a really good option for places to eat in DUMBO, especially if you're feeling a bit health-conscious, or if you want to grab something quickly and effortlessly.
So I wanted to include it, because for many people, this is a really easy and reassuring choice!
---
You can enjoy some really great coffee and snacks in DUMBO too…
If you're not planning on having a full meal whilst visiting DUMBO Brooklyn, then you might not need recommendations for restaurants in DUMBO.
Instead you might just want a light snack, or a cup of coffee! If so, this next section of recommendations will be perfect for you.
Brooklyn Ice Cream Factory
The Brooklyn Ice Cream Factory is in the heart of DUMBO, Brooklyn, and they serve up some of the best icecream in NYC. We love sitting out front with a couple of scoops, and soaking in the amazing Brooklyn Bridge views. Perfect!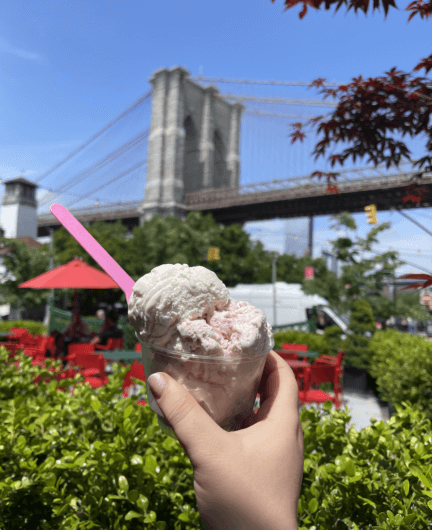 Almondine Bakery
If you something sweet, then you're going to absolutely adore Almondine Bakery.
This little gem is a wonderful French patisserie where all the baking is actually done on the premises and you can get a fantastic cafe au lait. It's an ideal choice for breakfast, for a sweet treat!
Read more NYC food recommendations: What is the best bakery in NYC?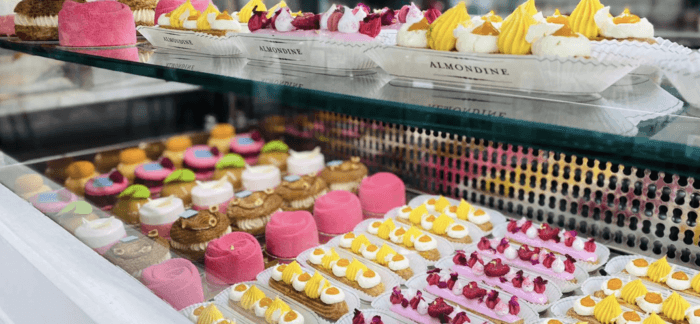 Dawn's Til Dusk
Dawn's Til Dusk is also a great choice if you have a sweet tooth. Cookies are the perfect snack when combined with a strong espresso or a syrup-flavored iced coffee.
If we were visiting, we'd grab a cookie from here, and go and eat it picnic-style on Pebble Beach!
Jacques Torres Chocolate
Jacques Torres Chocolate is next on our list of great places to grab a snack in DUMBO Brooklyn.
This is Jacques' first location, and it's a beautiful spot offering up some delicious sweet treats.
You'll find handmade chocolate treats, hot chocolate, and ice cream sandwiches – which is a pretty amazing list for anyone with a sweet tooth.
Starbucks
We know Starbucks is the most generic coffee shop in the world – but it's always worth know that there's one around, in case you need your fix of caffeine in a hurry!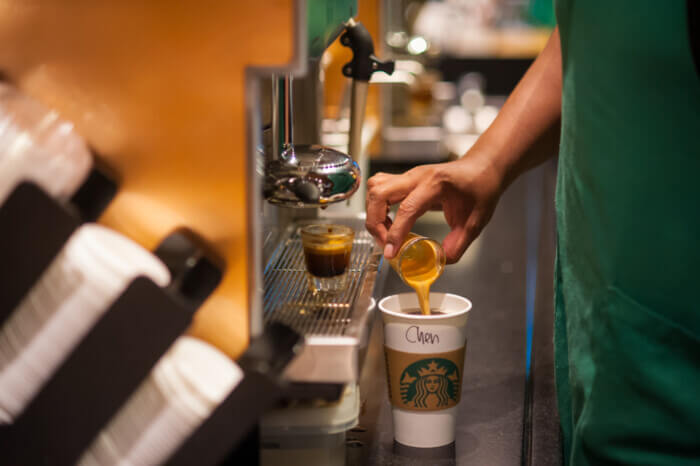 ---
How do I spend my day in Dumbo?
You can definitely spend a full day in DUMBO Brooklyn, as there are plenty of things to do in this little neighborhood!
I've made a little itinerary below, for how I would spend my own day in DUMBO, Brooklyn. I thought it'd be the perfect way to finish this ultimate guide to DUMBO, Brooklyn.
If I was spending a day in DUMBO, this is how I would spend my time:
11.00am: I would set off on my DUMBO adventure by walking across the Manhattan Bridge (route explained above).
11.30am: I would grab a small breakfast at Almondine Bakery, and a coffee.
12:00pm: I would head for a walk around Brooklyn Bridge Park, making sure to see all the skyline views, and Squibb Park Bridge.
1.30pm: I would visit Time Out Market, and order myself something from Jacob's Pickles. After eating lunch, I'd head up to their rooftop terrace and enjoy the amazing city views with a cocktail.
3:30pm: I would explore Bridge Park, Pebble Beach in Bridge Park, and have a spin on the famous carousel.
4.30pm: I would have a little stroll around the stores in DUMBO.
5:30pm: I would stop for ice-cream at one of the many ice-cream stores in DUMBO. Brooklyn Ice Cream Factory is my favorite!
6.30pm: I would find somewhere comfortable to watch the sun go down, with all the amazing city views!
7.30pm: I would reserve a table at one of the DUMBO restaurants on my list above for dinner.
Read more about dining in NYC: Top 20 outdoor rooftop bars in NYC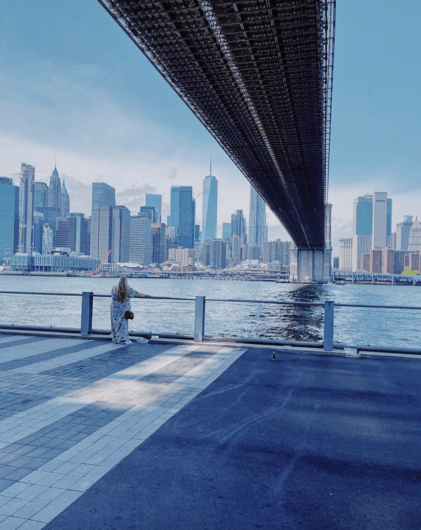 ---
And there you have it! That's my ultimate guide to DUMBO in Brooklyn!
---
I hope my guide to DUMBO Brooklyn has been helpful and given you lots of ideas for what to do whilst in DUMBO Brooklyn!
As you can see, there's so much to see there, and plenty of amazing food places to try too!
Read more about visiting NYC: Where to find the best bottomless brunch in NYC!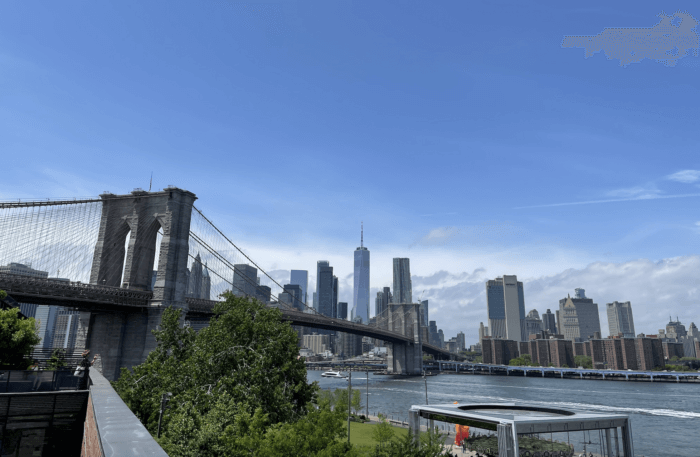 Read more about NYC: What are the best Central Park tours?