---
Are you looking for the best Las Vegas nightlife for couples?
---
If you heading to Las Vegas as a couple, you might be wondering what there is to do for nightlife for couples in Las Vegas. The truth is – Las Vegas is a great city for couples – and there is loads of Las Vegas nightlife for couples! From bars and restaurants, to clubs – you'll definitely find something you love!
I've included a mix of bars and nightclubs in this list – as I know that 'nightlife' isn't always clubbing for some people!
---
Omnia nightclub
---
First up on my list of Las Vegas nightlife for couples… I think Omnia is probably the best of the best! There are so many options in Omnia – which I think suit lots of different kinds of couples (depending on the kind of night you want). Their VIP tables are the places to go – and personally – I'd recommend booking a VIP table either in the Heart of Omnia (which is a smaller, more intimate club, inside the main club) or booking a VIP table on the outdoor terrace – where you'll get an incredible view of the Las vegas Strip. It's a really amazing choice for Las Vegas nightlife for couples!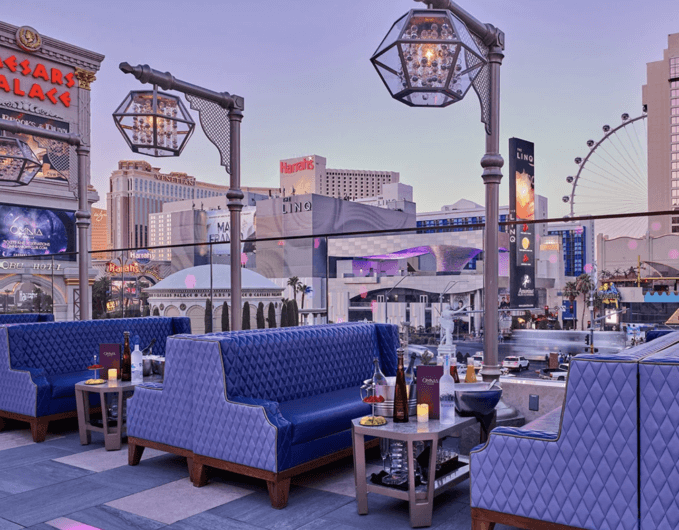 ---
The Chandelier Bar
---
The Chandelier Bar is located inside the Cosmopolitan Hotel, and it's a huge bar that span up 3 levels inside the main casino area. It's not a 'party' venue but it's definitely a nightlife hotspot, and it's busy most days of the week. The vibe is dressed up and glamorous, but it's not as dressed up as clubs.
If you want somewhere nice to drink all night, with the casino close by – this is a great choice.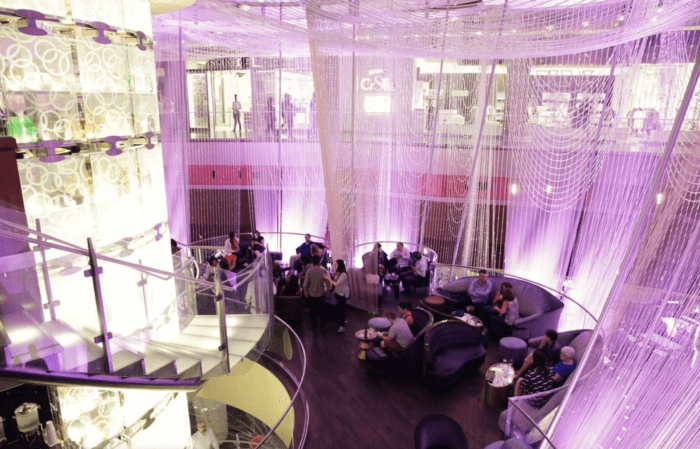 ---
Tao Nightclub
---
Next up on my list of Las Vegas nightlife for couples… A classic Las Vegas choice, this place is a staple choice for all kinds of people in the city it's one of those 'go big or go home' clubs in the city. Why is the nightclub a great choice for couples? If clubbing is your 'thing' – then you can't get much better than this! I think it's the style and sophistication – this place oozes cool.
---
Light Nightclub
---
Located in the Mandalay Bay hotel, Light calls itself a 'nightlife venue' and that's kind of what this place is. Yes there are the more 'clubby' areas, but there are also plenty of VIP tables where you can pay a certain fee for bottle service and a comfy sofa all night.
If you're celebrating a special occasion, or you just want to take it easy for the night (not going hard on the dance floor) then Light has loads of great options.
---
The Skybar
---
This amazing Skybar inside the Waldorf Astoria (formally the Mandarin Oriental) is a cocktail bar overlooking the Las Vegas strip. There are huge floor to ceiling windows, and pretty much every seat in there has a cracking view of outside. It's a great bar to have a few cocktails in, whether you're starting your night there or plan on spending all night there!
It's open until 1am, and it does get busy – so it's definitely worth pre-booking a table in advance! A great choice for Las Vegas nightlife for couples.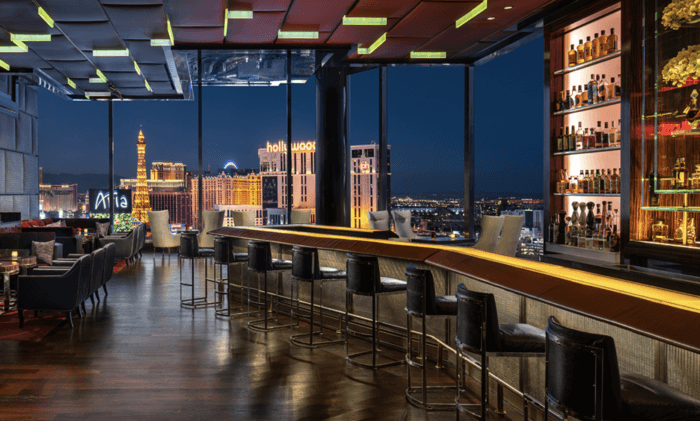 ---
Voodoo Lounge Nightclub
---
If you want to head to a nightclub that's equally romantic as it is fun – then VooDoo is a great choice. You'll get to see Las Vegas from above, as this nightclub is an indoor/outdoor venue located on the rooftop. VooDoo Rooftop Nightclub opens from around 8pm, so you could plan to get there before it gets busy (a lot of couples do this – as it saves queuing later on) and enjoy some drinks on the rooftop soaking in the views before heading to the dance floor later in the night.
---
The Foundation Room
---
Next up in my list of Las Vegas nightlife for couples… Located inside the Mandalay Bay, the Foundation Room is an amazing nightlife destination. It is intimate, cosy and has some of the BEST views Las Vegas has to offer. Honestly – I can't recommend this place enough!
It's located on the 63rd Floor of the Mandalay Bay, and the views and terrace literally look right down the Las Vegas strip (it's postcard perfect). I recommend head there for the Sunday – Friday happy hour from 5pm – 8pm (you'll get amazing views and cheap drinks).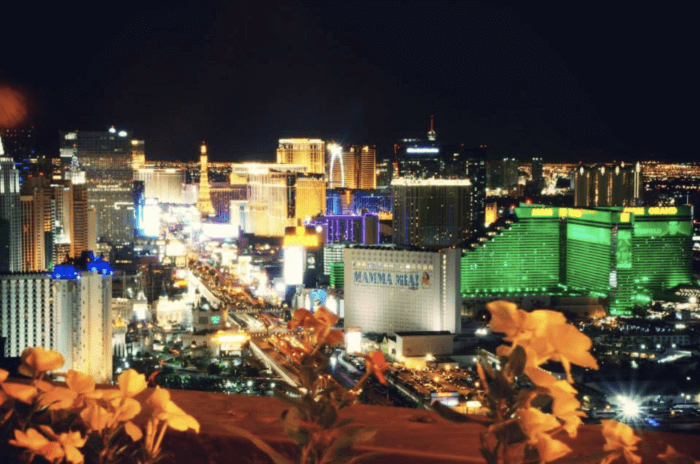 ---
Top Golf
---
A slightly different option on the Las Vegas nightlife for couples list…. OK, this might not be the most conventional nightlife idea, but bear with me! Top Golf is MEGA fun! The drinks keep flowing, it's table service, it's open until 2am, they play great music, and it's so fun! Top Golf isn't just a driving range, there's so much more to it than that (even me, as a non-golf enthusiast) loved every second of it. There are multiple bars, lounges, even a swimming pool.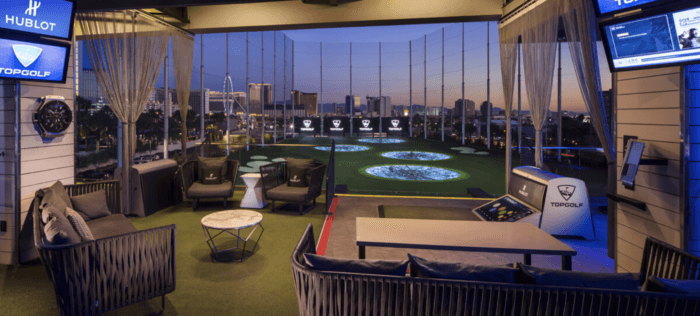 ---
Watch some comedy
---
Finally on my list of Las Vegas nightlife for couples. There are loads of comedy clubs in Las Vegas, and they're definitely a great choice for couples looking for lively nightlife in Las Vegas! The comedy clubs usually have a headliner, and then a few other smaller comedians – so you'll get plenty of variety.
---
Other nightlife ideas (that aren't bars or clubs)
Catch a Cirque du Soleil show – my favourite is 'O' – it's literally magical and so beautiful! The who stage is water, and there are divers, scuba-divers, boats, everything. It's incredible!
Gamble! A tour around the casinos in Las Vegas is a pretty epic way to spend the evening. If you're gambling, you also get free drinks – so that's a reason on it's own!
Eat at a buffet! There are so many buffet options in Las Vegas, and if you pay a little extra, some have unlimited drinks packages too. It's a pretty great way to start off your night!
Catch a magic show – it's Las Vegas, there are loads!
STK at the Wynn is a steak house with a terrace and views over the 'entertainment waterfall' in the Wynn hotel. It's a really great spot to sit and enjoy the evening – the food is great and the little shows in the waterfall happen every 20 minutes or so!
---
I hope this list of Las Vegas nightlife for couples is useful! Las Vegas is an amazing city for couples – you'll have a great time!
---