---
If you're visiting Queenstown in New Zealand, and you're looking for something relaxing to do – the Onsen Hot Pools are perhaps one of the best options.
---
The Onsen Hot Pools are an absolutely stunning spa facility, located high in the mountains, overlooking a valley, rolling hills and beautiful scenery.
As part of the experience, you get to sit in your own private room, with an authentic (and spacious!) hot pool to soak in, whilst enjoying all those incredible views.
It really is magical, and something I had never experienced before. There are lots of things to do in Queenstown, but this has to be one of the best.
We made our booking for the evening (so we could be there for sunset) which sound like a super romantic option – and I wanted to make sure it was special as it was Pad's birthday (my husband).
The Onsen Hot Pools is probably the most relaxing thing I've ever done – not to mention one of the most romantic too.
I'd definitely recommend it to basically anyone – if you're a group of friends travelling then it's a great place to hang out and relax for an hour or so, but if you're a couple it's a lovely romantic way to spend a couple of hours together.
Queenstown is known for being a bit of an adventure and adrenaline destination – and this is the perfect way to switch off from that and relax during your time there.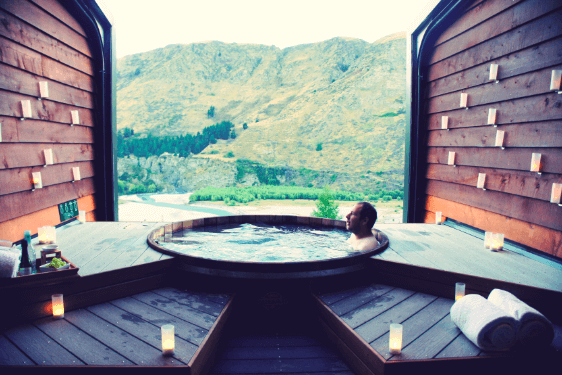 ---
Where are the Onsen Hot Pools located?
---
The Onsen Hot Pools are located in Arthurs Point, about a 15/20 minute drive north of Queenstown (it's pretty easy to get to) which is remote enough to feel secluded – but close enough to town for it to be an easy drive.
It'd probably be about $25 in a taxi I reckon – so not too bad if you have someone to split the cost with.
They also do a free shuttle from the town centre (when booked ahead) so if budget is an issue (or you don't want to rent a car) then that's worth knowing too!
You can see the Onsen Hot Pools where the red drop-point is on the map below. Queenstown is located just south, by the lake at the bottom of the map.
The drive over is a really easy one – so a normal rental car would be absolutely fine!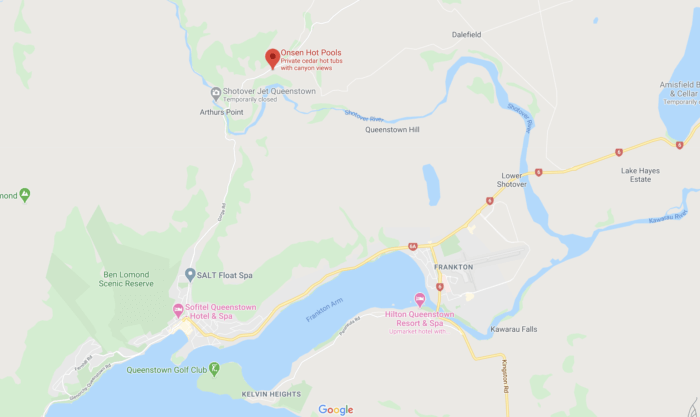 ---
What is the Onsen Hot Pools experience like?
---
Basically, the hot pools are fresh-water private hot-tubs (although you can turn the jets off if you want) which are located in their own little private room, which has a re-tractable roof.
Meaning you can have the hot pool enclosed or open to the fresh air. I love that you can choose – it makes the experience even more personalised and perfect.
They're open from 9am to 11pm every day, so plenty of opportunity for relaxation!
The Onsen Hot Pools are pretty perfect really – you have this incredible view, and massive hot-tub all to yourself, and even candles and aromatherapy if you specify when booking.
You're not overlooked either – the Onsen Hot Pools are completely private and that makes it all the more special. The only thing overlooking you is a big mountain range and the Shotover river.
Our booking was at 9pm, so when we arrived it was just starting to go dark (as you can see below). By the time we left the Onsen Hot Pools it was completely dark – so it was nice to see the pool in both settings.
There are changing rooms just outside in the corridor and you can borrow lovely fluffy towels from reception too – there's even a shower in your hot tub room – incase you want to cool off and then jump back in (which we did a few times).
We had the roof retracted the entire time, because that's what makes it so unique I think, and it was lovely being in the hot water, but having a cool breeze from the mountains at the same time.
The pools are huge too – there was only 2 of us in there – but I think you could easily fit 4/5. They're so much deeper than the average hot-tubs too, and length wise I could stretch out and just about touch the edges (and I'm 5ft2 ish).
I was very happy – as you can see below!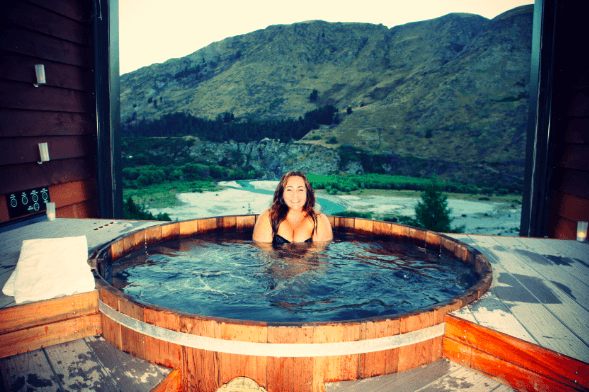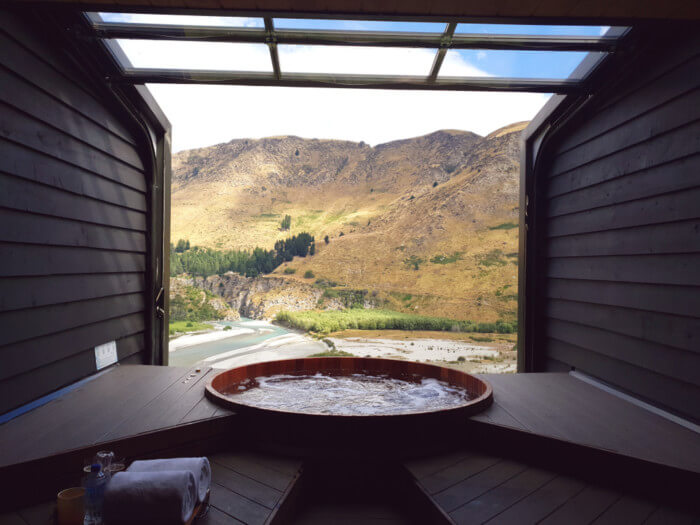 ---
What time should you visit the Onsen Hot Pools?
---
As you can see, as the lights go down, it becomes another world. So much more romantic and special and something really magical.
I guess the time of day you visit depends on what you're after, whether you're going for the experience alone, or whether you want to enjoy the views, etc.
I don't know which I preferred if I'm being honest – I loved having the mountain view during the lighter hours, and I loved having the candles and stars during the darker hours. It's hard to choose, they were both incredible.
If you'd like to experience both, I'd probably recommend having a similar time-spot to us, it was lovely watching the sun go down, and having about 30 minutes of pure darkness outside too.
As you can see – the room looks absolutely magical in the darkness and the candles are so romantic too!
For any guys out there wanting to impress a special lady – this is without a doubt one of the most romantic things you could in the whole of New Zealand.
It's not too expensive either – we were pleasantly surprised at the price – considering how luxurious the entire experience feels.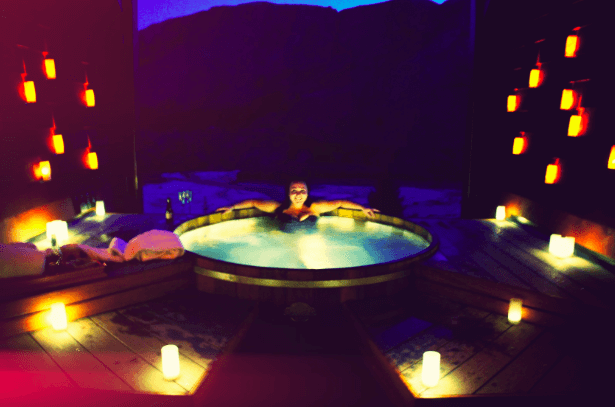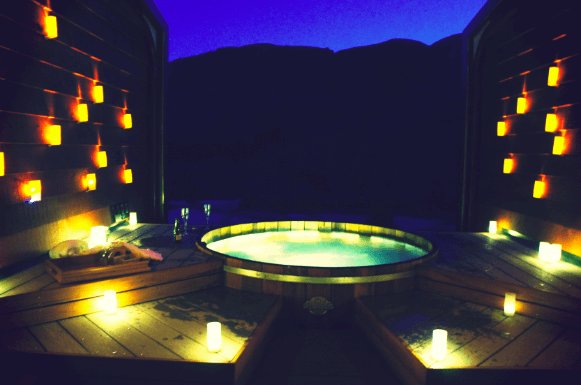 ---
What do the Onsen Hot Pools cost?
---
The price varies depending on the package you opt for, whether you have spa treatments, and also what time you visit (the sunset and evening packages are slightly more expensive).
The image below is one of the cheapest packages called "original onsen" and it was taken from their website in December 2019.
The basic onsen package includes an hour in the hot pool, an aromatherapy burner, towels, a complimentary glass of the regions finest wine, beer or juice and a choice of ice cream, crisps or chocolate. You can see all their packages here.
The package go up in price from here, as the time increases or they include different add ons such as spa treatments and massages.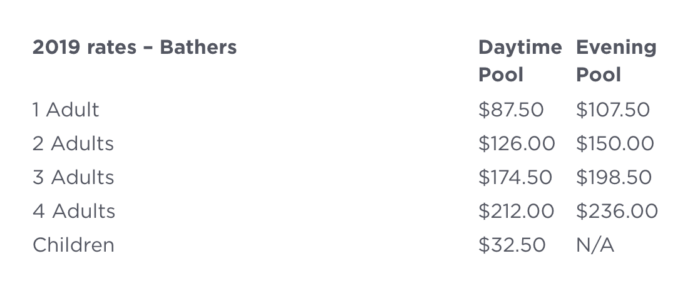 ---
How can I book The Onsen Hot Pools?
---
First off, I recommend booking in advance. If you know the dates you plan on being in Queenstown, book the Onsen hot pools a couple of months ahead of time.
This place is hugely popular with visitors in Queenstown (I mean, why wouldn't it be? it's incredible!) so making sure you've got a slot is key! We tried booking 2 weeks ahead once during January, and there was absolutely nothing available!
Trust me you wouldn't want to miss out on the Onsen Hot Pools – so make sure you book as early as possible.
You can book on their website (click here).
Phone: +64 3 442 5707
Email: INFO@ONSEN.CO.NZ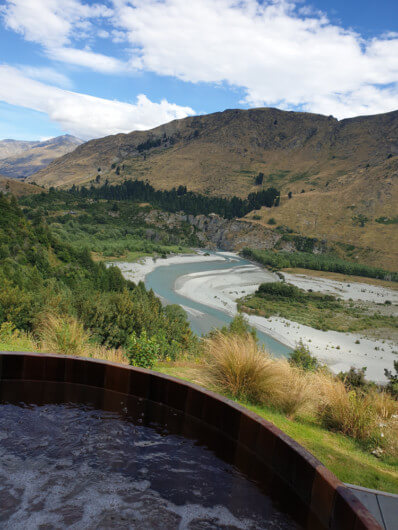 ---
I hope this review and post about the Onsen Hot Pools is useful! It's such an incredible day out, I hope you get to experience it.