My first stop on the West Coast during my recent USA roadtrip was the beautiful Redbury Hotel Hollywood in Los Angeles.
I'd actually flown into Las Vegas (as the Virgin Atlantic Premium Economy was too good to pass up) so once I'd landed from that 10 hour flight, I then had to endure another 7 hours drive to Los Angeles.
I know I could've flown and got a connecting flight, but flying solo unsettles me and one ten hour flight was enough for one day!
After a solid 28 hours of no sleep, I arrived (like the stereotypical weary traveller) at the hotel reception desk.
I was greeted by a lovely guy, dressed head to toe in the most trendy hipster tweed outfit that has ever existed and actually MATCHED the hotel (I would later learn that all the reception staff wear this style, and it's awesome).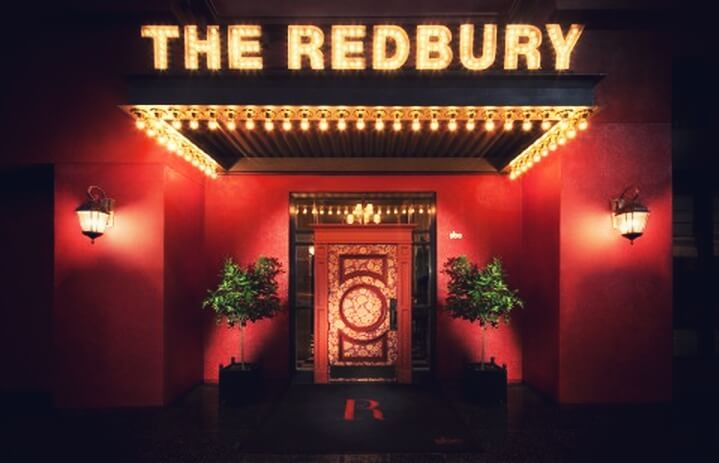 The Redbury Hotel Hollywood is all about style and those little details, and totally plays up on the old hollywood vibe.
It feels like you're stepping into a film set as soon as you enter the building.  In fact – I even managed to do my first bit of sightseeing before I'd even checked in, as the walk of fame runs right past the front door.
James Dean's star was a few feet from the entrance – which was a nice surprise!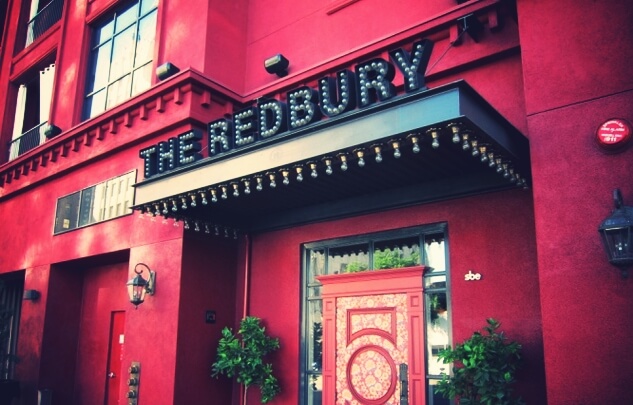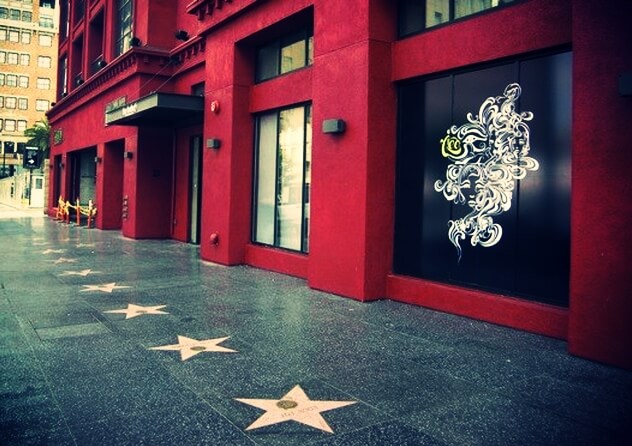 So, it's 1am and after 10 hours on a plane and 6 on a mini-bus I'm making the final stretch to the hotel room. I was hoping for something good. Or at least a comfy bed.
What I got was both of those things, and then some.
It was epic.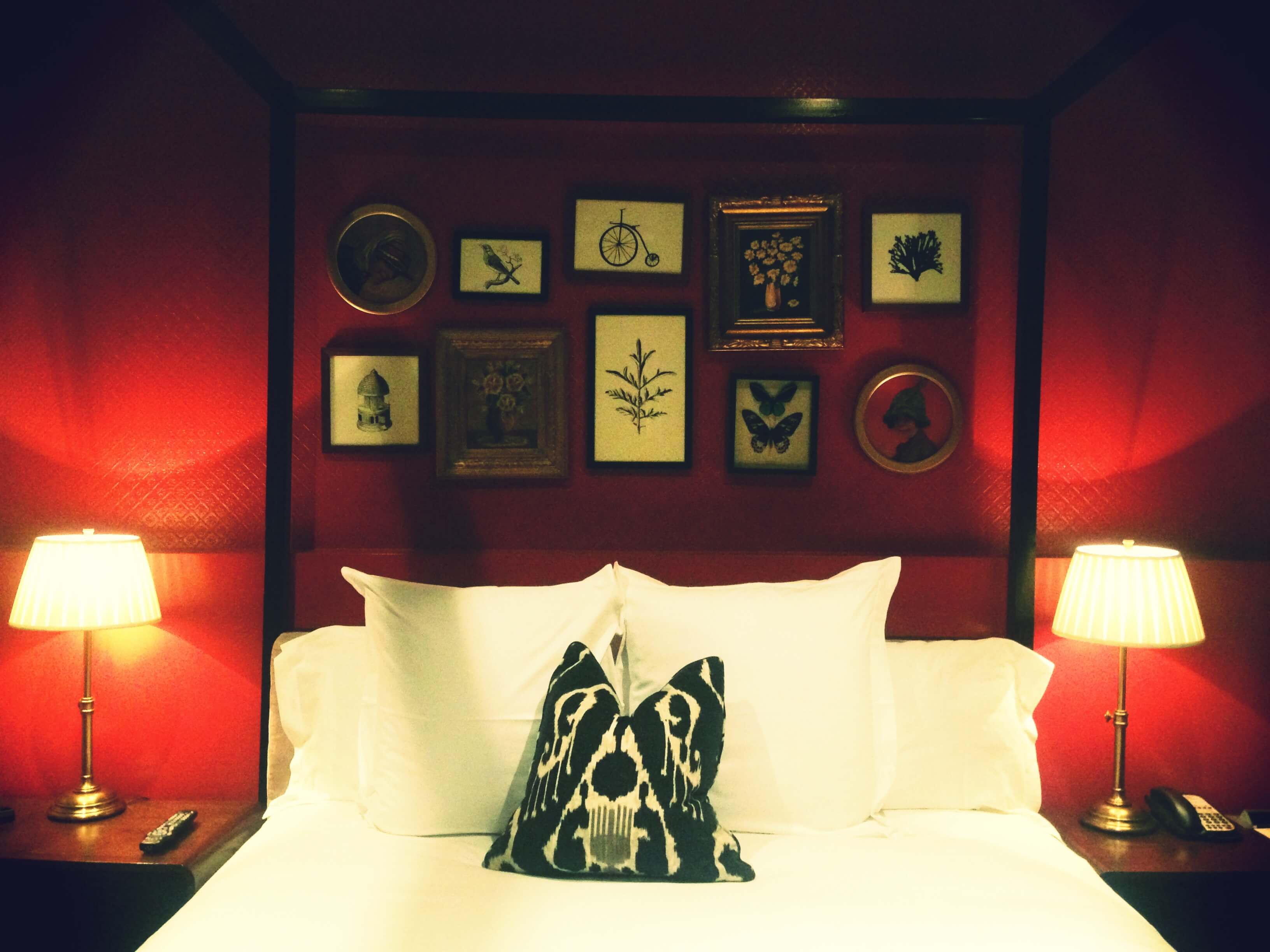 Oh hello 4-poster bed. You will conquer my jetlag.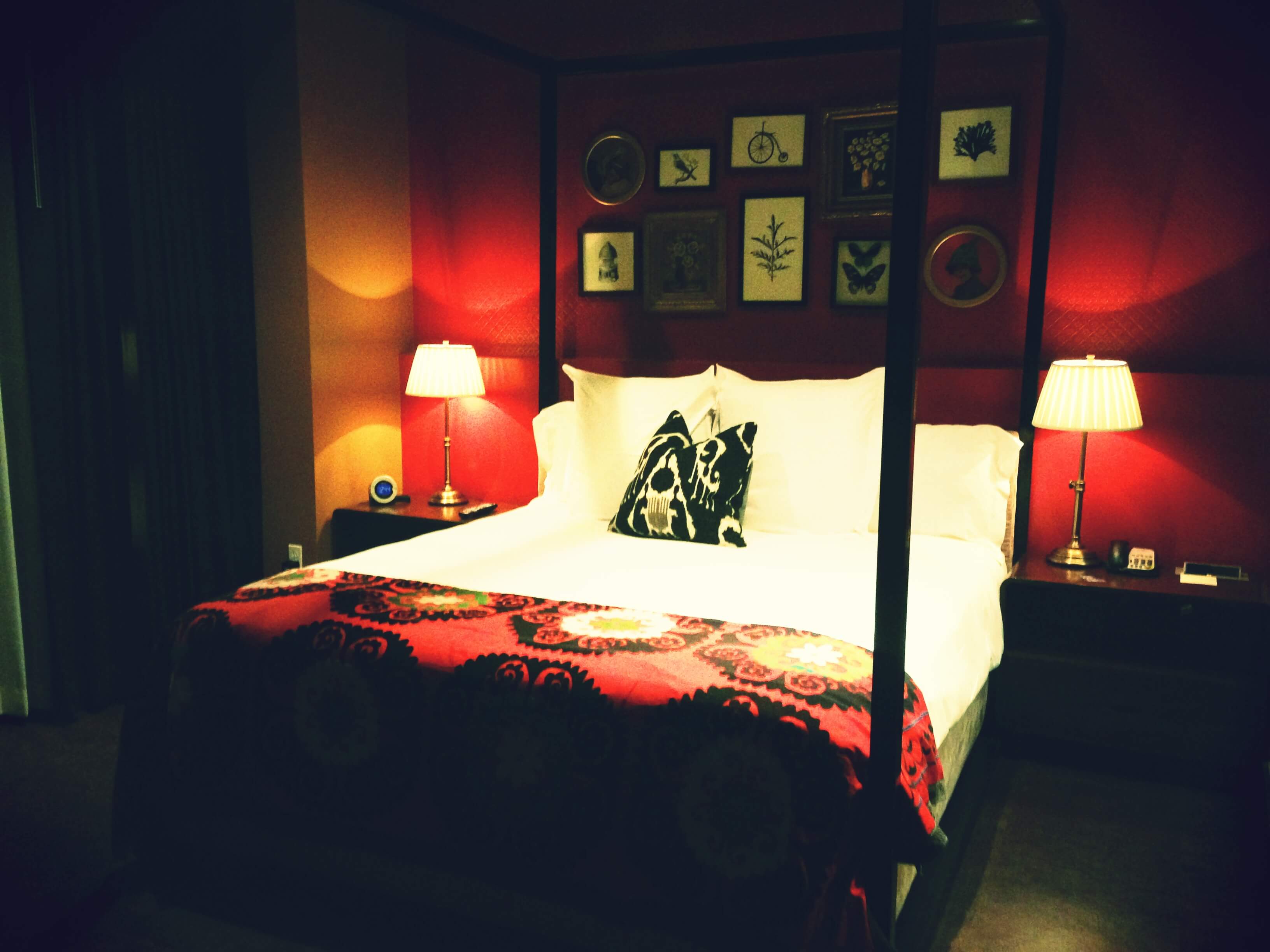 Everything in the hotel room was all about ease and comfort. The bed was so wide I could lay across it, stretch out my arms, and still not be touching either end. The bathroom had a feel of a walk-in closet, with a HUGE (probably the biggest I've ever seen) walk-in shower. It was so big you could hang your clothes at the other end of the shower (good for getting creases out Pad tells me) and the clothes wouldn't even get splashed.
The room was all open plan, with a big living area (TV, record player, you name it….) and a dining table at one end. The decor is like walking into a 'Good Homes' Magazine shoot.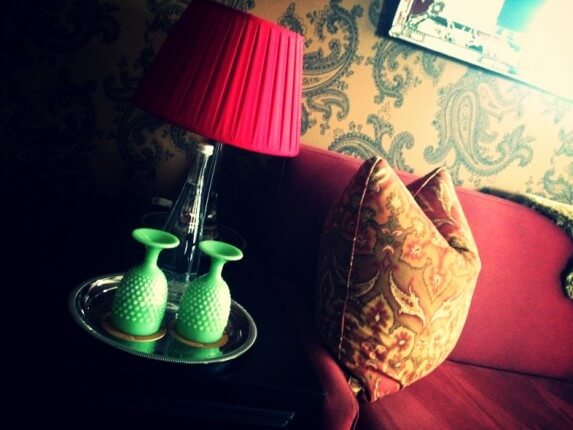 I kind of fell in love with the dimply wine glasses above. I was all the inner strength I had not to pinch them when I left.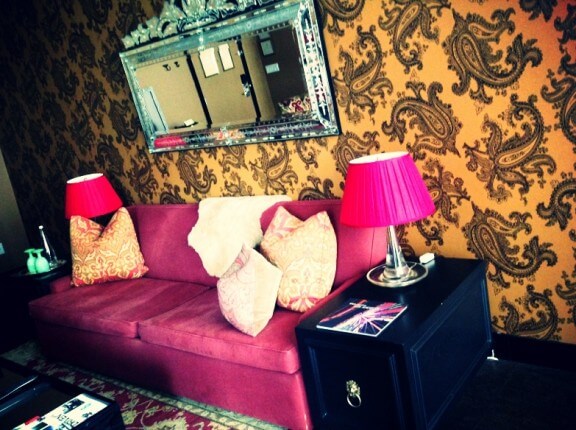 In between the bedroom area and the living room is the open plan kitchen and breakfast bar. The breakfast bar is so big it could happily seat 4 people – so the room would be perfect for groups of friends looking for a place to entertain before heading out to enjoy LA nightlife. The room even had a spacious balcony to relax on too.
Read more about Los Angeles: 15 upscale restaurants in Los Angeles
Good for long term guests too – as there was an oven, hob, fridge, kettle, etc – so if you were there for a week or longer and didn't fancy eating out every night you'd easily be able to cook up something delicious in the kitchen.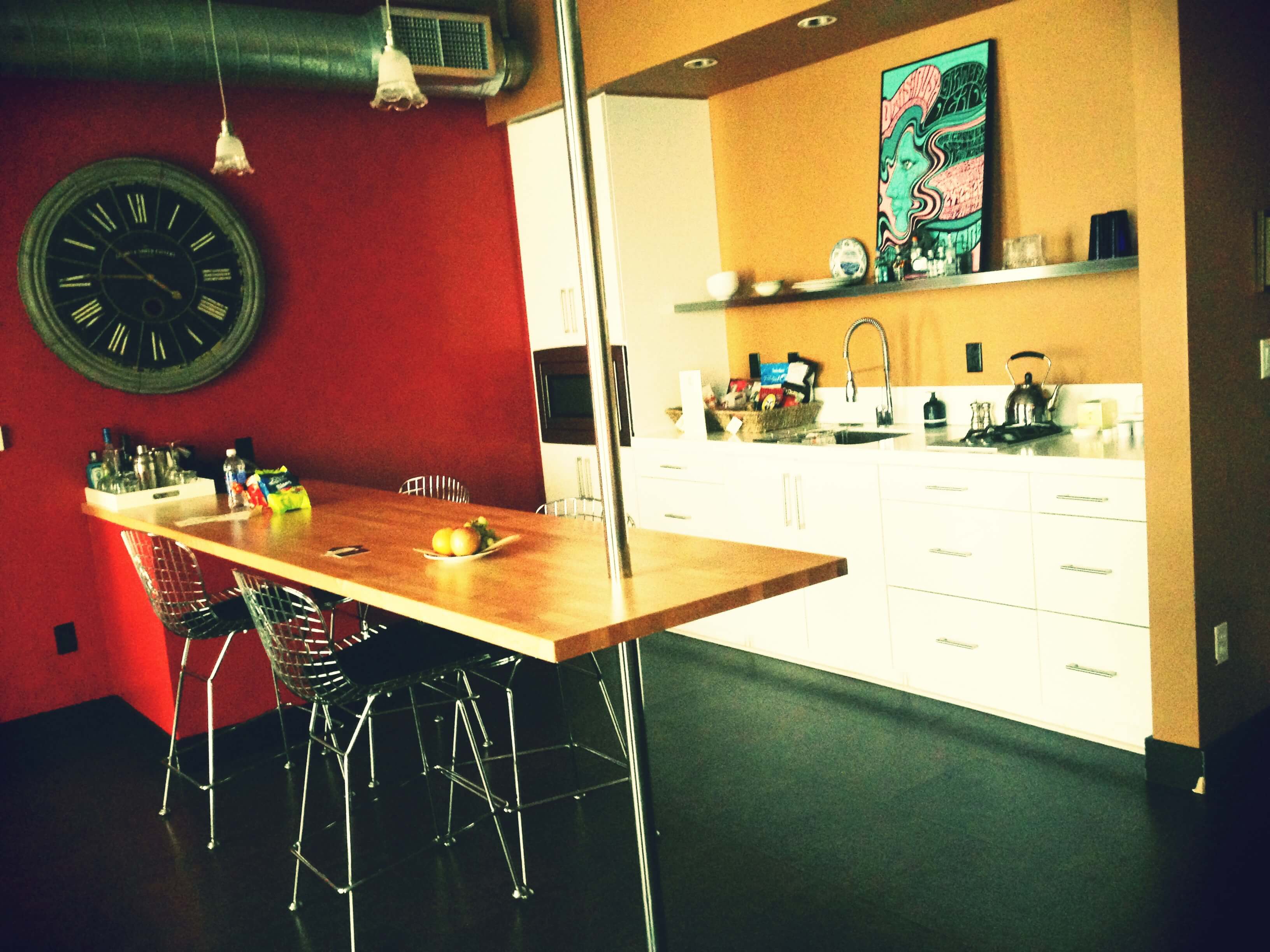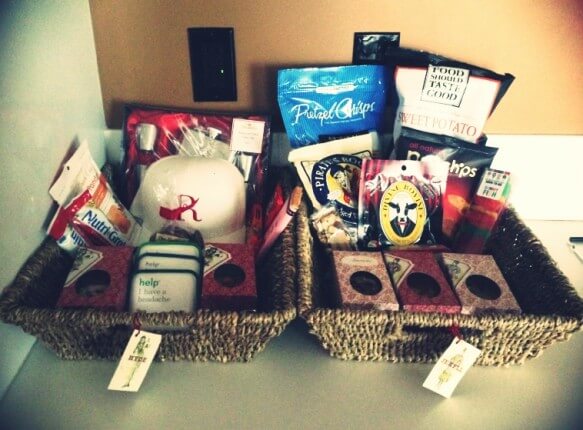 The hotel felt lovely and lively in the evening, and the hotel has a really popular bar and bustling restaurant on the ground floor. You'd have thought this would be bothersome and loud – but not at all. The noises from these area didn't pass into the hotel at all – certainly not the part of the hotel I was in, anyhow.
How did The Redbury Hotel Hollywood rate for location? 
It's right in the heart of Hollywood, Los Angeles and the walk of fame goes right past the front door, so you couldn't ask for a better location. Located on the corner of Hollywood and Vine, it's about a 15/20 minute walk to the Chinese theatre (depending on how quick you like to go!), and a 20 minute down to Paramount Studios. Remember – Los Angeles IS MASSIVE and even if somewhere looks like a 5 minute walk on the map, it's probably 15 minutes in reality.
One big plus point was that there was one of the hop-on hop-off bus stops 2 minutes from the door. This made a big difference for me, as it was my main way of getting around during my time there. So made everything super convenient.
In terms of shops and stuff for food, there was a Starbucks across the road along with a few other coffee shops and newsagents. No big supermarket within walking distance – but if you had a car that wouldn't be an issue.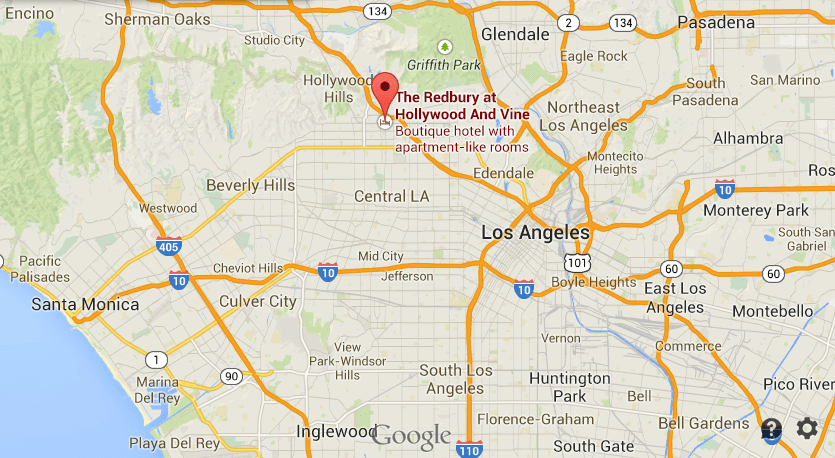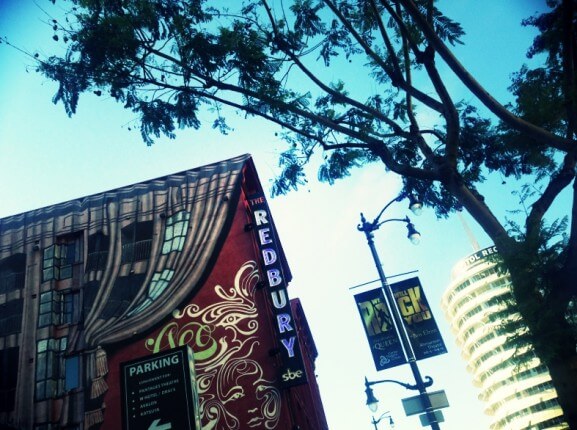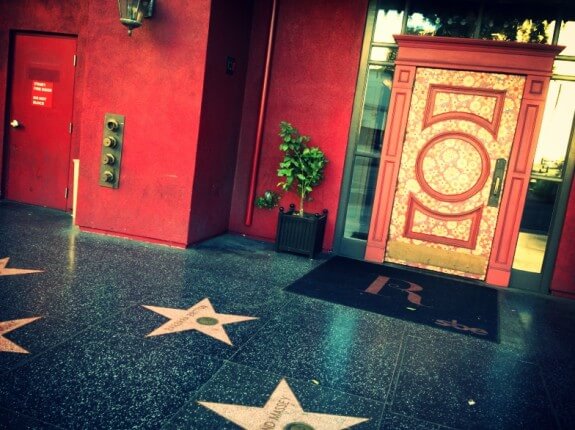 So would I recommend The Redbury Hotel Hollywood?
YES.
It's glamorous, gorgeous and feels like everything you'd expect from a luxury hotel in LA. If I'm ever back in the city, it's where I would stay, no questions asked.
Did you like the photos featured in this blog post? Don't forget to follow me on Instagram @TheWorldAndThenSome where I post lots more gorgeous photos from my travels!