We stayed in some beautiful hotels during our round the world adventure – but the ones that made the biggest impression on us were definitely the ones that had incredible views.
There's something special about waking up to a beautiful view (I don't think anyone would disagree!) and when I go somewhere, I'm always scouring the internet for the hotels with the best views. So, I figured I'd put together a list of the places we stopped and the kind of views you can expect.
Enjoy!
New York City – An Air BnB hidden gem! 
This gorgeous little studio was a 5 minute walk from Times Square, and literally look right out onto The Empire State Building. It might actually have been the biggest bargain of our trip too – especially for how central we were. We knew the view would be great – but I hardly expected it to be as amazing as it was. One night we watched a huge thunderstorm over the city from our window, and it was priceless. I don't think there are 5* hotels with views as good as this in NYC!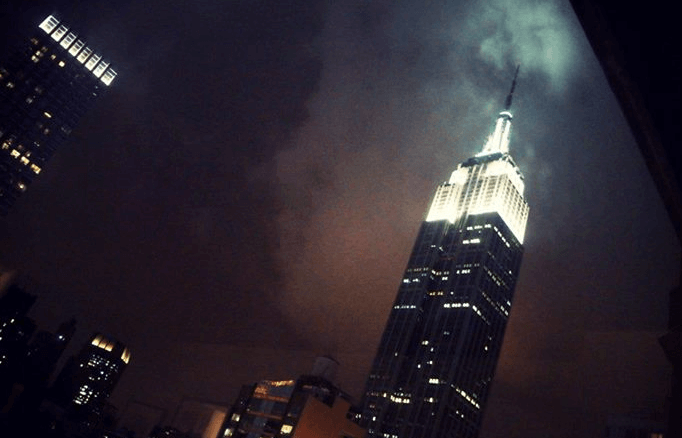 Hong Kong – Langham Place Hotel
Pad and I both agree this was one of our absolute favourite hotels of the entire trip. We really treated ourselves and it was beautiful! The hotel was located just outside the centre of the city – but that didn't really matter as we were right by an MRT station. The view was beautiful and looked out over the whole city – which was especially awesome during some big thunderstorms and during the light-show in the evening (which is what you can see below). The hotel even had a rooftop pool too – so you could enjoy this view from pool-side too.
Bangkok – The Golden Tulip on Mandison
This hotel was another one of our favourites and our bedroom had a huge floor to ceiling window overlooking the entire local neighbourhood. In cities like Bangkok it's just gorgeous to look out on the busy streets and the hustle and bustle outside, people watching is definitely one of our favourite things to do! They also had rooftop pool with a great views too which I think we used wayyyy to much!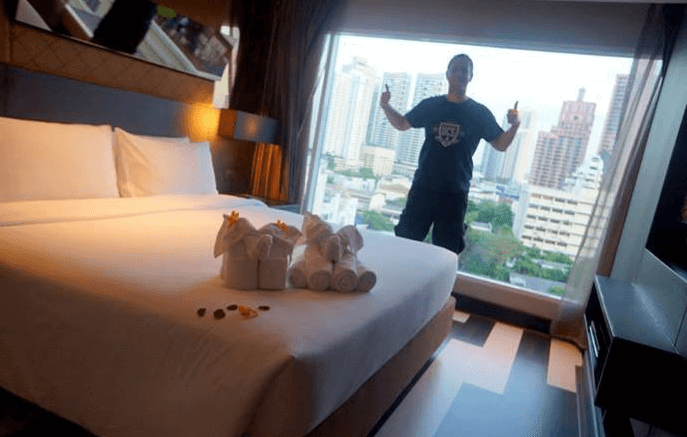 Kuala Lumpur – The Traders Hotel
We stayed in this hotel for two amazing nights and loved every second. The rooftop pool and rooftop bar were fabulous, and the view from the bedroom (which is what you can see below) was just breathtaking. I'm not going to lie – we literally booked this hotel for the view and the view alone, but the service, location and just about everything else about it was beautiful too.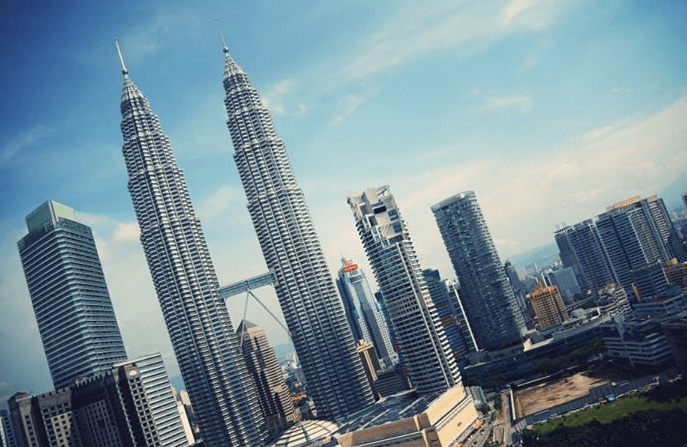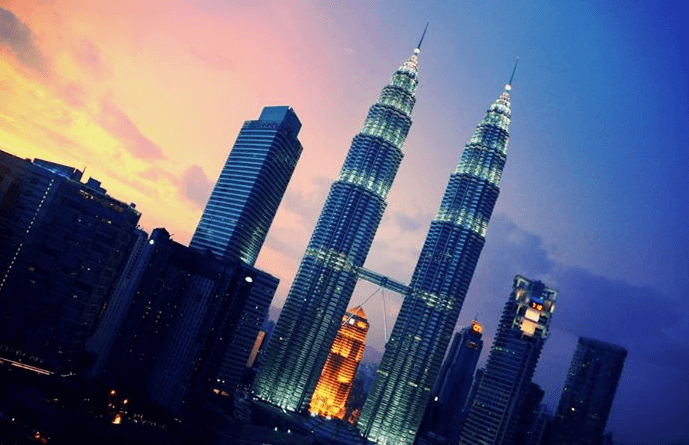 Koh Samui (Thailand) – Le Fenix Resort
We weren't hugely wowed by this hotel, as it lacked a bit on the service side of things. But, saying that, the views were just stunning and really made-up for it's shortfalls in other areas. I think this is the stereotypical view we all want when booking a beach holiday – so it definitely delivered!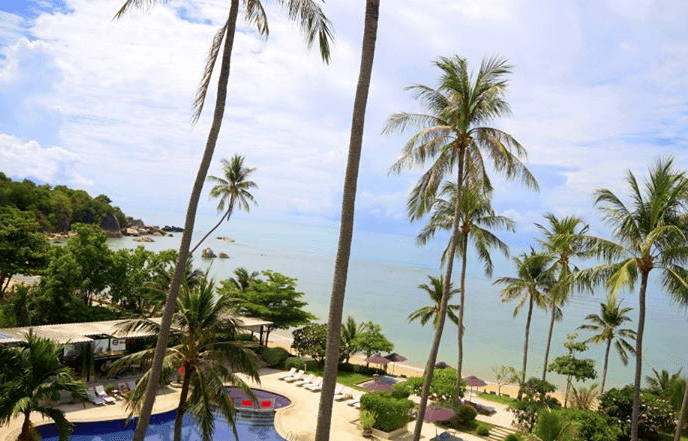 Gold Coast (Australia) – Mantra Circle on Cavill
We decided to go with serviced apartment when we were in Surfers Paradise and opted for the Mantra Circle on Cavill because of the amazing views it promised. It definitely didn't disappoint. We loved working from our little balcony overlooking the lakes and I think we sat out there with ciders and beer and watched the sunset, at least 3 nights we were there. But who can blame us?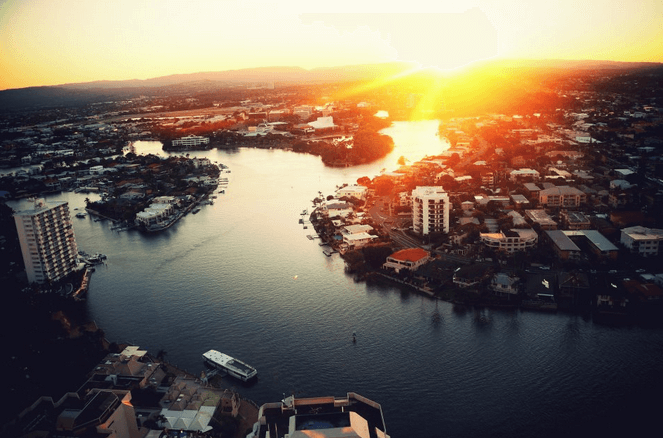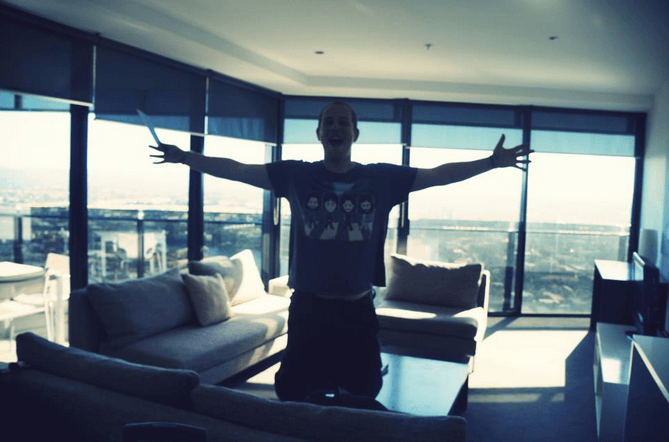 Hamilton Island (Australia) – The Reef View Hotel
I don't need to say much about this gorgeous view. The hotel is famous for attracting lots of birds – so we had at least 10 of these little fellas on our balcony daily. We didn't get the best weather during our time here – but the views made up for that!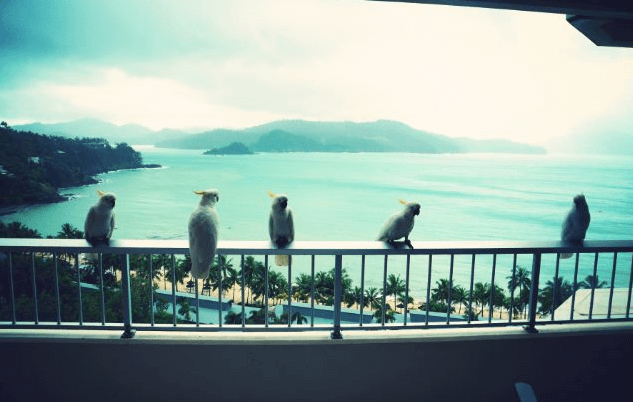 Melbourne (Australia) – The Space Hotel
This hotel was the biggest bargain of the trip as it was a mix between hostel and hotel, and came with some amazing city views of Melbourne. We were lucky to be given a corner room so got to look out of double the normal views, and the place even had a jacuzzi on the roof terrace!