When does Christmas season start in NYC? It's a question you might be asking, especially if you're planning a trip to the city over November / December.
Christmas season in NYC… it's magical, it's amazing, it's perfect. Christmas time in NYC is one of my favourite times to visit, and I've spent Christmas in NYC four times now (I feel very lucky!) and it's just wonderful.
There's so much to do in NYC during the Christmas season… there are shows, shopping, special events, parades… Santa Claus at Macy's! It's a magical wonderland of festive activities and wonderful things to do.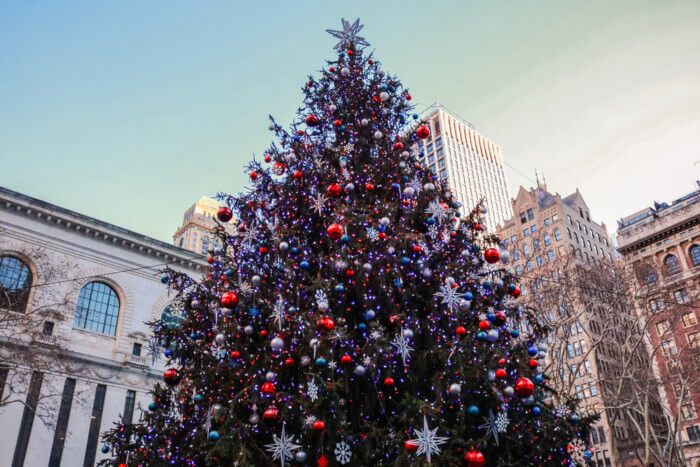 So when does Christmas season start in NYC?
To be honest, there's no concrete answer, but I can give you my best summary of when things start to get 'christmassy'.
As a rule of thumb, the Christmas season in NYC tends to start right after Thanksgiving. For many stores and parks, this is a general rule, and they'll hold off putting their Christmas decorations up until after Thanksgiving (generally after the parade).
Thanksgiving usually falls around the 24 / 25 / 26 of November, so once you get into the final week of November, that's when you can expect to see Christmas popping up around the city.
For the trees, usually lights get switched on in the last week of November, or early December (after Thanksgiving has passed).
To give you an idea, for the iconic Rockefeller Tree – these were the key dates in 2019 (These dates may change year on year, but it's a good guide to base your trip around):
November 9: The Tree arrived at Rockefeller Plaza.
November 13: The Swarovski star was raised onto the Tree.
December 4: The Tree was lit for the first time on Rockefeller Plaza.
December 25: On Christmas day, the lights shine for a full 24 hours.
So, if you're visiting NYC in early November, you'll still get to see the famous tree, but you won't get to see it lit up in all it's glory!
Read more about visiting NYC: The ultimate guide to spending Christmas in NYC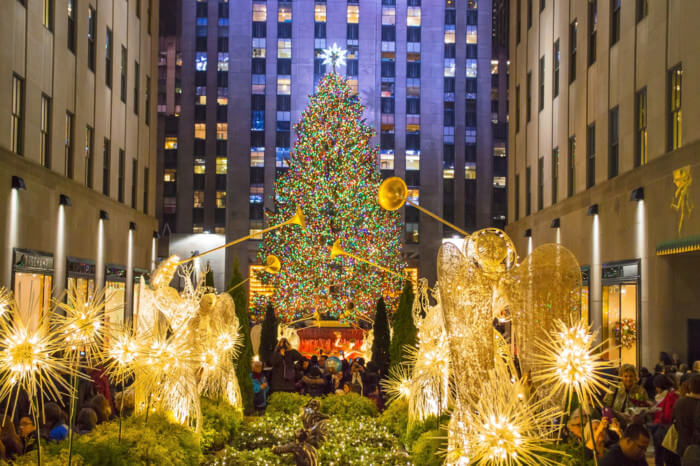 ---
However, there are exceptions! Some festive activities will be open in November…
Some stores will launch into the Christmas season much earlier (some as early as November 1st). And of course, there are festive events and shows that will begin in November too, because of the sheer demand.
A good example of this is the Christmas Spectacular by the Rockettes – they begin performing their Christmas show in the first week of November, and you'll notice it'll sell out almost every night (even that early in the season). This is one of the ultimate festive / Christmassy things you can do in NYC during the Christmas season, so it's a great choice.
Read more about visiting NYC at Christmas: What restaurants are open on Christmas Day in NYC?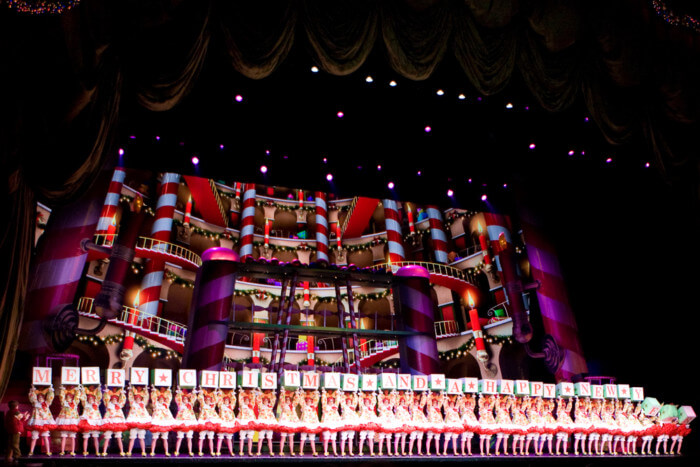 Another example of an early-starter are the various festive ice-rinks around the city. Most of these are up and running in the last two weeks of December, and continue until February. They also feel really festive and Christmassy – so if you're visiting earlier but still want to feel festive, head to an ice rink!
Read more about visiting NYC: The ultimate NYC bucket list (80 ideas in the city!)
Finally, you can also catch some of the city's festive / winter markets in late November too. Some of them wait for December to open, but these ones usually open their doors earlier:
---
So what is the best time to visit NYC for the holiday season?
When does Christmas season start in NYC? As you've probably figured from the above, it's best to look at December 1st as the start of Christmas season in NYC.
Not everything will be up and running on this date, but around 80% of the Christmas festivities will be, and the other things usually fall into place by the end of the first week of December.
In my opinion, the best time to visit NYC for the Christmas season is the second or third week of December. You'll be able to see and experience everything, and you'll also get to squeeze in some Christmas shopping before the big day!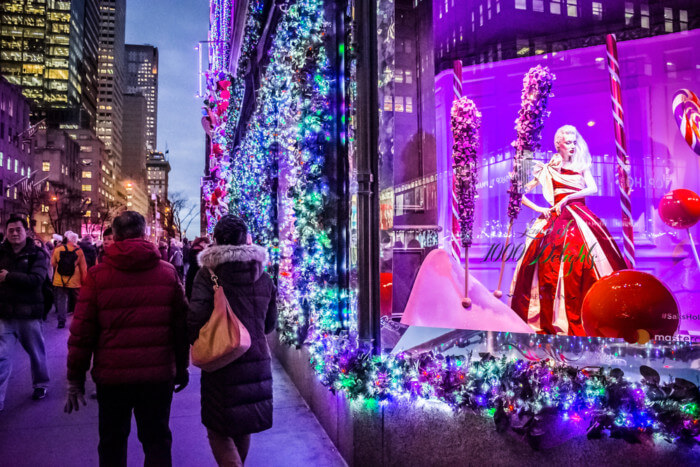 I hope this blog post has answered your questions about when does Christmas season start in NYC.
You'll have an amazing visit to NYC, there are so many fun things to do in NYC, and it's such a great place to visit, whether you're visiting NYC alone, or whether you're heading there with kids and your family!
NYC is one of my favourite places in the world, and the city comes alive (even more than usual!) during the Christmas season! It's pure magic!
Read more about visiting NYC: Is honeymooning in NYC really a good idea?
Read more about NYC hotels: 11 amazing family-friendly hotels in NYC