So, you're considering a honeymoon in New York – but is it really a good idea? Is NYC really a romantic honeymoon destination?
Your honeymoon is one of the most memorable and important vacations you'll ever take, so you'll want to get it right!
If you're considering a honeymoon in New York, is it a good idea? If NYC a good honeymoon destination?

Let's talk about taking your honeymoon in New York!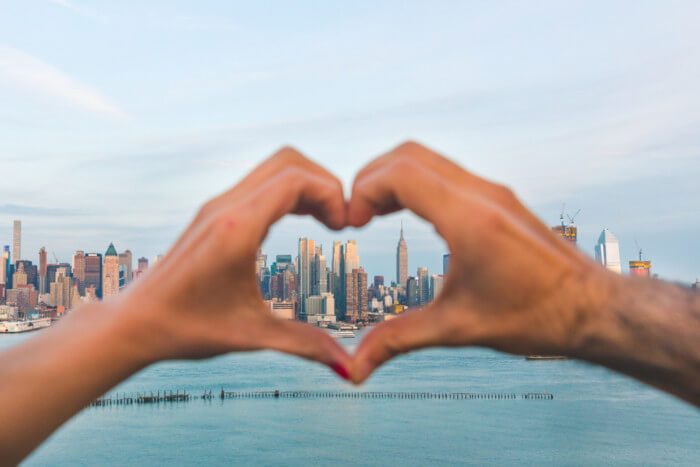 ---
First of all, let me just say…
I love NYC. It's my favourite place in the world. It's where I got engaged, and it's also where I had my honeymoon. So this article might be a little bit biased!
I think a honeymoon in New York is an amazing idea. This city has so many incredible things to do, so many memorable activities, so many wonderful sights, restaurants, bars, etc – there's nowhere else I would've rather chosen for my honeymoon.
---
Is a honeymoon in New York romantic?
OK, so honeymoon are all about romance, that's a given. But how romantic is NYC really?
I know in many people's minds, New York is this overcrowded city that's smelly and dirty – but I couldn't disagree more.
I think New York is the ultimate city for romance. It's safe, it's scenic, it's sparkly – there are parks to wonder through holding hands, and rooftop bars to sip cocktails on whilst watching the sunset. Really what else do you want from a honeymoon?
We spent our honeymoon in New York enjoying loads of amazing restaurants, trying lots of delicious food, enjoying a beautiful hotel suite that overlooked the city, and getting lost in the city and exploring all the things we hadn't seen there before.
I could write a love letter to New York to be honest, there's nothing I don't love about it, and for me it's such an important place in my love story to my husband – so every street corner is romantic.
---
What is there to do on honeymoon in New York?
This just depends on what your partner and you enjoy doing whilst you're away in another city.
NYC is packed full of museums, galleries, exhibitions, cinemas, sightseeing, parks, markets, theatres, shops, observation decks, sports games… Literally it has so much to offer.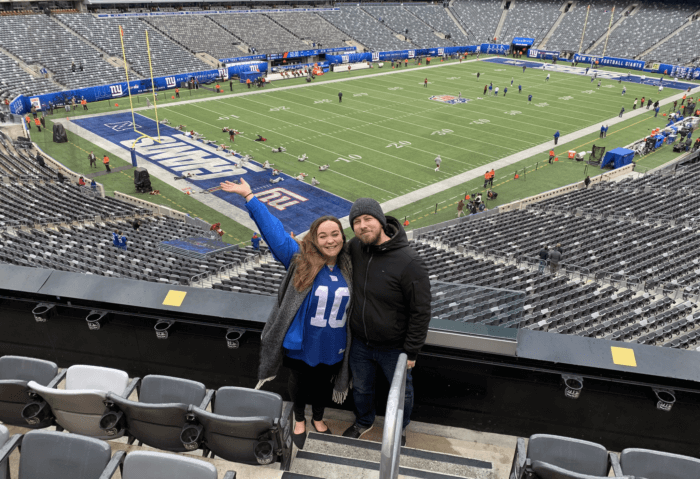 You'll never be short of ideas for things to do in New York, that much I know for certain. I've spent weeks in NYC before, and still had things I didn't get round to doing by the time my trip was over!
I've created several lists of things to do in New York which are all full of ideas for your honeymoon in NYC. They may be helpful for you, when thinking about how to spend your time on honeymoon in New York.
Start taking a look through some of those posts, and you'll soon have a list the size of your arm full of things you want to do during your honeymoon in New York.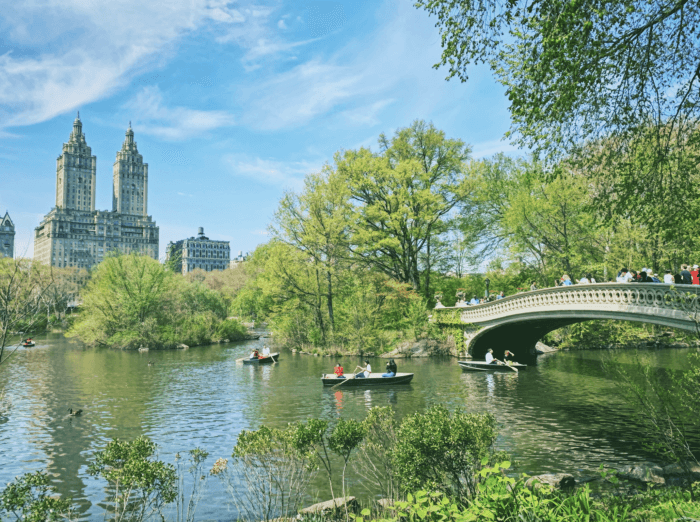 ---
Which neighbourhood is best for a honeymoon in New York?
There are lots of amazing places to stop in NYC, and the best place to stay often depends on the kind of experience you'd like during your honeymoon in NYC.
If you want to be in the heart of the action, then Midtown Manhattan is a great choice.
If you want amazing views over the city, then go for hotels around Central Park will offer those up in spades!
If you're on a budget, look int Brooklyn neighborhoods such as Williamsburg and Greenpoint, where you can get 4* or 5* hotels for a lower budget than on Manhattan.
For a more 'local' NYC experience, find a hotel down in Greenwich Village, Tribeca or Chelsea.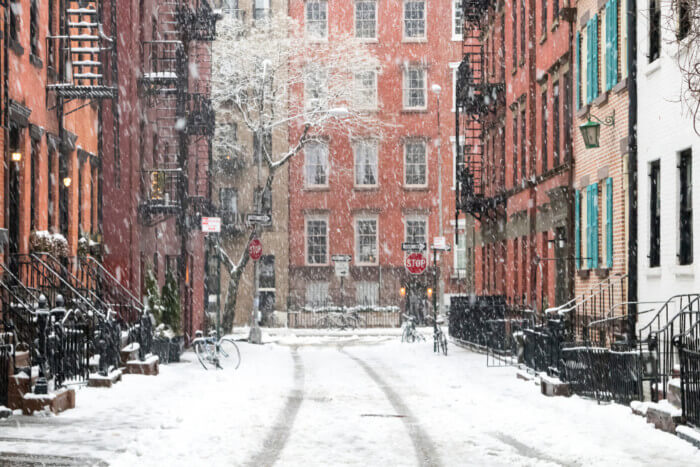 ---
Romantic hotels for a honeymoon in New York
There are so many amazing hotels in NYC, across a huge scope of budgets and amenities.
However, these are some of my favourite hotels in NYC (that I have personally stopped in with my husband), that would be ideal for a romantic honeymoon in the city…
The Park Terrace Hotel, near Bryant Park
The Park Terrace Hotel, near Bryant Park is one of my top hotels in the city. It's a boutique hotel, finished perfectly and with so many gorgeous details, and the comfiest bed in the world.
Being right next to Bryant Park is perfect too… In the summer you can sit on the grass and picnic and in the winter there is an ice rink and a winter market. All less than 5 seconds from the hotel lobby doors.
Renaissance New York Midtown Hotel
The Renaissance New York Midtown Hotel is another hotel I've stopped in recently and loved. This is a proper high-rise hotel, so a room on a high floor guarantees some great views of the city.
The rooms were small, but the decor is lovely and modern so I loved it. Small but well designed!
This hotel is in an ideal location for sightseeing all the midtown attractions too, and perfectly located between a few subway stations (so easy for getting around).
Conrad New York Midtown
The Conrad New York Midtown Hotel is an all-suite hotel located halfway between Times Square and Central Park.
It costs more than the two hotels listed above, but it's also a little more luxurious. It's a beautiful hotel, with stunning multi-room suites that look out onto the city below.
This hotel made a big impression on my when we stopped there, and it's ranked pretty highly in my list of favourite NYC hotels ever since.
Read more about NYC hotels: 15 amazing hotels in NYC with a balcony
---
Tips for taking your honeymoon in New York
OK, so by this point you're pretty convinced that NYC makes a great honeymoon destination, but you want to make sure you plan it properly and make the most of your honeymoon in New York.
Here are a few of my tips for taking a honeymoon in New York:
Tip 1: Splurge on a hotel room
For your honeymoon in New York, make sure you splurge on the hotel room. For me, this is the difference between a nice trip, and an amazing trip.
A beautiful hotel room (or suite) really makes the trip feel special, and it really makes the entire time more memorable.
When booking your room, don't be sky about mentioning that's it's your honeymoon in New York on the booking notes – some hotels will surprise you with an upgrade or some champagne!
Tip 2: Look for a hotel with a city / skyline view
My next tip for taking a honeymoon in New York, is to book a hotel room with a skyline or city view.
This is so you can lie in bed and look at the skyline and skyscrapers around you, and it just adds to the romance, and lets you soak in the city a bit more.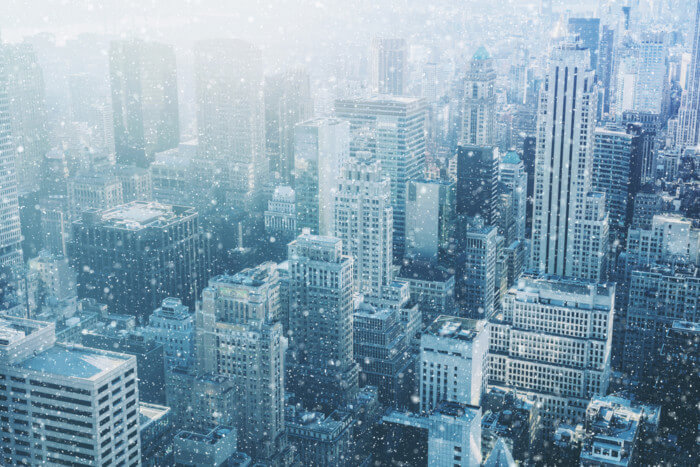 Tip 3: Take plenty of photos
Don't forget to take plenty of photos while you're on honeymoon in New York! There are so many amazing photo spots in New York, and you'll want to have lots of lovely images to look back on and frame when you get home. It can be easy to get carried away with taking photos of the skylines and buildings, but don't forget to take some photos of the pair of you together too.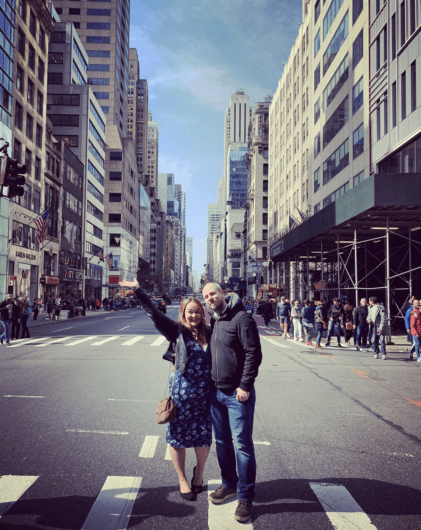 Tip 4: Book skip-the-line tickets
There's nothing romantic about waiting in line to see or do something, so if you can afford it (and it's your honeymoon, so treat yourself!) opt for skip-the-line tickets for the attractions that offer it. It's just a little bit of feeling like a VIP, and it helps to keep the romance alive amidst all the other tourists!
Tip 5: Book a limo to pick you up from the airport
There's nothing quite like arriving into NYC in style, so a cute little surprise you could do for your other half when arriving in NYC is booking a limo pick-up! My husband does it for us sometimes when we fly into a city, and it always puts a huge smile on my face! The perfect start to a honeymoon in New York!
I hope this post about taking your honeymoon in New York has been useful, and given you lots of ideas!
Read more about visiting NYC: 14 amazing dog-friendly hotels in NYC