Are you heading to the American South on your next winter vacation? If so, you may be looking to answer the question "where does it snow in Tennessee?"
If you're wondering "where does it snow in Tennessee?" – we know how you're feeling.
Christmas is approaching, and with the festive season on the horizon, it's normal to want a little powdering of snow, it's a way to start feeling extra festive.
We understand that it can be disappointing to visit a city expecting a Winter Wonderland only to be met with little to no snow.
Therefore, to keep your next trip full of excitement and snowy wonder, we've compiled a handy guide that will help you answer the question "where does it snow in Tennessee?".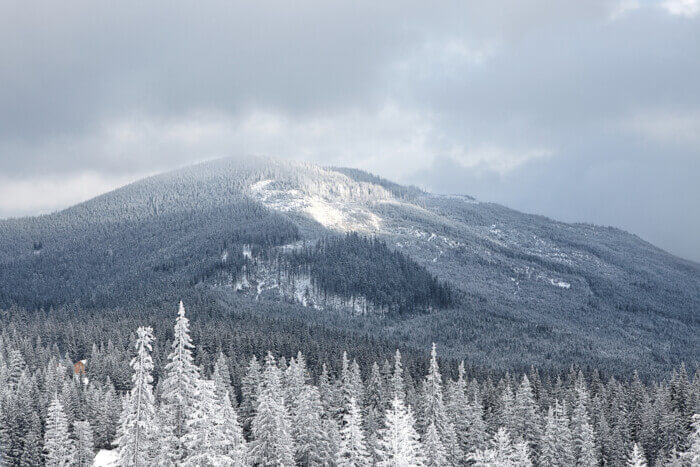 So, where does it snow in Tennessee?
Let's find out!
---
When does it snow in Tennessee?
Before we answer the question "where does it snow in Tennessee?", we thought it was worth going over when it snows in this southern state.
Generally, Tennessee sees snow during January and February. Although it isn't always guaranteed, we'd say you have a very good chance of seeing flurries during this period if you'd like to book a plane ticket ASAP.
However, it can technically snow in Tennessee anytime between December and April. So, be sure to keep a weather eye out (literally!).
In terms of volume, Tennessee sees approximately 9 inches of snowfall each year. This may vary during particularly cold or mild winters, but it's a good ballpark figure to work with.
And most of this snowfall is concentrated in one particular place – which is the first place on our list of 'where does it snow in Tennessee?' below.
In the cities in Tennessee, it snows far less, and the average snowfall is more like 1 or 2 inches.
If we had to recommend the best time to visit Tennessee for snow, we'd say January is your best bet.
As January sees an average of 4 inches of snowfall each winter and temperatures ranging between 35 to 44 degrees, it's certainly cold enough to warrant the white stuff. 
---
Where does it snow in Tennessee?
---
Gatlinburg
When asking 'Where does it snow in Tennessee?' – this is the only true answer. And definitely the most reliable location to get some flurries of snow.
We feel the best place to visit to experience snow in Tennessee is Gatlinburg. Not only is this city home to the iconic Smoky Mountains, but it's packed with restaurants, attractions, and beauty spots that will take your breath away.
If we're being honest, we'd always answer the question "where does it snow in Tennessee?" with Gatlinburg in the first instance.
Although there are a few other cities that see occasional snowfall and do get snow in Tennessee, Gatlinburg is the city that aims to please in this department!
Along with opportunities for skiing and hiking, Gatlinburg also offers guests plenty to do when it comes to festive activities.
There are a bunch of independent shops here that sell artisan Christmas gifts, and everyone in stores are always happy to help. So it's a great place to feel festive too.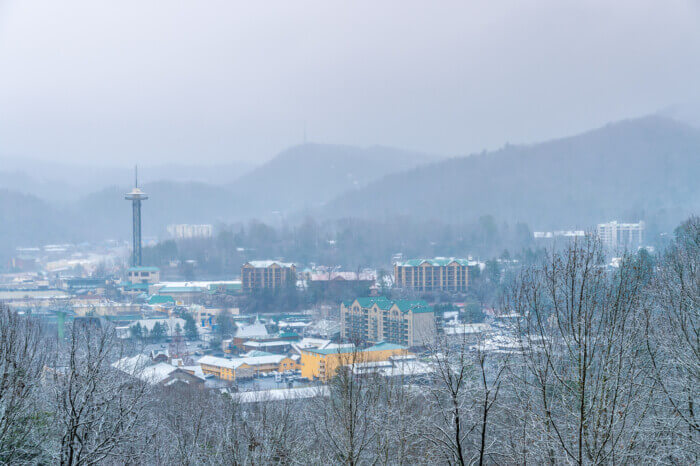 If you're planning to visit Gatlinburg in search of snow in Tennessee, then we would say bringing a warm coat and a solid pair of walking boots is a must.
You may not want to trek through the mountains, but the ground can get icy during the wintertime. Trust us, you won't want a sprained ankle to put a damper on your otherwise incredible trip. 
So, if you're wondering "does it snow in Tennessee?", Gatlinburg is proof that the answer to that question is a resounding "yes!". If you want to find snow in Tennessee, Gatlinburg is your best bet.
Read more about Gatlinburg: 15 things to do in Gatlinburg (for any budget)
---
Knoxville
Although we've established that Gatlinburg is the best answer to the question "where does it snow in Tennessee?", we'd say that Knoxville is also a good contender.
Seeing around 4 inches of snowfall a year, you have a reasonable chance of spotting snow on a visit to this city during the winter.
Of course, there's no guarantee of seeing snow anywhere in the southern states, but the temperatures here certainly drop low enough to prompt snow if the weather is in your favor. So snow in Tennessee is possible in Knoxville.
If you're looking for things to do while you're in the area, why not head to the Tennessee Theater or the Knoxville Museum Art?
Topping most lists of things to do in Knoxville, these two spots are perfect for getting to know Knoxville's more artistic side.
For those wanting to take things easy, Market Square is the perfect place for a warm cup of hot chocolate and some Christmas shopping. Whatever you choose to do here, you'll have an amazing time!
Read more about Knoxville: 20 things to do in Knoxville for couples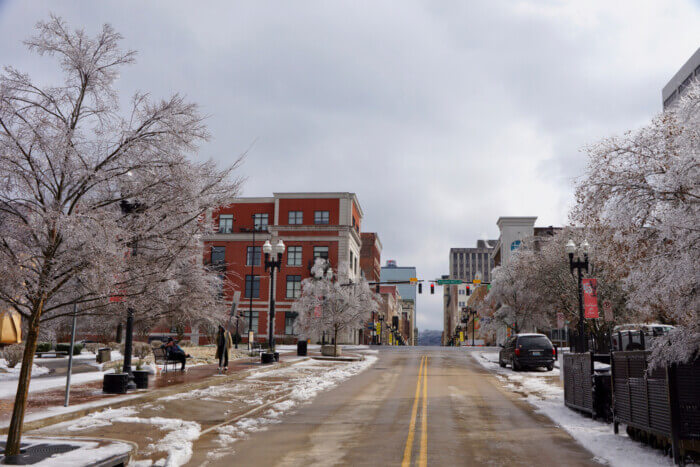 ---
Nashville
The next suggestion for 'where does it snow in Tennessee?' is Nashville. Nashville gets extremely chilly, so it's usually somewhere that sees snow in Tennessee, although not in the same quantities as the two locations above.
Temperatures during the winter average around 36 degrees Fahrenheit and snowfall have hit up to 10 inches some years (although this is rare).
Although you may not be able to have snowball fights due to the way snow settles here, you should at least be able to walk through Nashville surrounded by flurries.
As Nashville is the capital of Tennessee, we'd say it's certainly worth exploring in depth.
With offerings such as the Country Music Hall of Fame and Museum, Grand Ole Pray, and the Ryman Auditorium, there should be an attraction here for even hard-to-please visitors. 
Read more about Nashville: 7 of the best day trips from Nashville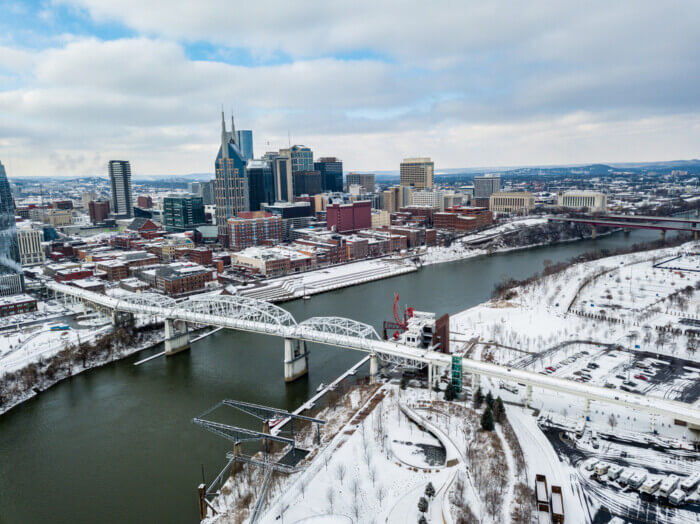 ---
Cookeville
Another place that we'd always mention when asked "where does it snow in Tennessee" is Cookeville. Located in the eastern part of Nashville, this charming area sees about 7 inches of snowfall each year.
The winters here are very cold, so we recommend packing plenty of layers and dressing accordingly. 
What we love about Cookeville is the way it approaches the festive season. The area really transforms around the holidays.
So, even if it doesn't snow, you'll feel as though you're walking through a Winter Wonderland. If you don't have much time on your hands, be sure to visit The Market on the Square.
It's truly the perfect place to do Christmas shopping, and you're sure to walk away with plenty of unique gifts that will impress friends and family.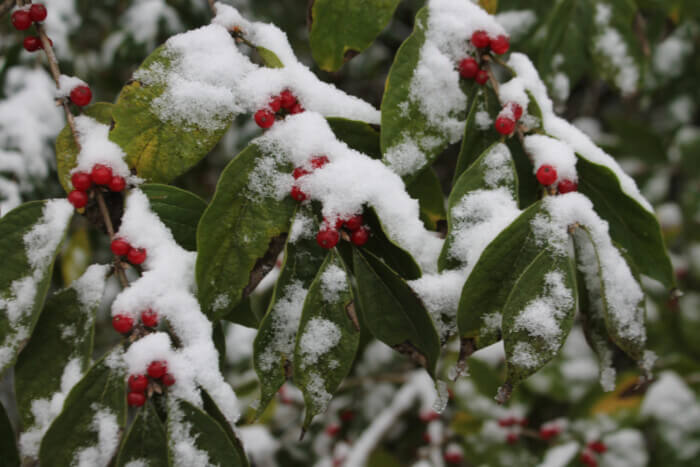 ---
Kingsport
Kingsport is a smaller city in Tennessee, but because of it's north location, it does tend to see some good snowfall, especially in December and January.
How much does it snow in Kingsport TN? Well over the entire year, you can expect around 16 days of snow. This might not seem like a lot, but for this part of the USA, it's actually quite high.
Kingsport might not be the most well-known destination in Tennessee, but there are actually quite a lot of nice activities there and things to do – so you'll have plenty to keep you busy whilst waiting for snow in Tennessee!
Top tip! Kingsport is actually a beautiful place to visit in the fall too. When the leaves start changing color – there's nowhere more beautiful! Just take a look below.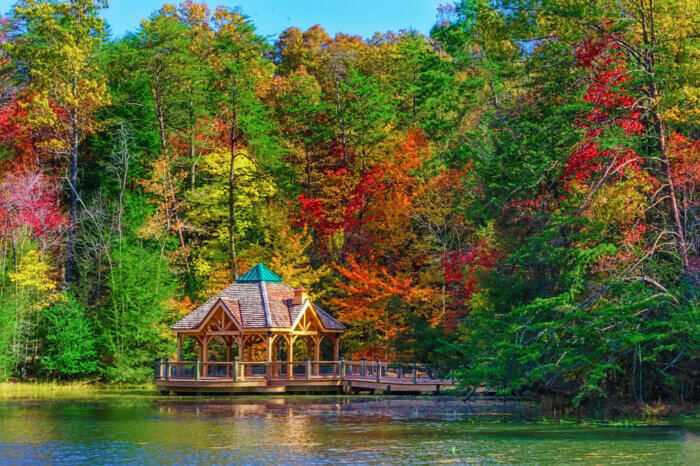 ---
So, does it snow in Tennessee?
As we've established, it certainly does snow in Tennessee! And hopefully, this list of answers to… 'where does it snow in Tennessee?' has helped you find some locations to visit!
Although you won't catch as much snow as you might in the Rockies or other northern areas, you still have a great chance of frolicking through some settled snow in Tennessee.
If you want to get guaranteed snow in Tennessee, then we highly recommend visiting Gatlinburg. It's possible to see snow in the more metropolitan areas of the state, but this city sees snow almost every year.
What's more, this area is home to some truly amazing winter activities. So, whether you fancy heading on an exciting winter hike or simply grabbing a warm brew from a local coffee joint, you're unlikely to be disappointed with Gatlinburg.
---
We hope that this guide has given you enough information to answer the question "where does it snow in Tennessee?".
Finding snow in the southern states can be tricky, so we hope this article has set you up to live your winter dreams this year!
On the search for snow?
These articles might be helpful!