Are you looking to answer the question "where does it snow in Texas?". If so, read ahead for our guide to experiencing snow in America's largest southern state!
The winter months are approaching, and if you're anything like us, you'll be wanting a sprinkling of snow to add to the festivities! There's nothing like seeing snow in the winter months to make you feel full-on festive, and if you're searching for 'where does it snow in Texas' – we have a feeling you're feeling the same!
---
So, does it snow in Texas?
So, does it snow in Texas? And if so, where does it snow in Texas? We'll answer both these questions below.
But of course, Texas isn't the kind of place you probably associate with snow. The first things that probably spring to mind when you think of Texas are classic country tunes and almost comical short shorts. However, did you know that Texas is also well-known for its levels of snowfall? Does it snow in Texas? The answer is yes!
Although you won't spot it everywhere, certain regions of Texas see plenty of the white stuff each year.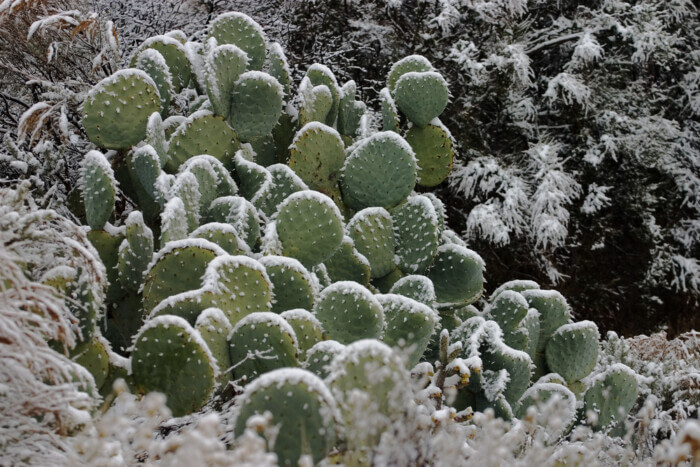 ---
Where does it snow in Texas?
If you're visiting Texas during the winter months, then you may want an answer to that burning question: "where does it snow in Texas?". After all, the last thing you'll want is to visit Texas expecting a Winter Wonderland and be met with barren, dry ground.
If you're more interested in the general stuff and are asking a simple "does it snow in Texas", we've got you covered.
Among other things, this handy guide will teach you plenty about the average amounts of snowfall seen in Texas and where you should head in the state to catch the best flurries.
---
How much snow will I see in Texas?
If you're wondering how much snowfall you can expect to see in Texas, it generally varies. Although south Texas and central Texas sometimes see snow, you're more likely to find snowfall in the northern and western areas of the state.
Generally, the average snowfall in Texas is around 0.1 inches. When you compare this to areas such as New York, you'll find that this amount is negligible in comparison. However, that doesn't mean that certain areas of Texas won't see decent snowfall. With Amarillo seeing an average of 17.8 inches per year and El Paso seeing a reasonable 6.9 inches, there is certainly some snow to be found in this otherwise arid state.
---
Okay, so it does snow in Texas. How common is it?
You'll certainly be able to find snow in Texas, but this southern gem isn't generally known for its snowfall. So, if you're expecting to build snowmen or trudge through endless piles of snow, then you'll be quite disappointed.
However, with so much to do in Texas, snow spotting is just a veritable bonus during the wintertime. Realistically, if you know where to look, you'll be able to snap some incredible photos of snowy mountain peaks before heading to a classic Texan BBQ for a rip-roaring good time!
Sounds like fun, right?
---
Where does it snow in Texas? Our top recommendations for snow spotting.
---
Amarillo
The first place that we love to talk about when answering the question "where does it snow in Texas?" is Amarillo. This Texan city is also one of the best places for seeing snow in Texas!
If you plan to drive to Amarillo, be aware that snowfall can make driving slightly more hazardous than usual. It's not anything to worry about, but we thought we'd give you a heads up. If you take reasonable precautions, you should be fine traveling here by car.
For the best views, head straight to Palo Duro Canyon State Park. The drive from the center of Amarillo is incredibly easy, and the views that you'll be greeted with as you enter the park are sensational to say the least. where does it snow in Texas? Chances are… Amarillo! It's lots of fun there, as there are plenty of things to do in Amarillo!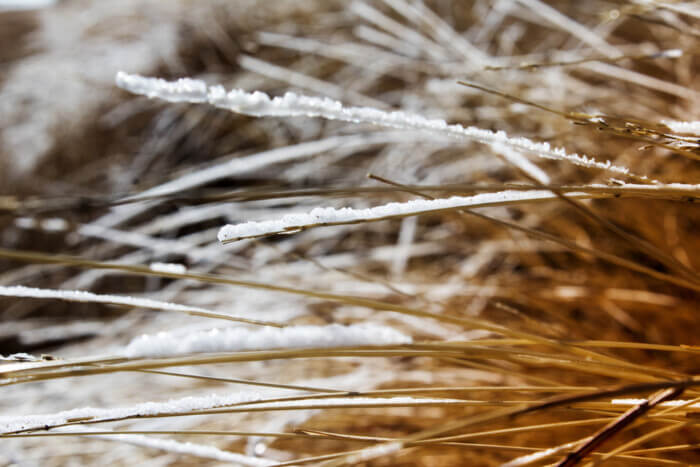 ---
Big Bend National Park
Another answer to the question "where does it snow in Texas" is Big Bend National Park. Although this spot doesn't always see snow, the peaks of the mountains are often covered with gorgeous, settled snow. If snow is forecast for the area, be sure to take your car along the Ross Maxwell Scenic Drive. Glorious with and without snow, it's a drive that's not to be missed.
If you don't have much time on your hands, then head straight to the Chisos Mountains. The hiking trails around here aren't for the faint of heart, as they're quite complex and get tricky during the winter months. However, with over 150 miles of trail on offer, you're sure to find ones that match your fitness level. Does it snow in Texas? Yes, and good chances to spot snow are in Big Bend National Park.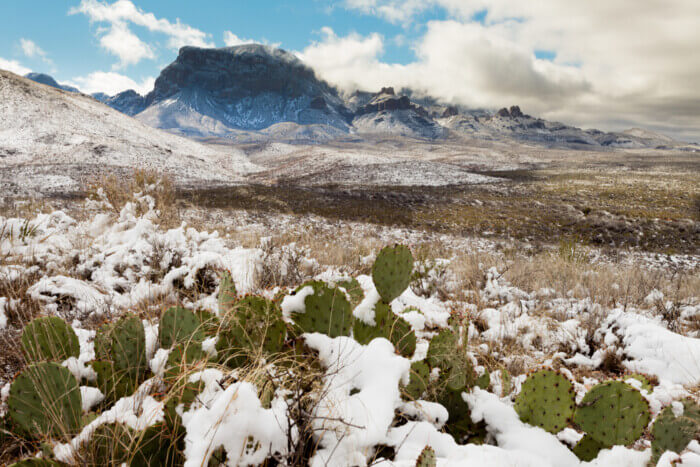 ---
Dallas
If you're asking, "where does it snow in Texas", then let us introduce you to our first answer. Dallas.
Now, Dallas is one of those cities that's worth visiting during any time of year However, we feel it's an awesome spot to visit during the winter months as the folks here go hard on Christmas decor and festive activities.
But it's worth mentioning that snow in Dallas doesn't occur every year.
There are some winters that simply don't get cold enough for flurries to form. However, if you live nearby and would like to chance a visit one winter, then you may just get lucky! January, February, and March tend to offer the best snow-spotting opportunities, so we recommend booking a trip during those months if you'd like to see snow.
We get that this may not be quite what you're searching for when asking the question "does it snow in Texas", but the Lone Star Christmas at the Gaylord Texan Festival runs each year in Dallas. This festival offers plenty of fake snow, tubing, ice skating, and plenty of other festive events for the whole family. If you can't see the real stuff, we'd say that this was a decent substitute.
Read more about Dallas: 60 fun things to do in Dallas, Texas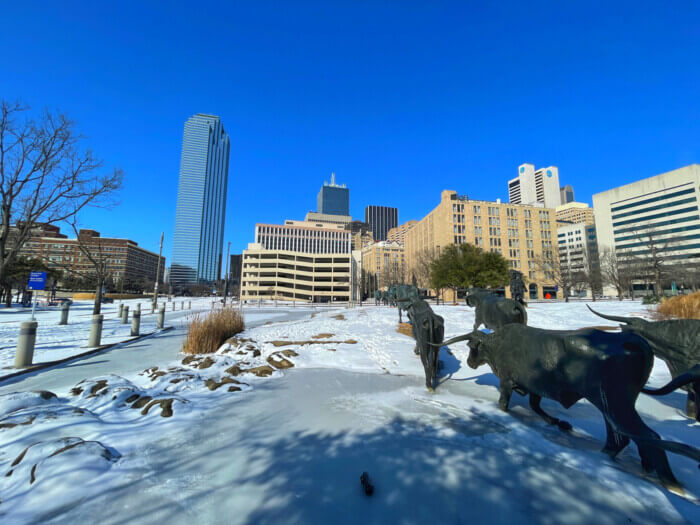 ---
Guadalupe Mountains National Park
Ah, Guadalupe Mountains National Park. If you haven't added this spot to your Texas bucket list, then we highly recommend doing so. Located near the Mexican border, this expansive national park is home to each of the highest peaks in Texas. When asking 'where does it snow in Texas?' this is a good answer.
If you didn't already know, with greater elevation comes greater chance of snowfall!
During a typical winter in Texas, you can expect to see Guadalupe Peak covered with a decent amount of snow. As well as this, the hiking trails at this national park also see settled snow on occasion. If you visit this spot, be sure to wear decent hiking boots and dress accordingly. It can get extremely chilly during winter, and as you'll be on the trails for most of the day, you won't want to be ill-prepared – trust us on this one!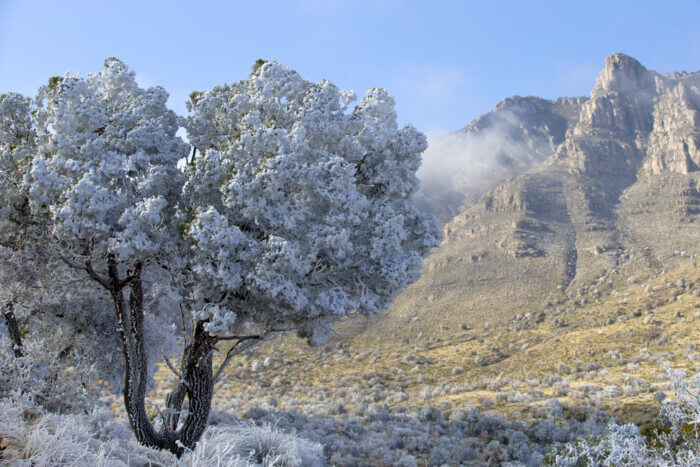 ---
El Paso
Perched relatively close to the Mexican border is El Paso. Although this spot doesn't see insane levels of snowfall during an average winter, we felt it was a spot worth mentioning as there's just so much to do here. During a typical winter, El Paso sees around 4 inches of snow. This may not seem like much, but when you're up in the Franklin Mountains, it looks quite ample once settled (here are some gorgeous photos).
To give yourself the true Winter Wonderland experience, head to Franklin Mountain State Parks. Not only is this spot home to beautiful trails, but it takes you to high ground that tends to see decent amounts of settled snow.
Don't forget to bring your camera along – the park is ridiculously aesthetic!
Read more winter travel tips: The ultimate Lake Tahoe winter guide
---
Lubbock
If you'd like to give yourself the best chance of seeing snow in Texas, then we highly recommend visiting Lubbock. Not only is this high elevation area stunning, but it tends to see snowfall between late October and early April each year. On average, you can expect to see around 8 inches of snow during the winter months. Therefore, we feel you'll have ample opportunity to channel your inner snow queen or king here.
There isn't as much to do in Lubbock as in other Texan cities on our list, but it's worth visiting for its calming atmosphere and natural beauty. When it snows here, the whole area gets covered by a gorgeous blanket of white. Believe us when we say that it makes for the most incredible photographs.
Should you choose to visit Lubbock, we highly recommend checking out the Buddy Holly Center and Statue. If you weren't aware, Lubbock was actually Buddy Holly's birthplace. So, any fan should add this attraction to their list of things to do in Lubbock! When asking where does it snow in Texas, Lubbock is a good bet.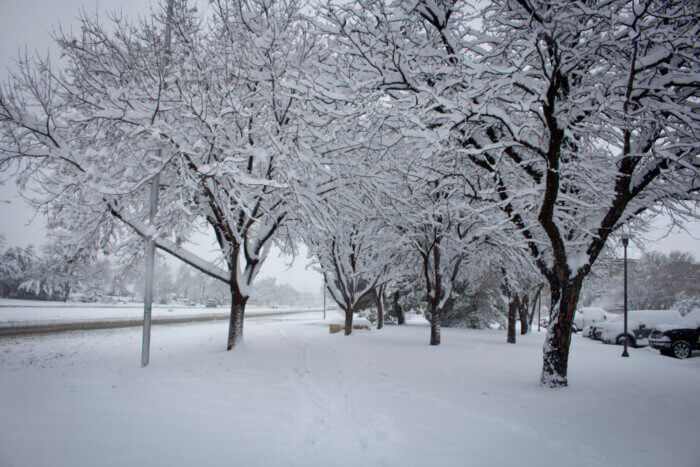 ---
What about snow near Texas?
If you're struggling to spot snow in Texas, why not plan a trip to one of the areas in the U.S. where snow is guaranteed? We understand that for some, winter just isn't winter without a healthy dose of snow.
There are several options available to those wanting to experience snow during winter. If you love skiing, then Colorado is an excellent choice. With downhill skiing and snowboarding well catered to here, you're sure to have a whale of a time. The snow in Colorado is always impressive due to the mountainous landscape, so you certainly won't be disappointed.
Should Colorado not appeal to you, New Mexico is a great choice. The Lincoln National Forest has several high elevation areas that see snow, and there are beautiful surrounding towns that are perfect for a nightcap or indulgent hot chocolate.
Read more winter travel tips: 16 fun things to do in Las Vegas at Christmas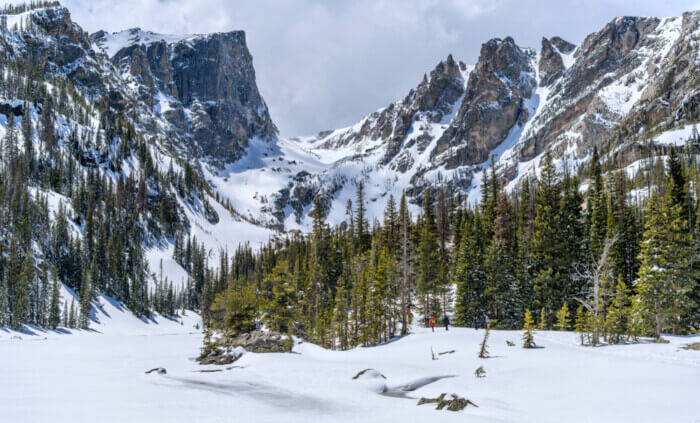 ---
We hope that this guide has helped to answer the question "where does it snow in Texas?".
It can be tricky to pick vacation spots with guaranteed snow, but if you're heading to Texas, this should give you a decent chance of spotting it this year!
---
On the search for snow?
These articles might be helpful!