Looking for the best way to see Statue of Liberty?
It's one of the most iconic sights to see in the city, and one of the best photo opportunities in the world – so of course you want to make sure you're finding the best way to see Statue of Liberty.
Luckily, there are lots of great ways you can see The Statue of Liberty – so get your cameras ready! I've tried to include a variety of free and paid ways (some of us have a big budget, some of us don't!). Here are my favourite ways to see, and (what some would argue) is the best way to see Statue of Liberty.
Quick Tip!
When visiting NYC, I highly recommend buying an attraction pass, they can help you jump queues and save money (which leaves extra spending money for things like shopping and food!). You can buy one by clicking here and they can really help you make the most out of your time in the city. Highly recommended!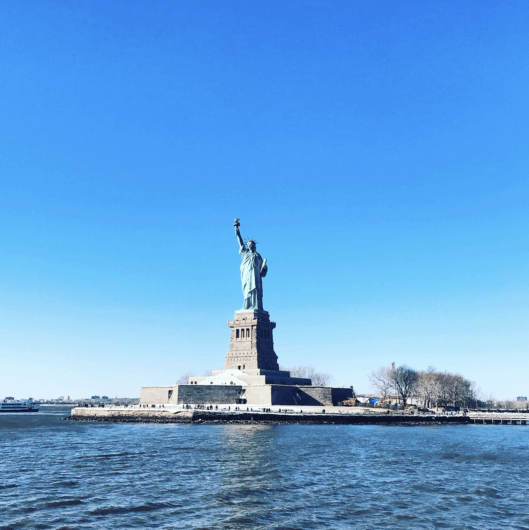 1. Visit the Statue of Liberty island itself!
Cost: $20 per person
Of course, you can't get better views than on the island itself! You can get priority tickets to the statue of liberty island, by clicking here – and you'll get those amazing views and also get to skip the queues! It's amazing seeing the statue herself up close, so this really is the classic choice for seeing and enjoying the views!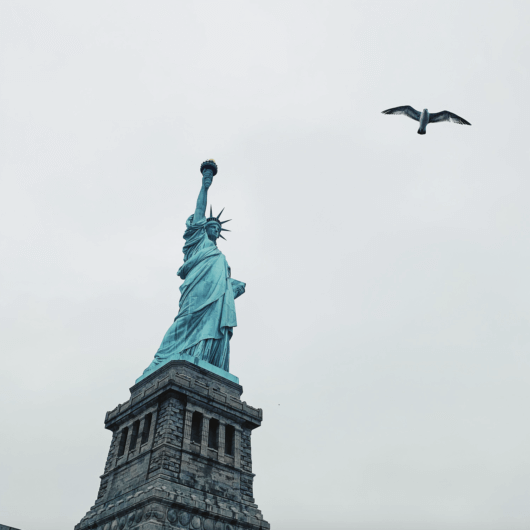 This view of the Statue of Liberty does not require the use of a boat, great for anyone who suffers from sea-sickness! By going to Battery, an area situated in Lower Manhattan, you can quite clearly take in the stunning views of the Statue of Liberty (some may even argue the best place to view the statue of liberty!). We'd recommend taking a stroll around Battery Park and taking in the views from there.

3. Take the Statue of Liberty ferry tour 
Cost: from $20 per adult
Book tickets here. 
There are lots of ferry tours that leave from the lower end of Manhattan and offer amazing views. During the cruise you will be able to see the Empire State Building, Freedom Tower and of course the Statue of Liberty. You'll find loads of cruises leaving throughout the day – but in peak time make sure you book tickets using the link above!

4. Circle Line, Liberty Cruise
Cost: Adult $29 Senior $28 Child $23
Website: www.circleline42.com
The Liberty Cruise allows you to sail just 100 feet from the Statue of Liberty, giving you the perfect opportunity to take stunning photographs. Which definitely qualifies it for this list of best way to see Statue of Liberty! A narrated guide is also given. Onboard facilities include a café and bar, deck space and air-conditioned indoor seating. As one of the most popular Harbour cruises, it is highly recommended that you make an early booking.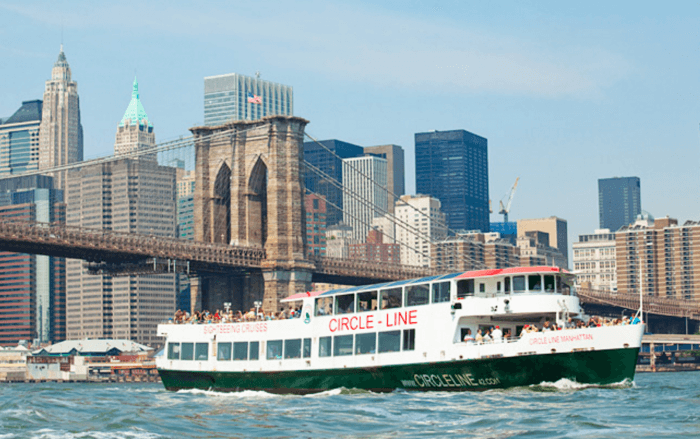 5. Take a New York City Dinner Cruise
Cost: Around $80 – $120
Book tickets here
For a really special and best way to see the Statue of Liberty, this definitely is an incredible experience (and a romantic one too!) This is a dinner cruise, but the dinner boat does pass close by to the Statue of Liberty giving you access to fabulous views and photo opportunities. If you want to combine a trip to see the Statue while having a romantic dinner, then this is the perfect option. If you're wanting to plan something a little bit luxurious and a little bit special – then this is a great way to see the Statue of Liberty.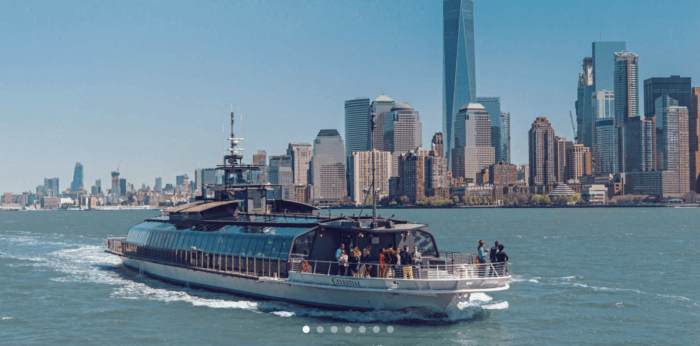 6. Helicopter Tour
Cost: From $180 per person
If you want to see the Statue of Liberty from the sky, instead of the sea – then you simply have to book a helicopter tour. The views are literally breathtaking – it's a magical angle to see the city from – and in my opinion, the best way to see Statue of Liberty. It's once-in-a-lifetime for most people, and you'll never forget it.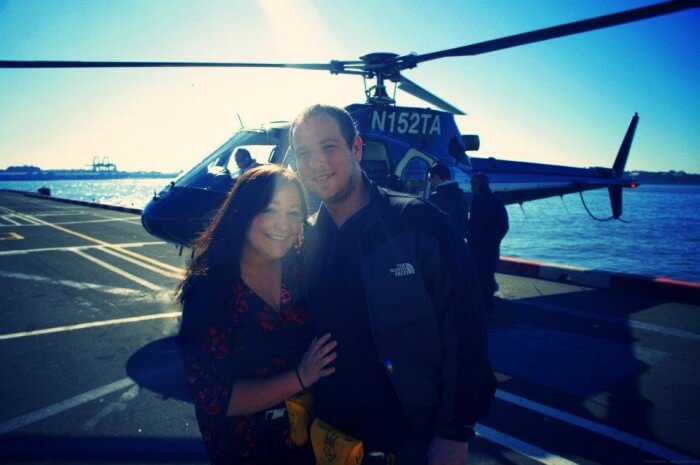 7. One World Observatory 
Cost: From $25 per person
From NYC's tallest building, there are the most beautiful views of the Statue of Liberty. They may not be close-up views like some of the tours above, but the views are amazing and you'll be able to see the whole city from up there too. Definitely something not to miss – but make sure you book ahead as it does get busy!
8. Staten Island Ferry
Cost: Free
Website: www.siferry.com
The Staten Island Ferry seems to be by far the most popular choice, mainly because of the great views that it gives you, plus the added bonus that it is free. It's honestly one of the best free things to do in the city – which definitely means you should visit! You simply take the subway to South Ferry and then take the free ferry ride across the harbour. As you take the crossing, you'll get amazing views of The Statue of Liberty, and whilst you don't get as close as some of the paid tours, it's still an incredible outlook! The Staten Island Ferry operates 24 hours a day and you are allowed to take bicycles on board.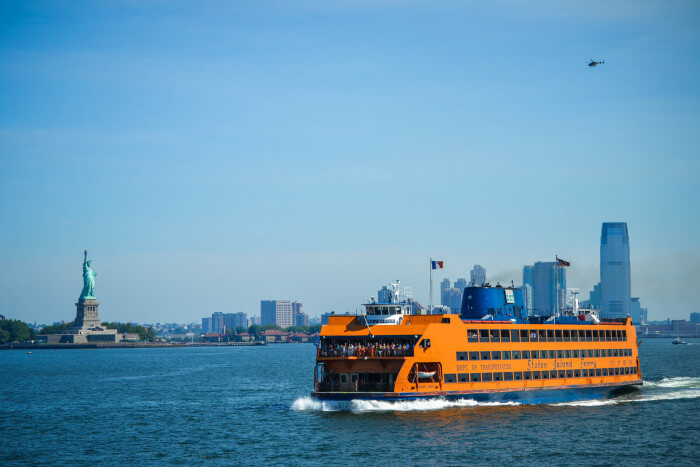 Image credit: m01229
If you're booking your trip soon, I'd recommend Get Your Guide for tours and tickets.
Here are some more posts I've written about NYC, that may be useful:
Things to do in NYC with a baby or toddler