---
Are you looking for the perfect outdoor rooftop bars in NYC?
---
If you're visiting NYC in the spring or summer, there's no better way to spend a warm evening than sipping cocktails on an outdoor rooftop bar in NYC. There are loads of amazing ones in the city, from big swanky rooftop bars, to intimate and boutique rooftop hideaways. Whatever kind of place takes your fancy, hopefully you'll find it on this list! Here are my best outdoor rooftop bars in NYC…
---
The Rooftop at Time Out Market
---
First on my list of outdoor rooftop bars in NYC… This is a pretty new addition to the rooftop bar scene in NYC. It's based on the top floor of the Time Out Market (which is a huge indoor food hall with some of the city's best food vendors). On the top floor however, there is an outdoor seating area where you can enjoy some of the best views of the Brooklyn Bridge, and the Manhattan skyline behind it. If you haven't been to this place – make sure you put it on your list! It's affordable, the views are great, and there are plenty of seats too.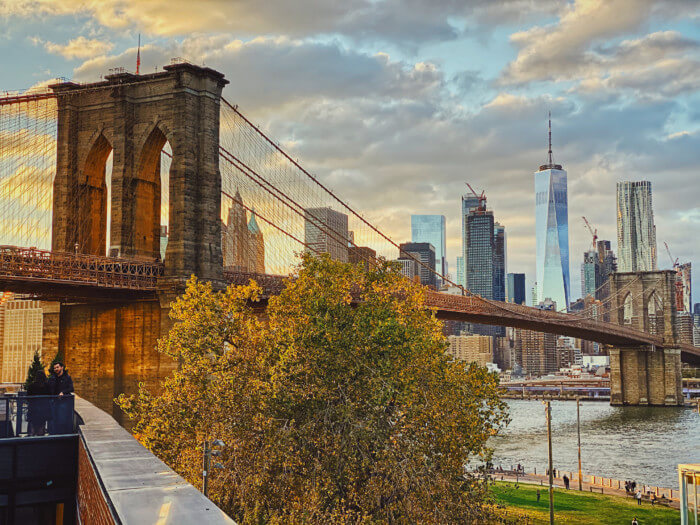 ---
Broken Shaker Cocktail Bar
---
Broken Shaker is located at 23 Lexington Avenue, and (as the name suggests) they're known for their amazing cocktails and extension cocktail menu. You'll find just about every creation on their drinks menu, but our vote goes for the 'coffee old fashioned'. This place isn't super glamorous like some of the others on this list, but if you want somewhere kind of low-key – then this is a great choice.

---
Mr Purple @ The Hotel Indigo
---
Mr Purple is a rooftop bar with the most glamorous setting you've ever seen. If you're going for the "instagram shots" then this might be one you want to put on your list. It's open late too (2am) and they do delicious food, so you can schedule in a really decent drinking session!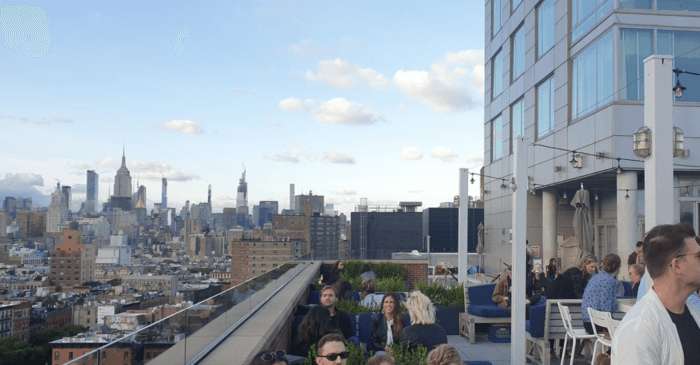 ---
Last Light
---
Next up on my list of outdoor rooftop bars in NYC, Last Light oozes cool and has both outdoor and indoor seating. It's located in-between Spring St Station and 2nd Ave Station, so it's super easy to get to – and the view are well worth a visit.
---
The Look Up Rooftop
---
As the name suggests here, The Look Up Rooftop isn't on a super high floor, but it has that really cool feel of being surrounded by the city – and I love that. There's loads of seating here, and the views are all around you – so it's a great choice for outdoor rooftop bars in NYC. They only open up in the spring / summer season – so be sure to check they're open before you visit.

---
The Williamsburg Hotel
---
OK, so this isn't necessarily an outdoor rooftop bars in NYC… It's a slightly different suggestion! The Williamsburg hotel has a rooftop swimming pool (and bar) that is open to the public for a fee after 12pm. You have to spend an agreed amount on food and drinks, but that's kind of worth it to have a couple of sun loungers and a heavenly pool in the summertime in NYC. It's only open during spring and summer – so definitely call ahead (or email) but if you're looking for somewhere to relax and drink (not just your average 'bar') then this might be an amazing choice.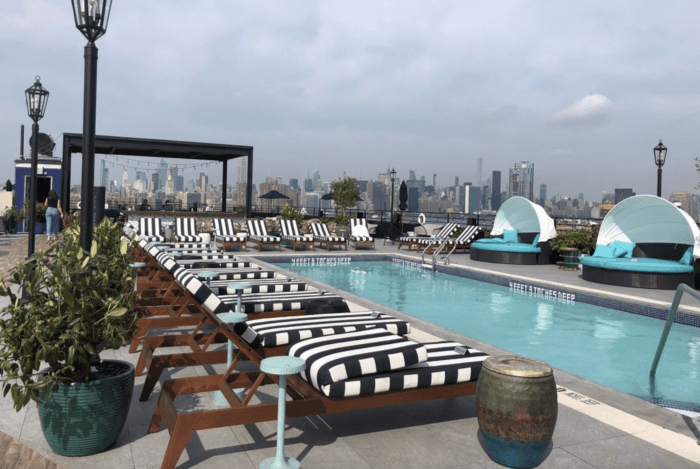 ---
Harriet's rooftop bar and lounge
---
Harriet's Rooftop and Lounge is a little oasis of calm in Brooklyn, it feels like a cosy back garden (but way more glamorous and with way better views). I love this place because it feels really welcoming, the views of Manhattan are incredible, and the drinks are delicious. It's the kind of place you could spend hours with friends, just chatting and watching the world go by.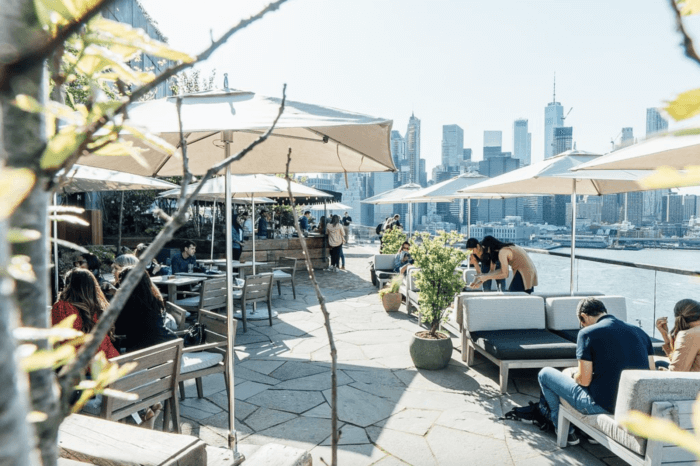 ---
Magic Hour Rooftop Bar
---
And last on my list of outdoor rooftop bars in NYC, If you're looking for something in the heart of Manhattan, and you don't want to stray too far from Times Square, then the Magic Hour Rooftop Bar is a great choice. It's really central, it looks over some of the city's most iconic buildings, and it's open all year round. This place can get really busy, so if you plan on visiting and want the best experience – I'd aim to make a reservation beforehand. Also worth remembering, because this place is in the heart of Midtown, you will end up paying slightly more for drinks and food here.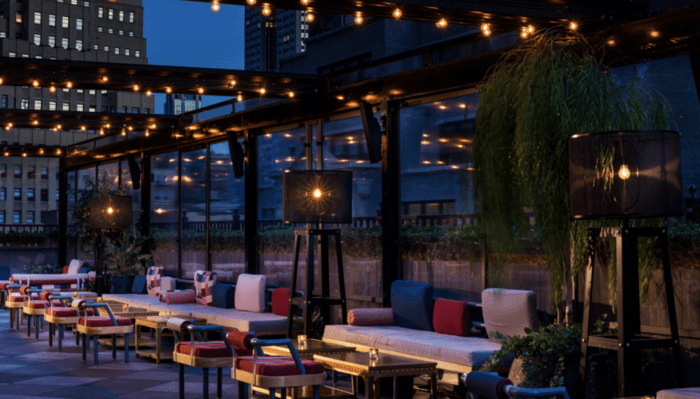 ---
I hope this blog post about outdoor rooftop bars in NYC is useful! Here are some other useful blog posts I have written about NYC, you might like to read…
---
The ultimate New York City Travel Guide
The best ways to view the Statue of Liberty
Famous restaurants in NYC from movies and TV shows
Things to do for couples in NYC
The best outdoor rooftop bars in NYC
The best art galleries in Chelsea, NYC
Best places to take photos in NYC at night time
How to take a great photo in Times Square
Secret places to take amazing photos in NYC 
Hidden gem and neighbourhood restaurants in NYC
Touristy things to do with a baby in NYC